Throughout his eight-year adventure of recording and producing Groenalund, a project for capturing the sound of the group ABBA, Martin Gerke has overcome plenty of discouragement. However, over the last couple years the pieces have finally come together for his debut release. What no one could have predicted is that ABBA, after a 40-year hiatus, would also release a new album (Voyage) with new songs at the same time. Martin's intense passion for capturing the sound of ABBA eventually took him to ABBA member Benny Andersson's studio Riksmixningsverket (RMV Studio) in Stockholm, Sweden. Groenalund includes vocalists Sarah Schumacher, Mabel Winkler, and Karo Biewald. Even Janne Schaffer, ABBA's session guitarist, befriended Martin and ended up playing on the upcoming Groenalund album, #lovestorm.
Photo Above: L to R: Mabel Winkler, Sarah Schumacher, Karo Biewald, and Martin Gerke
Your first Groenalund album, after eight years in development, is about to be released soon?
The Groenalund album will be out in 2022. Initially I was hoping for December 2021, but then the new ABBA album [Voyage] finally came. I never thought ABBA would make a new album! I never would have done this project if I had known that ABBA would release a new album. My motivation was based on the thought that they would never record again, and I was so sad about that. So, I had fantasies about how they would have done it in the '80s, had they continued.
Did you ever think of becoming an ABBA tribute band?
No. There are so many ABBA tribute bands; I don't want to make another one. My idea was to get to the core of this sound, do my own songs with the ABBA sound, and transport it to today.
What prompted you to consider recording songs that sound like ABBA?
I had to do something with my ABBA passion, and creating my own band grew in me. The moment it came to the surface was when I was in Stockholm in 2013, when ABBA The Museum opened. It's located in a part of Stockholm called Gröna Lund, so I chose that name and slightly transformed it to Groenalund. I don't want to be confused with the amusement park with the same name in that quarter of Stockholm. Besides, the band name looks even better.
Were you influenced by ABBA in your early childhood?
When I was eight years old, one day I was alone in a house with the friends of my parents, and randomly picked up ABBA's Greatest Hits Vol. 2 album. The first song I heard was "Gimme! Gimme! Gimme! (A Man After Midnight)." That was the moment I became a hardcore fan, from zero to one hundred percent. Since then, it has never changed for me. I had mostly listened to classical music at that point, because that is what my parents played at home. I was used to Bach, Beethoven, and Mozart's piano concertos. ABBA was the possibility for me to widen my horizon into pop music because they had this classical language, and from there I could go to any musical style I wanted. My classical roots eventually also made it possible for me to work in the film music industry.
Is Groenalund your full-time pursuit now?
I'm a full-time studio owner, earning money from vocal studio recordings and film productions. But every free minute is for Groenalund.
When you write a Groenalund song, do you think in terms of the lyrics, or is there a melody already floating around?
I studied how Benny and Björn [Ulvaeus] wrote. I think it's a good idea to start with the music, because the lyrics can have too much influence on a good melody. I feel I'm more free to compose and then write the words later. It's always a miracle when the song goes in a certain direction, and at a certain point, words appear. I don't know where they come from, but suddenly I can grab them, and the rest of the lyrics seem to fall in line.
How do you effectively achieve a similar ABBA sound today?
Well, I would have loved to use a Harrison board [as ABBA had used], but I used mostly plug-ins from UAD, including the Harrison [32C] EQ, the Studer A800, and the Ampex ATR-102 that I feel are very important for the sound.
I saw you are using the Mackie MCU PRO with a couple of [MCU XT PRO] extenders for a control surface.
It's important to have them when I am mixing choirs with lots of layers. Compared to using a mouse, it's quicker and more musical.
ABBA's engineer, Michael B. Tretow, said he used to achieve a larger, more chorus-like sound by simply wrapping some tape around the capstan to slightly alter the speed when processing sounds. You're not using tape, so what was your solution?
Well, that's a crucial question, and I found a solution for it. [laughing] There is no plug-in that can do that. The solution – I guess I'll spill the secret – was Apogee's Big Ben [word clock]. Just change the digital clock slightly higher or lower to get the same effect. It works well. If at 48 kHz, try 48.08 kHz. It works!
Did you use a lot of plug-ins to emulate ABBA's 40-year old hardware?
Like everyone, I suppose, I have a lot of plug-ins. But, over time, and after the first rough mixes, I have reduced my collection of plug-ins in attempting to emulate the tools that Michael Tretow used. For plug-ins I found I liked the UA 176 tube compressor, and sometimes a Pultec on buses, but not too much. The main thing was the Harrison EQ, the Big Ben for the slight pitch change, and then a little hardware compression while recording vocals and instruments. When I record, I also use an [Empirical Labs] Distressor. Not much, just a little bit.
Since the objective is getting as close as you can to the sound of ABBA, were there times when you felt you came up short of reaching an accurate emulation?
The Groenalund project is now eight years old. I had two or three hard years, where I tried to achieve the sound but I didn't get it. I had to try things and go through the mistakes, but over time it gets better, and now I'm confident I can get close. I used some plug-ins in the mixing process. I also used some hardware compressors and effect processors, but the mixing process was done in the DAW. When the digital mix was ready, I went out again with groups of instruments through a Neve 8816 summing mixer.
Did you use any instrument plug-ins?
The recorded instruments are all real hardware. Analog synthesizers, real guitars, and real drums. There's not a single sample on the Groenalund album.
You have some pretty impressive synthesizers, both new and old. Were they acquired to pursue the ABBA sound?
About seven years ago I became really bored of digital synthesizers. All these synthesizers with digital patch memories became boring. I sold some of my digital synths and tried to get the real sound I was looking for. I found a Yamaha CS-30 from 1978, a Yamaha SY-2 from 1975, which has the same sound engine as Benny's [Yamaha] GX-1. I bought three or four "string machines," and that's the sound I was looking for. I'm a synth nerd. There's so much life with these old analog sounds, and I can play them as instruments that need a performance. The patch memory thing in digital synths made me crazy. If a synth doesn't have a patch memory, I have to create a sound from scratch. Then you know your instrument. It does something to my creativity if I don't have patch memory.
People say the ABBA sound has a "sprinkling of fairy dust" rarely heard on other records. Did you attempt to borrow some "fairy dust" for the Groenalund project?
Yeah. [big sigh] The ABBA sound, I don't think you can explain. You can come close. For example, on "Super Trouper;" this song is somehow really simple. You can explain every detail of it, yet you still don't get the magic. I learned a lot from that song, and I tried to re-create it. That was actually the start of myself searching for the right sounds, really listening in great detail, and trying to rebuild that sound and how they did it. At the very least, you need some good compositions and arrangements, and you have to record them wisely, with a vision for the end result in mind. At a certain point during mix down, you'll achieve that fairy-dust sound or not. I didn't always succeed, and I did many recordings that will not be on the final album. But I'm getting better with every new song.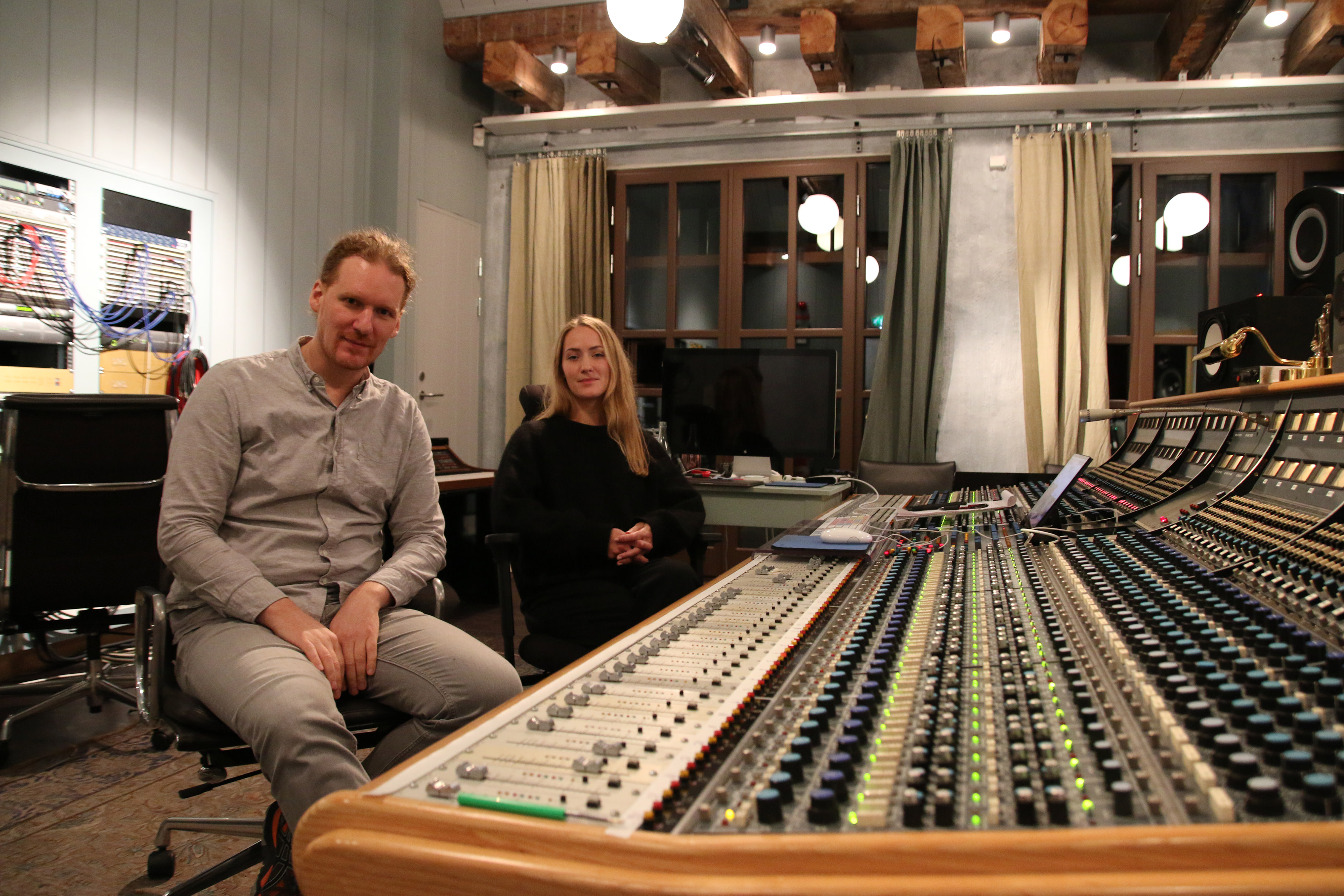 Lynn Fijal und Martin Anke_Lanak
How do you decide how close to stay with the ABBA sound, yet branch out and make Groenalund somewhat unique? Your compositions are more progressive than ABBA songs, especially on "Forgiven."
It wouldn't make sense for me to just write ABBA songs and pretend to be ABBA. I think we would quickly die as an artistic concept. I think you hear in my songs that passion for "fairy dust," but it's important that you also hear our own identity. Benny said, "Do your own thing" in an interview, and that is what I took to heart. I appreciate their craft and their spirit, and I think I understood it somehow to do a new thing with it. I haven't been too happy with the [music in] charts in the last 20 years. It's often boring for me. I wanted to do pop music with these old virtues, but for today.
Looking at all the synthesizers in your studio, I happened to notice the peculiar absence of the extremely rare Yamaha GX-1.
Yes, you're right! [laughing]
Is that one of the reasons you recorded some tracks at Benny's Riksmixningsverket [RMV Studio]?
I had this crazy idea to go to Stockholm to record the Yamaha GX-1. The other crazy idea was writing an email to [ABBA session guitarist] Janne Schaffer. After listening for just ten minutes to some Groenalund songs, he surprised me and said he would like to record with us. I never thought he would say yes, but since he did, we went to Stockholm and booked a date in Benny's studio. I recorded Benny's piano, a Fazioli grand, for the ballad "Forgiven." Janne has a big solo in the song, too. The second half of the day we recorded the GX-1, which is a beast! I thought it would be easier, but at first I could hardly get a good sound out of it. Eventually we were able to record some pads for several songs with it.
Martin and the Yamaha GX-1 at Riksmixningsverket RMV Studio Anke_Lanak
How did you find three women who wanted to participate in a project like this, realizing it's not going to be another ABBA tribute band?
I'm happy I have them! The understanding between us is perfect now, and that's not the way it was in the beginning. For years I searched hard for the right vocalists. A couple of years ago two of the singers left the band. It was hard. I didn't know if I could continue the project. Obviously, this project could turn to garbage if I didn't find the right singers. With some luck I found Sarah [Schumacher], the high voice, through a Facebook video when she was a young talent taking part in musical contests. The day she showed up at the studio, she was a perfect fit. The darker voiced, Karo [Biewald], followed shortly after. They both studied musical acting, and they can both sing and dance. Most of all, both have a great passion for the music of ABBA.
And the third vocalist, Mabel [Winkler]?
Mabel is the one who stayed with us after two other singers left the band. Mabel adds extra value to the overall sound of Groenalund. Her background is more of a rock style, which brings a distinct character to Groenalund. She has a storytelling talent and a lot of soul in her voice, so we can do more expressive vocals with her while Karo and Sarah sing in the same registers as [ABBA vocalists] Agnetha [Fältskog] and "Frida" [Anni-Frid Lyngstad]. When we mix all three vocals – the traditional ABBA sound of Sarah and Karo with Mabel's rock attitude – we have a new color, which makes up the distinctive sound of Groenalund.
What do you think of ABBA's new songs on 2021's Voyage?
I think they fit into their tradition. They sound different than in the seventies and early eighties, because music production has changed a lot and Benny and Björn did all those musicals in the meantime. I can hear that in "I Still Have Faith in You." I like how he introduces three or four basic ideas in a row that all come together in the last chorus. I remember the premiere of Voyage in September in Berlin. I was there, and, like everybody, I had tears in my eyes when I heard the first bars of that song. It was a very emotional moment, hearing original ABBA songs after such a long time. The new ABBA songs are made for ABBA fans that know their history, however they might be misunderstood by some people that are not familiar with ABBA's roots and their story. The lyrics are very strong. Together with the music they bring everything to a good ending, where divorced couples that went apart in the '80s make conciliatory music together. That's a very beautiful thing! Especially in these dystopian times of COVID, climate change, and threatened democracies. The music is slightly less complex than the 1972 to 1982 era, and has a different production-style than the Michael B. Tretow days, but that doesn't matter for most ABBA fans.
I doubt it would. I mean, it's been over 40 years.
At this point ABBA can do what they want, without paying attention to anybody outside, and they deserve respect for this unique comeback after such a long break. They deserve any award that's out there for their lifetime achievements.
It appears the Groenalund album, #lovestorm, and all the years of work behind it, has consumed a big part of your life?
ABBA is an accompaniment for my whole life. When I was a child and listened to this music, I was somehow very open. Children don't care about music critics. They just hear a warm, attractive sound with catchy melodies. Children relate quickly to this kind of music. But then I think, "Why do I still like it as an adult?" There's so much more in this music. It has so many layers of meaning. The way it's structured and composed has lots of similarities with certain classical music. As a child you won't think or understand much of the lyrics. But when you go through adolescence and experience losing a relationship, a track like "The Winner Takes it All," well, you've heard it a thousand times... It's a "boring" ABBA classic, right? But then, suddenly these lyrics take on a new meaning. You understand them deeply. The perfectly-composed music and the singers' performances did the rest, and that's another very emotional ABBA moment, where their music touched my soul.

Tape Op is a bi-monthly magazine devoted to the art of record making.