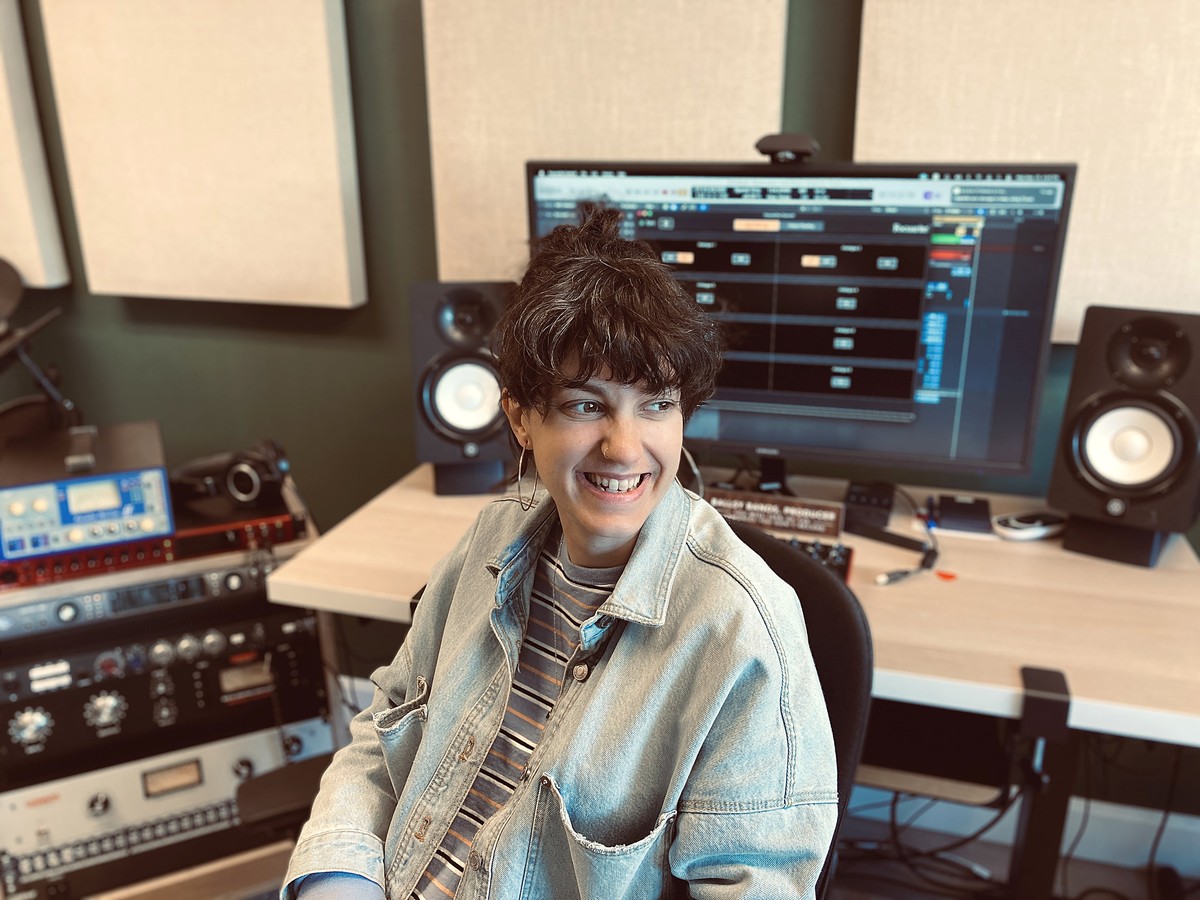 A producer, songwriter, and a founding member of the alternative pop band Caveboy, Isabelle Banos is based in Montreal, Canada. Her passion for empowerment through education has led her to become a contributor for LANDR's YouTube, as well as a regular volunteer for the Montreal chapter of Rock Camp For Girls. In April 2021, she opened her own inclusive studio space, Chez Ballsy. Here, she chats with Lisa Machac of Omni Sound Project about producing during a pandemic and opening her own studio.
How did you get into producing and engineering?
It all began in the classic tween era in the early 2000s. Shell necklaces. The Adidas shoes with the baby blue stripes. I was, spoiler alert, a super awkward teen! [laughter] I felt like the oddball of the family. I found my dad's old classical guitar in our house one day. I was having some fun with it, hitting the strings incorrectly, strumming along, and making a horrible sound. I started playing one note at a time and figuring it out. I started jamming along on this old, dusty guitar as often as I could, until I started to make some chords and play some melodies. That slowly turned into playing covers, and then that turned into trying to write little original songs. This was going into 13 or 14, until my dad said, "Oh, this is maybe something that you like to do." He was supportive. He got me some lessons, and then he upgraded me to an electric guitar, which was the most emotional Christmas ever. We all cried. Then that turned into getting an amp, a little microphone, and starting a teenage home practice corner in my bedroom, learning covers of The Strokes and The Hives and all of these indie rock bands of the early 2000s.
What guitar did you get?
I got a Godin guitar. They're local guitars that are made here in Quebec in Canada. My dad had his musical friend go shopping with him, and he got me this hot pink guitar, because I had pink streaks in my hair. It was horrible and fantastic at the same time! I was into Sum 41 at the time. They were huge in Canada. Then Avril Lavigne's "Complicated" came out, and that changed my life. I swear, the next day I went to school wearing a tie and wristbands, and I learned how to put eyeliner on incorrectly. That was like, "Role model alert!" A young woman playing this kind of music that, so far, had mainly been for the boys.
When did you come out of your teenage artist corner and start playing with other people?
That's the next phase of it. I was having a hard time connecting with anyone who was into the same thing that I was. I went to a very "vanilla" high school, and people were following the same trends. I was like, "Where are the underground weirdos at?" I eventually found my people in college. We had this thing called CEGEP here, which is unique to Quebec. It's a two year [program] between high school and university. It's $100 a semester, and you get to prepare for university, try out all kinds of classes, and try out a major you might be interested in. In CEGEP, I met the current drummer of my band, Caveboy, Lana Cooney. She had drumsticks poking out of her backpack, and I was like, "Hi?"
"You aren't wearing the Avril Lavigne wristbands, but you do have drumsticks."
Yeah, exactly. We became quick friends. I finally felt like I'd found my people. She had her drums set up in her parent's garage and we got to jamming. The original project that we had was that Lana had to put together a band to play a few covers for her sister's Bat Mitzvah. It was taking place at a go-cart rally. We put a little band together, played some covers, and that was my first band experience. We had three other members. I was singing backup; we also had a singer, a bass player, and a keyboard player. We'd jam in the garage and practice our covers. We had so much fun with it. It was such a great gig! The 12-year-olds loved it. We decided to continue to jam together and try writing original songs. From there it turned into different formations of the band, but always Lana and I, until our current formation of Caveboy, which also includes [singer/guitarist] Mint Simon. The whole time this has been happening, I had a part-time sales job. I hated it. I decided to quit and do a side hustle of anything that was related to music. I was teaching guitar and bass lessons. I was on freelance websites trying to get gigs to mix music and write songs. Montreal is a great, or was a great city for that, with relatively affordable rent. It was a booming artist city. Huge artists were coming out of here, like Arcade Fire and Grimes. I was in Caveboy, and we were playing shows and starting to build momentum, but I had to pay the bills. I was on those freelance websites, trying to get any gig that I could and charging $20 or $50 to do these huge jobs, because I didn't really know what I was doing at the time. I was still learning. I was working off my laptop and trying to figure it out. I would pick up gigs like, "I need a cover of the Alphabet song" from people trying to start YouTube channels for kids.
I'm sure it was such a pain, but what a good way to get so much experience. When did Caveboy decide to record, and who recorded your first sessions?
I was the band's engineer. I was the one who was most interested in that side, always trying to learn, improve, and get new gear. We were always making demos ourselves, recording ourselves, and producing ourselves. In Canada, we're lucky that we have a lot of funding opportunities, grants, and awards for artists. We applied several times for this big, giant grant from the Canadian government, and we finally got accepted after many, many edits and submitting these demos. We got funding to make a record. We wrote and recorded ten songs. We went to a local studio here called Breakglass Studios [Tape Op #60]. It was our first real studio experience together as a band, recording and working on an album. It felt like such a rite of passage, and such a bonding, amazing experience. We felt like legit artists, in a legit studio that some of our heroes have recorded in. And we were making a record, and the government was supporting us in doing it!
Regarding those early demos, I want to know what you were recording on, as well as how your bandmates responded to you being in that role.
I got interested in taking that control into my own hands, whether it was for the gigs I was looking for, or for the band progressing and recording music. I was drawn to the technical side of making music. I was always too shy and too scared to ask questions in music stores filled with a bunch of old dudes. I remember getting a tour of the recording school here in Montreal, and they were so happy to have a chance to enroll a woman, but I still did not have the confidence to even enroll. I was like, "No, I'm not good enough at this." I was intimidated by all the guys. I wasn't ready at that time in my life – late teens and early 20s – and I felt the safest in that solitary music-making experience. I thought, "The internet's a thing. I'm going to go out there and start learning." I was Googling questions, going on YouTube, and reading message boards. Trying to find answers. I was trying ideas out with the little gear that I had; an early [Apple] MacBook and GarageBand. I was enjoying learning. I had a basic two-input interface, the first generation of the Focusrite Scarlett, and a pair of headphones. That was it.
You can do a lot with GarageBand and Scarlett.
Exactly! I was figuring it out, building layers, using soft synths, recording a little guitar, experimenting with vocals, and things like that. I was brave enough to show these song ideas to the band. They were like, "Hey, this could be something!" We started to incorporate that into our writing process. First and foremost, we were always writing in the garage, jamming out ideas as a band, but we started to bounce back and forth. "Let's go over to Isabelle's," or, "Isabelle bring your gear, and we'll record this jam session." It happened organically like that. I was interested in doing this technical side of capturing music and creating music digitally, and it worked out with the timing of writing new music. We wanted to put out a record.
When you got into a recording studio, what was your experience as a woman like there, where you weren't the engineer?
Um, it was the same. I was still very much intimidated, and did not have a ton of confidence. This was about ten years ago. It was helpful to have my two bandmates there. At the end of the day, they're working for us. If I had been in there alone, it would be a different story. To be a united front was definitely a game changer. We build each other up. There were definitely some experiences of being too shy to speak up, or potentially being in uncomfortable situations and not saying anything because we didn't want to stir the pot, or we didn't want to "cause drama." There were certainly a handful of occasions where some of the guys we worked with over the years definitely fed into the reason I was not going into music stores and asking questions, and to why I was working by myself in the safety of my own company.
What were the positives of getting into the studio for the first time?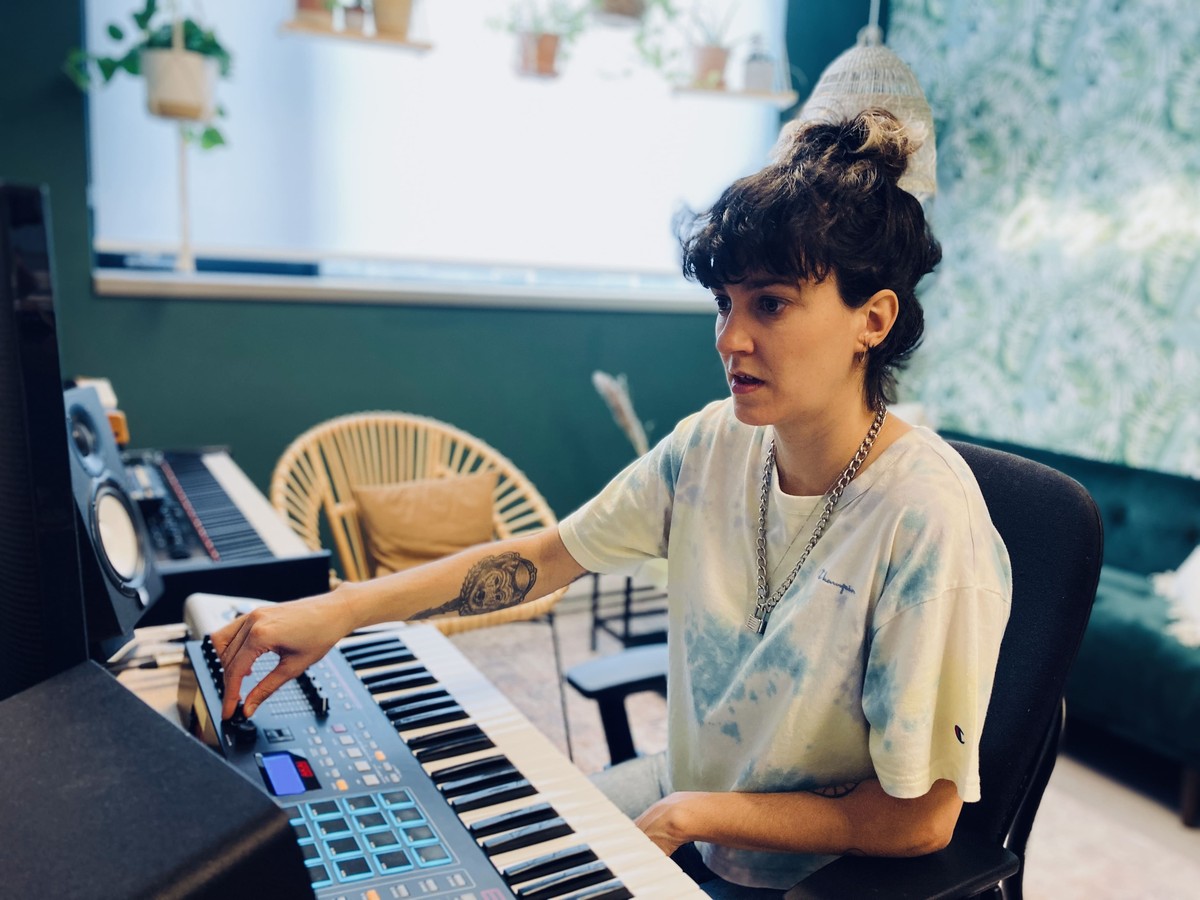 It was really exciting. It was opening a door to what could be, where my skills could go, where my interests could go, and where I could see myself in the future – having this big, beautiful local space in the community where people would want to make art, and to collaborate, and be vulnerable, and to be themselves, and share, and make cool shit together. It was always about creating that space for people who didn't necessarily feel they had it. I was excited about the possibility of not needing to rely on outside people. "I can create this for myself, and also help create this for other people who might need it."
What about audio? Who were the first women you saw in the field that you thought, "Oh, I can have a recording space"?
I think the first one I got excited about was Grimes [Claire Elise Boucher]. I was really into her album, Art Angels. I had never heard anything like that before. I looked into it, and she was self-produced – she does everything herself. It was inspiring. I was like, "If she can do this, I can do this." It just clicked. It was the first real moment I could see myself in someone, doing the same thing.
Yeah. It's almost like representation matters!
Oh, I've heard the rumors! Yeah, exactly! [laughter]
Who were your first producing and recording clients?
It started to kick into gear during the pandemic. I couldn't spend as much time as I wanted being an artist, so I had to lean into my other thing, which was producing and engineering. All that focus and energy that I put into it helped it take off. In the past couple of years, it skyrocketed. Being able to throw myself into it [really helped me] progress, learn, and market myself so much faster. I am published by a wonderful company called Third Side Music. They had sent out a brief for a cover of a holiday song to be featured in the movie, Happiest Season. They sent the info, and I tackled it like I do with every brief. I sat down at my station and started working on the track. I got Mint, the singer from Caveboy, to sing on it, and did it in half a day. It was super fun, and it sounded good. Within a few minutes, I got word back from the director of the movie [Clea DuVall] saying, "Great, we're using it in the movie." [Caveboy covered "Jolly Old Saint Nicholas." -ed] It all happened so fast. This was the first creative brief from my publisher that I created by myself, and the first one that was pure isolation lockdown. It got picked up by this big Hollywood movie, and I was like, "Maybe I can do this! Maybe I'm a professional." It was the first affirming gig.
Were you still writing with your guitar, or at that point were you using MIDI?
At that point, I was totally upgraded to a home studio set-up with a full MIDI controller, monitors, headphones, and fancy-schmantzy plug-ins. I had some analog synths, guitars, and basses. I had enough of a tool kit to get creative, both in the analog world and in the digital world.
Which were your favorite plug-ins from that era?
A lot of Native Instruments. I had gotten the full pack and started to experiment with all the instruments that were in there. Some great horn and string sounds. When I didn't have the budget to hire live players, I was able to experiment with these soft synth versions of live instruments and get a pretty decent sound. The whole Native Instruments Komplete package was super helpful for that production.
I know you work with LANDR [online AI mastering] quite a bit. How did you get hooked up with them?
They reached out to me. I think they found me on one of my online gig profiles. They got in touch, and I was supposed to have a job interview on March 10, 2020. Everything got canceled. They reached out a few months later, and were like, "We're ready to hire you, but we can't shoot in the office. Can you make your own videos at home?" I was like, "Sure! I'll do anything musical right now. I'm so bored." They reach out any time they want me to be featured in a video. Sometimes I help with the script, or they hand me the script. Sometimes I need to make music for the videos. It's a collaborative effort, and they're an amazing team. I'm very happy.
Those videos are so great. I love them.
They're so good. They make me look good!
You were also named as one of the top eight emerging female producers in Canada for the Women in the Studio National Accelerator program.
That was a huge component of that rocket fuel that I got in 2020, sitting at home alone. I was able to grow this business from the ground up, thanks to this amazing, supportive program. It was a year-long program that was an open application. I saw it come through, and I was like, "Hell yeah! This is exactly what I want to be doing. I would love to be mentored." I applied, and thankfully they accepted me, along with seven other incredibly talented human beings across Canada. It all happened remotely, online. Usually, it happens in person. Every couple weeks, we'd have these amazing workshops and seminars with industry professionals. The program has been great in making sure many of those professionals that we were learning from were also gender minorities. It was also helpful to be able to learn from, speak to, and ask questions from people who have had similar experiences. It was amazing!
And you opened your studio, Chez Ballsy, last year. It is intentionally a space for women and gender minorities.
This is essentially my first dedicated space outside of my home where I do my job. My home studio was always a corner or a room in my apartment. I finally got to the point where I felt ready – mentally, emotionally, and financially – to expand to a dedicated space that I could open up to the community. It was a long-term goal for sure, but it was the pandemic – I had lots of free time. I started looking online, and this place popped up two blocks from my house. It was in my budget and the space looked perfect. I went to look at it, and the location was amazing. I was scared shitless of failing! I called the two women in my life I trust most, my sister and my manager. They were like, "You have to do this. You should do this. We support you. You've got to try." It's the first step toward having that big, beautiful local space with a proper live room and everything, but it is a step. It's getting there. It's small and humble, but it's also cozy, intimate, and welcoming. So far, everyone who has walked in has been happy to work in this space. That brings me a lot of joy. It makes me feel I am on my way to doing the thing that I want to do. Or maybe I'm already doing it?
I think you are doing it! I love your studio space. Who decorated it?
My incredibly talented sister, Alexandra Banos. She is so talented and supportive. I would be nowhere without her. She was on maternity leave, and she took the time to go shopping with me and help me set it up. It was a great experience to do that together. Now, she's as attached to the space as I am.
You're sending a signal that it's meant to be used differently than a traditional studio. It's refreshing to see a new look for a studio other than dark and dusty.
No dust! No beer bottles. No cigarettes! This space was a step in the direction that I'd like to be heading in. I want to continue in that direction, and continue getting more artists into the current space, then expanding into a bigger space. Taking my work and my philosophies on the road, physically collaborating with people, teaching people, learning with people, and continuing to grow as an artist and an engineer. And, hopefully, along the way, encouraging other women to join this field if they're interested in it. I'm always opening my door to questions and curiosities, and lovingly sharing the wisdom that I've amassed along the way.

Tape Op is a bi-monthly magazine devoted to the art of record making.