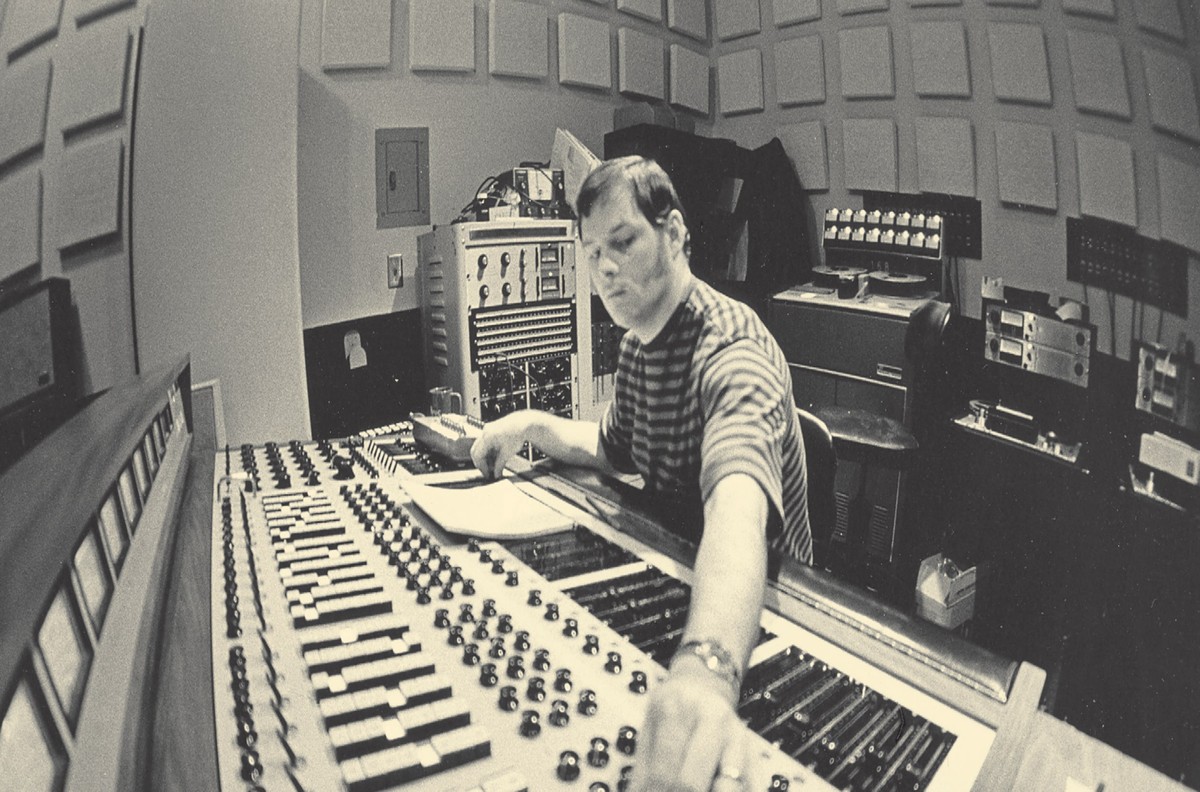 Russ Gary is a self-professed countrified rocker and a recording legend who is still working and actively making original music today. Whether working at Wally Heider Studios, Fantasy Studios, DSR [Doug, Stu, and Russ] Productions, or as an independent producer, Russ has always been involved in various forms of popular music production. He was an "original rock 'n' roller" who studied the guitar stylings of Elvis Presley's Scotty Moore, and, later, was fortunate to be in San Francisco during the late '60s and early '70s in a thriving Bay Area music scene. Having engineered timeless albums by Creedence Clearwater Revival, tracked fabled sessions with Crosby, Stills, Nash & Young for their classic album,
Déjà Vu,
mixed Norman Greenbaum's 1969 smash hit "Spirit in the Sky," and much more, he has many great stories to tell. Later in the '70s, Russ produced several Creedence-related side projects, lots of music for Fantasy Records, and many live-remote recordings with the DSR Productions remote truck. Add in 20-plus years mixing audio in the television business, and one starts to see the real depth of his long and very interesting résumé. Over the course of the lingering pandemic, Russ kindly allowed me a rare opportunity to conduct this phone interview.
Where are you from originally, and how'd you first get into music?
Virginia. I had started playing guitar very early. I was near the age of 11 when my parents bought me an inexpensive Stella guitar. The strings were high above the neck and it was difficult to play, but I had a feel for the instrument and was able to pick easy tunes quickly. I witnessed my first rock 'n' roll show when I joined the auditorium stage crew at Newport News High School, where I worked backstage and in the sound booth for school plays. The stage crew also worked on music shows traveling the circuit performing in the high school auditoriums. Standing in the wings, I saw artists I heard on the radio perform their hits and musicians sporting greasy haircuts, with Fender Stratocasters and cranked-up amplifiers. I couldn't get enough of Scotty Moore's guitar playing, and I attempted to learn all his fantastic licks on my Stella guitar with every subsequent Elvis Presley release on Sun Records. Eventually, my band, the BonneVilles', biggest gig was a live concert/radio broadcast from the Coke Arena in Danville, Virginia, which featured special guests Bobby Rydell and George Hamilton IV. The BonneVilles were good, but we only played hits of the day. In August '62 I decided to go to California; I was determined to form a new band out there and be in the music business.
How'd you get into actual recording?
Sometime after arriving in Long Beach, California, I started recording my new rock 'n' roll band – Lloyd Terry & the Victors, in which I was a guitarist – onto a Sony 2-track reel-to-reel in my small garage that the group used for rehearsal. Using the band's very good-sounding Bogen tube mixer, I could mix four mics at a time.
What was the recording workflow used then?
On the first pass, I would send the mono output of the Bogen to one channel on the Sony. Then, on the second pass, using the sound-on-sound technique, I'd add another three mics along with the other track that had been pre-recorded to track two on the Sony. Later, I got a [Berlant] Concertone tape deck – a Japanese copy of the famous Ampex 350, some better McIntosh consumer gear, and a second Bogen mixer. I saw a schematic for something called a "limiter" in Popular Electronics magazine, and I built one, attached it to the output of the Bogen, and it was a very nice improvement in the sound. My echo was the same 1963 Fender tube reverb unit that I played with my Fender Showman amp.
What was the first nice mic you had back then?
A Philips Norelco condenser mic became my drum mic and was used for most overdubs and vocals.
Was there any acoustic treatment?
A little bit. Mainly hanging blankets and some old carpets. I did build a control room in the corner of my second garage, a 2-car garage, when I had more room.
When was the moment you decided to get serious about recording professionally?
I had a day job selling records at Morey's Music Store on Pine Avenue in Long Beach, where Carol Kaye [bassist from the Wrecking Crew, Tape Op #45] used to teach guitar. She had just graduated up to the big leagues, and of course became well-known for her bass playing. I met my wife there too, who worked in the billing department. It was the beginning of 56 years of marriage! I moved into another place in Long Beach with a larger 2-car garage, and that's where I started to get a little more serious [about recording]. I took all my technical questions down to Les Barcus, and his business partner, John Berry, in a local hi-fi store. They [Barcus and Berry] were developing a recording technique using no microphones, and while it wasn't ideal for vocals, and drums sounded a bit funny, it worked wonderfully for stringed-instruments and piano – a precursor to the modern-day direct box! The line of Barcus-Berry products began at that hi-fi store in Long Beach. I soon became a U.S. Postal Service mailman down by the beach, and I would finish my mail route and be in my garage recording later in the day. We [Lloyd Terry & the Victors] played lots of gigs with the "Never on Friday Club" in those days, whose mission was to rent hotel ballrooms for parties on Friday nights. We played for large audiences until 2 a.m. at various hotel ballrooms up and down the Southern California coast.
Wow.
I lived to play music, but it was the nighttime bar band work during the week that was really dragging me down. At the time, those bars were smoke-filled places, and I would be totally wiped out the next day. I had to get up early – about 6 a.m. to be at the post office by 6:30 a.m. – and most of the time I carried the mail and a headache! I was happy to advance my recording techniques as much as possible. I started recording a lot of other people besides my own band, and when my recordings started to sound a bit more professional in my second garage studio, some good word-of-mouth took over from there.
Were you getting paid?
For the local guys that we knew in the Long Beach scene, there was no charge. We all did it together. However, when people that didn't know us started knocking on the door, they paid the till.
What are some of your favorite sounding recordings from around that time?
Mainly of our band [Lloyd Terry & the Victors] or playing with a couple other good singers – we started to make some good recordings. Some of the [self-produced] recordings we did inspired some producers in L.A. to want to take us up to Hollywood to record there. There was a fellow, Stan Silver, who had long been interested in Lloyd Terry's musicianship and songwriting capabilities. Some of the recordings from my garage caused him to ask us to come up and cut some songs in Hollywood. Lloyd Terry & the Victors went up to do a surf instrumental at United Western [Recorders] – Bill Putnam's place.
And you did a session around that same time at Wally Heider's Hollywood studio?
In 1965, James Decker, the legendary French horn player who had been recorded by Wally many times when the big-bands and orchestras recorded at United Western – and was the father of the Decker brothers [who played in the Victors] – arranged for us to record at Wally's new studio at the corner of Sunset and Cahuenga in Hollywood, with Wally himself as the engineer! I met Wally for the first time during that session.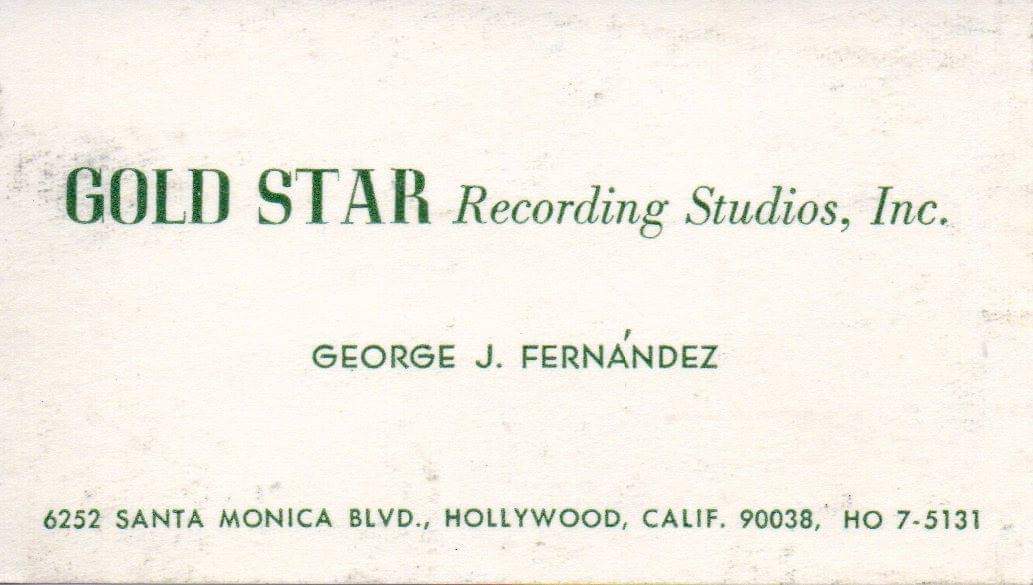 George Fernandez's Business Card
How did you get more studio experience after all that?
Somehow, I learned that George Fernandez, one of the famous Gold Star studio engineers, had built a brand-new studio on Grand Ave. in Santa Ana, called United Audio Recording Studio. It was just a couple blocks from Don Randall's Fender Sales office. Bill Medley, of the Righteous Brothers, maintained an office next door to the studio. I went to visit George one day, and they were already doing sessions. The top panel of the console was not even installed yet! He said, "Well, I can't pay you, but if you want to come in and learn this, I'll be glad to have you." So, I jumped on that opportunity. One day, Medley was in, recording for MGM. It was my first pro session as I assisted George Fernandez. I did do quite a lot of work at United Audio in Santa Ana, and honestly never got paid for any of it. I got pretty worn out going back and forth from Long Beach to Santa Ana, and then carrying the mail during the day too. I decided I would try to find some paid work on a staff somewhere in Hollywood. The first time I made the rounds up there I found no success. The second time, however, I took along some of my very best recordings from Santa Ana to audition at Wally Heider's and was hired to be on Wally's staff in L.A.! That was in March 1968.
As 1969 rolled around, Wally Heider's San Francisco operation was getting under way.
San Francisco sure had its day, and it was – in my opinion – a small market, but high-volume while it was in full bloom over that time. I had recommended that Wally hire George and bring him up to San Francisco, and I would still be the second engineer to George Fernandez, who would be Wally's heavy – Wally called all of his mixers "heavies." Anybody that had recorded real good music and had a few hits became a heavy. I made several trips up to San Francisco in late '68, helping run cables, solder microphone lines into the different rooms, and work like that. Prior to opening, George Fernandez finally came up and assumed the position of "Head Mixer." Well, in San Francisco it was a totally different recording experience both for George and for me. It was San Francisco in a very liberal environment, and it got very busy. George was used to the L.A. method – you come in, you book three hours, you work hard, session over, mixed. Well, they didn't quite work that way in San Francisco. George did the first sessions in [Wally Heider Studios'] Studio C in March '69, but then something went down between Wally and George – I never knew exactly what – and George was no longer at Wally's. Wally said, "Russ, you're the mixer now." It wasn't too long after George had departed, and then things started with other local bands like Joy of Cooking and Clover – that was a group I worked on for Fantasy Records and my first association with them. Of course, they were very happy to see us up there because Creedence had just started to make big money for them, and we were across the Bay Bridge from Oakland. They could bring over tapes they did in their small Oakland studio to Heider's to be mixed with our much nicer equipment and echo chambers. I started doing a lot of that work, but mostly after I had done my first Creedence session there, in about March 1969.
Studio C had a certain sound on all those records.
Wally was a disciple of Bill Putnam, and built Studio C in San Francisco to the exact dimensions of Studio 3 [United Western] down in Hollywood. Wally had booked time in L.A. at Studio 3 and took measurements of the tracking space, the control room, and everything. That room [Studio C] was upstairs and it had a cement floor; carpeting was spread over the entire floor, and it had some different wall and ceiling treatments than the other studios. And that studio – the acoustic treatments and everything – were designed by a fellow named David Mancini (Devonshire Studios, North Hollywood), and some people thought he was Henry Mancini's son! I learned, later, that he was not. But, that room [Studio C] stood alone, as it had its own little bit of magic. Sometime later, I had recorded Blue Cheer in there, perhaps the loudest band in rock 'n' roll history. They were so loud we could hear them throughout the entire building after they amped up and started playing, so that prompted Wally to re-build Studio C a little bit. He elevated (floated) the floors with some additional airspace. That helped a lot.
When did Creedence come in?
One day we went in to work and there was John Fogerty standing in the hallway. Wally took him around and showed him Studio C. Wally introduced us and we scheduled a single session. I had no idea what song we were going to do, but it turned out to be two instrumental pieces ("Glory Be" / "Broken Spoke Shuffle"). In effect, it was a test session for the band and Fogerty to see how things sounded in that room.
These songs came out years later as bonus tracks on some album re-releases.
During the Green River albums sessions, a short time later, there was one cut that never made it to the album release, and I can't remember what that one was.
Some of those songs on that album were done at RCA in Los Angeles?
Correct; "Bad Moon Rising" and "Lodi." But everything else was done at Heider's.
This was all recorded on 8-track tape at that time? How was it all set up?
The tracking sheet had Stu Cook's direct bass on track 1, Tom Fogerty's rhythm guitar on track 2, and track 3 was open. The entire drum kit was recorded onto tracks 4 and 5, track 6 open, then John Fogerty's lead guitar was on track 7. Track 8 was a Neumann U 87 placed about 6-feet behind the drum kit to capture room ambiance. By the time Green River came out, that was a third-generation copy. It was multitrack to multitrack and then to final mix. We had Ampex and 3M machines – once in a while a few Scully's would show up. But my favorite was the 3M M56 8-track machine. We did "Commotion" and "Green River" to 8-track, all the way. The drum kit was recorded on two tracks as a stereo set. I also recorded the echo chamber on the snare locked into the mix. I did that because we had one really good echo chamber built at that time. When I did a final mix, if I started to pound the chamber with drums and then tried to get the vocal echo nice in there, the drums would color the vocal echo in a not-too-complimentary way. I locked the echo in on every Creedence session after that.
Doug Clifford's drums sound really great on those records.
The fatness came from a big Camco wooden snare drum. I used a Sony microphone bag which I would tape onto the head to try and give it that "thud." Later on, I started putting a Shure mic under the rattles and added some brightness back into the snare sound. I started that drum mic'ing technique on Creedence's Willy and the Poor Boys. Later, the drum sound changed again for the Pendulum album. Doug had returned to his older, smaller Ludwig snare that he had used on their first two albums, and we also pulled the front head off of the kick drum. A lot of people have wondered about that. I'd go out in the room and listen to them play, then go back into the booth and try to duplicate what I was hearing out on the floor. Fogerty would then put his guitar down and come into the booth with me; he'd listen to them play some more and ask for some adjustments.
Like what?
It was hardly ever anything too serious... like a bit more treble on the rhythm guitar, if I could increase some echo on the drums, or add some compression to the bass. Little tweaks. Then he'd go back out, sit down, and they'd cut the tracks.
Scratch or guide vocal?
No, but I had a mic sitting there for him, a Shure SM56. Once in a while he might talk to them if they had headsets on, but that was extremely rare. They were very well-rehearsed.
Never any edits or studio tricks?
Almost never. Creedence did return to Studio C in August '69 to record Willy and The Poor Boys, the group's third album released in 1969. The band had some difficulty capturing the keeper take of "Cottonfields." After several attempts during the tracking session, they settled for a nearly perfect take; although the kick drum sounded somewhat tired during the guitar solo. At John Fogerty's request, I fixed the problem with a razor blade, removing approximately an eighth-inch piece from the two-inch multitrack tape between each kick and snare hit during most of the solo. John then overdubbed two acoustic rhythm guitars, which are mixed a bit loud, to smooth out the repaired area. Several years later I learned that John had placed the small pieces of discarded tape into an envelope and presented it to Doug Clifford.
Fogerty did a lot of one-man-band sessions after Creedence disbanded that you engineered?
Fogerty wanted to do some country songs and Fantasy had opened up their new Studio A, built by some of the same folks that had done the electronics in Heider's Studio C and D. They did not have an echo chamber. John had changed his looks. Additionally, he had learned to play some fiddle, pedal steel, and banjo. That's when we began making his Blue Ridge Rangers country album. Basically, he had this entire group of instruments surrounding him in there, and he would pick one up and go from one to another. He had a drum kit in there too. We usually did a good rhythm guitar part first to set everything up. Then drums and bass. There were no clicks to play to. You've got to give him credit. We did the final mixes over at Heider's.
There are such great vocals on all his songs. What mics did you use?
A Neumann U 47 tube mic. We had tried the U 87 solid state, but he didn't like it on his voice. An SM56 was used on "Green River" and "Commotion" for his vocals.
Coffee and menthol cigarettes were the input?
And root beer. [laughter] He smoked Kools back then!
Did you share any feedback or opinions with him or other artists in the studio?
No. Fogerty was the kind of guy who didn't ask. I would not suggest anything, creatively. Only very few times, for example, when it pertained to something technical during the session. I was never anything other than the band's recording engineer.
What were Crosby, Stills, Nash & Young's Déjà Vu sessions like?
Wally Heider told me that David Crosby, Stephen Stills, and Graham Nash were eager to begin recording songs for the follow-up to Crosby, Stills & Nash, their successful debut album. I also learned at this time that Neil Young was now a permanent member of group. This was in August '69. Wally said that Bill Halverson, the recording engineer on the group's first album – and former manager of Wally Heider's in Los Angeles – was not available to record the first week of sessions in San Francisco. They were scheduled to begin in Studio C, and the band requested I work with them until Bill became available later. Wally also explained to me that Bill might not even be available to record the remainder of the band's sessions in San Francisco after the first week. Strangely, Bill later told me that he was stunned that the sessions had begun without him. So, we met with Crosby, Stills and Nash and gave them a tour of the Studio C and answered their questions. When we went into the control booth, there was a safety copy of the Creedence Green River album sitting there. Steven Stills asked if he could hear some of it. We weren't too keen to do that, but we did. Stills loved the cut "Green River" but said he didn't care too much for the rest of the album. I did the first week only of sessions with them on Déjà Vu. The first day was tracking for the song "Woodstock" and I did a mix that night. It was all very, um, inspiring. But mainly because Grace Slick was sitting next to me on a stool under a spotlight, like a movie star. These were very social sessions, with a lot of people coming in and out. Members of Jefferson Airplane and other notable artists. The second and third day we did "Teach Your Children" and "Our House." One evening, I worked with Crosby making a bunch of songwriting demos, which eventually were released many years later. Neil Young eventually showed up, and we did the basic tracks for "Helpless." I only did a mix on "Woodstock," which everyone liked, but Stills wanted to do some more overdubs and then Bill Halverson took over the project after that. I did the "Sleep Song" for Graham Nash [Songs for Beginners], which happened a week or so later.
How did you handle all these big and famous personalities during those years in San Francisco?
I was never intimidated by anyone in the studio as an engineer, nor the "local activity" that came into the studio in those days. The Airplane and the Grateful Dead were fine musicians, but they kept their distance. I did get to know Jerry Garcia from albums I engineered on which he participated, but many of the others were kind of distant. They knew I was an "L.A. guy." The scene was certainly interesting. I was once producing a session with Russell DaShiell, who had played on A.B. Skhy's [self-titled] debut album and on the hit "Spirit in the Sky" with Norman Greenbaum, and we needed a bass player on one song. Jack Casady, from the Jefferson Airplane, was sitting out in the hallway and I asked him, "Hey, would you play some bass on this song?" He came in and knocked it out. These were really okay people. Musicians. I learned to roll with anything that might come up while working in the studio. My job was to serve the client.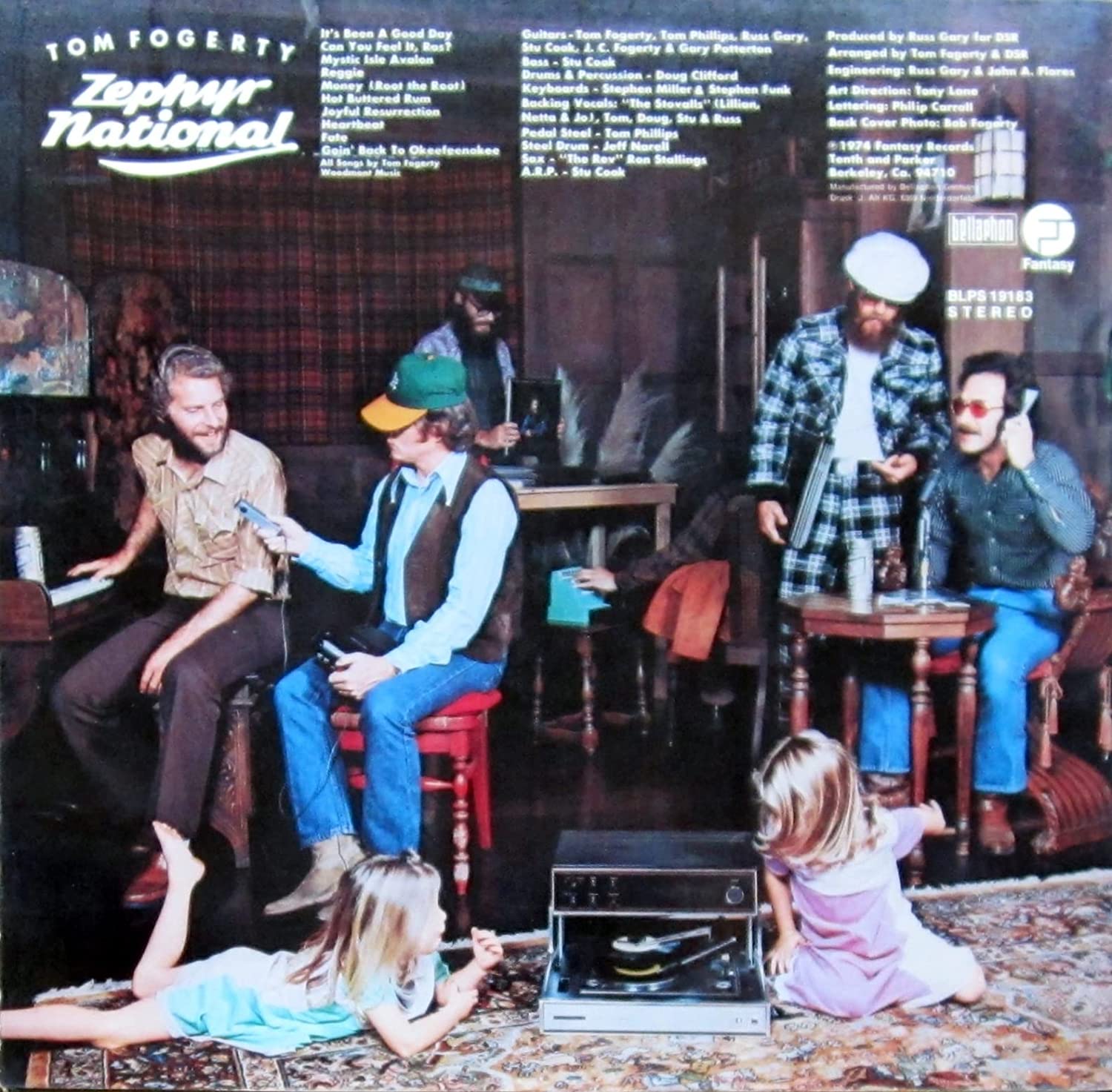 Tom Fogerty Zephyr National
And your career after all the Creedence sessions?
I had produced some other music over at Heider's as that's what I really wanted to do, and I started working for Fantasy Records as a staff producer. Being a musician myself, and a creative type, producing music was an appealing option. I was always willing to work with John Fogerty, or any members of Creedence. Doug Clifford wanted to do a solo album [Cosmo] at "The Factory," their rehearsal space in Berkeley. So, we brought in Wally Heider's remote recording truck and we did that album there. That's how we decided to form DSR Productions [Doug, Stu, and Russ], and build out our own recording truck. I was the producer by then. I said what I felt needed to be done in order to make the tracks good. We built an echo chamber and vocal booth in there. I produced two solo albums for Tom Fogerty there. Eventually I found a talented guy, Don Harrison. I produced two albums for the Don Harrison Band. Doug and Stu [from Creedence] played as the rhythm section. I felt Don wasn't really ready to go out and play big venues and they did not agree with me, so we parted ways. Later on, I did the Hoodoo album sessions with John [Fogerty]. These were really tedious sessions and we eventually scraped that entire album.
How did you end up recording the John Hiatt album, Slug Line, in 1979?
John Hiatt was all via a producer named Denny Bruce. I was already mixing audio for The Merv Griffin Show in L.A. by then. Denny knew the Creedence song "Sweet Hitch-Hiker." He wanted that same sound, and he asked me to do it.
How did you get into the television biz originally?
The guy that mixed front of house [live sound] for Creedence, Bruce Burns. He worked for a sound company in San Francisco and they transferred him to L.A. after everything slowed down up there. He saw me and told me, "You'd be a great sound mixer for this TV stuff." Burns was supplying sound equipment for television shows. He was doing one called In Concert, and he asked me to come over and mix live-to-tape, sitting in the booth and mixing the show. Right after that, someone told me to go see Merv. I retired from the television business in 2007, but I never retired from music! My entire life has been wrapped around a guitar, and I've tried my best to learn every lick Scotty Moore played. When I met him for the first time in the '90s, I was in heaven.
What's keeping you busy these days?
I recently finished a song entitled "Wildcat Blues" in my basement studio. That song began as a rocker when I lived in California. I sat down one day last October and something in me said, "Play it this way." And the new version appeared. It's got a harmonica and cello on it!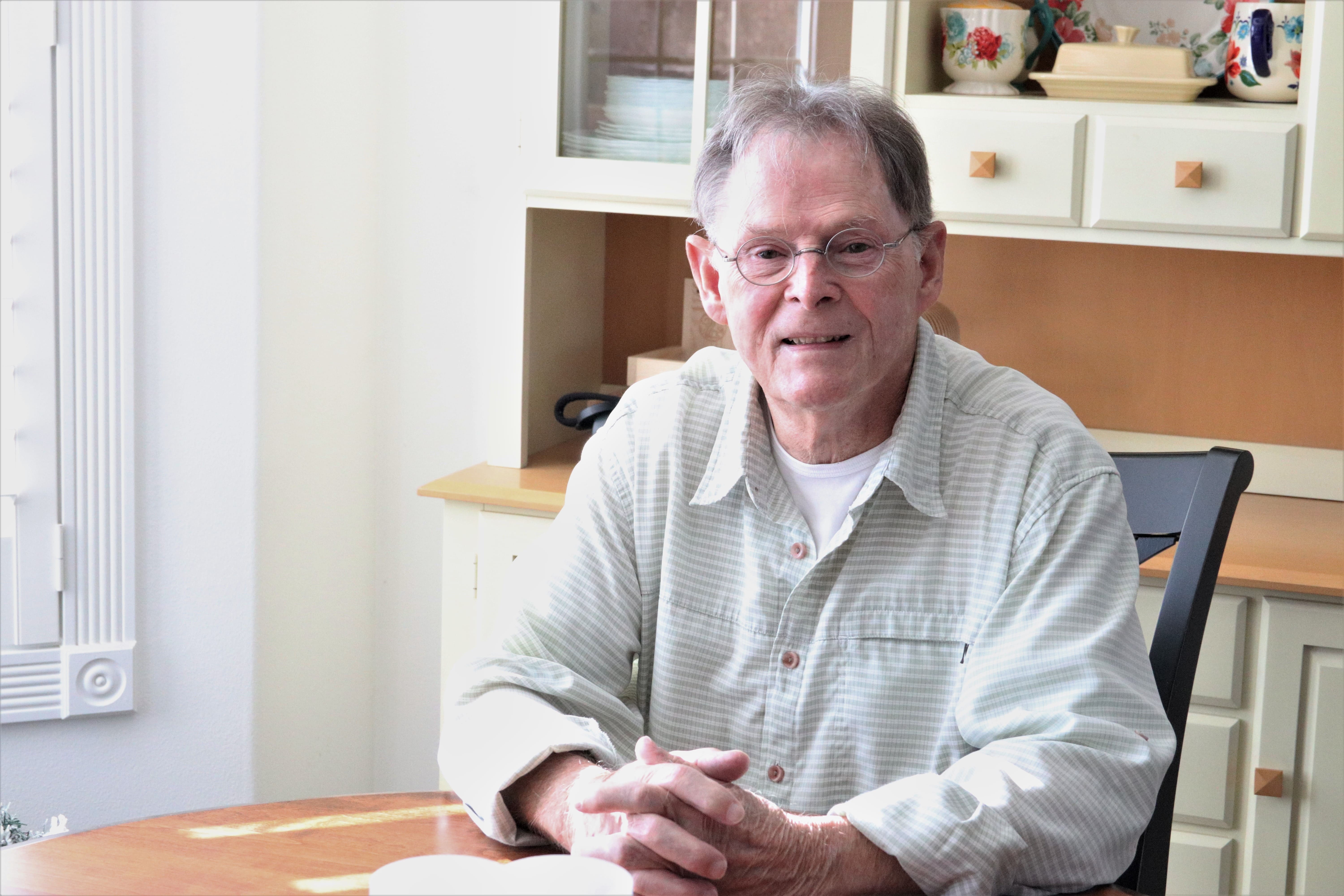 Russ Gary at home by Marty Jones
Tape Op is a bi-monthly magazine devoted to the art of record making.