How does a skilled jazz drummer become a hip-hop producer, musical director, DJ, and film scorer? Working with Common, J Dilla, Madlib, Paul McCartney, and Diana Krall, Karriem Riggins has accomplished so much in the musical realm. Add to all this work his new software release, Native Instruments' Komplete Instrument Play Series: Karriem Riggins Drums, an interesting side project where he's offering up kits, one-shot hits, grooves, and patterns full of unique, tweakable sounds and feels. We caught up over Zoom while Karriem was in an airport lounge on his way to Atlanta, Georgia. As he told me, "I just did a lot of work in New York, and I'm making my rounds."
Your career is an intertwined mix of the coolest hip-hop and jazz that I've seen, going back to when you were really young, right?
Yeah, for sure.
Your dad being a keyboard player, you must have been immersed in music as a kid?
Definitely. I've been around music since I can remember anything. That inspired me to cross these genres and do what I do. I listened to a lot of classical music. I was introduced to [Ludwig van] Beethoven and Maurice Ravel, jazz, funk, and so much music. He was definitely a music enthusiast.
What did your dad think of hip-hop when that started coming around?
He loved it. I played him the first 45 that I bought that was a hip-hop record: The Fat Boys "Stick 'Em." It was all beatboxing on that, and they used effects with the beatboxing. It blew his mind. He was like, "This is innovative. This is the next sound right here." It was funky; the syncopation and the rhymes. It was special. You can hear the forward motion of where hip-hop will go, and it's still evolving.
What sent you toward drums as your primary instrument?
That was just the instrument I gravitated to when I was seeing my dad rehearse with bands. Even seeing the wood chips fly from the stick playing hard, I was just like, "This is it, man." That's what made people dance. I DJ as well. Being the sole controller of people grooving is a special gift. That puts people in a beautiful place. It's therapy for so many. Drums can live by themselves and start a party. That's what I always loved about them.
True. What were your earliest recordings? I know you've mentioned making loops as a young kid. What were you using?
Oh, Casio keyboards, tape players, pause and record, and however I could get it done at the time. I moved to New York in 1995, and '96 is when I bought my first drum machine, the Akai MPC3000. That was special.
Had that been on your list for a while?
It hadn't been. I asked my friend, "What's everyone using? What's the easiest way to make beats where it's flawless and effortless? I need a workflow that is easy, as I deal with the ideas that are coming." He mentioned that. I feel like Native Instruments' [Play Series] is that now. The workflow is seamless. You can get ideas out and have a song done in a small amount of time.
The way you can assign the rhythm loops to keys, or a controller, is like playing an MPC.
Exactly, yeah. You can use a controller, a keyboard, or you can use the Native Instruments' Maschine [controller]. The Maschine is more driven by the MPC world, where it's easy to use. All of their gear is easy to use.
Did Native Instruments approach you to make this?
They approached me. Justin Adams [at Soundwide, NI's parent company] – who's one of my great friends now – reached out to me through DJ Dummy [The Genius], who's also a Native Instruments user. They pitched the idea for me to do this, and I was super open to it. I definitely have always been reluctant to do it previously, because I have such big ideas for what I want and how I would want to use it. Once I told them the things I wanted to implement in it, it was pretty easy for them to do that. It has surpassed what I thought it would be.
It's a long way from Casios and a cassette recorder.
Oh, big time, yeah!
You tracked for this in Studio III at Sunset Sound, right?
The engineer I normally work with, Kyle Hoffman, we'd done a lot of work around L.A. The studio he works at is NRG [Recording Studios]. I was looking for another sound, just trying to enhance and go dirtier, but also with a more present quality. He recommended Sunset Sound. I think the first studio [there] we recorded at was Studio II. I was wanting to dig deeper. The people at Sunset Sound told me about Studio III, this special room where Prince had done so much. I went in there, and as soon as I saw it, [I knew] it was amazing. The way that we could configure the drums was perfect. It was a small booth that had a glass shutter door; but we left it open, and the drums were outward into the room, so we mic'd the room. It gave me exactly what I've been searching for for so many years. That's the sound I'm looking for in that room. There are only a couple of studios; that, and Brooklyn Recording in New York.
I spent a week there once with Elliott Smith, watching him work [Tape Op #9]. I thought that room was a great space that felt comfortable.
Yeah. What's crazy is that small booth to the left of the console is a room where Prince had a king size bed, and he did all those demos lying in bed with a microphone. It's bananas!
I've recorded people singing on the couch before.
Exactly. Yeah, just vibe out. Sometimes that ends up being the keeper.
Karriem Riggins using his Native Instruments drum pack (Photo by Scott Turner)
Hey, if it feels right. I love these samples on your Native Instruments kit.
Since the Native Instruments Play Series came out, I've walked into sessions and not even set up my drums. I just open the computer, messing around. People are like, "Yo, what's that?" I end up doing the whole session with the actual Play Series. It's that special to where you don't really notice a difference.
Back in the day, you'd hand someone a CD-R of beats to check out. Now you're saying, "Here's a whole bunch of me in a package."
Yeah. It's definitely an innovative way to be a part of an inspirational creation. So many producers, including myself, look for inspiration from many places. I feel like this gives infinite opportunities to be creative.
Have you heard any songs yet popping up with sounds and rhythms from this?
So much. There are people hashtagging on Instagram, and there are reviews on YouTube. A lot of the reviewers are making beats, and a lot sounds incredible.
It must feel nice!
Definitely. I'm blessed. I'm very grateful.
How long did you and Kyle spend tracking at Sunset Sound?
I record there frequently. I spent maybe one and a half days. The real process of time was taking everything, manipulating it, and using the mic choices. There are different mic placement options in the stems. It's an intricate program, where you can tune it to your liking. More work went into that. It took me a couple of months to get into that. You can go from a wide room, to crazy psychedelic effects, to a direct hit with a mic like a tight room. The producer can have their own tones, without sounding like someone else.
Do you ever feel it could give too much of your sound and style away?
Not necessarily. I did do some sequencing in there, where I did 16 patterns per kit. But with those patterns, I feel people can take an element from that, embellish on the idea, and it'll blossom into something else. That's just me spreading the love and the music. Music is therapeutic and healing to me. I want to be able to put it out in the world and spread the knowledge that I have in order to help the art form.
It's cool to have every sample prepped and ready to go. It's like an instant, "Jump in the pool!"
Exactly.
Was there ever a dichotomy in your head of what a natural drum set sounds like versus what a sample might be?
I was definitely embracing all of it. It taught me to have a wider ear to try to match the tones that some of these records had. Even though a lot of the records were going through lots of compression and so much beautiful outboard gear, I found a way to manipulate the frequencies to sound like the music that I loved listening to.
When you hooked up with Common, that must have been a best of both worlds to integrate a lot of your playing, writing, and ideas.
Yes. He's like a brother to me now.
Did that push you further?
For sure. Being around him, I learned what an MC wants and what's needed in an actual production. A lot of people make beats, and they don't know the rest. Sometimes beats are not friendly to rap. It sounds good, and you can appreciate it as an instrumental, but I learned how to produce a song through working with him. I definitely tuned parts to get it to the right key so that it was perfect. Frequency is important for his voice, because he has a special voice.
The first time I heard Public Enemy, I thought, "There's a freedom here to get really dissonant if we want."
It all works, man. That's what I love from listening to them. The production there was filled up so much. So many different elements that all made the composition, like an orchestral piece.
Yeah. On the same front, there are times when we've got to scale everything back.
To the root.
It's true. Do you still play out with Common?
Yeah, we still do shows. We're scoring movies and television shows [13th, Burning Sands, Mo] at the same time. I work a lot with him.
Karriem Riggins (Photo by Eric Jordan)
On your solo albums, what have been the thoughts that start those out?
The first one, Alone Together, was inspired by Madlib pushing me to put out an instrumental record. I had so many beats and was shopping beats to people. He was like, "Man, let's put out a record." Once he introduced me to [Peanut Butter] Wolf [Stones Throw Records], that inspired me to work with a batch of music I had. But it also inspired me to create some inner moods and make a story. Alone Together is a story of what I was inspired by at that time. Brazilian music, going to Rio [de Janeiro], and DJing with DJ Nuts and Ed Motta. The next album, Headnod Suite, was a continuation of that, but a bit more electronic-driven.
The recent Jahari Massamba Unit album [Pardon My French] with Madlib came together in a whole different way, right?
It did. Madlib's one of my favorite artists of all time. He's prolific, and his work ethic is something to be inspired by. When I handed him a drum CD the first time – I may have had nine or ten song ideas on there – those came back as songs the next week.
All of them?
Yeah, all of them. We have about 100 songs he's recorded from all the ideas. We have more, which is a blessing. He's inspiring.
Here we are taking the technology of hip-hop, but with Jahari Massamba Unit you're flying right back into electric free jazz.
Yeah. A lot of people are not even privy to that, which is crazy. People don't even know the scope of how deep he is musically. A lot of people only know he's done work with Freddie Gibbs or MF Doom [Daniel Dumile], but he is making huge strides all across the genre.
I have a lot of respect for the way he's thinking and working. Speaking of people like that, the late J Dilla [James Dewitt Yancey] was a big part of your story.
Yes.
Working on wrapping up his album The Shining must have been a similar feeling like I had working on Elliott Smith's music after he passed. Every day I'd turn around and wish he was in the studio, so I could ask, "This way or that way?"
Right? I spent so much time with him. He had a huge palette for music. He was also an enthusiast who listened to everything. He wasn't allergic to any music.
Did you feel you had enough to go off of, at that point? I know that record was about 70 percent done...
I definitely knew. Musically we were pretty much there. Some parts, he may have had a verse or an idea, so I flew in people that he loved, like Black Thought or D'Angelo. It all came together as a blessing.
Oh, man, yeah. It's a privilege to be in these positions and help the music get out there. What are you working on right now?
I'm continuing to make music and doing a lot of production with different people. I have quite a few releases that just came out recently. Like Maxo's album, Even God Has a Sense of Humor, on Def Jam. He's an incredible rapper. I'm the Artist-in-Residence at the Detroit Jazz Festival this year, so I'll be bringing in some acts and doing a few shows there, presenting some of the music that I love. I'm mixing it up. I'm doing some touring in the spring with Diana Krall, as well.
Do you enjoy getting your chops back on the acoustic drum kit?
I do. We come from that same school; we were both under the tutelage of [the late jazz bassist] Ray Brown. I learned a lot from Ray Brown. I have to do it; I have to play those arrangements and speak that language. It's part of my soul. I listen to those records, and I played so many years with them. It's hard to let that go and do something else. I'd like to continue to do everything that I love. Everything feeds off of each other. It's an inspiring thing.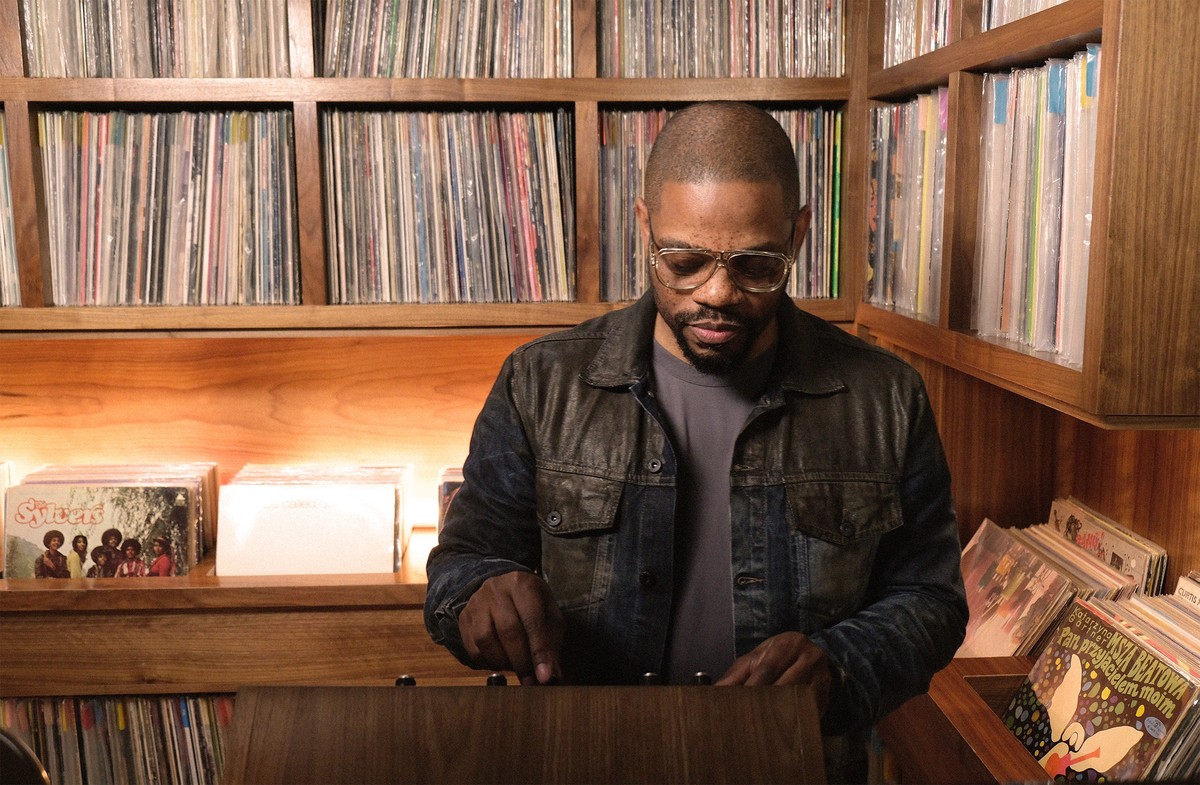 Tape Op is a bi-monthly magazine devoted to the art of record making.