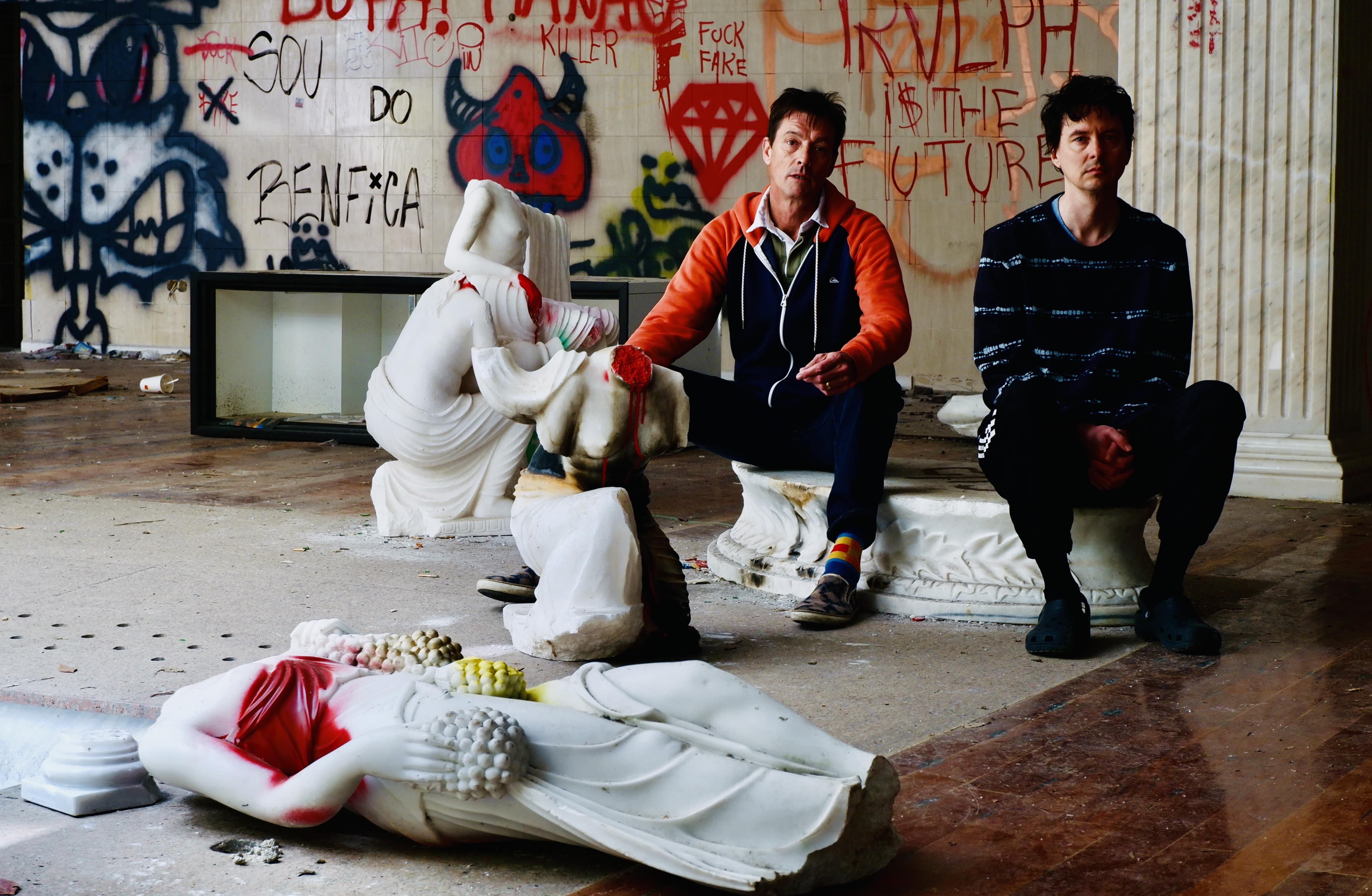 Noah Lennox and Pete Kember Photographed by Ian Witchell
After Tape Op's online editor Geoff Stanfield interviewed both Noah Lennox and longtime collaborator Pete Kember [#46] for the Tape Op Podcast about their work together, and their recent album Reset, he wanted to dig a little deeper into Noah's musical beginnings and process. Geoff dropped editor Larry Crane a line, who decided wanted to then interview Pete Kember, and catch up with all that's happened in his interesting career over the last couple of decades.
I first came across Noah Lennox, aka Panda Bear, via the Animal Collective album Merriweather Post Pavilion, and then, through some one-path-leads-to-another musical sleuthing, I found his album, Panda Bear Meets the Grim Reaper. I was taken by the melodies and harmonies that reminded me of some of my favorite records from the '60s and '70s, but fused with modern electronics, synths, drum machines, and driving, danceable grooves. His work felt familiar in an ethereal way, while simultaneously sounding new and fresh. His collaboration with Daft Punk on "Doin' it Right," from their massive Random Access Memory album brought the Panda Bear name to an even wider audience.
What was your path into music?
I guess it started in school; playing the recorder as lots of kids do. I wanted to learn how to play piano. We had a piano in the house. I was interested in it from an early age. I felt it was something I understood well. Music always seemed like something that made sense to me. There was a Christmas where my brother [Matt] got a drum set, and I got a guitar. We had a Korg 01/Wpro in the house too; a keyboard and synthesizer that I'd spend hours making beats on. It was like house music, but I didn't know what that was at the time. Lots of sequences and looping sequences. There are a handful of pieces of gear that I feel I've spent so much time with that it almost becomes like a buddy. I'd develop a rapport with the thing in such a way that it feels intimate. That was the first piece of gear that I felt I understood the ins and outs of so well, from having used it so much. I used to save settings on these little floppy disks. I know that makes me a thousand years old. [laughter] Those were key events in my musical life, having the piano, the keyboard at home, music in school, and the guitar and the drum set. I would always try to play my brother's drum set when he wasn't around, because he didn't want me to play it!
Did you do much singing as a kid?
The event that shaped me, as a musical person, more than anything else is that I did after-school chamber choir in high school. Hearing the different parts of the choir do their thing; like the different sections would practice their part, and I could hear the melodies. Sometimes I'd think, "This is never going to fit together. It seems so weird." We did Gabriel Fauré's "Requiem." It's still one of my favorite pieces of music. It seemed impossible that these parts would be in any kind of harmony when I'd listen to parts individually. The idea of many voices singing together, and creating chords and textures, is probably the single most influential event for me. I also take music as an almost sacred thing. Some bridge to the mysterious, the unknown; all the things that we don't really understand. I've always liked that quality of music.
Do you mean in terms of thought or creating a space for that to exist?
Both. There is something about people singing together and what happens between people in the room that is interesting and powerful. Music can be many things, but I don't mean to say that it has to be a healing force. There are certain party jams that I like a lot. They're effervescent and fleeting, but that's fine. Music can be anything. Some of the music that has meant the most to me either has a "getting in touch with the divine" quality, even though that sounds corny, or a "healing." When somebody tells me my music helped them through a hard time, it's the best feeling for me. I guess that's the hope for this stuff, ultimately, that it's some connection or communication with another person that is imbued with some love or positive feeling. Even if the subject material can be dark, I've always felt that it's some sort of loving communication.
If one was only making music from a purely transactional and commercial standpoint, that well is going to run dry.
Yeah. I was lucky to start doing it so young, because I realized pretty quickly that the feeling I got – when I made something that was an improvement on the last thing that I did, or something that made me feel excited – was its own reward and the beginning and the end of the purpose of doing this. It was one of these things in life that brightens your day and makes you feel good. We all tend to have these big dreams, but I feel like the big dreams, even if they work out, aren't as fulfilling as a lot of these little, small,...
The rest of this article is only available with a Basic or Premium subscription, or by purchasing back issue #156. For an upcoming year's free subscription, and our current issue on PDF...