Donn Landee's lengthy discography is a testament to his versatility and skill as an engineer. Landee worked for T.T.G. Studios and Sunwest Recording Studios in Hollywood before he became a staff engineer for Warner Bros. Records in 1971. Best known for his collaborations with Van Halen and The Doobie Brothers, Landee also logged studio time with artists like Eric Burdon and the Animals, Chet Baker, John Sebastian, The Doors, The Everly Brothers, Jackie DeShannon, Van Morrison, Little Feat, Arlo Guthrie, Montrose, Maria Muldaur, and Carly Simon. More often than not Landee recorded, mixed, and mastered the albums he worked on in the studio. During his three-decade career, he engineered three
Billboard
#1 hits: The Doobie Brothers' "Black Water" (1975), "What a Fool Believes" (1979), and Van Halen's "Jump" (1984). He also tracked three
Billboard
#1 albums: The Doobie Brothers'
Minute by Minute
(1979), and Van Halen's
5150
(1986) and
OU812
(1988). This conversation centers on Landee's early years, particularly his work in the 1960s, and we plan to have a "part two" chat coming up soon!
You grew up in Santa Monica, California. Did you have a childhood that was filled with music?
My mother had a piano, and I couldn't stay away from it. I played by ear, and I thought I could play nearly anything I heard until my parents gave me lessons. [laughs] I hated them, and I quit playing piano. This was when I was five or six. I still loved music, but that ended my playing the piano.
Your father, Robert Landee, was a musician?
No, he was an electronic engineer. My mother and father divorced, and my father remarried in 1957. He married a musician, Janie McFadden. She had a trio and played Las Vegas. She had a contract with RCA Victor Records and recorded at RCA Studio A in Hollywood in 1964. So, that was another real music connection.
Did you attend that session?
Yes, I was at her 1964 session, which was the first ever in the then new RCA Studio A. In fact, the RCA staff hadn't completely moved in yet. Twice a mic on the strings failed and someone had to run to the old RCA studio, which was on the other side of Vine Street, and get a replacement. It was live to 3-track. The producer was Neely Plumb, and I think the engineer was Dave Hassinger, but I was never able to confirm that. At the time, I didn't recognize any of the session players. They had piano, bass, drums, and two guitars on one channel, twelve strings on another, and Janie's vocal on the third track.
You grew up with another musical family, the Dragons.
I didn't meet the Dragon family until 1961. I met Dennis Dragon [The Surf Punks, Tape Op #69] in September of that year, during the first week I was going to Santa Monica High School. He lived in Malibu, and at the time Malibu kids would go to Santa Monica High. We were both applying for the school's sound crew because we both thought it would have something to do with recording music. It didn't. It had to do with running PA systems for football games and pep rallies. That was truly the bottom of the barrel. There were special requirements, like, "You're going to have to work in the rain." [laughs] So, we didn't much get into that. I got to know Dennis, and as soon as I could drive I was regularly going to their house in Malibu. That's how I met his father, Carmen Dragon, and the rest of the family.
What was the first record you remember falling in love with as a kid?
Harry Belafonte's Calypso. The sound of that record was like nothing I'd ever heard. It was fantastic for its time, in "glorious monaural" and all that. It was a great record, and was the first LP to sell a million copies.
Back in those days, record companies often didn't credit producers, much less engineers, on the albums. Were you able to learn who worked on it?
No. I later found out it was done at RCA in New York, but that's all I ever found out about it. At that time, my father was a chief engineer at Collins Radio Company; they built radar and communication equipment. After he married Janie, he would bring recording equipment home, like an Ampex 350 recorder, an Altec mixer, and Telefunken U 47 microphones. In our living room, I did my first recordings. We had three microphones. It was Janie singing and playing piano, accompanied by a string bass player. In fact, [I recorded her playing] the seven-foot Steinway B piano that my father sold to Ed [Van Halen] in 1985. It's the same one that we used on Van Halen's "Dreams" and that Andy [Johns (Tape Op #39)] and Eddie Van Halen used on "Right Now."
How old were you when you did that recording?
I was ten.
Even at ten, you were getting ready for bigger and better things in the music business?
I thought that [audio engineering] was maybe what I wanted to do. I was pretty sure I was going to be in radio in some way, because I had just received my amateur radio license at age nine. I learned pretty quickly that a lot of what I'd learned about electrical stuff could also be applied to recording.
Did you build radios?
I built kits. I never built my own radio from scratch, but I bought Heathkit and Dynakit amateur radio and stereo kits.
You later worked at the radio station at Santa Monica City College.
Yes. After I graduated high school, in 1964, I enrolled there. The school had a radio station called KCRW. I spent about three years at KCRW, doing radio shows and maintaining the equipment. I learned about broadcasting and the music business.
Am I remembering right that Howard Weiss, the engineer who later worked at Sunset Sound for many years, worked with you at KCRW?
Yes, we met at the radio station. A few years later, when I was at working at Sunwest Recording Studios in Hollywood, we needed somebody. Howard had just gotten out of the Navy. I said, "I think Howard Weiss is available, and he'd be great." Sunwest hired him. Later on, after things fell apart at Sunwest, he went to work for Sunset.
Did you have a radio show, or did you only do tech work?
I played records. My program was called Eclectic; that way I could play anything! [laughs]
What did you learn from your stint at KCRW? Did it change your mind about a career in radio?
I decided that I wanted to make records. The more records I listened to, the more I'd wonder, "How would I record that?" I'd listen for hours to everything that came out. I got to know where the L.A. pressing plants were, and when new records came out, I would drive, get them, and play them on my show.
When I was working on Ted Templeman's autobiography [A Platinum Producer's Life in Music] with him, he told me that when he heard how bad the first Buffalo Springfield record sounded it made him angry. He'd seen the band live and knew how incredible those guys sounded together when they played.
Yes, he and I talked about that. One of the reasons we both got into production the way we did was from listening to records we didn't like. But then there were some that were just great. Like anything done by Al Schmitt. I learned that pretty early. He did Henry Mancini's Hatari soundtrack, and that just sounded phenomenal.
This is around the time you first met Al. How did that come about?
I was working at the radio station and there was this guy named Bill Becker. His nickname was Toad. He would hang around the station, but he never really did anything. I got to talking to him, and he said, "I make guitars for rock stars." I thought, "Sure, Toad, yeah sure." And he kept telling me stories about the guitarists he built guitars for – the only one I remember was Eric Clapton. One day he said, "Hey, do you want to go to a recording session at RCA?" I said, "You can get us in there?" He said, "Yeah, it's Jefferson Airplane. I've got to get a guitar to Marty Balin. Can you drive me?" We jumped in my car and drove to RCA in Hollywood. Oddly enough, when we got to the gate, the guard waved us in like he knew Bill Becker. It was Jefferson Airplane recording Crown of Creation. Al Schmitt was an engineer, but he was the producer of this album, and so he was not allowed to touch the console. At that time, if you worked at RCA, producers couldn't touch consoles. That was the union [rule]. It would be an engineer who would have to do that. Al had just been elevated to producer and he was not happy.
Do you remember what type of console the studio had then?
I had seen that board before because I'd photographed a lot of sessions at RCA. Carmen Dragon would record orchestras there, and I'd been in the same studio many times before [as a photographer]. I don't specifically recall the manufacturer, but I have pictures of it. I remember I spent a lot of time looking at it, thinking, "This isn't too complicated." It had about two percent [of the capability] of a modern recording console.
Carmen Dragon was quite famous in his time. Tell me about him.
He conducted the Hollywood Bowl Symphony Orchestra and the Capitol Records orchestra. From there, he was the principal conductor of the Glendale Symphony Orchestra. His records were on Capitol. I remember the first time I was in his office there was an Academy Award statuette [Oscar] on his desk.
He must have been pretty inspiring to you as a kid.
He provided great opportunities for me. At that time, I was sure I was going to be a photographer, and here I was shooting these sessions at RCA that are 50 and 60 pieces – big sessions. I got to know the [recording] process and about how they did things at RCA. Eventually recording became more interesting than photography was to me, as time went on.
After college, you went to work in Hollywood?
Actually, the entire time I was at the radio station, I would spend probably at least one or two days a week driving to studios in Hollywood trying to get a job. I absolutely wore out my welcome at Sunset Sound.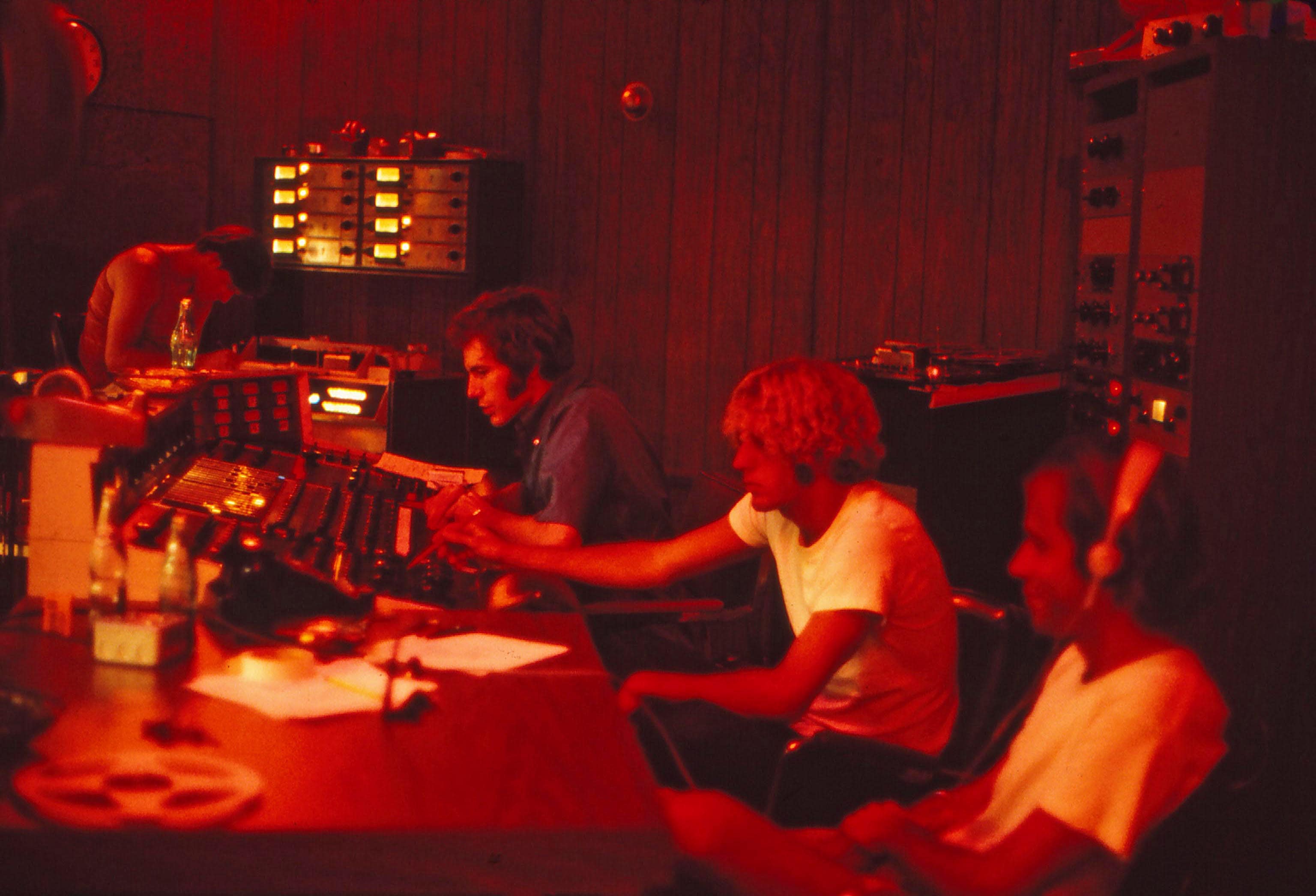 A circa 1969 mixing session for The Dragons at Sunwest. From L to R: At tape machine, 2nd engineer Gary Larsen, Donn Landee, Dennis Dragon, and Doug Dragon.
What was Sunset Sound like in the mid-1960s?
I don't know, because I never really made it inside! [laughs] Back then, the entrance to the studio was not in the parking lot [off of North Cherokee Ave.] like it is now. It was right on Sunset Boulevard. There was a woman who worked there. I talked to her the first few times I went there, but the last few times I went there she would see me coming and wave me off before I even got inside the building. [laughs]
What other studios did you go to looking for work? Did you go to Gold Star?
Yep. I went to them all. I'd go to Capitol [Studios]. I'd go to United [recording]. I'd go to Western [Recorders]. RCA. Columbia Records. Radio Recorders. I didn't even know T.T.G. existed until I heard from a friend, Jack Hunt, that I should go there and apply for a job.
It's amazing how many recording studios were operating within just a few square miles of each other in Hollywood in the 1960s.
Yes. Within about a mile of Sunset Boulevard there had to be ten studios. That's why the studio musicians of that era could make a great living back then by doing many sessions a day. All they had to do was drive up and down Sunset, from studio to studio.
Based on your knowledge of electronics, it's surprising that no one would hire you. Did you exaggerate your credentials to get hired at T.T.G. Studios?
I was honest at T.T.G., because I knew a guy working there and he had told me to come and apply for the job. During my radio days at KCRW, I worked part time for a remote recording company out in Burbank called Location Recording Service, or LRS. Its basic business was [sending its engineers] around Southern California with their equipment and recording school bands, orchestras, glee clubs, choirs, and whatever needed to be recorded. The company would sell records; they had their own pressing plant. That's how I got to know mastering. When I was working at LRS, I became friends with a coworker, Jack Hunt. He then left LRS and went to T.T.G. Jack called me about a year later and said, "You ought to come here. They're looking for somebody." I did and I met [T.T.G. owners] Tom Hidley and Ami Hadani, and they hired me on my 21st birthday, February 26, 1968.
You had mastered records for LRS?
Yeah, I mastered at LRS with the owner, Steve Guy, so I got to know the process. I never did it by myself. Steve had been a mastering engineer at a lot of studios in L.A. and then he built his own business.
You were a teenager and doing mastering?
There was a learning curve. It was not easy. There's a saying: to be a good mastering engineer, you should be a musical plumber because there are so many adjustments and pressures and valves to get right. And then, you know, the music was kind of important too. [laughs] It was an odd job.
What was the first session you worked at T.T.G.?
I don't remember. But early in the morning, we started by doing all [ad] agency sessions, which would be beer commercials, car commercials, cigarette commercials, and whatever. We'd record music for Budweiser, Winston, and Chevrolet. If I was there a little later, some of the pop artists started to come into T.T.G. That's why I worked with Eric Burdon and the Animals, Ricky Nelson, Sammy Davis Jr., and people like that. Then, at night, that's when the real rockers came in. That's how I met Lenny [Waronker], when he brought in The Everly Brothers. That's when I worked with The Doors.
You had quite a memorable experience working on the Waiting for the Sun sessions with Jim Morrison and The Doors at T.T.G., correct?
Yes. One night we were doing a playback. At that session, for some reason Jim would come in, stand right in front of me, and stare at me. I could not handle this, so I'd look down and work on legends, the patchbay, or something. Then he came in once [again] and he was still staring at me, but he was drinking a beer. A moment later, I looked up and he was pouring the beer into the patchbay. I yelled, "No! Jim! No!" Bruce [Botnick, engineer (Tape Op #74)] and everybody else heard that, and they all jumped up and grabbed him, but it was too late.
The damage was done.
Yes. When you get a patchbay dirty like that, you've got to take it apart completely and really clean things up. That took the studio down for a week. I kind of thought it was maybe my fault. In fact, I still do; like maybe I should have already been watching what he was doing with his beer. I didn't think he'd intentionally pour it in the console.
Who would?
When I was leaving that night, [Doors' keyboardist] Ray Manzarek stopped me and said, "Donn, it's not your fault." I said, "Yeah, but I could have stopped him." Ray said, "Do you know why we're not working at Sunset [Sound]?" I said, "No, why?" He said, "Well, Jim tried to burn down Studio 1 last time we were there." That made me feel a little better since it had happened before. [laughs]
What was it like to second for Bruce Botnick?
Terrific. He and [producer] Paul Rothchild were complete pros. Waiting for the Sun was The Doors' third album. One great thing about The Doors was that the same people worked on all those albums – same engineer, same producers, same talent. That was great.
Do you remember the songs you worked on?
I don't. I don't think we got a single [usable] vocal when I was there. Jim would want the lights out [in Studio 2]. Then he'd start singing. But he'd walk away from the microphone, and we turn the lights on to see, "Where's Jim?" "Oh, he's in the corner [still singing]." "Ah, no. You can't do that, Jim." [As the second] I would have written the names of the songs down, but I don't remember them.
I remember reading interviews with Paul or Bruce saying that it was incredibly difficult to get vocals from him during the Waiting for the Sun sessions. He was either sullen or belligerent, and they would sit in the studio trying to get Jim to do something productive.
That sounds like the few days I spent with him, yeah.
T.T.G. was a happening place back then. I've seen photos of Jimi Hendrix recording at T.T.G.
Yes, the studio that Hendrix was photographed in was the downstairs studio. That's where I worked with Lenny [Waronker] and that's where I worked with The Doors.
What was the board like in there?
It was made by Bushnell [Electronics]. It was all Universal Audio [components].
What do you recall about the way Bruce engineered at T.T.G.?
I don't remember much about the way he recorded. I just know he did a great job and music he did when we worked at T.T.G. sounded terrific. I do remember he wanted a Neumann mic for Jim, and we did not have a single Neumann mic at T.T.G.
You used something different?
Bruce used an AKG C12. I always thought that was unusual because everybody had, and used, Neumann microphones. But not at T.T.G.
So, was Lenny the first Warner Bros. producer you met?
I'm not sure. But I had met Lenny about a year before I worked with him on The Everly Brothers' Roots at T.T.G. Fortunately, he didn't remember meeting me.
What happened?
Well, Dennis Dragon called me. This is around 1966. He said, "I have a session at Liberty Records. Can you give me a ride?" I said, "Sure. Can I watch?" He said, "Yes." I picked Dennis up in my station wagon and got his drums driven to Liberty. Lenny was producing. Everything on the session sounded really good, except the guitar player could not get the part right. Back then I played guitar quite a bit, so I told Lenny, "I think I can play that." He said, "Really? Hmm. Well, okay." He figured out a way to get the guitarist off the session, and I went in there and played it. I don't think I played it very well, because [afterwards] it was never discussed. [laughs] When I met Lenny about a year later, I was thankful he had forgotten all about it. I think that was the last time I played guitar on a session.
Then the next time you were in the studio with Lenny you met The Everly Brothers. That must have been a trip.
Oh, it was fantastic, except all they did was fight. I recorded a lot of bands with brothers: the Dragon brothers, The Everly Brothers, the Van Halen brothers, and The Doobie Brothers. The Doobie Brothers were the only ones that didn't fight, because they weren't actually brothers! [laughs]
Ted Templeman told me he saw Phil and Don Everly warming up for a show in 1964, and they were arguing. But when they performed that night, they were perfectly in sync.
[You'd think] they'd be on their best behavior in the studio. No. They just fought all the time.
That's quite the way to kick things off with Lenny. Over the years you did so many albums. What was it like to work with him?
Lenny was so easy to work with, and work for. It's hard to verbalize. He had a way of working with artists that was absolutely unique. He'd typically give them a lot of [leeway], and they usually didn't disappoint.
How did he handle Phil and Don Everly?
Here's an example. It was our first night at T.T.G. with them. I couldn't believe how Lenny didn't mind what was going on [even when] things weren't going right. They were arguing and screaming. But [in the control room] Lenny seemed okay with it. He said to me, "Could you turn [the monitors] down? We don't need to listen to that." We just let them go until it looked like they had calmed down. He had me turn them up again, and said to me, "How do they sound now?"
A very low-key yet strategic approach.
Lenny was very easy to work with. That's probably the number one thing I can say about him, because I've seen a lot of producers that weren't.
Ike Turner?
He was demanding. Ike was different. [laughs] I had no trouble working with him, but for some people on the other side of the glass it was very uncomfortable. I know that.
Soon after you started at T.T.G. as a second engineer in the spring of 1968, you did the flanging on the U.S. single version of "Sky Pilot" by Eric Burdon and the Animals. That was a cutting-edge technique at the time. Did another engineer show you how to do it?
No. I learned that at KCRW. How I learned it was a complete accident. We had two turntables. They were professional Gates turntables. I was complaining that they sounded a little different. I liked the one on the left, and I brought the program director, Myles Weiner, in there to show him. We had two copies of many records, so I would play him the same record by putting the two copies on both turntables. Then I'd switch back and forth. I pointed out to him which one sounded better. He would say, "Well, that's just the preamp," or something else. Well, one time I accidentally turned them both on. The two [needles] were in exactly the same spot [on the records] and it [generated] perfect slow flanging. The two machines were off speed ever so slightly. And you would hear whoooooosh, just like a comb filter, going through the music. I said, "That's how they do it!" That was all I needed to know. From then on, I did the same thing with tape machines, amplifiers, and oscillators to get them to run at slightly different speeds.
When you did the flanging on "Sky Pilot," did you touch the tape reel or "wrap the capstan"?
No. That's kind of crude. That's the way [engineers] did it at first. People talked about [flanging] by putting a blackboard eraser on the supply reel. I would use an oscillator that changed the speed of the machine ever so slightly. You could do it very smoothly.
That way you can carefully control the entire process?
Yes. On "Sky Pilot" we had it all worked out. I didn't do the mix. Ami Hadani did the mix, and [Animals guitarist] Vic Briggs was the producer, but we talked about it [beforehand]. "Okay, right on this break on the second verse, we're going to bring flanging in from here to here." I'd say, "Okay, I'm ready," and we all did it. It was three people working together, but the actual flanging, I did.
That's a landmark recording, and to now learn that you had figured out the technique completely on your own is pretty remarkable.
It was a complete accident that I even learned about it. I always tried to get the records to play as closely as I could on both turntables. But it was only when I turned them on at the exact same spot, and at the exact same time, were things perfectly right [for flanging].
In the fall of 1968, you went to work at another Hollywood studio, Sunwest. Who owned it, and who did you work with there?
Sunwest [Recording Studios] was owned by singer Pat Boone and run by his business partner and manager, Jack Spina. Bob Mahoney built and maintained the studio. Gary Brandt, Joe Leahy, Mark Richardson, and Denny Shaw were the main engineers.
One aspect of your career I was amazed about was that you had worked with Neil Diamond at Sunwest on multiple albums, ones that included hits like "Cracklin' Rosie," "Sunday Sun," and "Sweet Caroline."
I didn't record Neil's tracks, but we'd sometimes fix vocals. The most extensive repair was having [Wrecking Crew bassist] Joe Osborn come in – late on a Sunday night – and replace a bass. At that time, he'd track in Nashville, sweeten in New York, and come here [to L.A.] in the winter. Then we'd mix.
I was interested to learn from you that Neil's producer, Tom Catalano, had a ton of faith in Neil's abilities behind the board.
I met Tom in the Sunwest parking lot on the first day I worked with Neil. He showed me his personalized plate: TOP10. He said, "I wanted TOPTEN, but it was taken." I said, "Huh, who has it?" He said, "Hal Blaine." We walked inside and talked, but not long after Neil showed up that day, Tom left and let us get to work in the control room. Tom trusted Neil's ears.
I take it that Neil had a great sense of what he wanted to hear.
Neil knew exactly what he wanted, and he knew exactly when he had what he wanted. The tapes were ready to go; they were so easy to mix. There were eight tracks. It was a cinch.
This is back in the days when engineers didn't get any credit in the liner notes. You definitely deserve major credit for working on "Sweet Caroline," and everything else on those albums.
Yeah, nobody got credit in those days. The engineers that did the tracks and all the vocals on those records of Neil's were great. They didn't get credit either.
One thing that's interesting to me is that a big part of your reputation as an engineer was built on your ability to capture incredible electric guitar sounds, like Van Halen and Montrose, but you tracked so much great acoustic music as well.
I played acoustic guitar, but I never really played electric. I had an idea of the way I wanted them to sound. I also worked with Ron Elliott, a producer, on several projects at Sunwest. Ron brought in one of my favorite records that I ever did, which is Levitt & McClure's Living in the Country. There are a couple of songs on it that I still really like to this day. It's funny, when Lowell George first came to Sunwest with Little Feat, he said, "You know, you have a reputation for recording guitar." I almost said to him, "Yeah, but I really don't record electric guitars." I primarily recorded acoustic guitars. He didn't know that. But honestly, Lowell was so easy. Guys [like Lowell] were so good; it was not hard to figure out. You put a microphone on the amplifier and record it. Not difficult.
Arlo Guthrie with cigarette (under red light) working at Sunwest Studio
You also recorded Arlo Guthrie.
I think I did four albums with him.
That started at Sunwest?
Yes. We did an album called Running Down the Road. I recorded it, but I didn't mix it. It was mixed by Doug Botnick, Bruce's brother, at Sunset.
At Sunwest you also worked on a classic cult album, Permanent Damage by The GTOs.
Yes. Frank Zappa brought the GTOs into Sunwest. Lowell George is credited as a co-producer on it, so Lowell might have been [at Sunwest] too. I don't remember meeting him until I started recording Little Feat, though.
What were those GTOs sessions like?
They were hard work. I didn't do the whole album, just some overdubs. Frank had everything scripted [but] it didn't sound like it was scripted. The girls were out in the studio talking, telling stories, and we would record them and then edit them. I don't think I spent more than a couple of nights with them on that project.
I'm sure almost no one knows that you recorded Carole King demos for what became Tapestry at Sunwest. How did that come about?
Well, around the end of my time at Sunwest I was also working with Gerry Goffin. There was a company in Los Angeles called Audio Industries. If you needed any equipment, you'd buy it from them. Ike Benoun was our salesman, and at one point he said, "There's a guy building a studio and he could really use your help." He gave me his name, Gerry Goffin. The name didn't mean anything to me, but if I knew a little bit more about music, I would have known the songs that he and his wife [Carole King] had written. I met him and he needed some help building Larrabee Sound. I did what I could to help him. Then he wanted to do remotes, starting with his friend, Joe Cocker, at the Fillmore West up in San Francisco in July 1969. Bill Graham was also a friend of Gerry's, and so Gerry said, "This is a good place to do it. We'll do it at the Fillmore."
Did you set up all the mics on the stage for that show?
I rarely used a second engineer; I usually did all my own [concert] setups. The thing is you can't put too many mics around [the stage]. It had to correspond with the same microphones that they're using for their PA. You can't really double mic. I'd talk to the engineer that was doing [live sound] and sometimes we'd work out a compromise: "I want to use this." "Okay. Use that. But we'll do this thing this way." It's usually not hard. And that worked out pretty well. That was my first big remote recording project that I did with a truck.
Was this Larrabee's truck?
It was. Gerry had bought it and had outfitted it.
So, back to Carole King. Gerry introduced you to her?
Yes. After we had recorded Joe Cocker, we were finishing up Larrabee Sound. Gerry then said to me, "My wife wants to make a record." Now that's not usually a very good idea, whether it's girlfriend, boyfriend, husband, wife, or whomever the person wants to bring into a studio. Never works, doesn't work; except I didn't know about the songs they had written, and I didn't know how good she was. They came to Sunwest to do demos. She played piano for five seconds and I said, "Wow."
How did you mic a session like that?
At Sunwest, it's hard to say what I did on any particular session. [laughs] I think what I probably did was two Neumann U 87s on the Steinway, and I'm pretty sure I had a U 47 on her voice.
One more thing regarding Sunwest. I recall that you recorded Neil Young for his 1968 solo album [Neil Young], and that he paid you a late-night visit there after the sessions were long done.
It was 10:30 at night on a Friday. There were no more sessions that day. Everybody's gone. Bam, bam, bam, bam, bam! Someone's pounding on the entrance door. I almost didn't open it. He came by the studio to make sure he had the spelling of my name right before Reprise finalized the liner notes. Neil was right. The label had both my first and last name misspelled. He's a wonderful guy.
Eventually, you got hired by Warner Bros. Records. How did that come to happen?
I ran into trouble at Sunwest. I stopped getting along with the guy who ran the place, Jack Spina, so I quit. About a month later, Lenny called and said, "Would you consider going to work for Warner Bros. Records?" I said, "I'll be there tomorrow." The next day I met [Director of Engineering] Lee Herschberg [Tape Op #154]. This was around June 1971.
Had Warner Bros. opened Amigo Studios yet?
The label had just gotten Amigo Studios going. When Lenny called me, he said that Lee Herschberg had built this new place, "We really like it, and we'd like you to be part of it." When I saw Amigo the next day, I loved it, and Lee was phenomenal. He was my boss for the entire time I was at Warner Bros.
Who else was working there at the time?
Al McPherson was Amigo's chief engineer. He didn't do dates; he was an excellent technician. Lee and I were the main guys, but we also had [engineers] Rudy Hill, Bobby Hata, Ken Deane, and Denny Shaw.
What were your workdays like?
At the beginning at Amigo, usually the days were either Ted or Lenny and the nights were either Lenny or Ted. [laughs] We'd do sessions with The Doobie Brothers, James Taylor, Arlo Guthrie, Montrose, Maria Muldaur, and Randy Newman. About 90% of my work for my first few years was with Ted and Lenny.
What were the rooms like at Amigo?
When I started, there was really just one room: Studio A. Later on, there was another newer, good-sized room in the back, Studio E. Ted and I did Van Halen's Diver Down in E. Around the same time, Ted and Lenny co-produced, and I engineered, "I Keep Forgettin' (Every Time You're Near)" from Michael McDonald's If That's What It Takes in Studio E. But E was the new room, and it was smaller than A. All the early albums [I worked on] by The Doobie Brothers, Montrose, Little Feat, and Chunky, Novi & Ernie were all done in Studio A. That's where Lee did all of his stuff too. There was also a little room called Studio B, but it was almost always just used for commercials. [The label] would do hype on the new records coming out for Warner Bros. – the [ad] stuff that was destined for the radio. In that [control] room, the producer was to the left of the engineer and directly to the right of the engineer was a window into this little vocal booth. So, I would sit doing a vocal with somebody two or three feet from the artist. On rare occasions we would do overdubs in there. I remember I wasn't pleased when I found out we were going to record the sax solo on [The Doobies'] "Takin' It to the Streets" in this little room. It was a small closet, but [the solo] sounded great.
What was Studio A like?
[Studio] A was a big room. I'd say slightly larger than Sunset Sound Studio 2, roughly.
How would you compare Studio A to Sunset 1 and 2, in terms of sonics?
Sunset's Studio 1 definitely has a sound; things recorded in Studio 1 sound different than they do anywhere else. Amigo A was very much like Sunset 2. Studio A was a very good room, but it didn't have a particular sound. Everything that we recorded there would sound great though.
So, speaking of Sunset Sound: In the 1960s, you knocked on the door a few times looking for work, and you got sent away without even an interview. How did you finally get to work there?
The first time I ever worked there – in fact, the first time I was ever really inside the building – was after I was working for Warner Bros. at Amigo. Howard Weiss was working at Sunset. He called me up and said, "[Studio Manager] Bill Robinson and I would like to have you as a customer." I said, "I don't know. [Lenny, Ted, and I] are really getting used to Amigo. We've made some records there and we like it." Howard said, "Bill wants to give you a free night. He wants to give you Studio 2 to do anything you want for a whole evening." And I said, "I'll take you up on that." So, I brought in a 16-track [tape] of Arlo Guthrie's Valley to Pray. I was never happy with the record we mixed with Van Dyke Parks [Tape Op #145]. I spent the night mixing it in Studio 2 – and just walking around the building – and I thought it was just great. I loved it. Probably a year later, when Ted and I were doing Little Feat's Sailin' Shoes – working on "Cold, Cold, Cold" – I think I suggested Sunset to Ted, because I'd been trying to do a session there. And I said, "You know, Sunset 1 might really be the place to get a sound for this thing. Let's try it." We did, and it worked.
Richie Hayward's drum sound on that one is huge. How did you record his drums?
In Studio 1 I always had the drums on a riser. I'm pretty certain of that. Al [Alex Van Halen] could tell you – he would remember what I did for the Van Halen sessions, I'm sure.
Where did you position the drums in Studio 1? Looking out from the control room, did you position them about halfway down that wall on the right-hand side?
No, it was closer to the control room. For Van Halen, I would put the band about as close to the control room windows as I could get them, because Dave [David Lee Roth] was in the vocal booth opposite them. That way the other three guys and Dave could all see each other.
Today in Studio 1 there are wall panels – absorbers – that can be moved to close off or expose the brick wall.
I don't really remember what options we had available then in Studio 1, but it was as live as I could get it. I wanted to hear the whole room.
How did you mic the room for "Cold, Cold, Cold"?
On "Cold, Cold, Cold" I remember we were getting ready to record. I brought up a microphone that I had in the room, but it wasn't labeled right. I thought it was a drum mic and it wasn't; it was on the bass amplifier. When I listened to the drum sound that was coming in on it, I thought, "Wow, that's great." I said, "Hey, Ted, listen to this!" And I went outside into the room, and I moved that mic up, so that it was at least sort of pointing at the drums from 12 feet away. I think I [actually] used two of them [room mics]. I listened to them, compressed them, and that's how we got the sound initially on "Cold, Cold, Cold." It was another accident that worked.
The trick is to find the balance between the room mics and drum mics.
Yes. I learned that if you could control it all, it could be great. Listen to songs that were done, even at United or Western at the time – listen to "Classical Gas" by Mason Williams. That's Jim Gordon playing drums. There's so much leakage of Jim's drums into every other microphone in the room. And that's what I found when I brought up the bass microphone at Sunset; it was, in fact, drum leakage in the room. It was just incredible. You never know; that was just an accident.
I think most people who study engineers and recording techniques from a historical standpoint probably think that there were "standard formulas" that always produced the same sonic outcomes. But you've always said that "almost everything I did involved trial and error."
I could never do what I'd done previously when trying to copy myself. It never worked. I always tried to keep an open mind on every session I did. You can't help but be doing certain things, but it doesn't always work.
You worked extensively with Little Feat bandleader and guitarist Lowell George. Templeman told me many times that Lowell was not a normal guy in a band; he thought like a producer.
Lowell was not a normal guy in a band. [laughs] That's absolutely true. And, yeah, he had ideas. It was always great working with Lowell. Of course, you never knew what you were going to get; he was a guy who could never duplicate [what he'd done] the next day. Never.
I recall hearing that you, Lowell, and Ted put Lowell's guitar amp in a closet when you tracked a guitar part on Sailin' Shoes.
We put guitar amps all over the place. We used the men's room at Amigo. That was pretty good, in its own little way.
One other notable aspect of "Cold, Cold, Cold" is Lowell's [Keio] Donca Matic drum machine, which fades in before Richie's drums explode into the mix.
One of the things we were trying to do there was to get the drums to merge with that drum machine. By the way, we didn't record that drum machine. That was a cassette that Lowell brought to the studio. I think he recorded the machine in a hotel room in New York.
Lowell was really ahead of his time. So many pop songs in the '80s used drum machines.
Ed [Van Halen] got really good at that. Up at 5150 [Studios] we had a LinnDrum, which was a much better drum machine. It actually sounded like [real] drums. We'd use that for the basic rhythm, and then Ed would overdub tom-toms and cymbals. Ed was an outstanding drummer. He was really good. He was a great bass player too.
I know this is going to sound like a dumb question based on what we've been talking about, but after you got that great drum sound on "Cold, Cold, Cold," did you try to replicate it when cutting Montrose's "Rock Candy"?
When we were faced with recording "Rock Candy," both Ted and I said, "Let's do this at Sunset in Studio 1," since we'd worked there for "Cold, Cold, Cold." But I think [sonically] we did it better with "…Candy." "Rock Candy" was basically cut live. I don't know about the vocals, but certainly guitar, bass, and drums were live.
How did you mic Sunset 1 that day?
I don't remember exactly what I did [with the mics] in the room. I used a little bit of the room, which caught a little bit of the drums. I remember if we ever changed the drums or the guitar [mics], we'd have to get rid of the [drum] sound because it was the guitar mic with the drum mic. On that one I did not mic Ronnie [Montrose]'s amp as I normally would have mic'd it.
Paul Camarata, who owns Sunset Sound, has told me he recalls that on occasion in the late 1970s you and Ted had sessions booked in all three rooms at Sunset.
I don't remember that specifically, but I remember one time I was working in Sunset Studio 1 and running back and forth to Studio 3 because Arlo Guthrie was working in 3. I was helping him in there and then I'd come back to Studio 1 and do whatever I was doing in 1. But I don't remember what that Studio 1 project was. We may have used three rooms in one day if we could only get so much time in each and we had something to do. I don't remember that distinctly, but that certainly would be a possibility.
This was the era when Steve Lukather [guitar, Tape Op #146] and the late Jeff Porcaro played on seemingly everything. What was Porcaro like to work with?
Jeff was a hard-working, phenomenal drummer and someone who you'd better get on the first take. [laughs] Well, actually, you didn't have to because he could play it 40 times. But if you got it [on tape] correctly, he would only have to play it once. I didn't work with him as many times as I worked with drummers like Jim Gordon, Hal Blaine, and Earl Palmer. I worked with them primarily at T.G.G. and Sunwest. Jim Keltner was another great one. I worked with Keltner a lot because Lenny used Keltner so frequently. I think the first big record I did with Lenny and Keltner was Arlo Guthrie's "The City of New Orleans." Keltner's playing on it is just wonderful. But pretty much everything Ted and I did were [self-contained] bands, so we didn't use session musicians very often. For instance, the only time we used Hal Blaine was on Chunky, Novi & Ernie. Ted didn't like to use session musicians because he wanted the band members to be the ones that played on the records.
Early on, you met and worked with a lot of the members of the Wrecking Crew.
I met a lot of them at T.T.G. just doing sessions in the afternoon – ad agency dates. Many of them had Hal Blaine and Carol Kaye [Tape Op #45]. It was all the same people, all day. They'd do a beer commercial in the morning, a Frank Sinatra session in the afternoon, and some rock 'n' roll sessions at night. They were busy.
Did you become friends with any members of the Wrecking Crew?
Jim Gordon was a friend, but, unfortunately, he had a [psychological] problem. He was phenomenal in the studio, and he would try so hard [to please]. "Is that alright, Donn?" He was always all in; a hard worker, with great, great attitude who was a great drummer.
You once told me about the first complete session you did at Sunwest, which was a band called Inner Dialogue. If I recall correctly, Jim Gordon came at the very end and did miraculous work on their self-titled album.
Jim Gordon was the guy, and that's when I first met him. He had this impossible job. We cut all these tracks with this drummer that was weaving around a little bit. Gordon was like Jeff Porcaro, insofar as once those guys found the rhythm, that was it. Gordon was so great. He would listen to a little bit of [the existing drum] track and he'd get it, and then he'd overdub [and replace] the other drums. Sometimes he'd make his own click track and then play along with it. But that was his job: To replace the drums that we'd already recorded on the whole album. And then they didn't even credit him!
You'd told me that Raquel Welch was a big supporter of that band and came to Sunwest for a few of the sessions.
Yes. Not all the time, but she was there. Of course, when she came in the session [vibe] definitely changed! I remember she came in with Donald Sutherland, the actor.
One of the first things you did with Ted was Van Morrison's Tupelo Honey. Do any memorable stories come to mind?
We were working downstairs at Wally Heider [Studios] in San Francisco on Tupelo Honey. The album was basically done. Van surprised us – he just showed up. He came in drunk out of his mind, really stumbling. We weren't mixing yet, but Ted and I were there finishing up the album. He wanted to redo every vocal on the album. He was asking us questions and going over every song. Of course, we didn't need to do that right then, and we didn't have any tracks open either! So, he went out [in the tracking room]. He said, "Let's do one song after the other. Don't even stop the tape! I'll just keep singing. We'll get it all done at once." I didn't record anything on multitrack; I just ran a cassette. Then he didn't want to leave. I said, "Van, do you like that bar across the street?" He said, "Yeah, but I'm out of money." I reached in my wallet and gave him whatever cash I had, and he left. So, that got him out of the control room. Then Ted and I went to the Wally Heider office and said, "Is the upstairs room available?" It was. We transferred studios and worked upstairs. We told the manager, "If Van comes back, tell him we've left for the day!"
Ted still regrets going against his own instincts when he let Van decide which mix of "Tupelo Honey" to utilize for the single.
That was the only time I worked at Columbia Studios in San Francisco. It was Roy Halee's West Coast room. It was just a wonderful place, and they had a lot of neat equipment. The tracks on "Tupelo Honey" had a lot of leakage, and Ted wanted to clear that up the best we could. A Kepex was a noise gate. When there's something [undesirable] on tape, you could turn the Kepex on and you could adjust the sensitivity, so any ambiance that was included in the sound, the Kepex would get rid of it. We had that worked out pretty good; I thought we had improved the sound. But Van didn't like [the new mix of] the song at all. And he insisted that we release a rough mix, which we did. To this day, Ted will tell you that was the worst decision he ever made as a producer, because the new mix was much better.
In the summer of 1973, you and Ted recorded Van Morrison's live album, It's Too Late to Stop Now.
Yes, we recorded it in three places: the Santa Monica Civic, the Troubadour, and the Rainbow Theatre in London.
Which mobile trucks did you guys use?
We used Wally Heider in L.A. I don't remember which company we used in London, but I do remember I had a furious discussion with the London company about microphones. The company's engineer said he wanted us to use a [RCA] 77. I said no. I want a [Neumann U] 87. A 77-DX is a ribbon microphone made by RCA that originally came out in the 1930s. A U 87 is a Neumann condenser microphone. Well, it turned out that in Europe Neumann made a 77, and the only difference is the way the power supply works. The Neumann U 87 and U 77 were very similar mics, but I didn't know that. The guy said, "A 77 would be wonderful." And I kept saying, "No! I want an 87!" He said, "Well, we don't have any!" And he finally brought me out a Neumann U 77 to show me. I [sheepishly] said, "Oh, that's fine. That's [the same as] a U 87." The only difference was the voltage it ran at. Anyway, I got in a little bit of trouble with all that, but it worked out. [laughs]
When Ted told me about the Rainbow shows, he said the energy in the room was unbelievable. He said it was one of the most incredible experiences of his life to see Van and his band perform those two nights.
I don't think I ever walked into the hall when he was onstage. Ted reminded me recently that when we recorded Van at the Rainbow, [the mobile truck] only had one recorder. I was in the truck worrying. We'd be getting to the end of the reel, and I'd be thinking, "Is this song going to fit on this tape? If he keeps going, we're going to miss the end of this." When the tape had about run out, Ted would rush into the Rainbow and wave to Van. He'd stop and he'd tell the audience a story or something. He wouldn't sing for a few minutes until we changed the tape on the one machine.
You worked on a comedy album called A Great Gift Idea, by The Credibility Gap, which came out on Reprise in 1973. It featured comics like Harry Shearer, Michael McKean, and David Lander.
That was a great experience. I loved doing that. Harry Shearer is a real talent. He was amazing. He's the guy who does half the voices on The Simpsons.
Did Lenny Waronker produce that one?
No. Russ Titelman was the producer. But Russ got in a big fight with Harry. Russ then came to me, after screaming at Harry, and said, "Donn, you're producing now!" So, I co-produced that record with them. That was great for me because Harry was a wonderful guy for me to work with, but he and Russ were just not compatible.
You did a lot of engineering for albums with Russ and Lenny as co-producers. The one that comes to mind is James Taylor's Gorilla.
With James Taylor, what you see is what you get. He was easy going. A great, articulate singer; very precise. A wonderful, wonderful writer and talent.
Who backed him on that record?
It was the usual top session guys who played on James' records in the 1970s: guys like Russ Kunkel and Lee Sklar.
I really enjoy Lee's YouTube videos.
Lee is great; he's a character. Here's a story: Forty years ago, Sunset Sound used to have some great pinball machines in the office area by Studio 1 – including a Capt. Fantastic [Elton John] game – and everybody loved it. But sometimes when Lee would play that game, he would get so angry. One time he literally picked it up and slammed it back down. I thought he was going to destroy it! I had to restrain him to save the machine. [laughs] "Lee! No, no, no, no, no, no!"
Speaking of James Taylor, you and Ted did Carly Simon's Another Passenger at Sunset in 1976 when she was married to James. Ted told me that he kind of lost the plot with that album because he got too focused on organizing the sessions with all the superstars who guested on it rather than locking in on the songs.
It's funny, the first sessions we did for the Carly album were at Amigo. At the time, James was recording there, and James' usual guys were doing the sessions. Ted and I thought, well, if we're going to get Carly and James to play together [on a Carly song or two] we should use Lee Sklar, Russ Kunkel, and the rest of James' band on Carly's album. But [using James' band] just didn't work out, and we moved to Sunset. I don't think anything we recorded at Amigo came out on her album; it was all scrapped.
Then at Sunset, you recorded The Doobies and Little Feat backing her, along with folks like Keltner, Glenn Frey, Linda Ronstadt, and Jackson Browne [Tape Op #105].
Yes, the guests were all people I had worked with before, even back to the Sunwest days, like Mac Rebennack [Dr. John]. He played on the sessions I did with Jackie DeShannon for Put a Little Love in Your Heart.
The title track for that Jackie DeShannon album was the first big hit you worked on, correct?
Yes, I believe that was the first hit song that I recorded, mixed, and mastered.
When you worked at Sunset, which Sunset engineers typically seconded for you?
It was usually Kent Nebergall, Peggy McCreary, or Corey Bailey.
I recall you telling me that when you recorded the first Van Halen album [Van Halen], Kent specially decorated Sunset 2's control room.
He had a Star Wars X-wing toy. He brought it in, hung it up, and said, "This belongs here, believe me, because these are two greatest things I've ever experienced: Van Halen and Star Wars!" It was hanging from the ceiling, right between the two monitors in Studio 2, for all the time we recorded Van Halen. I loved working with Kent.
Ted told me that you guys never considered doing the first Van Halen album at Amigo.
That's true. We were comfortable at Sunset. We'd been working there off and on for three or four years. It seemed like we worked at Sunset every day.
Were Ed and Al vocal about things when you and Ted did the first album with them? I have read interviews with Alex Van Halen where he says Van Halen didn't end up sounding like he expected.
They were extremely quiet. We didn't hear anything about [the sound of the album] until well after Van Halen was out. They were disappointed; it's not what they had in their mind when they came in to do the record. But Al told me we got it [right] later on. What we got on tape for 1984 was much more to his liking.
I think Mike Anthony [bass, backing vocals] said something along the lines of, "When we got in the studio with Ted and Donn, we were happy because we wanted Van Halen to sound like Montrose."
The Montrose and Van Halen debuts sound really very different. With Montrose, we did overdubs. We would do two or three [tracks] of Ronnie's guitars. With Van Halen, they played it and we were done. That's the way most of that first album [was recorded]. There are some songs that have some [guitar] overdubs, but not many. We did the Van Halen albums on 24-track, but we could have done them on 16-track. I don't think we ever filled up the tracks. That's the reason why when we built 5150 for [recording] 1984, I did not buy a 24-track. We went with a 16-track machine.
There's a lot of mystique around the making of the first Van Halen record, especially in regard to Sunset Sound's echo chambers. Is the original Sunset Sound echo chamber, the one in Studio 1, the one you mostly used?
At one time or another, I'm sure we used every reverb system that Sunset had for Van Halen. But, generally, it was the Studio 1 live chamber or the spring reverb in Studio 2. If possible, I used the chamber in Sunset 1. I liked that one the best. It's unique. The second best, which was more of a standard chamber, was the one for Studio 2. There was also an AKG BX20 spring reverb system at Sunset. Spring echoes are usually cheap-sounding. For instance, a Fender Reverb amplifier has a little spring reverb in it. You know, you kick the amplifier, and it goes boing! The BX20 didn't sound anything like that. AKG had perfected it. We used it on most of The Doobie Brothers' records that we did at Sunset, including songs like "Echoes of Love" and the other things we did on Livin' on the Fault Line. Also, Little Feat's Time Loves a Hero was done with this same spring system. At Amigo, we had one good live chamber. I used it a lot. Most of The Doobie Brothers records were done at Amigo, and we used that live chamber there.
There's so much to cover in your career. I feel we've just scratched the surface, but perhaps this is a good place to pause for now. Thanks for your time!
Wonderful. Thank you.

Producer Ted Templeman and Donn Landee at work in Amigo Studios, circa 1972. PHOTO COURTESY OF WARNER MUSIC GROUP
Tape Op is a bi-monthly magazine devoted to the art of record making.