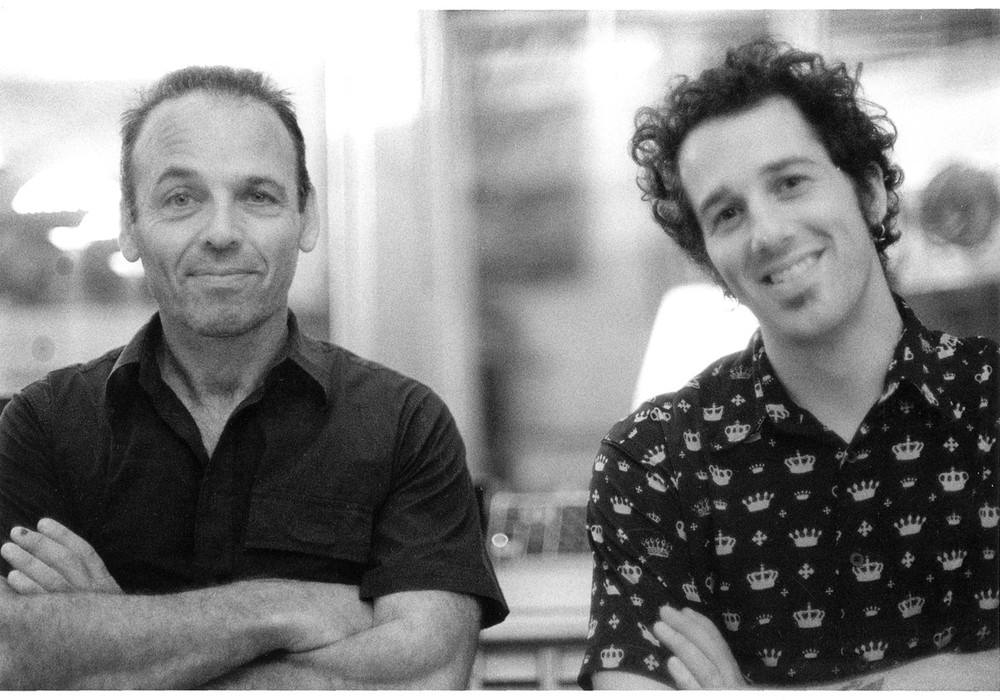 A consummate populist, Tony Maimone first caught my attention lecturing eloquently in defense of the women's-only swim time at the Metropolitan pool in Williamsburg to a grumbling bunch of men in the locker room, immediately after we had all been booted out at 10 AM one Monday morning. Only afterward did I realize that he was the bassist I'd marveled at on Pere Ubu's Dub Housing and Modern Dance. It turns out his Studio G is two blocks from my house, so once we met, he invited me to drop in. I jumped at the chance.
Besides playing bass with Pere Ubu, Maimone played with The Mekons, They Might Be Giants, Frank Black and Bob Mould. He's set up a nice, small studio since cutting back on touring, where he and partner Joel Hamilton have worked with Cordero, Soul Coughing, Zeena Parkins, Frank Black, Martha Wainwright and Early Edison, among others. The scene at the pool may seem unrelated, but after getting to know Tony, I realized it was illustrative of something important about his character, and probably accounts for the demand for his services as a bassist and producer/engineer as much as his musicianship does. He is a true team player, with an infectious enthusiasm for people and their ideas.
The day we decided to formalize an interview turned out to be the day their new Auditronics console was arriving. While waiting for it to arrive, I sat around with Tony and Joel and we talked about everything from the old days of recording in Cleveland to digital audio to Tony's favorite bass recipes.
In the Pere Ubu days were you much involved with the recording side of things?
Well, yeah, because back then there was no automation, at least we never recorded with automation, so to do mixes that had any kind of flair to them, you'd always have like three pairs, four pairs of hands on the console, so that was like the first time I ever got involved on that level. All the Pere Ubu records, you know, we fought our way through all the mixes.
Were you allowed to touch your own track's fader?
That was why on those Pere Ubu records the bass is always so loud. [laughs] Oh man. I know David [Thomas] is rolling his eyes right now if he sees that... The first place I ever recorded was this place called Cleveland Recording, with Pere Ubu. I guess that was the summer of '78, a long time ago. I was just so amazed by the studio, and how stuff sounded coming out of the speakers. I remember the first time we recorded, and coming into the control room and they hit 'play', and I was in seventh heaven. I was just like, "I can't believe this." That was Paul Hamann and his dad Ken, who just passed away this year [see Tape Op #13]. Paul was at his dad's side from those days on. His dad did the first Pere Ubu record [Modern Dance] and then Paul sat in for the second [Dub Housing], and he was in the chair for the whole third record [New Picnic Time]. Ken was just really into making things — he made the board. He had like the largest collection of tube mics outside of like L.A. or New York. Now Paul's got this amazing place out in the suburbs of Cleveland called Suma Recording. Big, big live room with wood floors and old barn wood walls, with a huge stone fireplace — you know, the classic stuff.
I've always heard a kind of dub influence in Pere Ubu. Were you consciously aiming for that?
I can honestly say I wasn't aware, back in the '70s, of how dub was really made. I had a bunch of dub records, like Big Youth and Tapper Zukie records. The drummer [Scott Krauss] and I used to listen to dub a lot. We liked that a lot — we liked that Miles Davis stuff. I remember Scott played [A Tribute to] Jack Johnson for me. I couldn't believe how that sounded. And then I found out later Teo Macero spliced a bunch of that record together. Paul was really good with splicing so we did splice in stuff — I mean, that's how you had to do it. But we didn't really think about dub.
How about other experimental studio techniques?
We also had the idea about recording outside. You know, if it's really quiet and you record outside, there's no reflection. We did a bunch of that stuff.
What did you record outside?
Mostly vocals. Vocals sounded pretty cool outside. No reflection. That was at Suma and those guys had all those great mics, so that was a win/win situation... It was really fun because the ambience is gorgeous out there. Suma is built on a lawn that runs down to a cliff that overlooks this beautiful valley, and there were these great trees. It was a great place to get natural ambience.
Did you do a bunch of tape loop stuff?
We were trying to make a really long loop and we had one of those old Ampex 16-tracks there, and we had a loop, smaller than this room, but not a lot smaller, and people were holding drumsticks, holding these big tape loops. I couldn't believe it, we really did it — we had this huge tape loop.
It seemed on tracks like "Blow Daddy O" you'd play around a sound coming from the synth, rather than laying a weird sound on top...
We used to get together three times a week and just play music. And it wasn't really planned that we were going to go on tour and make records. I didn't feel like I was such an...
The rest of this article is only available with a Basic or Premium subscription, or by purchasing back issue #41. For an upcoming year's free subscription, and our current issue on PDF...