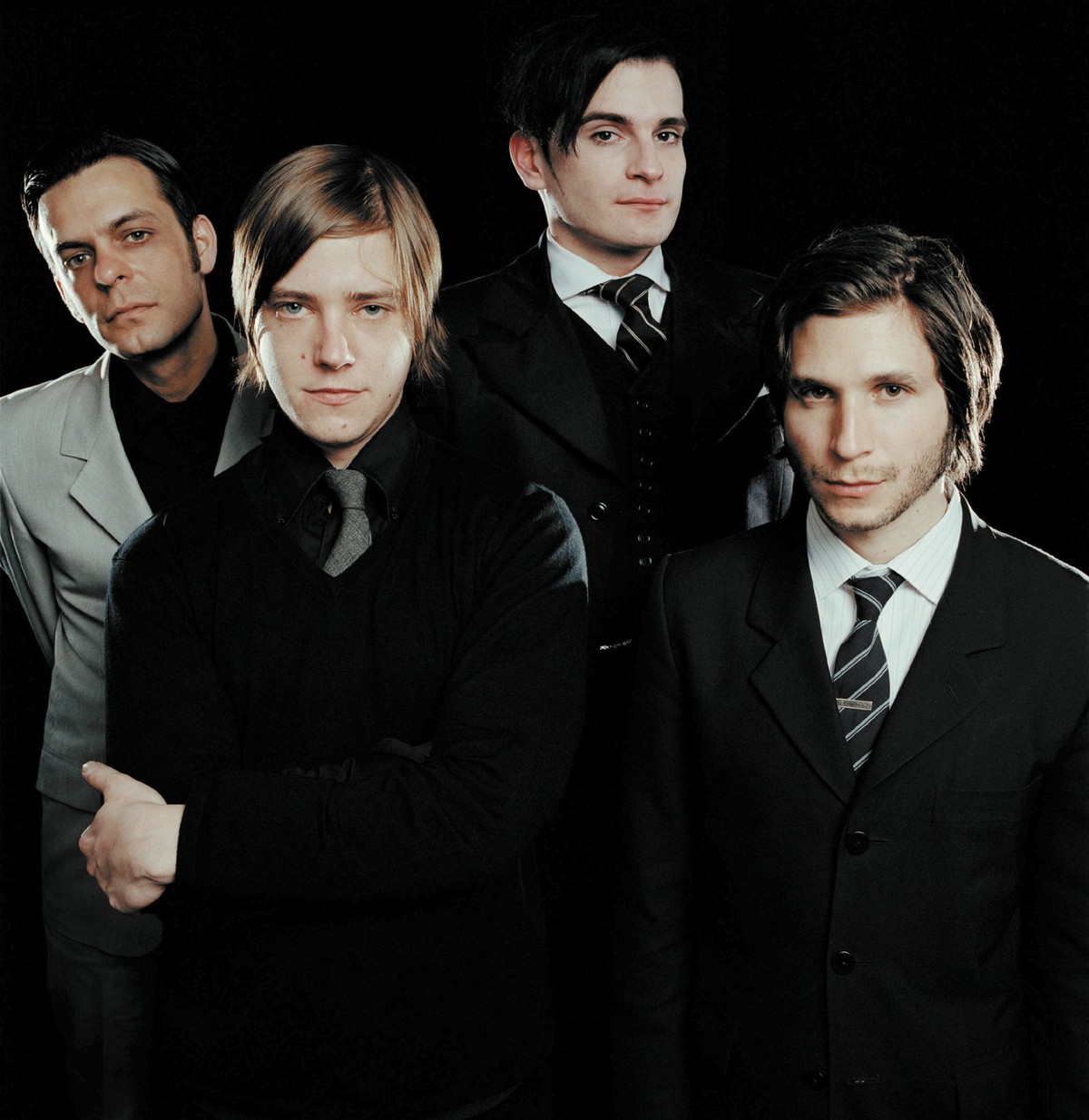 The debut album from New York's Interpol, Turn on the Bright Lights, was one of the most successful independent rock albums in recent years. The band's brooding, atmospheric guitar rock has invited comparisons to post-punk bands like Joy Division, Wire and The Chameleons. ...Bright Lights and the upcoming album, Antics, were both recorded with Peter Katis of Tarquin Studios [Tape Op #31], a modest (yet amazing) studio built in Peter's home in Bridgeport, Connecticut. Sam Fogarino and Daniel Kessler talked to us about writing and recording their second record for Matador between tours and getting out of New York to hang in Peter's attic.
What's your studio background?
Sam: It just stems from playing in bands for a really long time and just gravitating towards the mixing console. It just started out as this great curiosity as to how things were recorded, how did that happen? How do you put sound to tape? I had a little schooling although it was the biggest waste of money. I went to a small school in Ft. Lauderdale, the Art Institute of Ft. Lauderdale, and it was an 18- month program. They had a really great small facility there with an Otari 5050 8-track and a really nice selection of mics and a Series 65 Trident.
That's what I spent eight years with!
S: I love that board! It sounds great, ergonomically everything is just right there. It has such a great sound. It's so warm. So I spent some time [at the Art Institute] and became a student assistant within a few months and I used to lock myself in that little facility and just kinda go for it. But then it was just playing in bands that really gave me experience. I moved to New York in 1997 and I ended up buying a Tascam 38 8-track machine and a Tascam M1600, which was their answer to the Mackie.
Do you still have that stuff?
S: I still have it, yeah.
Do you record the band with it?
S: I actually did our first round of demos [for Turn On the Bright Lights] and the demo version of the track "NYC" was released as a B-side.
How did you hook up with Peter [Katis, Tarquin Studios] originally and what brought you back to him?
S: Originally I met Peter through my ex-wife. She played music and her bandmate used to go out with Peter. We all went out on a big double date and me and Peter became fast friends and he invited me to his studio a couple times to play on his band's stuff [Philistines Jr.] and then he came to see Interpol and really liked it. I remember looking for New York studios to do ...Bright Lights and thought, 'I don't know why I'm looking when we can just go to Peter's place in Bridgeport [Connecticut].' He has this great Victorian mansion.
What was it like recording outside of the city? You've done it twice now...
S: It's the only thing I really know! I'm wondering if the next time around we'll do it at home just for the experience. The first time around it was great because it was the only experience we had, collectively, so we were kinda lost in that and excited about making an album for Matador. This time around, although we were really excited about doing the album and really loved the material and working with Peter, we started to feel separation anxiety from the city.
You were out there for a while?
S: It was a good two months... We would take the weekends off a few weeks but then we started running out of time and just had to be there all the time. We're all pretty involved in the whole process. Paul never left. It was the first time he didn't have all the vocal melodies and lyrics done for each song so we set up a little Pro Tools LE room in the dining room, with an old Power Mac and a [Digi] 001 and a Shure broadcast mic. He left the studio maybe twice.
Have you guys ever considered putting together your own studio or do you prefer to go into another place?
Daniel: It's hard to say what the future holds, but for this record we wanted to go back to familiar surroundings with someone we already had a history with. We knew that we wouldn't be working with someone who had their own vision, we didn't want a "producer". I would like to have a studio just to help us write. It would be nice to have some sort of facility to record the songs as we've heard them in our heads and playing them out loud but be able to add some keyboards... and experiment a little bit... little...
The rest of this article is only available with a Basic or Premium subscription, or by purchasing back issue #43. For an upcoming year's free subscription, and our current issue on PDF...