Real World Studios is an icon in the studio business, recognized internationally for its innovative architecture, high technology standards and, of course, its association with founder Peter Gabriel. Real World evolved following the success that Peter had with his album So in 1987, when he decided to acquire the extensive grounds and outbuildings of a 200-year-old sawmill property close to his home near Bath, England, about 120 miles west of London. From the outset, Gabriel had a succinct idea of what he wanted Real World to be: a world-class destination studio that fosters creativity, collaboration and community. Once a specific brief for the studio was drawn up, a design contest ensued. Five preeminent studio architects took part, including Neil Grant, who eventually designed the facility. Peter wanted to retain as much of the character of the old mill as possible, while incorporating modern utilitarian elements into the design. Water, light, the sense of inter-connectivity and community would all be key concepts driving the end result.
The Big Room at Real World manifests Gabriel's vision to have the producer, engineer and artist perform in the same space, eliminating physical barriers and opening communication. In fact, the rear of the control room often serves as a stage on which many artists are recorded performing simultaneously, directly behind the producer/engineer. The entire facility operates in much the same way. Instead of having all the rooms operate simultaneously with separate projects at different times, Real World is meant to operate as a single organism, fluid and interconnected. This has proven to be ideal for live BBC projects and the facility's famous 'recording weeks', in which many international recording artists gathered to explore, exchange and record their ideas. I toured the studios and spoke with Owen Leech, studio manager, and Marco Migliari, staff engineer at Real World.
How many years have you worked here, Owen?
OL: I've worked here since 1988. I came here as a builder, originally. I sort of stayed on developing the site for about three years. The original studio manager moved on to WOMAD and other things.
Why didn't Peter just build a studio in London?
OL: Well, he rented an old barn about six miles away where he produced So with Daniel Lanois. He had an SSL in there and Kevin Killen engineering. Dave Bottrill was the assistant. Then this site on the edge of Box village came up and it all kind of grew organically. The whole project sort of snowballed into a commercial studio. The first studio that opened was the one upstairs. Originally, the idea was that Peter would have the studio upstairs and the Big Room would be let commercially. The Big Room was designed very much for performance with the artist, producer, engineer all together in the same room.
So there are no physical divisions between the musicians and producers.
OL: That's basically how the room works, although there are of course acoustic screens that can be maneuvered to create degrees of separation. Slightly perversely, the desk faces the windows and looks out across the pond. Local architects were employed and worked to a brief that required natural materials to be used wherever possible. The resulting design has a fairly timeless feel.
It used to be a mill?
OL: It was a mill up until the late '50s. Then it was bought by a company that turned all the buildings into office space. Turning these offices into the studios was a major building project.
Who records here now?
OL: There has been a resurgence of guitar bands again, which is very good for the studios. You know, [the studio] is what it is, and the concept of that started back when Led Zeppelin had their little cottage in Wales. It's like here, but on a large and rambling site. It's like a little community. All Peter's companies work on the same site; we've got the record company and WOMAD as well as our own design and website teams.
It seems to be finely integrated.
OL: Yes. There's about 85 people working here, of which maybe 20 to 25 are employed by the studios, which is the most visible bit because we've got all the buildings. But you have all this other stuff going on as well. It's slightly different to that sort of isolated cottage in the country, but at the same time it still is a residential studio. Since it's more than 120 miles from London, it's quite difficult to get film work, because they don't want to move outside Soho. But this area has quite a vibrant music scene and many producers have moved down here from the big city.
Can you tell me about the 'recording weeks'?
OL: The last one was 1995. They're very expensive to run. You end up with stacks of material, shelves of tape, all of which needs to be sorted out.
It must be exciting to live through that, though. Conceptually, it seems quite amazing.
OL: They were very hard work but really good fun. In fact, for the Real World Records one, we had 11 rooms running at once. We even used an underground quarry up the road — Tchad Blake, with his binaural set-up, said, "Will you take me out to the mines?" [laughing]
How hands-on was Peter in all of that?
OL: Very.
He attended all the sessions?
OL: Of course. I think the first two, there was a lot more material because it was much more ad hoc. We've done others. We did a Sony writing week two years ago. They were very disciplined about it. They had three studios running and they were meeting every morning to plan the day.
Very structured.
OL: That was very structured. We did one for Polygram France; they sent 20 people over — writers and musicians. We used all the rooms.
How many studios are there now?
OL: We have four main ones, and Peter has two. He has the Writing Room and the Work Room upstairs. Then there's the Big Room and the Production Room, which we rent out commercially. So there are two commercial ones all the time. Then occasionally we let Peter's room out, if there's a call for it. So getting the mixing projects is fine with local producers and engineers, but it's much harder to get those down to the residential studio, because they'd rather do it in London where you can get rid of the band or go home at the end of the day. What we kind of live on, really, is the album projects, end-to end type projects. There's certainly a big change with recording budgets becoming ever smaller. We've got to adapt to that. Not really sure which way is forward.
A lot of people are trying to figure that out, as you are.
OL: Although I think it's easier to diversify in London. We're kind of sitting on the fence a bit.
Marco, How did you come to Real World?
MM: Oh, it's a long-winded story. I came to England in '95. I used to be a live sound engineer and I worked quite a bit in classical theatre, and with PA companies. Working as a sound engineer in Italy is very hard. Sometimes people are not professional enough and there's a lot of malicious competition. So I left, and when I started here, I couldn't speak any English so I had to learn it, go to school. I was 25. I then went on studying music technology. While I was doing college, I managed to get a work placement down here. I could not believe my luck. I just loved it. I came here once, then a second time. Owen picked me up from the bus station and said, "We've got a session. We've got Trevor Horn [Tape Op #89] coming down to do three days with Peter with some archive Genesis material. We need an assistant. Would you want to do it?" I was totally freaked out. I had never done a professional session, certainly not at that level. I was spending hours reading manuals. I didn't get any preparation for it. I was just thrown in. So it was hard work. I was working with one of the guys that followed Trevor everywhere — they must have thought I was dumb.
So when these guys said something needed to be done, you had to be on it.
MM: Yeah. I knew very little, even less about the specific setup in Peter's room. Luckily, the job wasn't too difficult, because they were just doing vocal overdubs with Peter on existing material.
On the one hand, it was probably really stressful but probably so exciting.
MM: At the time I thought, "I'm not any good at this. I can't do it." But then they called me again for a recording week in the summer. They needed some extra people, so they employed me for a few weeks. At the time, I was in my second year of college. And it wasn't long after that one of the assistants left. So I just got a call. They said, "Do you want to work here?" and I said, "I'm on my way." And then my diploma came through the post.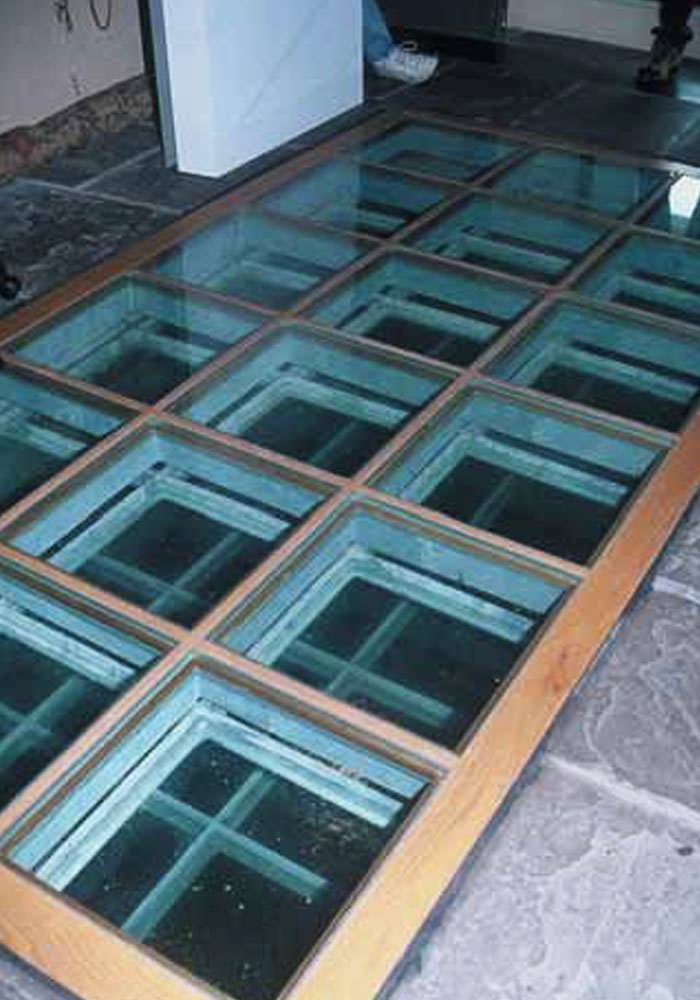 Is this structure actually submerged?
MM: Well, the floor of this room is a few inches under the pond level. Peter wanted as much light and water as possible. The natural daylight helps when people are working for a long time.
What are these ducts made out of?
MM: Clay. The studio uses natural materials, because they blend in with the original mill structure.
What do you use all this space in the rear for?
MM: One of the things we started doing recently in here is live takes, whole band to audience. We did one with The Incredible String Band. They sold tickets to their fan club, and the band performed in the studio to an audience of around 100 people.
There's not many control rooms you could do that in.
MM: Probably none. It was fantastic. You'd have the engineer sitting here, we had a guy explaining the process because, you know, they were starting and stopping for the various takes. They audience watched about six hours of it, right in the same room. Peter did it too, but it was more like a gig. This room sounds really good. It's good for playing and recording, as well as being an excellent mix room. Tchad Blake [Tape Op #16 & #133] uses it all the time when he's here. Peter's Up record was mixed on this SSL. The Big Room might look big, but its sound is really quite controlled and diffused at the same time. It feels very natural.
How involved is Peter now in the operations?
MM: He's very involved — he works here all the time.
He creates here constantly?
MM: Yeah. This is his base. He'll come in most days to the studio and he's got his offices here. He runs everything out of here.
How proficient is he on the board? Does he ever run his own sessions?
MM: He's quite hands-on, but in practice Richard Chappell is his engineer. He's been here longer than I have. He started as an assistant at the time when the Big Room was being built, back in 1988 or so.
Can anyone record here?
MM: Anyone can record here. The facilities that are available to clients can be regularly booked like any other commercial studio. We get quite a variety of projects.
Do you record drums in here?
MM: We have a choice of rooms to do drums in. This room [the wooden room] is the largest live room we have, and it has a very characteristic sound. There are another three smaller rooms, which sound quite different and can be used as an alternative. There's another studio through here, the Prod Room. It's amazing, because it's all visually connected as well. This was a stone drum room, which was connected to the wooden room, which was connected to the big room. When the decision was made to put this studio on as well, we kept having big problems with one kit in here, and another in there. So we then floated a room. The old room was beautiful. It was bare stone walls and squares of slate hanging from the ceiling. It was a very fine room, but it didn't work.
[We walk into production room.]
MM: This room here is where John [Leckie]'s [Tape Op #42] been working on the new New Order, mixing.
How would you describe your surroundings here?
MM: It's got some of the exclusive hotel elements, the comfort and the food, but it's also designed for making music. It's very laid back and accommodating. It's cozy but efficient, so it kind of works on multiple layers. High-tech, hand made — that was the brief that Peter had when it was built. I've been here eight years and I can tell you, this place works, it adapts to any kind of purpose, whether you are spending weeks tracking, a day remixing, even filming or doing live. A quantum leap from the confines of a basement studio most people are accustomed to.
What is the ideal project for you here?
MM: Ideally it's a band, but we can cater equally well for a solo artist and all [of] her/his session players or a mixing session with just two guys sitting in a room tweaking away. It can also be a writing session, where you start on a computer, a piano or a guitar and you later need to add more elements and perhaps more people. This is the small SSL room, we call it the Production Room. It's got a 56-channel desk, and comes with the usual selection of outboard. The room isn't really set up for surround, but we've recently had a look at the acoustics and changed it a little bit, also adding these Dynaudio M4 monitors. For near-fields I quite like these [KRK] 7000As, which are very hard to come by. If you see a pair, get it! I've spent five years trying to find a pair and I couldn't.
What makes them unique?
MM: I guess it's the early series. Older is better, isn't it? I think they had something in the balance of the crossover that they lost in later series. These early ones are sweet and they don't overkill. The cabinet's a little bit different. They claimed, on the newer ones, that they phase-aligned the drivers, but I think they screwed up. Something's not quite right. A friend of mine has a pair of 7000Bs and they don't sound as nice, but the drivers are exactly the same. So something must be different.
Can you take me through some of the key gear in this room? The SSL, and I see some 1176s?
MM: There is a selection of classic gear that everyone loves. This is an SSL 4000E converted to G. On the outboard front we have 1176s, Neve modules, the 33122s which are different from the others because they have the continuous gain; you don't have the line/mic differentiation. Some people just love running music through the transformers. They're also great for vocals, guitars, etc. These are quite special because they are actually BBC spec'ed. It's a custom mod that BBC asked Neve to perform. Here you have some digital delays, the AMS, all the good stuff. Eventide H3000 — still used by a lot of people. What we have found is that all this recent digital gear doesn't get used very much. People are still very attached to the old gear, probably because they spent years learning it. Like the H3000 — there's something nice about just going through the presets, because sometimes you're just looking for an idea.
I would imagine this Pultec EQ gets used a lot. How about the Focusrite stuff? I see their Platinum line in here.
MM: The Pultec certainly does get used a lot. On vocals, bass, sometimes guitar. Even set flat, just to warm things up a little. About the Platinum line, we've got a bit of a deal with Focusrite. We've written some reviews of their gear, so they've been kind enough to give us some gear in exchange. That is an OctoPre.
What do you think of the Platinum line?
MM: I think it's very clean. This Dolby SR noise reduction system is great for compression on piano, percussive stuff, really savage. You can use the compression as opposed to the expander. You've got no control over it, but it changes things in a very nice way. Other things that we do have are an AKG spring reverb upstairs.
Where are the plates?
MM: They're up here in the lobby. This is a stereo EMT 240. Then we've got a mono to stereo EMT 140 in this room. The Big Room has got another stereo EMT 140 and then two mono 140s, all valve. For this one here [the 240], we also have a remote control.
I know you guys are big advocates of Logic. Can you tell me how Logic fits into an environment like this? Where it goes and how it's used?
MM: I probably have to draw a line on that, because what Peter does is different from the commercial studios. I think Peter is probably the biggest user of Logic overall. We only use it when clients request it. Peter uses it all the time and they only use Pro Tools as a multi-track. Logic is more for the actual composition and building the songs. There's a very funny side of the story. They picked Logic because at the time, Pro Tools wouldn't let you color the tracks. What they needed was very specific color-coding for the song elements, verses, choruses, etc. Then they would invite people to play, giving them a computer monitor for the arrangement. They couldn't do that in Pro Tools, because Pro Tools enforces the color scheme. In Logic you can do what you want. So that's why they've been using Logic from the early days, version 3, in fact.
That's really true. Logic is so flexible, visually speaking.
MM: That was the one of the reasons. And it's so easy to change arrangements around.
Where does Pro Tools fit in? Is there a Pro Tools suite?
MM: It's a big gray area. You know what it's like — we all work differently. Obviously, we have Pro Tools in every room. Mixing wise, people tend to start off with Pro Tools as mere multi-track, nothing more. But sometimes it's easier to automate a small change in Pro Tools than to spend ten minutes on the SSL trying to get it right. If people wanted to do everything in the box, they wouldn't book an SSL studio, would they?
Can you tell me about these tape machines?
MM: These are Studer 820s. There was a session, some two months ago, they were tracking in Pro Tools, but everything was going through the tape machine all the time. They were using the desk and input for monitoring, and everything just went through the tape machine all the time. So I guess that's another side of it, because the tape costs are phenomenal. If you are doing an album, it's going to cost a few grand just in tape. But you can still benefit from the sound if you buy the one reel and use the tape machine as an effects unit, essentially. This is the Stone Room. I remember what the old stone room used to look like. This is quite different, but sound- wise it's not miles away from what it used to be. They did a really good job, when they floated the room, at keeping the acoustics similar to the original room.
What do you typically record in here?
MM: Anything. I've done drums, I've done vocals, strings, acoustic and electric guitar, brass — you name it. I tend to like this room a lot for drums, because it gives you control whilst retaining a nice ambience. You get a very solid sound, slightly on the bright side.
How do you mic drums?
MM: Depends on the project. If I need control, and I know it's going to get Pro Tooled later, then I'll get more spot mics than I normally would. If I'm after a performance, and I know the drummer is really cool, I'll probably go for a minimal setup, sort of old-style.
Do you like the Coles 4038?
MM: Yeah! Totally. Sometimes I'll put just one mono hanging over the top, sometimes a stereo pair. [A] couple feet above the drummer's head, pointing at the snare. I like the FET 47 on the bass drum.
Can't you damage it?
MM: No, it can take it! Even the STC's. Besides, I never really stick the mic inside the bass drum, always a foot or two from the front skin. I've seen people using them with really loud guitar amps. You've just got to be careful.
Do you run the FET 47 through a compressor?
MM: Well, sometimes. I tend not to overkill on the recording stage. I try to keep it simple, not compressing too much on the way to tape. Or to Pro Tools, I should say.
How about snare?
MM: [A] 57. Always on top and bottom skins. Often, what you really use, in addition to these other mics, is just the one mic in front of the kit. Tons of compression.
Which would be a what?
MM: Could be a Coles, could be a Sennheiser MKH40, even a 58...as a mono thing. More often than not, that's the one that's going to really crack it. You get the accuracy of the spot mics, but you blend them all together with that one. I quite like the Neve modules going in. But if you're doing pop or rock, you can't beat the SSL mic amps.
What has it been like to work with John Leckie?
MM: He's a great guy. He's very chilled out. I worked with him when we recorded [Dr.] Gopal Shankar Misra, who is a veena player. It's like an Indian slide guitar. He was probably the best virtuoso in the world on this instrument. He actually died a few days later after the session. And we also mixed the Baba Maal record we did here.
With the recording weeks during the summer, you've probably had a lot of exposure recording very unusual instruments.
MM: It is amazing. Some of the things they bring in [starts laughing] are like, you don't even know where you're going to put your mic in! The most important thing I learned from those sessions is that you have to make people comfortable. That's number one. Because these guys, chances are they've never been in a studio before.
Especially a studio like this, that looks like a spaceship.
[We walk back into the Big Room.]
MM: Well, I think they're quite unfazed by the whole thing, but they need their own space. So as soon as you get them sat down, and they can get comfortable with their instrument, so they can look at each other and get the vibe properly, then you're on. That's the most important thing. Often there's time to experiment a little bit, but you have to get the vibe right.
Here's the famous custom SSL.
MM: So here's the big studio. Custom SSL, 72 channels. It has got a few features that you probably won't see anywhere else. It's got four extra sends per channel, a specific need that Real World requested at the time. It is automated against MIDI time code. Since you obviously couldn't fit more pots on the channel strip, they're located in the metalwork in the corners. They get used a lot when you've got a big band set up. Often you run out of pre sends on a console for that purpose, so it's convenient.
What about nearfields? I don't recognize these.
MM: These are Linn. You know, the hi-fi audio company. They have a consumer division, then a professional division. We got these monitors not many months ago. They are very odd looking, but they're the best. They're really the best mid-field monitors I've ever heard in my life. At any given volume, they sound the same. Whether you blast them out, or have it really, really quiet, you always hear the bottom end, mid- range and top end exactly in the same proportion. I've never heard that on any other speaker before. Most of them are bass light when quiet, and harsh when loud!
Walking in a room of this scale, one would expect echoes in certain places. The sound seems to be so evenly distributed, no matter which direction you speak.
MM: Can you believe that Peter's last record was actually mixed on this console in this room? It's a fair comment of yours, because we have people walking into the room for the first time and being totally freaked out by the size. Panicking about how the reverb might sound. It's been designed as a live room but not to the full extent. The decay time is 0.6 or 0.8s — not that much. And it's very evenly distributed, so you don't hear any hotspots anywhere. So more often than not, it's a matter of getting used to a bit of natural reverberation, which only becomes apparent when you monitor very loud.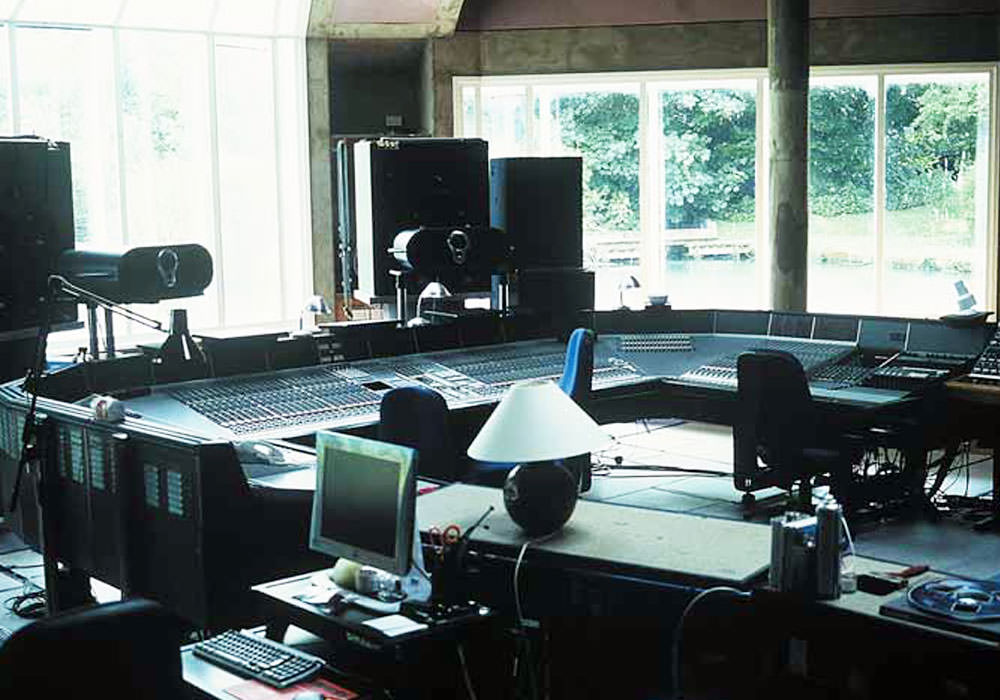 Where are bass traps?
MM: All the pink panes are traps, basically. Then there's this huge diffuser at the back and on the top. One of the big problems they had when they designed this room was all the glass in the front, for the reflections, of course, which is why the desk is so far from the front windows.
How does patching work throughout this structure?
MM: This whole place is wired almost in every little corner, so you can patch into any room from any other one. There's audio, video and Ethernet tie-lines everywhere. You can also use pretty much any room in the house very easily. For example, you can use the stairwell to record the snare, whatever you like. It's quite easy to patch anything. Then there are two booths in here. This one is long and narrow, so people tend to use this for amplifiers. The other one is twice the size of this so you can do vocals and even drums. Sometimes we leave the door open and put a mic outside, right into the studio. The nice thing about this place is that you can get a whole band set up in here and all the loud elements you can spread out. But the performance can be all together in the control room. Now we're going in[to] what used to be the very first studio in the whole complex. When Peter started the complex in '87, he was still working on So. This is not his main room, but it used to be his personal studio. As he was still working on the album, he needed to move from this farmhouse that he had to this studio. He put all the gear in here. So this is called the work room.
So this might have been used more for writing and composition at the time?
MM: They actually mixed a large part of So in here on the SSL that Peter had while the rest of the place was being sorted out. It took them a good few months to build the big room from scratch and convert all the other outbuildings. Then a few years ago the SSL went out, because Peter's project was just too different and Peter needed something a bit more versatile. So that's why we decided to get the Oxford. Now they've got two of these. This is also the room that is set up for 5.1.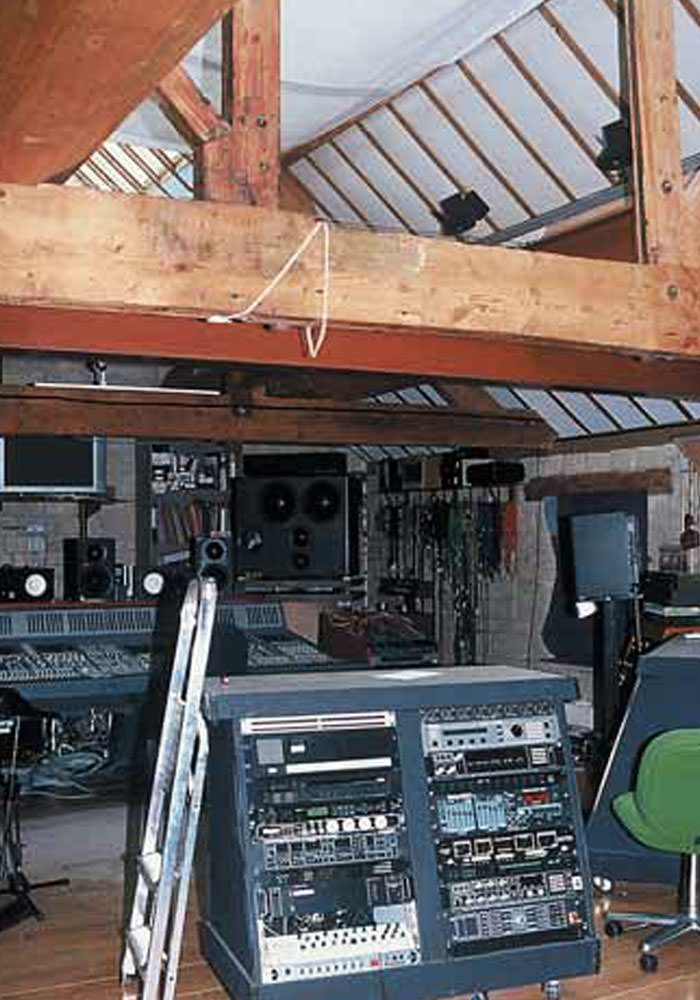 Do you work up here often?
MM: I have actually used this studio quite a lot. I love the Sony Oxford. I think it's the best digital console I've ever heard.
And the automation?
MM: Fantastic. Smooth. Very, very easy. I was lucky to get a crash course from the Sony Oxford people from their headquarters. Doing work was just really easy. It looks like a beast, but it's actually very straightforward. If you come from an SSL background, there's an SSL hint of it. Because some of the SSL designers split, then they went with Sony. It's better than working with Pro Tools. You can automate anything at any time.
It's such a great pastoral setting out here. I'd like to see some of the outbuildings.
MM: I'll take you on the roof of the big room. You get a pretty nice view from there. This is not as soundproofed as the other studios. In fact, the railway line is only a few meters away. You see the tracks there? So you do hear it a little bit. Peter was never bothered by that. They used to have the train timetable, so they could track in between trains! It's not so much of a problem in the actual studios, because they're soundproofed. Unless you've got a harp or something and you've got the gain all the way up.
What are those buildings over there?
MM: That one is the cottage. That's the oldest building on the site, 1750. Usually it's the producer's cottage, where someone like John Leckie would be staying. And then down there we've got the studio's offices, record company and down here is our reception. On this other side, you can see the roof of the big room, which is done in lead. It was built in '88 or '89. Then here is the mill building. One of the things I didn't mention is, when they did the air conditioning in this place, Peter's brief said they shouldn't use any metal piping because he didn't like the smell and it looked really industrial. This is why in the wooden room and a couple of other rooms, they've got clay piping. And in here they have wooden piping.
In the original brief, the main requirement was to have lots of different spaces totally integrated and synergized?
MM: Totally, yeah. The punch line was: high tech, handmade. We can go downstairs, and cut through the big room again. There's a Kingfisher. Once it was a very hot summer and we left all the doors open. A Kingfisher flew in and then he saw me, and he was trying to get out through the main windows, and he hit the window. So I thought he was dead and went to pick him up, he was still alive. Luckily he hit it at an angle. Took him outside and he flew off. Since then he's been coming back, because he probably realizes he's been saved. There's so much water around here that any building is actually quite seriously undermined by the presence of water in the soil. So beneath the big room, I think there's a concrete pile some thirty feet long every probably twenty inches all the way around the perimeter just to sustain it. Just to give it foundation.
What is that over there?
MM: That's Peter's studio. We call it the writing room, but that doesn't really do it justice. It's a Swedish design, a modular building where you can add sections and expand it at will. It's been extended twice already since I've been here. When I first came here, it was just slightly bigger than a garden shed. Now it's a full-fledged studio with the Oxford and the whole kit and caboodle. The original building ended about here. Then this whole section was added on later. I think it's about to change again.
Somebody has been really busy at work.
MM: There is a machine room on one side, and storage at the back.
Clearly he knows his way around gear with all this stuff... a Kaoss pad...
MM: He's a bit of a sucker for technology. He loves it. He likes to explore it and exploit it. They always get the latest of things, at least to check it out. The challenge of making the last record was the year span that he covered, because some of those songs really date back ten years or more. The technology involved at the time had to be rescued for the making of this. So all machines — for example, a Mitsubishi 32 track digital, which had done the original tracking — had to be brought back. They got samples off a Fairlight, and they had to get stuff out. Most of it was conservation work, because there is so much material. So that's the console, they've got a stereo set up, and they've got plans to go surround in here, because obviously the desk is perfect for it. Mackie monitors on those stands. These are Boxer G3, designed by Neil Grant, the guy who designed Real World. They're actually very good sounding. He has a customized line he sells.
What is this for? [keyboard station set up behind mixing desk]
MM: Peter always liked sitting behind the engineer with his own setup. He keeps a ghetto blaster next to him. These are all his samplers... he's very hands-on.
Tape Op is a bi-monthly magazine devoted to the art of record making.