Hit songs? Top of the charts? These days most of us involved in recording music rarely get our hopes up for having hits or seeing our work place high on the Billboard charts. But imagine working in a world where this not only happened — it was expected. In 1959 at the age of 19, Thomas "Snuff" Garrett found himself working in promotion at Liberty Records in Los Angeles. Within a year he was producing top-charting singles with Johnny Burnette and Bobby Vee, soon becoming Liberty's head of A&R. After seven years at Liberty, he left and started Snuff Garrett Productions and its offshoots, Viva and Snuff Garrett Records, with more hits from Gary Lewis and the Playboys and others. Retiring at 30, he sold Snuff Garrett Productions to Warner Brothers Records for millions. But retirement didn't last long, with Snuff returning to cut many hits for Cher in the '70s. In the late '70s and early '80s, Snuff moved into film work producing soundtracks for Burt Reynolds and Clint Eastwood films (The Cannonball Run, Sharky's Machine and Every Which Way But Loose), followed by Burt's TV shows up through the nineties. A stroke at 45 slowed Snuff down, but when I visited him in his cowboy memorabilia- filled home at his Idle Spurs ranch in Arizona, his cuss-filled tales of rambunctious record wrangling were as lively as could be. Our conversation brought us back to a time when songs were paired to singers (or vice versa), studios booked, arrangers and musicians brought in and hits cut. Here's Snuff Garrett, a producer of more number one hits than Phil Spector, and a former renegade cowboy of the Hollywood music biz.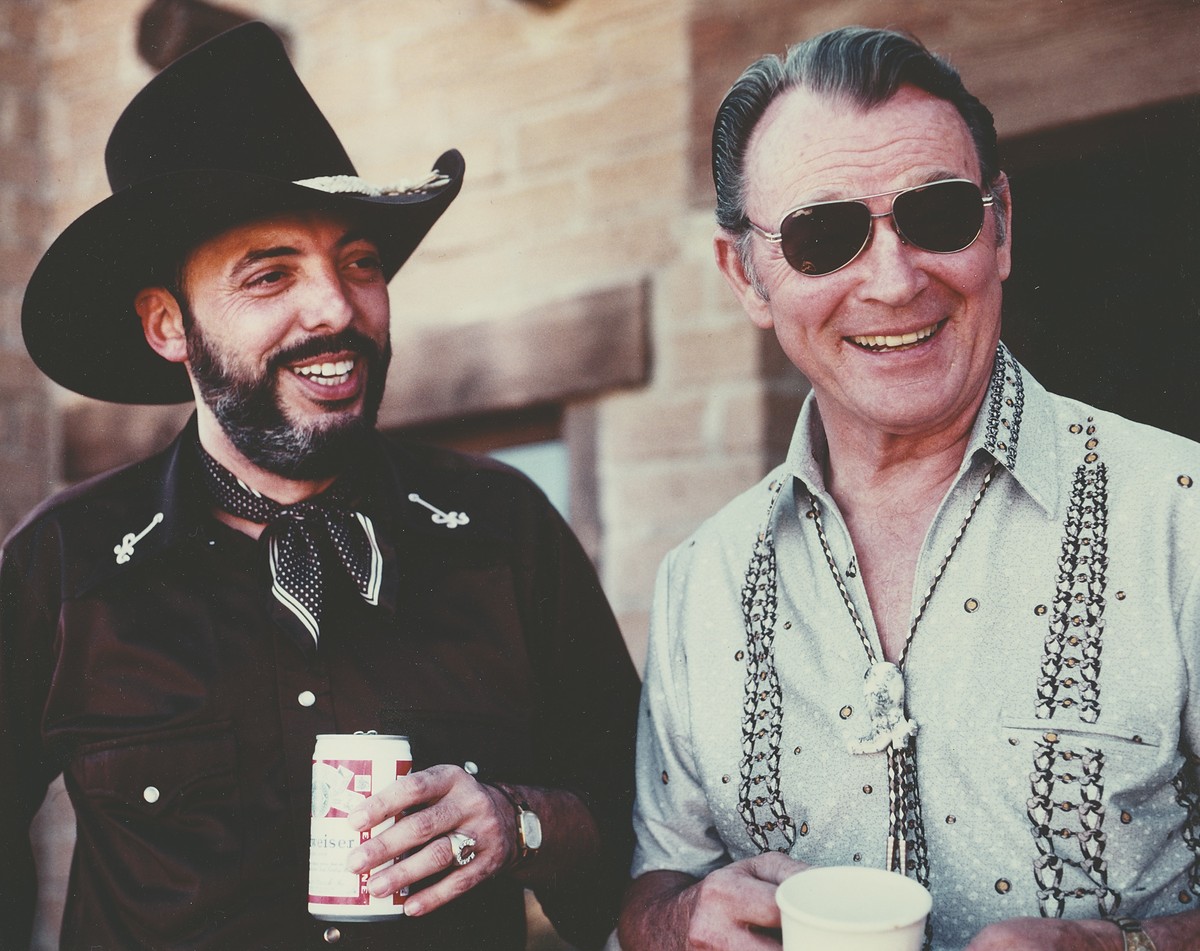 Did you ever learn to play an instrument?
When I was a kid I thought as soon as Roy Rogers stepped off Trigger they would pick me, just like every other kid in America hoped. I went to a guitar school in Dallas and took lessons for three years. Finally they told my mother, "Mrs. Garrett, we know you're a single mother and we don't want to take your money. We want to tell you that Tommy has no musical talent whatsoever. None." Years later I got a call from them saying, "Sorry. We were wrong." I didn't know one piano note from another. When I had my first four hits I hired a piano player to come over and teach me piano. Three weeks later he said, "While I've been trying to teach you to play 'Blue Hawaii' — which you haven't learned yet — you've made a fortune. You don't need to know music."
In your teens you were hanging out at a radio station in Dallas?
The instigating station of Top Forty radio — KLIF. Gordon McLendon was my boss. I later married his secretary. [laughter]
How did you end up in a radio station as a teenager?
Because I wanted to be a disc jockey.
Did you get to be a disc jockey there?
No. You have to realize how important the major disc jockeys were in those days. Those guys were the highest paid in the country. I did odd jobs and made a few dollars a week as music librarian. I listened to thousands and thousands of fucking records working at KLIF. They told me to get rid of all the 78s. I said, "Can I have them?" I was riding the bus and I'd carry them. I'd listen to both sides of all of them. I realized what I liked and didn't like. Later I ended up in Lubbock — they got me a job. When those guys said, "Hey, you've got to hire him", I got hired! I went up to Lubbock, got to be friends with Buddy Holly, and Waylon Jennings did a country radio show there. I was on the pop station. I moved from there to a little town called Wichita Falls, Texas. I used to sit in the window at KSYD — it had a bullet hole in the corner of the window — in the downtown area.
You were DJ'ing in the window?
Yeah. George Carlin replaced me as the DJ when I left town. Then I had a dance place in town. I got records from the distributors in Dallas to sell — it was called Snuff's Hop Stop & Record Shop. [laughter] Everybody would come down. I had a TV show three days a week. Buddy Holly was gonna bring me to New York with him — we were gonna do a record company called Taupe Records. That was the idea. I knew Trini Lopez there and I'd tell him, "Boy, I'm gonna be in the record business. I'm gonna make records!" Years later I brought Trini to L.A. [laughter]
How the heck did you get from being a DJ in Wichita Falls and doing sock hops to heading out to Hollywood and joining Liberty Records?
I'd already been there. I left home at 15 1/2. My daddy died and I left home. I lived with the disc jockeys [in Dallas]. They all lived in beautiful apartments with women everywhere. I loved that life! [laughter] They were like older brothers to me. I would keep their houses and apartments clean. One of the jocks, Bill Jenkins, got fired. He said he was moving to California, and I asked if I could go with him. I quit school and I went to L.A. Bill got a job at KPAL in Palm Springs, so here I was, stuck in fucking Palm Springs. He had a little apartment — I slept on the floor there. Then I caught a Greyhound bus and went up...
The rest of this article is only available with a Basic or Premium subscription, or by purchasing back issue #73. For an upcoming year's free subscription, and our current issue on PDF...