The songs are strong, the playing impeccable, but what strikes many listeners when they first hear Dungen is the sound. It always comes up when fans discuss the band. Leader Gustav Estjes creates records that seem both vintage and current — meticulously labored over, yet still sonically homespun sounding. Over the past 10 years, Sweden's ambassadors of AcidPopRockProgFolk have consistently delivered one brilliant album after another. In 2010, they released a new full- length album (Skit I Allt), extensively toured the world and recorded a single with Jack White III and Vance Powell ("Oga Nasa Mum") for a Third Man Records release.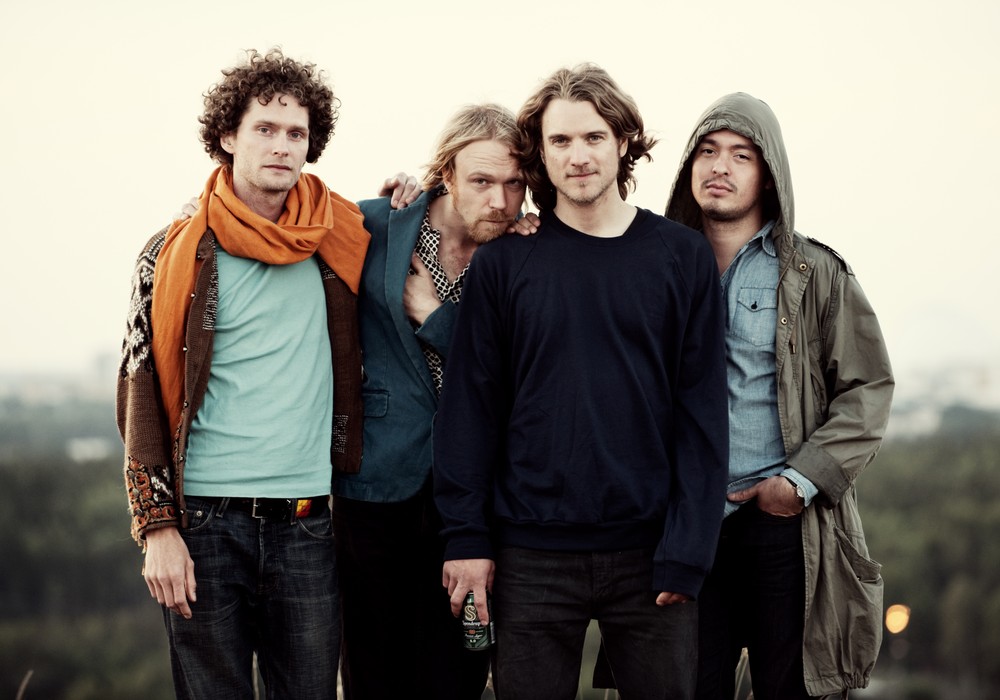 What was your earliest recording experience?
Just my brother and me. We lived in the country, nothing to do, and we happened to have two cassette decks. We "discovered" that you could plug one deck into the other while recording something else. We had instruments at home, but he also had DJ stuff, so we were making techno and hip-hop mix tapes. Then I plugged my keyboard in and played over some of the beats. I bought a Fostex 4-track after that, around 1998. I loved the sound of it! It was dirty. There were punk rock bands in my town and they did serious stuff like go into a studio to put down their tracks. They would spend all of this money and it would sound like crap anyway. Too bright, too nice! I thought the dirtiness of a 4-track would have sounded better.
Did you feel it was essential for you to then learn more about recording so you could make records that sounded correct to you, unlike those punk bands?
I wanted to learn how to get that great, old drum sound, so I went to school for a year. In Sweden we have these folkskola ["people's schools"]. They are free and you can study something for a year. I chose to attend a music school, and I played piano in an ensemble; but my main instrument was the mixing board. By mid-year all I was doing was hanging out in the studio. There was a great old tape machine in the attic, but they had just put in a new Mackie board and Pro Tools so that's what we learned on. I asked if I could learn how to use the tape machine, but I was told it wasn't used in "The Business" anymore. A lot of the songs that ended up on our 500-copy, self- titled LP were recorded that year.
Did Dungen start out as a solo project or did you plan on having others involved when needed?
From the beginning it was a solo project, because there weren't people around who knew how to play my songs the way I wanted. I had friends who played, but I wanted the songs to sound a certain way.
When and why did you decide to get others involved?
I had friends who I'd 4-tracked with from the beginning. Three of us worked on each other's songs and we called all of it "Dungen." When it comes to my songs I've always been a control freak. [laughs] So, while I played on their songs, when it came time to record mine, I played all of the parts most of the time.
Do you still play music with any of those people?
Reine [Fiske, Dungen's guitarist] has been with the project for almost 10 years. He's also part of the live formula. Over the years there have been many people involved, mostly in the studio. I would play most of the parts myself, but I would have people come in to do a guitar part, or something. I use acoustic [guitar] a lot, but the lead guitar has never really been part of my palette.
What about sitar? Did you play that on those early tracks?
Oh no, that's an instrument I don't play! I had someone else do that.
Have you started to let your bandmates in, now that you've been working with the same people for many years now?
A little, but I still have that insane control need. For Skit I Allt I had more help in the studio. I had an engineer available, which helped because I could do proper ground takes [bed tracks] with me on piano, Reine on bass and Johan [Holmegard, also part of the live band] on drums. I would take that into the studio to do overdubs, and then Reine would come in and add some guitar. One track on the new album started with just a chopped up drum take and grew from there. I took sections from a 10-minute recording of Johan just trying stuff out. I cut, pasted and edited; "Soda" came out of that.
Did you feel restrained when you were signed to [Virgin...
The rest of this article is only available with a Basic or Premium subscription, or by purchasing back issue #82. For an upcoming year's free subscription, and our current issue on PDF...