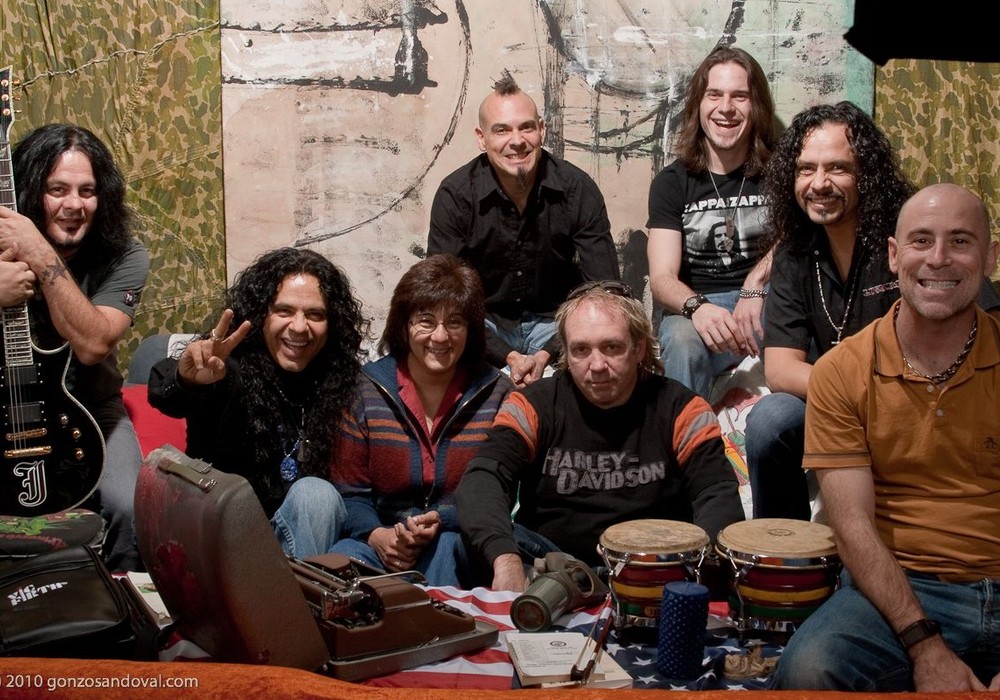 Recording involves several processes — preproduction, tracking, mixing, and mastering. The methods involved in each step have changed greatly over time. Musicians, engineers, mixers, and producers have more choices than every before with regard to how they navigate through the recording process. From preproduction all the way through the mix, Armored Saint, the Los Angeles-based classic metal band, along with engineer Bryan Carlstrom [Tape Op #28], incorporated a multitude of unique, innovative, and practical techniques while recording their latest album, La Raza. The recording and mixing was done at Tranzformer Studios in Burbank, CA, which is co-owned by Carlstrom and producer/engineer Dave Jerden.
Armored Saint released La Raza, their sixth full-length studio album, in the Spring of 2010. In Spanish "la raza" means "the race." The term has often been used by the Chicano movement as a way to express pride in their Mexican heritage. Joey Vera [Tape Op #62], the band's bassist and producer used it as a working title for a tune that utilized an Afro-Cuban 6/8 feel — a clear sign of the band's wide musical interest and ever-evolving songwriting skills. John Bush, Saint's lead vocalist, stated that although the band has it's roots in the predominantly Latino area of East Los Angeles, not everyone in the band is Latino or of Mexican decent, including Bush, and therefore it might be more fitting to use the term "la raza" to speak about the entire human race.
If the band meant for La Raza to mean an actual race to the finish line it would still make for an appropriate album title because it accurately describes the recording process of the album. Armored Saint was given a tight budget to work with. As a result, 12- and 14-hour days were the standard. The band had 32 days to record and mix, but wanted to figure out a way to get the absolute best possible recording in the best possible studio for the money.
Gonzo Sandoval, Saint's drummer, had reconnected with Bryan Carlstrom — the engineer that worked with his long time studio partner, Dave Jerden, on the band's 1991 release Symbol of Salvation. I asked Carlstrom about how he came to work the band again. "You know that's an interesting question. About two years ago I got back in contact with Gonzo. The studio was at another location at that point. He came over and we hung out. I expressed to him, 'Oh dude, I would love to make another Armored Saint record if that ever happened.' I was even back then trying to think of how could I come up with enough time where I could just ask them, 'Come in and let's just make another record.' Me and Gonzo talked about it. I think Gonzo didn't think that another Armored Saint record would be happening, but me and Gonzo stayed in contact. Apparently at some point Joey and John started writing and Gonzo told me they're going to be doing another record. I didn't know how or where, but I just told Gonzo, 'Listen, I want to make that record. I really want to do it.' And he talked to Joey and Joey called me and said, 'Well do you really want to do it? I don't know if you could [work within the band's budget].' Me and Joey talked it over and decided it could be done and I really wanted to do it. Things worked out."
To give you an idea of how the record was made I did extensive interviews with most of the band members, as well as engineer Bryan Carlstrom and assistant engineer John Nuss. In addition, I was fortunate enough to work as the drum tech as well as record percussion on two songs. After the drum tracks were recorded I stuck around as much as possible throughout the recording and mixing sessions in order to make observations, take notes and ask questions when appropriate. Basically, I tried to be a fly on the wall. When there was a break in the action and I gauged that people were receptive to questions, I opened up a dialogue.
This article is not a plug for the record. Listeners will have to decide for themselves about the music. As the drum tech for these sessions I had the opportunity to gain a great deal of insight into the minds of the musicians and engineers. Throughout every take and after conversation that I heard, I learned something new. It occurred to me early on that sharing the experience would be a worthwhile endeavor. Moreover, publishing this article in Tape Op's online article section affords me the opportunity to offer more information than would otherwise be possible in a print version — extended interviews, numerous photos, and loads of gear information. Our journey begins with the preproduction...
The rest of this article is only available with a Basic or Premium subscription, or by purchasing back issue #83. For an upcoming year's free subscription, and our current issue on PDF...