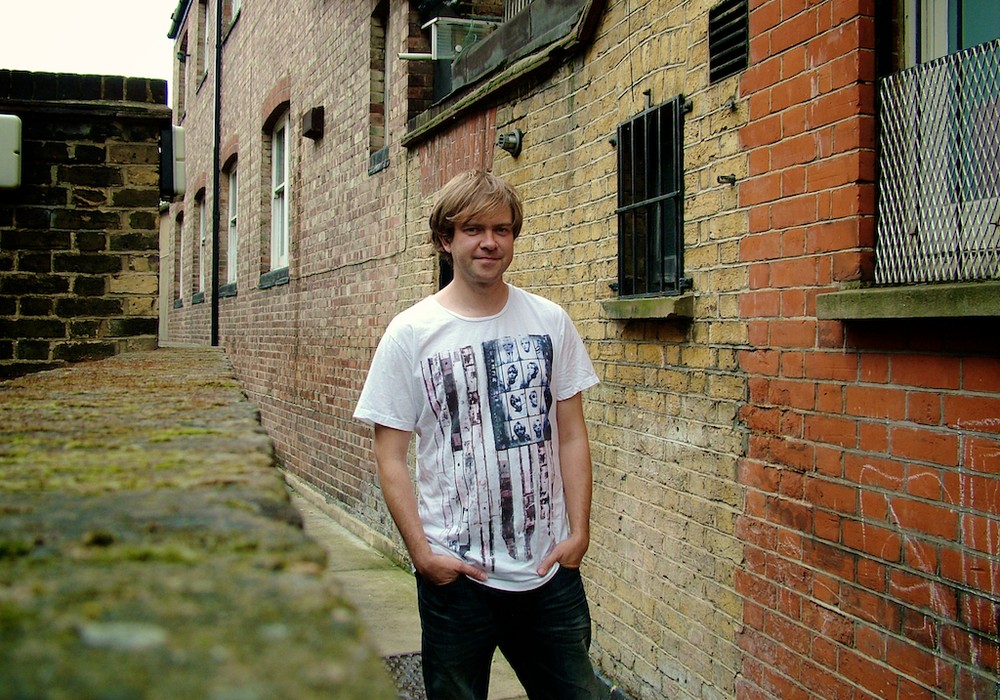 They say that record producers and engineers are the people behind the curtain, but if so London's Dan Carey seems to be hiding deep in the backstage shadows while the artists he work with take center stage. These artists include Franz Ferdinand, Kylie Minogue, CSS, M.I.A., Lily Allen, Hot Chip, Emilíana Torrini, Santigold, The Kills, La Roux, Oh Land, Bat For Lashes, Willy Mason, and Yeasayer. Despite the attention these people receive, it's rare to read about Dan or to even come across a short interview with him. So I trekked through South London to his Streatham-based studio where we had quite a great chat amid his massive collection of musical instruments and recording gear.
What's your history? I know you've worked with reggae producer Nick Manasseh in the past.
I played in band when I was a kid and then kind of got tired of that. As a reaction, I went into completely electronic stuff and thought, "I'm not going to play the guitar any more." Then I did a lot of club stuff for quite a while. Eventually I found the guitar again and tried to join them together. I got signed as an "artist" to Virgin in 2001. There was a period when they were signing producers as artists — you do an album, make the tracks, and get people to sing on each of them. I think Zero 7 had been massive and Virgin was like, "You could be just like them."
There's always someone you are supposed to be "just like."
Yeah, exactly. It didn't really amount to much.
Was that under your name?
[It was actually] Mr. Dan. They let me be pretty out there. The record I made didn't sell, but it was quite interesting. That was where I got the cash to build up the desk and tape machine. I met lots of vocalists who sang on my album, but it made more sense for me to produce their records. That's the way it should be. [Icelandic singer] Emiliana Torrini was probably the first person I had a record with [Fisherman's Woman]. I have done a lot of stuff with her, and that's branched out into other things. Together we wrote a song ["Slow'] for Kylie [Minogue] in the middle of doing Emiliana's album. Someone suggested it at the label and I thought it would be fun. That did pretty well, so that led to a whole other kind of area of production.
What initially led to you learning how to engineer? Was that involving Nick too?
I used to do reggae guitar sessions for him. He would let me sit around in the studio while he was carrying on mixing the track. I used to hang around and ask questions. I had some kind of setup at home previous to that, but I learned a lot from Nick about doing things properly. Then we ended up sharing a studio in Brixton; it was too big for one person so we moved in there together.
You had different suites to work out of?
Exactly. I think I had a slight thing for engineering. I did electronics at the university, thinking it would enable me to build anything.
Like build your own console or something?
Yeah. I probably shouldn't have spent so much time in bands!
One thing I hear in your productions are certain dub techniques.
I used to love the records that Nick was doing — he was just matter-of-fact about it, "When you set up an echo, you've got to have it feeding back on itself. You've got to filter, and you need some spring reverbs." But at the same time that you have all these spacey, float-y sounds, you always have the kick drum really loud, and always have the vocal nice and present. That's the style I guess. That led into other things. I spent a bit of time with Sly [Dunbar] and Robbie [Shakespeare] in Kingston, Jamaica, and then did some stuff with Lee Perry as well. Because of the way that Nick showed me how music "should be made," I get into trouble sometimes. I always have this tendency to do what he would do, like towards the end of a track it'll start turning into a dub version. [laughter] Often labels come back and say, "It is great, but it just goes crazy at the end and there are all these echoes." And I'm like, "Yeah, obviously." I thought that's what you were meant to do. Often I have to go back and do mixes again without going crazy. I can never let a mix go through without changing it somehow. Even when the automation is doing all of the business, I can't help but do one little [reverb] hit.
What kind of stuff did you do with Lee Perry?
He did vocals on a track. I am in a...
The rest of this article is only available with a Basic or Premium subscription, or by purchasing back issue #92. For an upcoming year's free subscription, and our current issue on PDF...