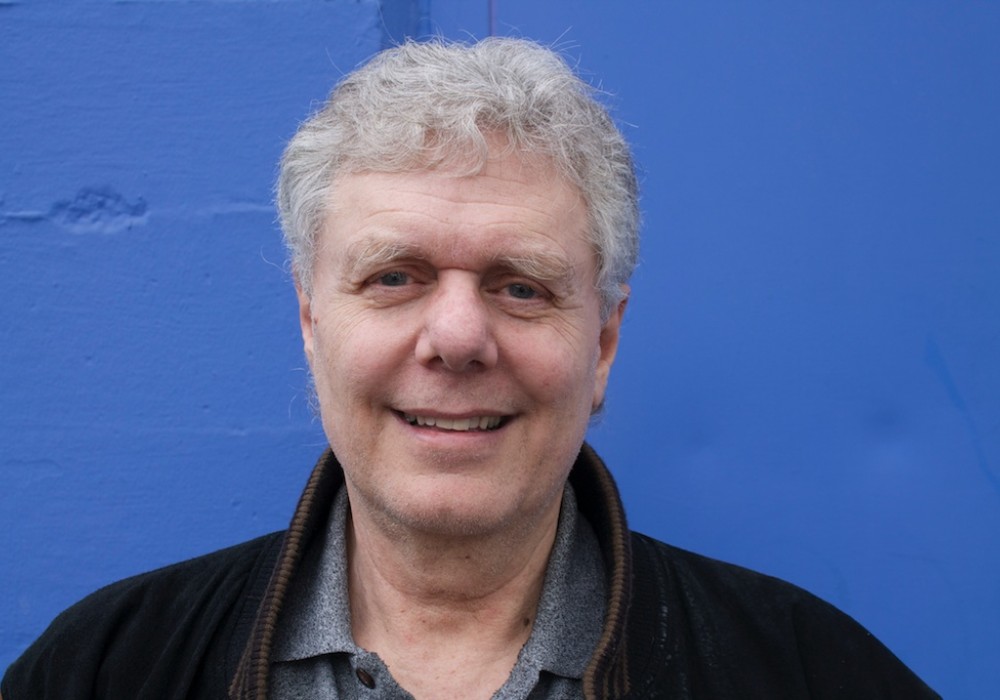 ADK Microphones began in 1997 as the dream of Larry Villella — recording engineer, piano expert, and vintage mic collector — to build quality microphones for his friends. ADK's extensive line of microphones now ranges from very affordable to top-of-the-line hand-built creations. I met up with Larry at SuperDigital in Portland, one of his earliest distributors.
What's your history with microphones?
In '71 I went to recording school in Boston. Eli Lilly's grandson, George Lilly, was building Renaissance Recording Studios in Boston. He went around and found some academics to create a recording school, and to teach him how to use all this equipment that he'd bought. He had a big MCI board and eight brand new Neumann U 87s mics. They taught us the basics of recording. We'd take this 8-track Scully [tape deck] and drag it to old churches to record pipe organs, harpsichords, and pianos. The instructor came in to class one day and said, "We're going to spend the whole week at The Jazz Workshop recording this new guy." We spent five nights with Chick Corea. Jazz piano recording sort of set my life in motion.
Chick Corea on acoustic piano?
It was the Circle group, which was his avant-garde group with Anthony Braxton, Dave Holland, and Barry Altschul.
Some amazing players.
Yeah. In the last three years Dave Holland, Anthony Braxton, and Chick Corea have all recorded on ADK mics.
Yeah, it comes back around!
Forty years later. My life is complete. Chick did a recording that's coming out soon with Jazz at Lincoln Center, and they used a pair of our 3 Zigma lipstick mics; the SD-C cardioids.
That must be an honor.
If I ever run into Chick Corea again, I'm going to tell him that he set my life in motion. It's an honor to hear some of these tracks, and to know that was what set out to be my life's work.
What happened after that?
I moved from Boston to Phoenix, and I worked at the Electronic Music Labs at Arizona State University. I had an ARP 2600, a Hagstrom guitar, and a Tandberg half-track with sel sync. I used to sit there and strum guitar chords on one channel, dump that track over with some synthesizer lead on the second channel, and then erase the first channel. I had a little ad agency where I went around and sold people ads. I made the music beds, wrote the copy, and did the voiceover. It actually led to a late-night FM jazz show I hosted.
When did you move to the Portland area?
I moved to Portland about 15 years ago.
What brought that on?
My wife got a scholarship at Lewis & Clark [College] to go to graduate school. She now teaches there. We had really young kids at the time. So I went from working at the Sherman Clay [Pianos] store in Seattle to working for the affiliate here in Portland. I sold Steinways for almost 20 years. By day I was selling Steinways, and by night I was recording them. In 1997, I just felt like I needed something new that was all me. I decided to build some microphones for a few of my friends.
Recording a grand piano is such a pleasure, and a task.
It's a daunting task. On five different occasions I recorded Vladimir Horowitz's nine-foot concert Steinway. That was part of the inspiration right there, trying to figure out how to record a concert grand piano. I recorded Tom Grant doing jazz, and I recorded some of the piano professors in Seattle doing classical.
What was the impetus to build, or design, your own mics?
There was a Wall Street Journal article. At the time I'd been collecting mics for 30 years. In a single day, my [Neumann] U 47 went up $4,000 and the Wall Street Journal suddenly called them collectable investments. I had a guy who was going to sell me a [Telefunken] Ela M 251 for $11,000 and the article said they were worth $18,000. I called him and said I'd give him $11,000 for his, but he said, "No. The price went up." I got mad. I said that it shouldn't have to cost $5,000 or $10,000 dollars to have a good sounding mic. I went to the NAMM show and met some guys in Hall E that were trying to sell microphones from China. I took a mic home, and it sounded awful. I literally got on a plane and flew for 26 hours to meet these guys in Shanghai. I said, "Listen, this sounds bad. This is what I want it to sound like." I showed them a response curve of a [Neumann] U 67. They sent me a prototype, and I said, "No." Three prototypes later, they were starting to get close. I said, "Okay, build 100 of those." Rob Schrock [Electronic Musician] reviewed our initial A-51, and he said, "I was reminded of a U 67." We were off to the races. Of course, a year later the big marketing giants jumped in and copied our first mic.
What was the price point on that mic?
I think it was $400.
So it was really affordable.
At the time, when I was only buying 100 mics, that was what it had to be. Now it's under $200. All of our designs are proprietary. There's nothing off the shelf. We've moved from $200 or $300 mics into $1,000, $2,000, or even $3,000 mics.
You had started out with very affordable mics and then branched into the higher-end. It seems like a different trajectory.
If you're a high-end boutique company that started out with a $10,000 mic and then you want to migrate down into the $1,500 or $2,000 mics, you have the credibility of your name. But if you're a little humble company, like ADK, starting out with a $300 or $400 mic and you suddenly start to build high-end mics, credibility is difficult to achieve. Everybody used to say that it was a great mic for the money. Now, Chuck Ainlay [Tape Op #97], Bernie Becker, the late Mike Shipley, all said, "Hey, it's flat-out good. Period." Marketing defies me. People don't know where to pigeonhole us. They go, "Who is ADK?" Our $200 mic sounds good! I don't build anything I wouldn't personally use. I have had people say that they bought the Thor mic for $400, and if I have anything better than that, they don't want to know about it. Okay, fine! Am I the best bang for the buck under $500? Am I the surprise in the boutique market? I'll let the public and the A-list engineers tell you.
You don't have a background as an electrical engineer?
Right. I hire that.
Where do you find people?
I have a mic wizard in Belgium, JP Gerard, who's my lead design engineer. He hired an aerospace engineer PhD from Australia to develop the capsule technology. I was the middleman, with just years of emails going back and forth. The Australian PhD would say that the spec was perfect, but JP said that it didn't sound right, so he had him do it over. He's just this little ball of energy and will not suffer fools gladly. It's got to be spot-on. It took us five years to develop the capsule technology, and then we actually spent another two and a half years testing which transformer matched up with which of the five capsules.
Donny Wright here at SuperDigital showed me the case that has all of the different 3 Zigma heads and bodies that you can swap out. He said that sometimes people will take that overnight and try to find the combo that they want for a certain instrument.
Right. The 3 Zigma line has been on the road with Wynton Marsalis for three and a half years now. They've been battle-tested on tour. Our C-LOL-67 lollipop won his quest for the best saxophone mic. There are about five factories in China putting out about 90 percent of the microphones in the world today. They may have different brands, but it's pretty much off the shelf. ADK doesn't do business with any of those factories. If you open our microphones up, you see those giant Wima capacitors. If you look at our high-end mics, we designed the capsules for them. We put the DNA of the five greatest historical mics into that capsule design. You don't need a bunch of extra EQ circuitry to get a tone.
Some mics definitely pull out details in the high-end range that add clarity, without being shrill.
Right. The real key that we've found in our five year saga of developing a capsule is that, with most everything coming from China, if you put it on a high resolution response curve you see these little peaky, jagged, sawtooth looking things. It's not a smooth curve. That's hell when you're trying to EQ, because you want to boost somewhere around 10 kHz, and this one little peak just skyrockets. There's that grainy, tizzy, harsh, edgy thing. That's why we spend all that time developing our own capsules, to get broadband bell curves, without the jagged edges. That's why, if you want a brilliant mic, our C 12 and 251 flavors are brilliant, without harshness. I think that's the key. That's really the heart and soul of what I try to do, to have the microphones be musical.
So how does the company work, at this point?
We have three factories. There's the factory that we had built for our high-end 3 Zigma in Asia. We have a factory that builds our entry-level mics; it's ISO 9000 and so clean you could eat off the floor. We also have a small factory near Seattle where we build our high-end products. The mic you have [Z-67] was handcrafted in the USA. Eighty-five percent of the components, and 90 percent of the labor, is American or European.
People might not know this.
It's handcrafted in the USA, and by dollars, 85 percent of the components in there (like the Lundahl transformer from Sweden) are European, American, or British.
With three different manufacturing locations, is there a warehouse somewhere? How do you deal with quality control and shipping?
I have a warehouse in Tacoma, WA. I ship almost everything from there.
What makes ADK unique?
If I have achieved anything, it's because I've been open to criticism. As I said, with Chuck Ainlay, I gave him mics for 15 years and got criticism and feedback. If I've got any strength, it's that I'm just a little guy at the hub of a big wheel with spokes going in many directions. I'm trying to do what I was trained to do in 1971 as a recording engineer — listen.
Tape Op is a bi-monthly magazine devoted to the art of record making.