How does a Memphis-born teen become an intern, and eventually chief engineer, at Sun Studio? How does the same guy go on to record Jason Isbell, Margo Price, Chris Isaak, Drive By Truckers, the Rival Sons, and Kris Kristofferson, as well as win a Grammy? And how the heck did he follow in Sam Phillips' legendary footsteps to end up recording at Sam Phillips Recording Service and mixing Elvis records? How did he end up working on amazing upcoming releases, including albums by Emily Barker, Sean Rowe, Patrick Sweany, and Margo Price's follow up to Midwest Farmer's Daughter. We find out below.
You were excited about studios from a pretty young age?
Yeah, I got to record at Sun when I was 14. I got a 2-hour gift certificate for my birthday! Me and a friend had a little duo; we never played out live or anything. The goal was to just get into a studio. That was the dream. The session started at six o'clock at night. The engineer was James Lott, who I would later intern and assist. He was just a character. He treated us like we deserved to be there, which we didn't! When he started mixing on the big console, I became transfixed. He was making it sound like something! I started bugging him and asking about every little thing he was doing, and he told me I should come back and intern sometime. I loved playing guitar, but I always knew, deep down, that I'd never be a great guitar player — I just like being a good rhythm guy. But when I started interning, I knew pretty quickly that that's what I wanted to do the rest of my life. I've always felt really lucky to have been that young and figured it out! So I started out as an intern and tour guide when I was 16 and could drive.
You were one of the tour guides?
Well, I started out as a tour guide and also became the studio intern a few months later when the other assistant left. My cousin, Johnny, ran the business and asked if I wanted to come work there. Of course I jumped at the opportunity! I worked up from tour guide, to operations manager, and from intern, to assistant, to second engineer. I became the main engineer when James left in 2010.
So the gear that was in there when you started was not anything like the original Sun equipment.
No. Sam Phillips was only at Sun for nine years. Then he left and built Sam Phillips Recording Service, and he took everything with him. Technology changed so much from '51 to '59. They went from direct to disc, to single track, to 3-track. So he was constantly updating his gear as well. Sun Studio reopened in the '80s — it had been empty for about 20 years. They had a lot of '80s kinds of equipment; like an '80s home studio with a really big Soundcraft board. We used Cakewalk Audio instead of Sonar. There was a big 2-inch machine that was basically an ashtray, and not a lot of great mics. But we had a great room. I didn't know anything about gear when I started. I feel very fortunate to have learned on something like that. I remember the console had so many issues; only 12 channels worked. We just had to work harder. It was probably ten years before I used a [Neumann] U 47 or some of these bigger pieces of gear.
Sun Studio is unique in that during the day there are always tours, and then after six are the sessions. How late did these sessions go?
A lot of the time it was by the hour, with a two-hour minimum. Some people would just come in and do two hours, but most would go late into the night. I was a manager as well, so I was there most days by 10 a.m., so it could be some long days. The session could finish at midnight, but I was often there until 2 a.m. James was a mentor, hero, boss, and a dad; all these things rolled into one. He's also a phenomenal guitar player. I'd just sit there and learn guitar licks from him. He'd tell me stories, and I just soaked it up. I never wanted to leave. I had to go home because I had high school the next day. My parents would kill me if I didn't get home at a certain time, but I learned so much from him there. Sessions couldn't start until about 6:30 p.m., and we couldn't set up beforehand. They could drop equipment off sometimes. I really enjoyed part of that. I had culture shock going into Nashville and other places. "Wait, we're supposed to set up the day before, and the band doesn't come, but we're supposed to get a soundcheck somehow?" Or, "The drummer comes at 10 and the bass player comes at 2?" I loved it at Sun. It's one room, and we all soundchecked together. I needed to hear everybody together. Whether you're in a booth or not, you still need to hear how the drums play off the bass. I enjoyed that, and it made me work really fast. I felt like, "They're paying for this, so we better be cutting by 7:15 or they might be pissed." I had to tear down every night.
Were most of the sessions for fan-based kind of reasons?
We'd get a lot of that. Everyone from all over wants to record at Sun, whether it's a souvenir or they're actually making a record. Memphis, in general, is the place that people are coming to do the one "funky" track that ends up being the best track on the record. When I became head engineer I left the hourly rate kind of high, because often people just want to do two hours and you can't get much done in two hours. I tried to make it way cheaper for the day, cheaper for three days, and way cheaper for the week. I'd rather have those people in who are going to spend time and get things done right, instead of rushing for two hours. But it did help me get really fast. We were getting people of all different talent levels, and coming to a historic place where they're already nervous. For a lot of them it was a lifelong dream to come to Sun and record. You have to be really good at calming people down, welcoming them, and being patient. I'd get people from all over the world who couldn't speak English. They wanted to record, and they wanted to hire session musicians. They have to work that out, and then try to figure out what they want to do. I think all that really helped me later on; to not have an ego, or not be upset if someone's not that good. I don't get upset, because I've done the worst there is to do, musically. But as long as they're happy and having fun, I am too. That's part of the job at Sun.
I always figured there were certain sessions there that were just for them to take home and say, "I did it. I went there."
Yeah, some sessions were like that. The hardest part of the gig is when you care more than the client about their own session. But most of these people came in to have a good time. I would try to cater to that, while also getting something that sounds good. They never forget you either. I would get Christmas cards and notes from some of them, and most would become repeat clients. The music and talent may not have been incredible every time; but if you are helping someone realize a dream, there is no reason to think, or feel, that you are "too good" to do that.
When you did something that was a longer booking, how did you work with setting up and tearing down?
We could push things to the side. I would take the microphones down, because there are tourists in there every day. Believe it or not, people will steal stuff. When I first started we had [Shure] SM81s. About six months in, we no longer had SM81s. I could leave some of the stands up around the drums. Playback is always about what headspace you're currently in, and it never sounds like it did initially. So the one thing I liked about re-setting up every night was that it got me back into the music. I'd remove the mics, question what I did, have an idea, and move them back. The faders were all the same, but I still muted tracks and listened. I don't know how to explain it, but it really helped. Oftentimes I'd beat the sound the next day, instead of just leaving it the same and saying, "No, we had it."
I feel like I could get better every session.
Me too. I always want to experiment and make it better. Sometimes I feel like when it's day six of a session, or so, it's easy to get tunnel vision. Sometimes when I'm mixing I'll hear people say, "I'd like to go do a shaker." I almost want to go, "No! I'm set up for mixing!" Of course that's not the answer. It's, "Of course. Let's do it." But sometimes, with tracking, I feel I've committed to this drum sound for two or three songs and I don't change it. But the other side of me is like, "Make it better!" I don't know about you, but I go home and think about the session at night. I might have a dream, or wake up and think, "What if I put a [Shure] SM7 on that?"
Totally. It's always a little production idea or such.
And when you have to re-set up it's easier to change it out and say, "Hey, let's pause the song for a second. I want to try something." There's good and bad to it. I try to see the positive in everything. You know there are things that are negatives to other people in the studio, like someone may worry that you don't have an SSL or a certain type of Pro Tools. I got good when people called Sun and said, "It's kind of a bummer that we have to tear down every night." I would say, "Actually, it's cool. You get to improve every day." I got good at selling what some people would call the negatives about it.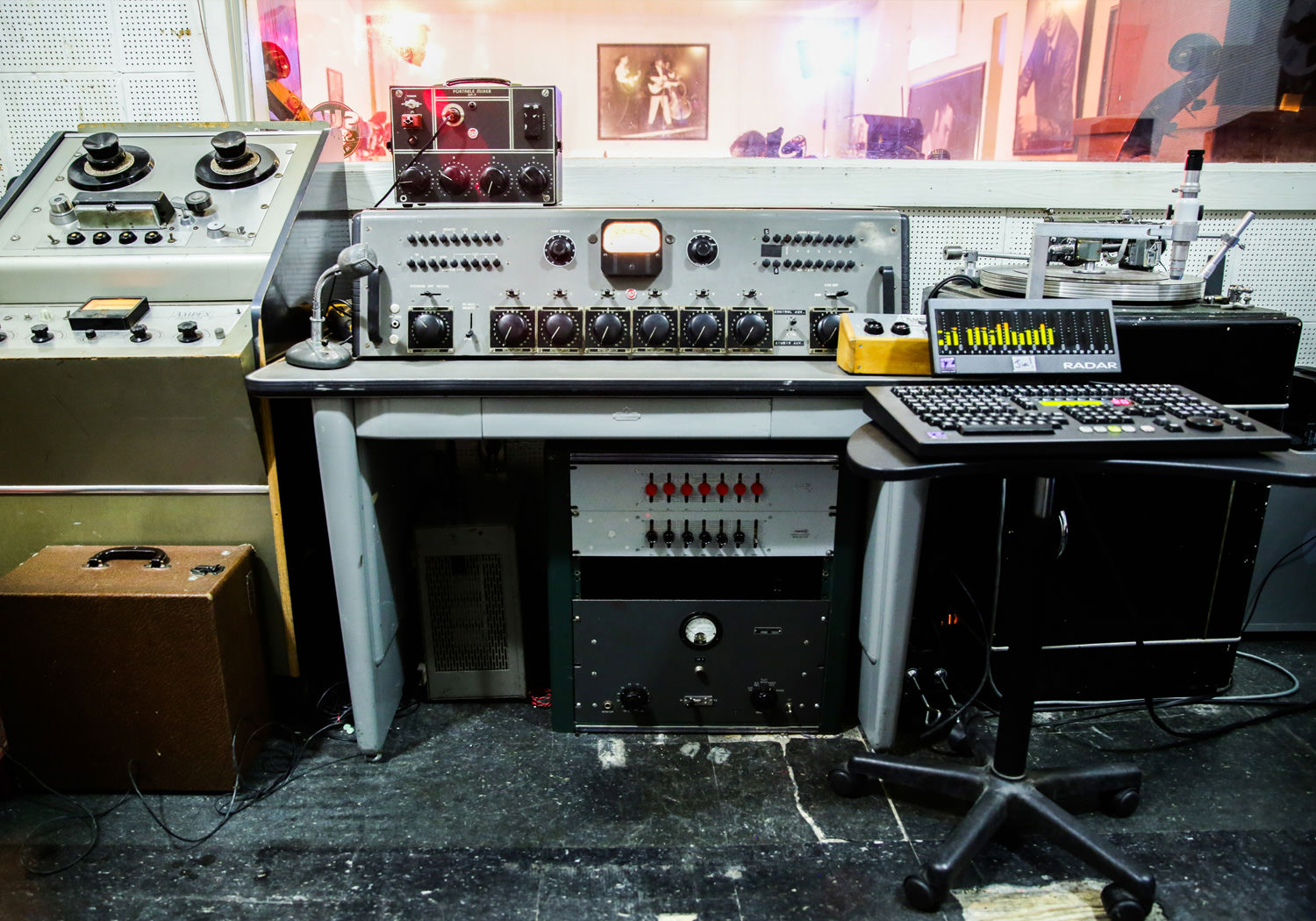 Sun Studios control room under Matt | Photo: Sean Faust
Was anyone ever locking the studio down, like to do day after day without tours?
No. We did a T Bone Burnett [Tape Op #67] produced record with John Mellencamp [No Better Than This]. I went to the owner and said, "They want to book three days. This is the biggest producer, and this is one of the biggest artists." But it was still, "Well, they still have to start at 6 p.m." I think Chris Isaak [Beyond the Sun] was in the wintertime, when it was a little bit slower, and the owner let us start at 5 p.m. It's not so bad though. Who wants to sing or play guitar at 9 a.m.!
Hundreds of people go through there! I was watching a tour from the control room today.
When I started there, especially in the winter, you'd get five or six people a day. Nowadays it's nonstop, all the time. It's great to see young people caring about that music and history.
The tourists were sitting at the drums and piano, and moving mics around.
It drove me nuts. I'd take that gear out all the time, build little walls around the drums with mic stands, keep the Leslie [speaker] in the corner, and have the B3 lid closed. The worst was the piano. It would be tuned for a session, but the constant flow of 50 or so tourists every hour would swing the temperature in the room and the piano would go out of tune before the session started!
Did you start replacing some of the gear in the control room?
Yeah, a lot of the equipment was in museum cases. There were two Ampex 350 [tape decks] on display upstairs. There was an RCA 44 and an Altec 639 in the display case. I remember going through some of the old shelves, cleaning up. There was a drawer with two RCA 77s, two old Neumann U 87s, an old [AKG] C414 — some crazy cool mics.
These were not things that Sam left behind, correct?
Yeah, Sam left in 1959 and took all his gear with him. Sometime in the '80s or '90s they stopped working, and the engineer just never used them again. I asked the owners if we could get the RCAs re-ribboned, and the cables checked. I got them back and we started using those. Then I was like, "Can we pull these Ampexes out?" We started using those. When I became the head engineer, I told them about my idea of wanting to have the same kind of equipment Sam had, but also having a different kind of setup. I showed them Ardent [#58] and some other studios, because they're not typical studio owners. They own a studio, but they don't know about recording spaces.
They own a landmark, and a tourist attraction.
Yeah. And when someone sees a 12-foot wide Soundcraft, and then you want to go to a 4-foot wide Neve, to them, they're like, "You want to do what?" I explained to them that this gear is part of what brings people in, and it has a sonic difference. I worked up a budget. I put a lot of my own money into the original RCA equipment. I said, "If I leave or die, the next guy probably doesn't want to record four mics live to mono." We ended up buying a cool little Studer desk and a RADAR studio. I bought some of the old RCA gear, and we got an amalgamation of the two. We got the tape machines working. I can't say enough good things about the owners. They believed in my idea and really let me run with it. I also want to mention that Mark Neill [Tape Op #29] was huge help and ally in helping me with locating and operating the period correct equipment!
Were you doing some sessions live to one track?
I did a lot of recordings live to mono, like Sam did. Then lots of projects live to 2-track. I really enjoyed that. I think the band does too, because it puts this extra little bit of pressure on them. To be in there with no headphones, you cut it, we roll it back, play it, and there it is. It's pretty fun.
Were you doing that to tape?
Yeah. I had an Ampex 350, and then we had a Studer A80-RC that I did a lot with. I did a Dale Watson 7-inch, in Johnny Cash style, live to 2-track. He met the band that night; they learned the songs, and it was a blast. I also had a 1-inch, 8-track Scully 280 that I later upgraded to a 1-inch, 8-track Studer A800.
Were you setting up players to bring in on some sessions?
A lot of times they would get an upright bass player and/or a drummer, because they'd come from England or somewhere. I'm such a fan of Scotty Moore [Elvis Presley's guitarist]. I would never call myself a session guitar player, but if you need someone to do "That's All Right," or some rockabilly, that's my one thing that I can do. So it would be fun to hit "record" and go out there and play together.
What was your eventual path there?
Well, I'd been there for 11 years. I worked my way up to manager, and I'd been chief engineer there for about five years. I loved it at Sun. You don't have any problems booking Sun. I remember the last whole year I was there, it was like 330-some odd session days. And, because I was a manager, they were extra-long days. The time I had off, I went to Canada to make a record with this band called The Sheepdogs. I really love to work. If I'm not in the studio, I kind of freak out. Everything's an audition. I got a call out of nowhere from this guy named Dave Cobb, a producer. He said, "Will you come down to FAME Recording Studios and engineer this Anderson East session for me, for a day?" He gave me a heads-up that FAME, at that time, needed a lot of work. He'd heard from a mutual friend of ours, Mark Neill, that I was a very patient, easygoing engineer. I don't get flustered, angry, or throw things and shut down.
That's something you don't usually hear on someone's list of qualifications. I hear FAME is in better shape now.
Oh, it's in great shape now. When I went down there, it sounded incredible. They've got amazing instruments, microphones, and gear. It was just the console, and patchbay, and things like that. Dave called and said he'd heard a lot of records I'd done and really liked them. I'd met him once before, at my friend Chris Mara's annual Welcome to 1979 Recording Summit, briefly. But I met him at FAME, we set up, we got sounds, and about an hour in he says, "This sounds incredible." I'm like, "Yeah. It's FAME. It's Rick Hall's [Neumann] U 87. I'm loving it too." He said, "You want to do the next Jason Isbell record [Something More Than Free] with me?" I said, "Well, yeah!" But, you know. How many times have you heard, "Want to do this record with me?" And then nothing ever happens...
Oh, I know what you mean!
I drove home that night thinking, "That'd be really cool. Let's see if that happens." He called about two days later and said it would be in March, at Sound Emporium Studios in Nashville. I went to the owners at Sun and said, "This Jason Isbell record is huge. I've got to do it, but I'm going to be gone for a month." They didn't want their salaried engineer and manager to be gone for a month, even though I had a replacement lined up. It was a little weird. I went back and said one more time, "It's a really big deal. This will be a big record, and will help bring people to Sun, believe it or not."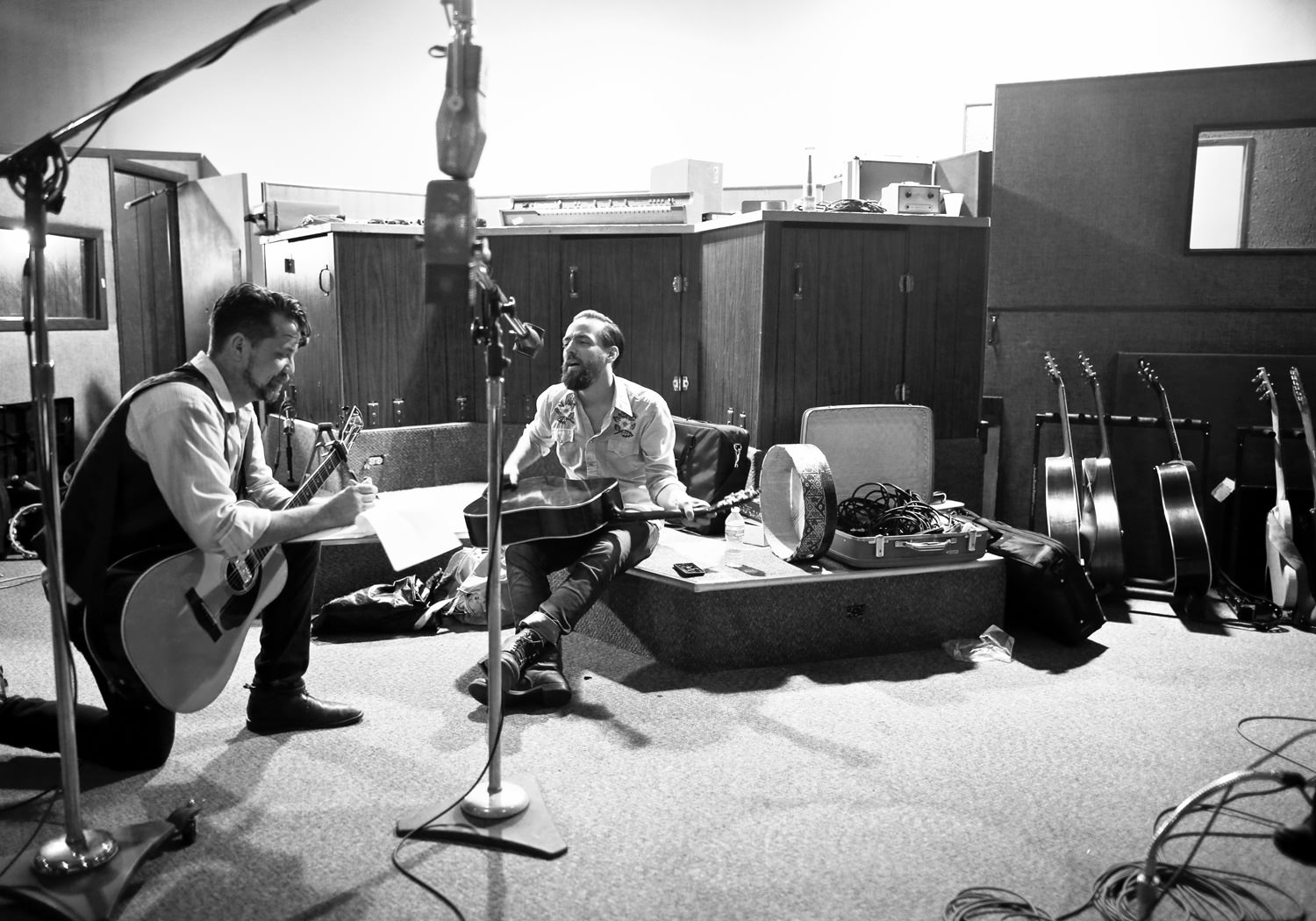 Matt and Patrick Sweany | Photo: Nate Burrell
Right. And Sun's a nice job, but it's kind of a cul-de-sac.
It's a really wonderful job, and I put my whole heart into that place. But, for me, recording comes first. The artist comes first. At Sun, the studio tours come first. So that was always hard to come to terms with. I'd been thinking for a while about needing to make a jump. I'd always been known as "the Sun Studio guy." I wanted to be known as Matt, rather than just the Sun guy. I wanted to work in other rooms! It's one thing to work in the same room, every day, with the same microphones. Most could be good at that. But I wanted to know if I could be good elsewhere. I wanted to push myself to be better. Sam Phillips said, "If you're not doing something different, you're not doing anything."
I remember that quote.
I didn't want to be sitting there just trying to recreate "the Sam thing." All of this played into it, and I knew if I didn't do that Isbell record that I'd regret it forever. It was the easiest decision and simultaneously the hardest decision, and I figured that I had to leave. So I went and told them, "I'm sorry, but I'll be leaving in two months. I'm going to do this record." Everyone thought I was crazy. I did that Isbell record, and this artist I'd co-produced one year before, Margo Price., her record [Midwest Farmer's Daughter] came out. It was a good one-two punch. I went independent, and I only had one record booked. But then Dave Cobb booked me for 20 or so more albums.
You and Dave started working together pretty good as a team?
Yeah, we've worked very well together! We are both fans of live performance-based recording; we both love to experiment and have fun in the studio. I have really enjoyed working with him. He's just an amazing producer/engineer, and I've definitely learned a lot from how he hears things. A great thing about me going independent was I felt like I was getting a little lazy at Sun; in the sense that the phone was always going to ring. There was always going to be bookings. I talked to my close friend Jeff Powell [Tape Op #95], who went independent from Ardent Studios, and there's something to be said about going out there and fighting for gigs. It was one of the best things I ever did.
I've met some engineers where I get the feeling that this is just a job — a clock-in, clock-out thing. To me, it's just too important a role to think of it that way.
Yeah, I agree. I didn't want it to feel like that. You have to make a leap of faith if you care about it. All I want to do is record and produce. What kind of places did you work with Dave Cobb? Well, you know, it's funny. I called Jeff Powell one day, and I said, "I have the keys to Sam Phillips Recording, Sun Studio, and RCA Studio A with me right now, and that's a weird feeling."
"What year is it?"
Yeah, exactly. I feel very lucky. All these classic studios. We also work out of Sound Emporium, House of David, FAME, and Dave's house. Dave's little studio at his house is one of the best-sounding rooms out there! Mark Neill came in and did some adjustments, and it's really quite amazing what it can do. I can't remember the last time I worked on an SSL console, or in a "modern" room, so to speak. I've only been in funky, old studios! Dave and I have probably done 20 records in the year or year and a half since the Isbell record. But he also uses Vance Powell [Tape Op #82], Darrell Thorp, and Eddie Spear a lot. And I've been in Memphis producing a lot too. We like to work quick, so we usually do a record in 7 to 12 days.
Matt and Jeff Powell during Emily Baker sessions | Photo: Stacie Huckeba
How did you and Jeff Powell end up landing at Sam Phillips Recording?
We're independent, but based out of Phillips. Roland Janes was the great engineer here. I came to visit him a lot and really loved Roland, as did most of the Memphis music scene. The Phillips family still owns the place, and I've always been close with the Phillips family. When Roland passed away, there was a lull as to what they were going to do. I voiced to Jerry Phillips (Sam's son) and Halley Phillips — who is Jerry's daughter and very much wants to keep on the legacy — that I would want to do some recordings out of here. I needed a place to base myself out of and put all my gear. Jeff was getting into vinyl cutting, had left Ardent, and needed to put a lathe somewhere. I didn't want to be at Phillips if they were going to be doing a bunch of tours like Sun. They said they wanted to keep it just a studio, make it right, and do what needed to be done to keep it going. That meant a lot to me, because you don't want to go into a place where they're not putting the money back into the building. You've seen it... this place. It sounds and looks incredible.
Just architecturally and design-wise, this is a unique looking studio.
Sam made sure it caught your eye. Jeff and I did an initial session here, and we both said, "Man, this place has a sound!" They don't really have a house engineer, but Jeff and I are based out of here and we bring most of the projects in. It just feels like family here — it's a really tight-knit group, and very private. But it's great too, because I can go to Nashville and do something at RCA with Dave Cobb. Or I love doing projects with Boo Mitchell at Royal Studios — we've done a lot of projects together. I like being able to do whatever the project needs. If it needs to be done at Phillips or Royal, we'll do it there.
Running a studio is a lot of work though. A lot of maintaining gear.
Luckily I don't have to deal with too much of that. It's enough of a pain trying to keep my gear going!
Is Knox Phillips [Sam's other son] involved?
Yeah. Unfortunately, Knox has been really ill lately. He's mostly at home, and it kills him that he can't be here every day!
I know he was really passionate about this place when he was younger.
He still is. He calls in all the time. I get these beautiful letters from him on Sam Phillips' stationary. Knox and Jerry spent their whole lives keeping the legacy of Sam and this place alive, and we want to keep it going for them.
And Halley's really into it too?
Halley's great! Big-time into it. She has really carried the torch for the legacy and the studio.
It's visually inspiring to walk around this building.
And you never want to leave. It always feels like five o'clock, or something!
It's like happy hour in this building!
Exactly! You nailed it. It's happy hour. It really is incredible. The Phillips family is here every day. I'll be cutting and then Jerry Phillips will come in and say, "I don't mean to produce, but what if the Wurli started that song?" I'd go, "Shit, hey, that's a great idea!" Jerry and Halley are great music fans, and they want to host. When I bring an album in, they'll drive down from Alabama and hang out. They probably lose money on the hotel rooms, versus what the studio's getting.
They don't live in town?
No, but they come in to introduce themselves to the artists, welcome them to the studio, and take them out to dinner. I think it's mind-blowing for the artists to be treated like that, because usually it's, "We need to charge you. You drank 20 bottles of water." Or, "It's $10 for a blank CD." None of that's here. Halley's starting to produce as well. She's produced about two or three projects now, and has done great.
Is she engineering as well?
Not yet, but she wants to get into that as well.
What sessions have happened in this space now since "moving in?"
I've been mixing Elvis in here, which is funny. He got tired of recording in Nashville, so he demanded they record him at home. He'd done the record at American [Sound Studio], obviously [From Elvis in Memphis]. So then Felton Jarvis [his producer] bought a bread truck, turned it into a mobile studio, and drove it down to Memphis. It promptly broke down in Jackson, Tennessee, so they towed it to Graceland, where it stayed until after Elvis died. We found one picture of the outside, but we've been trying to find pictures of the inside of the truck. They recorded a bunch of dates in Graceland's Jungle Room, so I mixed a lot of that. They put out the original masters, as well as all my mixes of the unreleased music [Way Down in the Jungle Room]. Now they've got me mixing some live shows, and rehearsals from the live shows.
Is it pretty wild to hear that voice?
It's amazing! The studio banter is incredible too, because you hear Elvis completely relaxed in his "element." He really controlled the sessions musically, as well. He really pushes the band to get the feeling he wants. When I was mixing, they brought the guys down, so James Burton [guitar], Ronnie Tutt [drums], and Norbert Putnam [producer, bassist] were there.
Oh, Tutt's such a good drummer.
He's like Animal [The Muppets] on the drums; just endless energy, especially with that double bass drum! Mixing the Elvis tracks has really inspired me with the artists I have been working with lately. Those Elvis records had incredible arrangements, with horns, strings, and The Stamps Quartet that really make choruses huge and the songs feel so cinematic. I really love the impact that they have on his records, so I've been stealing that idea! I just finished a record with Sean Rowe, whom I'm really excited about. We used a string quartet and Jeff Powell's wife, Susan Marshall with Reba Russell on background vocals. But I used that just in sections of songs, to make it really maximize the heart of the song. I also used this trick with this great artist from Nashville, Patrick Sweany. We did his record in five days. This is a whole new kind of record for him — it's like '70s country funk. We wanted strings, but not so "classy" sounding. So I used this great Memphis string arranger, Sam Shoup, but had him play all the parts on a mellotron! Emily Barker, from England, came and we made this other amazing album. I wanted to do a Burt Bacharach-style, classic sounding record. Jeff Powell engineered it. We put all the mic preamps in the live room. I've done this a couple times, where I put the pre in the room — usually for a vocal — run a short cable, and skip everything else. It just sounds more hi-fi to me. Jeff and I thought about it one night. Jim Dickinson [Tape Op #19] talked once about how much crap the signal goes through, because of the patchbay, the console, digital, and so forth. I usually cut everything to tape first and then dump it; but we put the pres in the room, ran ten-foot cables to all the mics, and went straight from the back of the pres into the tape machine. We skipped the patchbay completely. When you think about every connection, and every insertion, it's quite a lot of cable you're going through. It sounded great. It would have sounded really good if we hadn't done all that too, but we just wanted to get really nerdy. I think that record came out amazing.
Is Emily's record out?
No. They're shopping it right now. We've done all these, just in the past few months. Jeff did some overdubs here for St. Paul & the Broken Bones. I'm doing Margo Price's next record in a couple weeks here. We're making country records in Memphis, which I love!
You tracked her first album [Midwest Farmer's Daughter] at Sun Studios [Tape Op #115].
They booked two hours on the way home, after South by Southwest. I just got this call. "Hey, it's Margo Price. We want to come record." I don't like checking people out when they call. I want to be surprised and go off my first impression. I don't like listening to people's previous albums, because I hear all these things I feel like I have to do; which I don't. They're coming to me to do something different. I don't listen to a record that's all Auto-Tuned with really precise drums and click tracks, because they're coming to me, and this place, for a reason. I'll second-guess or psych myself out for a minute. They came in and we tracked it to my 1-inch, 8-track. We just recorded one song during the two hours. We started at 11 o'clock at night, because that was the only time they could do. They didn't have the drummer that they have now. Without isolation, the drummer's just as important as the vocalist, or anybody, for that matter. You know when you're cutting, and it isn't happening, but it's not your fault and not necessarily their fault? But I was impressed with Margo, and the songs, and the sound of the band. I pulled her aside and said, "I think you're incredible. You guys have been driving all day, and it's hard to be creative after a South by Southwest run. I'd love to work with you again." They left, and we kept in touch. I'm not Sam Phillips — I will never be Sam Phillips. But that was the first time at Sun that I felt what it was like to be Sam, like when Carl Perkins or Johnny Cash knocked on the door and auditioned for the first time — this raw talent that no one had ever heard. I was blown away by the songs and Margo's voice. That must have been what Sam felt like when Jerry Lee Lewis or one of those cats came to the door. Like, "Whoa, I gotta work with you. This is the real deal." I begged them to come back. They'd worked a lot of places in Nashville, but when it was time to make the record, they called back, came down, and we did the record in three days — after 6 p.m. She pawned her wedding ring and sold their car to make the record. Later on I told her, "You know, if I'd known all that, we could have done an IOU or something." But, listening back, I think that lends the album the urgency of, "We've got to make this record, now."
Playback during the Emily Baker sessions, left to right: Amy Fleming, Wesley Graham, Dave smith, Matt, and Emily | Photo: Stacie Huckeba
Put it all on the line. It's so real. Didn't it go into the charts?
Yeah, the Top-10 Billboard country charts. She was actually the first solo artist to debut in the top 10 without any history on the Hot Country charts. Margo has an authentic voice that needs to be heard, just as much off stage as on. We knew we made something amazing when we finished. We tracked it in three days, mixed it in three days, and everyone turned it down. Then Jack White [Tape Op #82] heard it, and [Third Man Records] put it out exactly like it was. I think that it was a perfect fit for her. Both [artists] are just focused on what's real, and not worried about being tied down to trends. Margo's record is not trying to sound old; it hopefully sounds timeless, and I think Third Man single-handedly resurrected vinyl.
Like the kick drum doesn't go tap-tap like a "new" record, but it's not missing from the mix, like on an old record might sound. Do you know what I mean?
Yeah. The goal was to get it and the bass to feel like one instrument. That's an old "Elvis" mic [Shure 55SH], which Mark Neill hipped me to!
When a recording is just retro, you're probably missing some potential.
I agree. Back to that Sam Phillips quote, "You aren't doing anything different." What I mostly take from old records is the feeling you get when you listen to them, and the performance! That's what I am always trying to capture when I record. Being from Memphis, and surrounded by the history of all these classic records, has definitely refined me. Yes, I'm in an old room and have old mics, so it ties into that, but there's no, "This needs to sound like 1956," or something. It just needs to be what the song needs.
If you're trying to imitate albums, you're probably going to fail.
Yeah. And by that time, you've probably missed the take, you know?
You have to be a little careful. Like don't throw everything old out, but don't be afraid of the new.
When I hear "I'll Take You There" by The Staple Singers, it doesn't sound old to me. It sounds punchy and super hi-fi! "Tomorrow Never Knows" by The Beatles, and Buddy Holly's "Everyday" — I don't hear 1957 or '67, I just hear incredible records. When I hear something like a Bruce Springsteen hit from the 80s... well most albums from the '80s, or the modern "stomp and clap" hit records of today, I feel like those productions are so dated sounding that they actually hurt the longevity of the song.
Obviously records are sort of a fantasy anyway.
That's part of the fun! That's why Sam Phillips said he came up with the slap echo. He heard the music echoing from a jukebox in a restaurant and wanted to recreate that. When you hear Elvis doing "Blue Moon," that's one of my favorite Sun cuts that initially never came out. That slow, 7 1/2 ips, delay makes my neck hairs stand up! With this upcoming Patrick Sweany record, we tracked it to tape and I was riding the faders as I went, because I always commit. We played it back and I said, "That's done. I'm going to save it just like this, and we'll come back in three days. I'll mix the record, and if I find some trick that works, I'll do it." But it ended up that we just left it how they performed it. It feels amazing to me, and it moves. I feel like if I sat there and tried to EQ things, or automate it, it would just become more "safe."
He gigs a lot and has a great control over his voice. What else do you need?
Patrick does a lot of the bluesy hollering, but we got him to sing quiet on this record. It's almost like William Bell, or something. He has the most amazing, emotive voice. When he sings softly, all these other things come through. It grabs you. Plus, we had Ken Coomer on drums and the legendary Reverend Charles Hodges on B3 organ!
What do you see in the future here at Sam Phillips Recording?
More great records! Once people start hearing the records that are coming out of here, and see the place for themselves, I think they will all be drinking the Kool-Aid. I'm really excited about getting the B room set up with some of my gear and doing a control room/tracking room in one.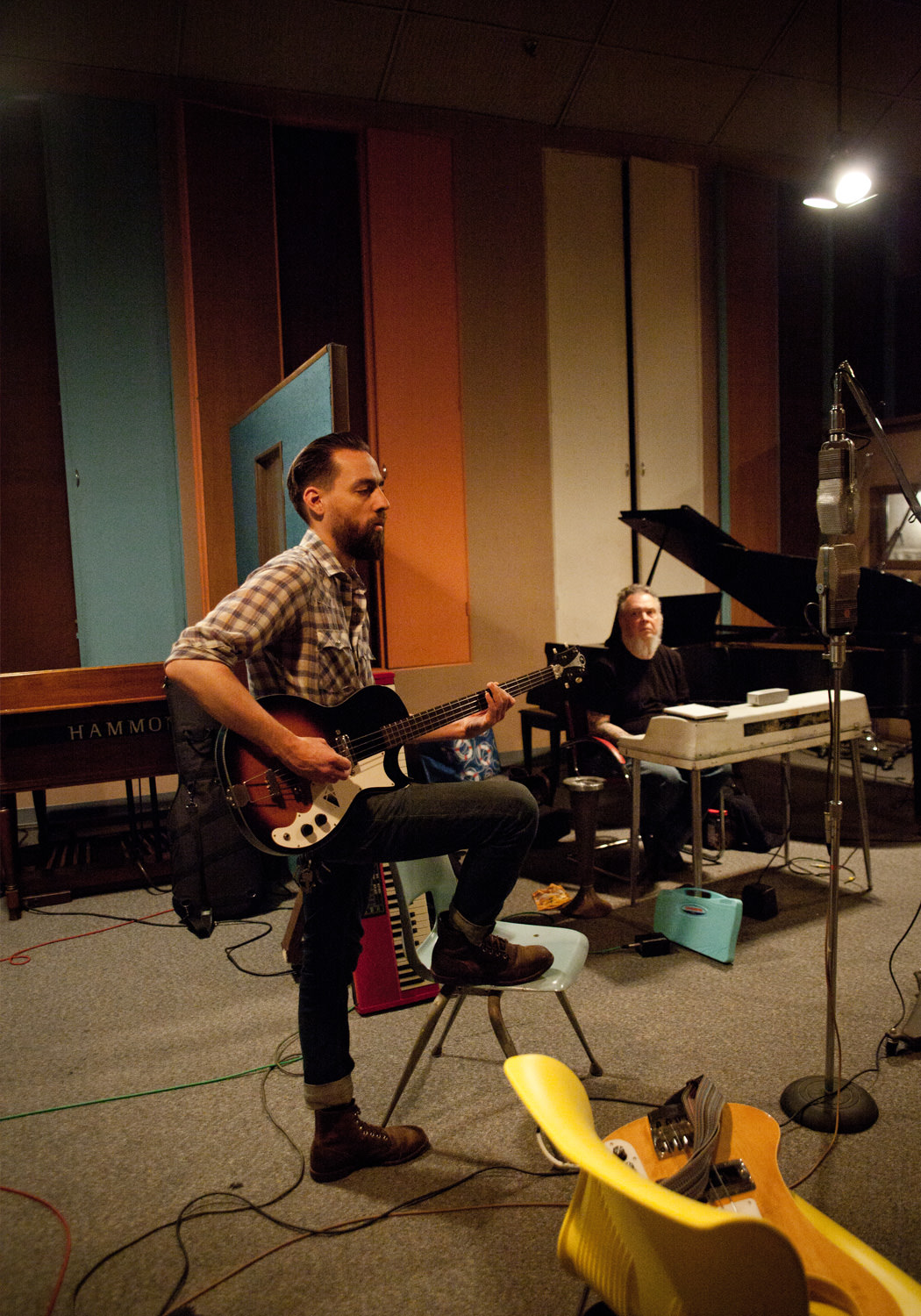 Matt on bass, Rick Steff on the Wurlitzer | Photo: Stacie Huckeba
You were talking about making the B-room kind of limited; like a one-room facility with limited tracks?
Phillips has a great 1-inch, 8-track Ampex 440C and I recently purchased John Fry's original Ardent console [Tape Op #58]. It was a custom Spectra Sonics by Auditronics, a 12x3, later modified to a 12x4. So we will all set up in the same room. I like the idea of the big Studio A with the 24-track machine and all the toys, and then this cool, smaller room with 12 inputs and 8 tracks. I often find in the studio that nothing ever works twice, so it will be nice to jump between two different styles of rooms and recording. When we tracked the Emily Barker record, we did it with session guys. We ran it all live, and they didn't learn the songs beforehand. They came in and we'd figure out the groove or lick. Then the next artist I did, three weeks later, was Sean Rowe. I had almost the same session guys. We're all riding high off this incredible record we just did, live, in four days. We're like, "We've got this! This is what we do." We get in there, and Sean is one of those guys who has his own unique timing. He doesn't often play with a band, so he purposefully speeds up and slows down in the song to fit the lyric. We got in there and tried to do it all live. The drummer's trying to keep him in time, and it wasn't happening. We quickly were like, "Oh, shit." I'm usually a live guy, but it wasn't called for for most of this record. Later Sean would end up playing acoustic guitar and vocal. We'd get the take, and then Ken [Coomer] would go and overdub drums. It worked out amazing, because he's not playing straight drums. He's doing these drum moments around the vocal, and around the lyrics. There are moments when we'd slam the door to the echo chamber, and that's the snare sound.
It's good to know when something isn't going in the right direction.
I just knew it wasn't working with the band, so I sent the guys home and told them to come back tomorrow. "We're going to get there." And we did. It wasn't the original plan, but it couldn't have come out better. Any other way and it wouldn't have been as great. That's why I'm never too attached to things in the studio, because the thing I used that one time often times won't work the same again. That's also what's fun about recording, and why I love jumping between Memphis and Nashville, and all the various studios. I never feel like I'm just going through the motions.
Do you feel there are certain things you gravitate towards as an engineer that are unique to you?
Is it unique if I steal from everybody? [laughs] Recently I've been lucky to work on projects with people I really admire, like Mark Neill, Vance [Powell], and Andrew Scheps. The records they make, the way they hear things, and their approach to recording is very inspiring and makes me think differently. I love learning things from them and blending that with what I already do. Honestly, I don't do a lot of processing or EQ'ing. I really just move microphones and let things bleed into each other. Gear-wise I'm really a huge fan of Spectra Sonics' [Tape Op #102] preamplifiers and their 610 Complimiter, both of which are big parts of Memphis' classic sound. I do think I probably use 610s differently than most. But, then again, it can all can change, because it's just about the song and the artist.
The Auditronics consoles that were being built there were being built with a lot of Spectra Sonics parts.
Yeah. Originally Auditronics were basically Spectra Sonics parts, just rebranded and made in Memphis. After the early '70s they stopped using Spectra parts and went to an early op amp design. I'm totally obsessed with all kinds of music, but especially Memphis history and Memphis studios. I've found the same Auditronics console — one of five made by Auditronics in '69. Stax bought one of them. Ardent bought one of them. This was the third one made. This guy, Warren Parker, from Canada, bought it in 1969 and used it in his studio and mobile rig. I bought it from him; it's a 20x4, all discrete Spectra Sonics console! And I just recently got that original Ardent desk, which I am really excited about. John Fry and Terry Manning [Tape Op #58] cut some of my all-time favorite records on that desk. I had a great tech make a small sidecar frame so I could take ten channels with me when I travel. I think the Spectra Sonics preamps are one of the few pres that, when I hear the source in the room and then I pull it up on a fader in the control room, sounds the same. It does have EQ, but even just 2 dB is a lot. I can be very specific about gear but, at the same time, I don't really care about what I'm using. Like I said, it won't work two times in a row. And now that I travel so much, I don't have the luxury of always having the same gear, so it doesn't matter to me as much I thought. There are times when I miss something I know really well. But when we made Patrick's record, I felt like I had been using condensers too much on drums and I was tired of that sound; we went with all dynamics, and it sounded incredible! Every day I'm excited to try something different, and I want to find those new sounds. It's fun to try different gear, as long as it doesn't get in the way of the session. I can swap out a mic rather quickly, but if an artist is ready to go, we're not swapping out anything — it's go-time. If the performance is great, who cares what the damned kick drum sounds like!
Matt Ross-Spang Playlist on Spotify
Tape Op is a bi-monthly magazine devoted to the art of record making.