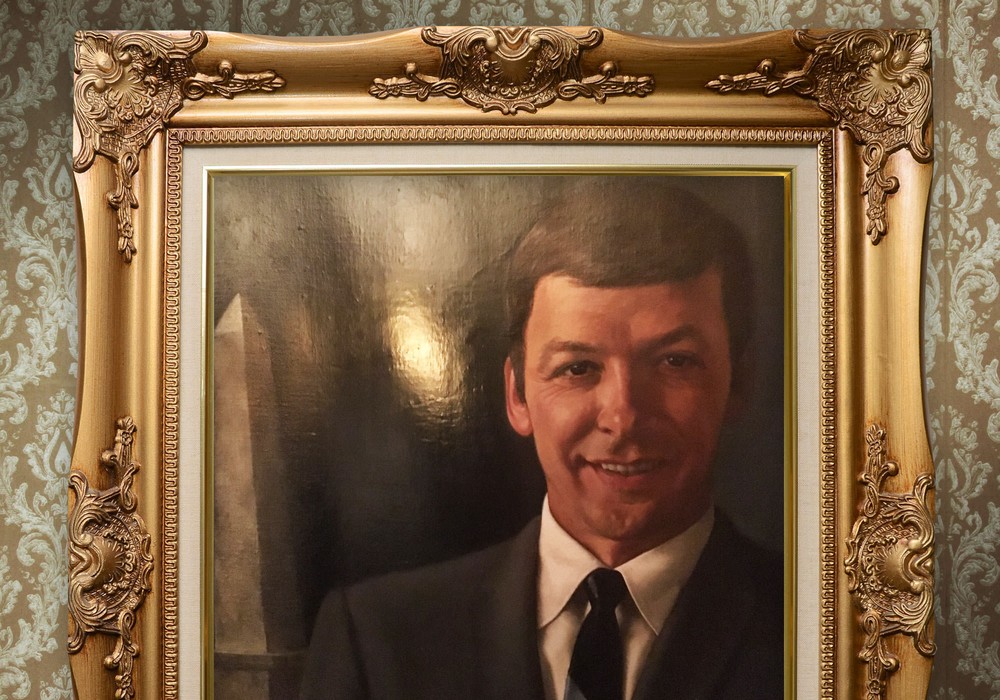 Mention Fred Foster in Nashville and the room goes silent with respect. While many of his contemporaries worked for major record labels, Fred ran his Monument Records independently, self-financing sessions and producing records on his own terms. In 1964 he opened Fred Foster Sound Studios in Sam Phillip's former Nashville studio outpost, and later opened Monument Recording Studio at the end of Music Row (now Zac Brown's Southern Ground). Monument Records saw success with a number of its artists, such as Dolly Parton, Ray Stevens, Boots Randolph, and Kris Kristofferson, but it's Fred's production of Roy Orbison's timeless hits that still inspire listeners across the globe. Fred is still at producing, having worked on records by Ray Price and Willie Nelson in the last decade, and was inducted into the Country Music Hall of Fame in 2016. Engineer/producer Kyle Lehning [Tape Op #108], and noted arranger/musician Bergen White, have worked with Fred over the years, and we met at Fred's home for an afternoon chat.
LC: You started really young, as a songwriter, writing lyrics for a production company?
It was in Washington. I left the farm in North Carolina because my dad had died. I kept the farm going for two years by myself; it nearly killed me. I said, "I gotta get out of here." I had a sister in Washington who worked for the government, so I called her and said, "Polly, I need to get out of here." Her husband was a really great guy, and he said, "If I were you, I would go to someplace where you have a lot of freedom. There's a chain of restaurants here called the Hot Shoppes. Curb service, drive-in, and they have good restaurants. You can make money in tips." So I went to apply and got the job; $12 a week, plus tips, in 1949. I got a tip one time for $100, because it was a congressman who wanted to park in a hidden place so he could visit with his "sweetheart." I put him behind the equipment shed and got them cokes. Hot Shoppes kept promoting me. The company was founded by J. Willard Marriott. They kept promoting me until finally they brought me in to run the commissary. The commissary covered one city block, curb to curb. Ground floor was the butcher shop, where they brought all their meat from out in the stockyards. Next one up was a kitchen. Next floor up was a bakery. Top floor was personnel. When they told me they wanted me to take over, I said, "Wait a minute. I don't think I'm qualified to do that." By this time, they had 34 restaurants and catered all the airlines out of Washington. You could go into any one of the Hot Shoppes and get a barbecued hamburger or a cheeseburger; all the meals were done in the commissary, put in insulated cabinets, and shipped out. Now I had to judge how much each one of the restaurants would be using. And the inventory, man...
KH: What year was this?
1951. Anyway, they said, "Yes, you can handle it." It was stressful. After a while I told the personnel director, "I need to get out of here for a few days." He said, "Why don't you relieve a couple of curb managers? They're going on vacation." So the second day I'm out at the 14th Street Hot Shoppe on the other side of Washington and I see this Cadillac in the lot at about five in the afternoon. He screeched to a halt, started blinking his lights, and blowing his horn. I go over and tell him I'll have someone with him in just a minute. He said, "We're in a real hurry. Just bring us two barbecues and two chocolate shakes." All the guys were busy, so I did and he tipped me a dollar. The girl who was with him was movie star beautiful. The next afternoon he's in the lot again with a different girl, just as gorgeous. This went on for ten days. Different girls. So he said to me one day, "When's your day off? Why don't you come down to my club?" So I went on my night off. He was a great emcee; the greatest I ever saw. Tennessee Ernie Ford picked up a lot from him.
KH: What was his name?
Billy Strickland. He played steel guitar, electric guitar, and acoustic guitar really well. He had a persona that was magnetic. So I'm down in the club one time and there were about 1,400 people in there. He said, "Ladies and gentlemen, we're so fortunate tonight to have a dear friend of mine in the house. He's one of the great songwriters of all time. I'll venture to say he said that if you name your three favorite songs, at least one this man will have written. Why don't we give a big Washington famous welcome to Mr. Fred Rose?"...
The rest of this article is only available with a Basic or Premium subscription, or by purchasing back issue #118. For an upcoming year's free subscription, and our current issue on PDF...