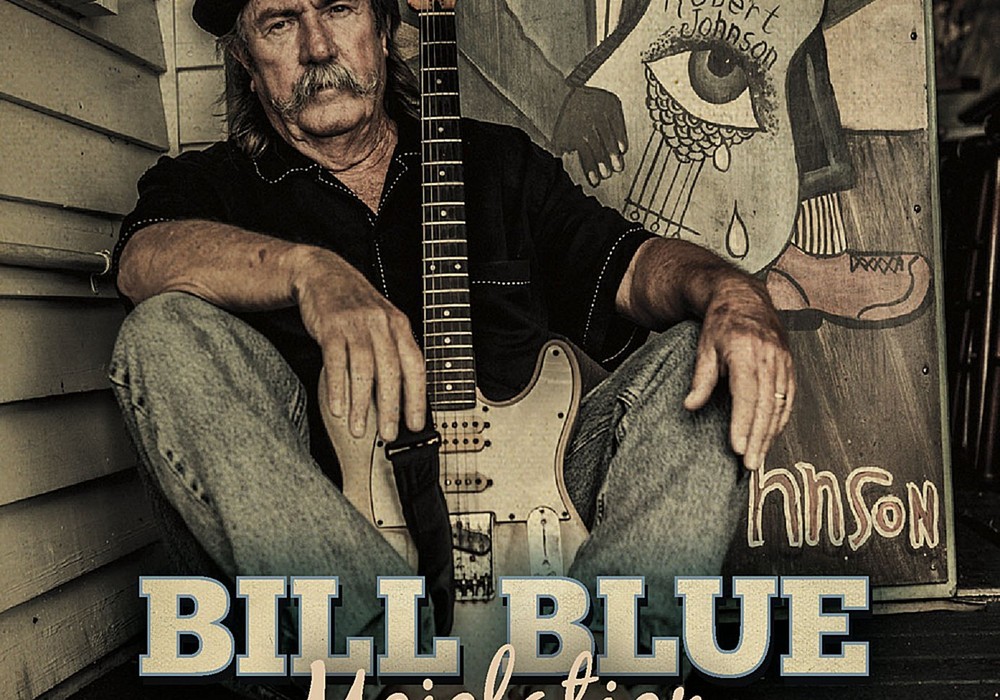 Ian Shaw, engineer and producer from London, England, relocated to the heart of tropical Key West, Florida, the southernmost point in the continental US. In the winter of 2011 Ian shipped his recording equipment to Key West and built a new studio there, whilst living in a quirky floating home with wife Vicky and dog Pugsy. Ian's records have won awards and earned chart successes on both sides of the Atlantic. Artists include Primal Scream, Nick Heyward, Kevin Rowland, Super Furry Animals, Julian Cope, Furniture, Glen Matlock, Edward Ball, The Would Be Goods and the entire 1990s Riot Grrl scene. Most recently Ian's worked with up-and-coming Folk artist Megan Henwood, Matt Backer, Claudia Morris, Socialist R&B band Thee Faction, austerity rock band Sebastopol, and singer/songwriter Nikki Murray.
Bill, who is in his late 60s, is a genuine "back porch" blues singer and guitarist with a signature slide guitar style of playing. He's originally from Richmond, Virginia and enjoyed his first break when he was invited to play guitar in Arthur "Big Boy" Crudup's band. Crudup is best known for writing "That's All Right," Elvis Presley's first hit. When Crudup died in 1974, Bill formed The Bill Blue Band, signed to Adelphi Records, and toured extensively in the USA and Europe opening for Bonnie Raitt, Aerosmith, ZZ Top, and many others. In the early 80s, tired of the road and touring, Bill moved to Key West where he's lived ever since. He's considered to be the elder statesman of the music scene here, and in 2013, October 14th was declared by The City Of Key West to be 'Bluesman Bill Blue Day"! Key West being laid back and tropical can present a challenge to recording a conventional studio album, so this recording happened unconventionally. As Bill Blue says, "In a town known for it's liberal ways, year round sunshine, and Jimmy Buffett and Trop Rock, it's hard to have the Blues!"
Ian Shaw's Notes on Recording Mojolation:
I fancied playing tennis year-round in a warm, sunny climate somewhere with a vibrant music scene. I haven't been disappointed! I still work with many of my UK clients and now the local talent too. At Old Town Key West's famous Green Parrot bar, Bill Blue has had a residency for over 30 years and that is where I first heard him play. Key West is a small town and Bill lives on the water, as I do, in fact, I can see his houseboat from my kitchen! He and I got to know each other as neighbours then started hanging out together at gigs and gradually I realized that Bill has a rich musical history."
After I'd heard Bill play half a dozen times we talked about the possibility of making a record together. Bill hadn't recorded for over 20 years and I didn't feel that his previous recordings captured the vitality of his live set. Local guitarist Larry Baeder, one of Bill's regular live collaborators, said he believes it is important for blues history accurately to "document" what Bill does, and I agreed with him, so I decided to put the record out on my label Warmfuzz.
Rehearsal and pre-production is not the ethos of Key West musicians and, apart from Jimmy Buffett's private Shrimp Shack recording studio, there are no formal, well-equipped recording spaces here. My own studio is a compact, acoustically-treated mixing space with Pro Tools HD, a collection of vintage outboard gear, ADAM monitors and room enough to record overdubs. In January 2013 Bill and I agreed that we'd like to make a record together. My aim was an exciting, simple, studio album that would include two specific songs from Bill's live set and reflect the power of his stage performances. Bill wanted his vocal to sound great and to have horns on a song or two, but otherwise he made very few requests. Otherwise, we had no discussion about the music and I didn't hear any of the other songs until we were in the studio. That's Key West for you!
Looking for somewhere to record initial rhythm tracks, I was directed to a space on Stock Island run by Michael Sweeney. The set up is basic; a large live space 40 by 20 feet with a separate control room that doubles as Mike's bedroom! Mike has Pro Tools 10 on a MacBook, 16 PreSonus mic preamps, a pair of KRK K-Rok monitors and a collection of mainly dynamic microphones and that's it. There is also a cupboard in the studio and a bathroom behind the control room where we could isolate some guitar amps. The first session was in late January 2013 with "Drummer Dave" Baron on drums. Bill had played with him in 2012 at a Jimi Hendrix birthday gig, and liked his dynamic style. On bass was band member Francois Gehin, Nashville session guitarist — and Bill's friend — Michael McAdam played second guitar while Bill played guitar and sang guide vocal. I brought a selection of my mics to supplement the studio's collection. We positioned the band in the live room and placed guitar amps in the aforementioned cupboard and bathroom mic'd with Shure and Audix microphones. The drum kit was mic'd with an AKG D112 on kick, [Shure] SM57s on snare top and bottom, a small Beyer electret on hi-hats, [Shure] SM58 on rack tom and an old AKG D202 on floor tom. Overheads were Rode NT1s and I set up a Shiny Box ribbon mic about 10 feet in front of the kit for mono room ambience. From behind a baffle, Bill sang into my Neumann TLM 103 and the bass guitar was both DI'd and mic'd through an Ampeg rig. I believe we used Francois' own [Electro-Voice] RE20 to mic it."
All in all the first session wasn't a resounding success. Firstly, Key West is a busy gigging town and so we didn't have a lot of recording time before musicians had to leave the studio late afternoon to play shows. Secondly, trying to get separate headphone mixes proved to be time consuming and problematic. Thirdly and, arguably, most importantly, there...
The rest of this article is only available with a Basic or Premium subscription, or by purchasing back issue #104. For an upcoming year's free subscription, and our current issue on PDF...