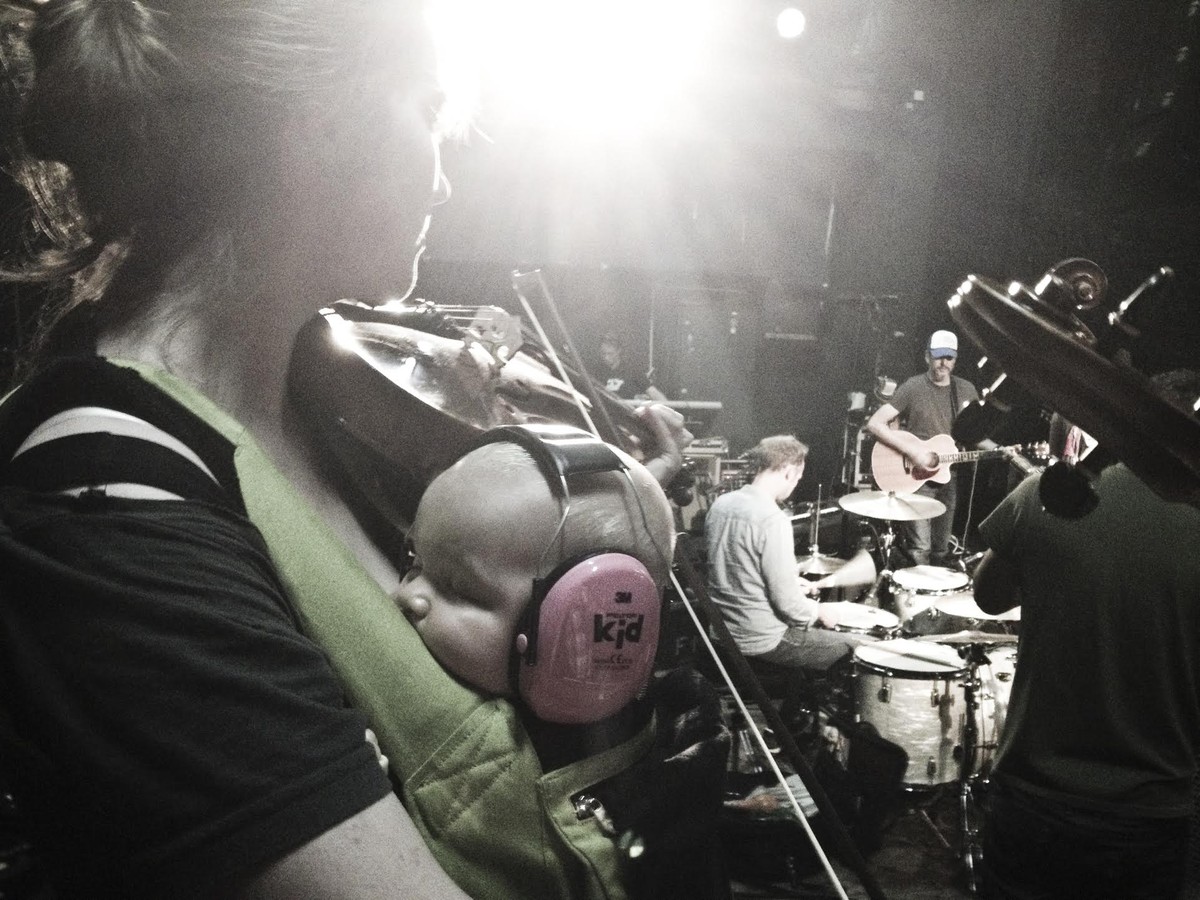 Copenhagen may get all of the attention, but just three hours away lies the second largest city in Denmark: the port city of Aarhus. With it's huge university, and rich Nordic history, it's long been associated with the arts. In fact, the EU has designated it a European Capital of Culture for 2017. Two large music festivals, SPOT and Northside, attract an impressive lineup each year, and the town is dotted with clubs of all sizes. With so much music a town needs places to record, like Aarhus Lydstudie. Asger Christensen and Iris Marie Jakobsen own the latter, raise their daughter, Rosa, and play in Giant Sand, as well as other bands. In between all of this, Iris manages to be a full time doctor at Aarhus Universitetshospital.
How did you learn to record?
Asger: I started with Fruity Loops, but the version I had couldn't record anything, so it was a complete fail. I just was completely blank about where to go from there. Then I got a copy of Cubase, but every time I recorded something, it went out of sync. I was really feeling like, "This just can't be done. It's impossible to record on a computer." I searched the Internet to see what everyone else used. Everybody was saying, "Pro Tools is the way to go." That's how I ended up with Pro Tools, but I guess it could have been Logic just as well. All I know was Cubase was not working for me, but it was probably just some setting.
So it was luck of the draw that Pro Tools won. What were you trying to record?
A: Myself. I'd recorded in studios before that, both to tape and to hard drive, but I wanted to record my own music, and I wanted to do a lot of layering, things that were really tricky or interesting, where I could be multitracking myself.
Being your own band.
A: In a way, but I also liked the idea of doing spontaneous arrangements, then editing afterwards. My brain isn't good at, "Okay, the song is in this key, and chords should progress this this, and then I'll make an arrangement from these voicings." I don't work like that. It's more like, "Yeah, I think I hear this melody." Or, "This could be good." Then I take it from there. It's really hard to write many parts if you can't record yourself, so this was my ticket to making big arrangements. I'd always played guitar, but my main instrument was violin. I started when I was 14, which, like, ten years too late.
Iris: For a violinist it is, yeah.
A: You usually start between four and six years old if you want to be good at classical music, but I caught on really fast. I feel a connection with this instrument that I haven't felt with guitar, piano or anything else. I considered making a living out of playing music, which hadn't occurred to me before. My family is musical, but not professionally. I went to a music conservatory school, but I looked at where people went when they were done with the program. They became music teachers, people who played like club music...
I: ...wedding players.
A: Yeah, those were the careers those people got, and it wasn't something I wanted. I thought, "Only one out of ten thousand people can get paid playing, or recording, and it's not going to be me, so I might as well just forget it!" So I studied political science with the hope of get a "good job." At some point some friends asked if I could record a demo of some acoustic stuff, and I said sure. I thought it would be fun. Then things kind of grew from there. We started having bands come in to our attic apartment. We started having bands with drums and it got a bit interesting with the neighbors of course. We'd say to the drummer, "You can play for half an hour, and that's it!"
"Quick, play! She's going to the grocery store!"
A: Yeah, and also the neighbors wouldn't come and complain, because it was like, "What's that noise, what's that noise?" but then after half an hour, it was gone. So of course we couldn't keep this up for very long. Iris told me that I should find a place. I'd been looking at this forum called www.johnlsayers.com. It's like Gearslutz, except it's just for people who build studios. I'd been down in this part of town a few times rehearsing with bands. It's packed with rehearsal spaces, architects, and design companies. The city owns these buildings, so I just asked them if there were any available spaces. We were looking a small place, but we ended up finding this one. It's pretty big, and expensive, but a good deal for this part of town — three minutes...
The rest of this article is only available with a Basic or Premium subscription, or by purchasing back issue #110. For an upcoming year's free subscription, and our current issue on PDF...