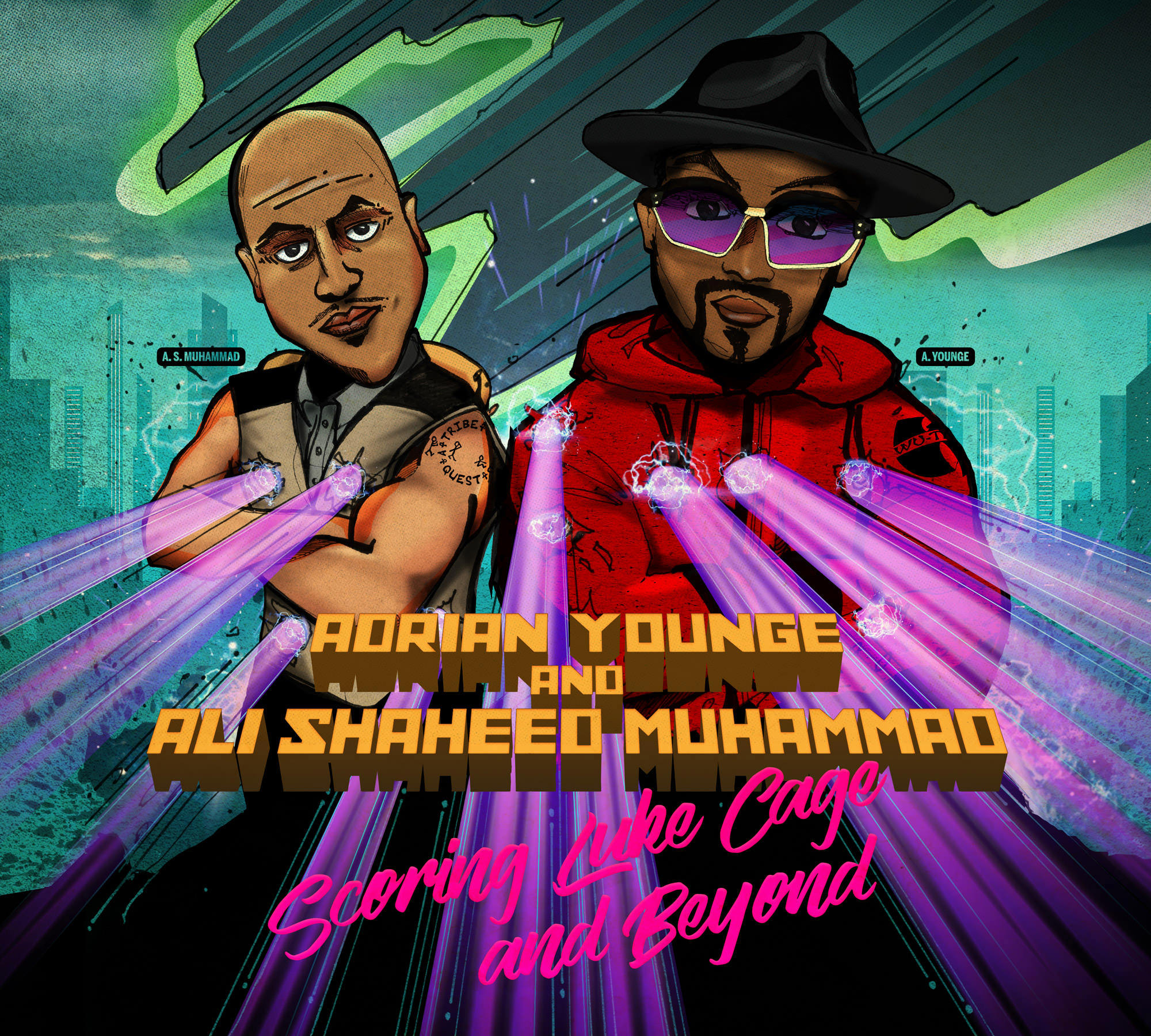 Adrian Younge and Ali Shaheed Muhammad are established artists and producers in their own right, and each have contributed to an enviable stack of recording projects including A Tribe Called Quest, J Dilla, Jay Z, Bilal, Ghostface Killah, Lucy Pearl, The Ummah, D'Angelo, and many more. The two teamed up recently to collaborate on the soundtrack to the Netflix series, Luke Cage. I caught up with Adrian and Ali to chat about film scoring, vinyl, and the different doors we walk through to music production.
Can you tell me a little bit about how the collaboration on the project for Luke Cage came about?
AY: We got approached by the showrunner, Cheo Coker, for Luke Cage. He asked Ali and myself, simultaneously, to score an upcoming black episodic series that he was doing for Marvel, via Netflix. It felt too good to be true, and then it all came to fruition. We just started working.
Was it based on your previous collaborations?
AY: He was unaware of our collaborations, but he was aware of our previous works. He had interviewed Ali.
AM: In '92 or '93.
AY: He already had a relationship with Ali. I didn't have any relation with him. It was funny that we had already started collab-ing and that he didn't know we were collab-ing when he hit us up to do this.
Luke Cage has a great soundtrack. A lot of it has a '60s soul influence. What was the impetus for going that direction with the music?
AM: I think the basis of it was hip-hop. Cheo had mentioned that, in his mind, it was more like a '90s hip-hop era. Luke Cage is a fan of hip-hop. But beyond that, it was more the source material that a lot of the classic hip-hop – what's considered the "golden era of hip-hop" from the early '90s – had sampled. A lot of that music [from that era] was the foundation of jazz, from the late '60s to the early '70s. A thing about Adrian's sound is that he also primes his music off that source material from the same time period. We wanted to make sure that the music stood out, and that it stood for the characters, as one would do that when you're creating a score. But we also wanted to make sure that the music was classic, and especially referenced the music that the hip-hop producers had sampled from. So we looked to people like Isaac Hayes, Curtis Mayfield, Marvin Gaye, James Brown, Ennio Morricone, and Bernard Herrmann, and sculpted what we thought was something pretty special for the characters.
It's interesting that you mention Bernard Herrmann. What particular film scores did you guys draw from as inspiration as you were working on Luke Cage?
AY: We both love film music. Personally, my favorite type of music is old soundtracks, preferably European soundtracks from '68 to '73. It's hard to actually say what films influence me, because I don't even know how to pronounce the titles of these films! I just know the music. It's also music from the blaxploitation era, like Super Fly, Shaft, and Trouble Man. It's just great, classic music that became part of what we now view as vinyl culture, and what hip-hop used as source material to search out, find the breaks, and make derivative music from. It's an amalgamation of all those perspectives to make this. Like Ali said, you'll find the hip-hop in it, but you can also find the old psyche in it. You can also find the old classic soul in it. You could find the old cinematic feel. We want to put that all together and make it one world for Luke Cage.
How do you guys collaborate?
AM: The way that we pretty much worked was we'd go into a spotting session. That's when we'd sit with the executive producer, some of the executives from Marvel, the music supervisors, a music editor, and us. They'd go over the entire episode and lay out places where they want music. Cheo would mention a kind of feeling that he was looking for in a particular scene, and then we would go to our respective studios, look at the screen, and get to work. There wasn't really too much of a planned process. We had a lot of work to do, and we got to it. Adrian would start something, and I'd go to the next section and start the next area, or vice versa. We'd call each other a lot when we weren't working together [in the same studio] and be like, "All right, this is where I'm at." We'd check off, or give each other notes about...
The rest of this article is only available with a Basic or Premium subscription, or by purchasing back issue #119. For an upcoming year's free subscription, and our current issue on PDF...