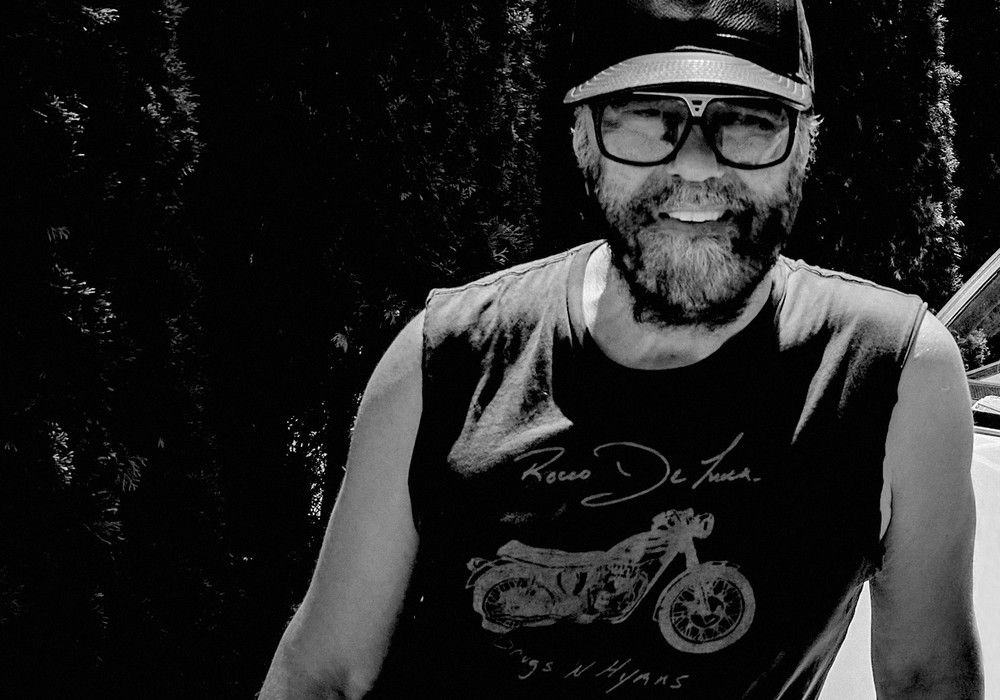 Daniel Lanois' career reads like an enviable work of fantasy. From his early projects with Brian Eno and
Harold Budd on their genre defining "ambient" recordings, to a pivotal role on U2 classics like The Unforgettable Fire, The Joshua Tree, and Achtung Baby, to his work with Bob Dylan, Emmylou Harris, Willie Nelson, Aaron Neville,
as well as his body of work as a band leader and solo artist, Daniel Lanois has continued to look forward – and stay inspired – by being at once a master and student of his craft. His latest release, Daniel Lanois x Venetian Snares
(a collaboration with Canadian electronic musician Aaron Funk), keeps the tradition of not just pushing, but ignoring boundaries. Online publisher Geoff Stanfield caught up with Daniel to discuss this latest release
and what's happened since we last interviewed Daniel back in Tape Op #37.
You have a new record with Venetian Snares. I was curious how that collaboration came together.
A mutual friend introduced me to Venetian Snares' music about 7 or 8 years ago. I thought he was a master at his craft. He did a show in Toronto about two years back, and I went to hear him. It sounded really great. We met afterwards; there was a bit of a hang at my studio in Toronto and we started jamming. Out of one jam came a lot of material, so I said, "Why don't we keep going here and see if we have a record?" It was that simple. Not a lot of words were spoken – we just started playing together. Much of what you hear is based on jams and ad-libs that emphasize the more thematic moments. That's the basis of the exchange.
How does Aaron help reframe what you do?
Well, I wouldn't have thought it was any kind of formula to operate by. His thing was so far out and so far away from what I do. But it seemed to be welcomed from Aaron to allow more of the gospel part of what I do to be part of the magic carpet ride here. I hope we managed to succeed in a few spots where two different forces came together – to be stronger than they would be in isolation.
Your past few records have been focused on the pedal steel, and they make me think of a utopia – they're very transportive. This collaboration is very contemporary and contextualized in a way that's current of the times, with all the madness in the world.
Well, you're not too far off. That's how I started looking at it, as Aaron was introducing these angular injections into the beauty of what I do. I have no choice, at a certain point, other than to just follow his conducting. It's jagged, exciting, and arresting. It's not anything you'd put on to have something in the background to do the dishes by. You definitely want to put on this record if you're looking to have something shaken up in you emotionally. It's the job of art, isn't it? I love Barry White's "Can't Get Enough of Your Love, Babe." It's great, and I welcome it, but this is like, "We've got a little bit too much of something here, and I'm ready to stop myself in my tracks." Maybe a couple other listeners agree with us. It's meant to be angular, and there's meant to be some bottled-up emotions, anger, and mistrust; just pushing the envelope to the point of where I imagine jazz players got to in the '50s when they splintered away from big band. They were angry young men, and it spawned the likes of Elvin Jones, John Coltrane, Miles Davis – people like that. They wanted to shatter the mold and take the music to another dimension – that was the responsibility they took on. I'm not suggesting we're Elvin Jones and Coltrane here; but we're driven by similar values, in the sense that we're looking for something beyond familiar prescription.
I get a lot of that from this record and your music. Especially on your Flesh and Machine album a few years ago. What are some of the differences between those two projects?
I see this as part of a trilogy. Working backwards, I made a nice record with Rocco DeLuca called Goodbye to Language on the steel guitar. Flesh and Machine was prior to that, and now Venetian Snares. I see this as a chapter of time. I've seen these before when I first went to New Orleans; we made a Dylan record and then a solo record of mine. They belong as a little grouping. I think what's sweet about groupings, is that you get a philosophical spillover from one to the other. As long as the one has its integrity intact, that's the kind of spilling you want to be operating by. I don't know that I'll make another record that's as steel guitar driven as this and Goodbye to Language, but I believe they belong together.
The rest of this article is only available with a Basic or Premium subscription, or by purchasing back issue #127. For an upcoming year's free subscription, and our current issue on PDF...