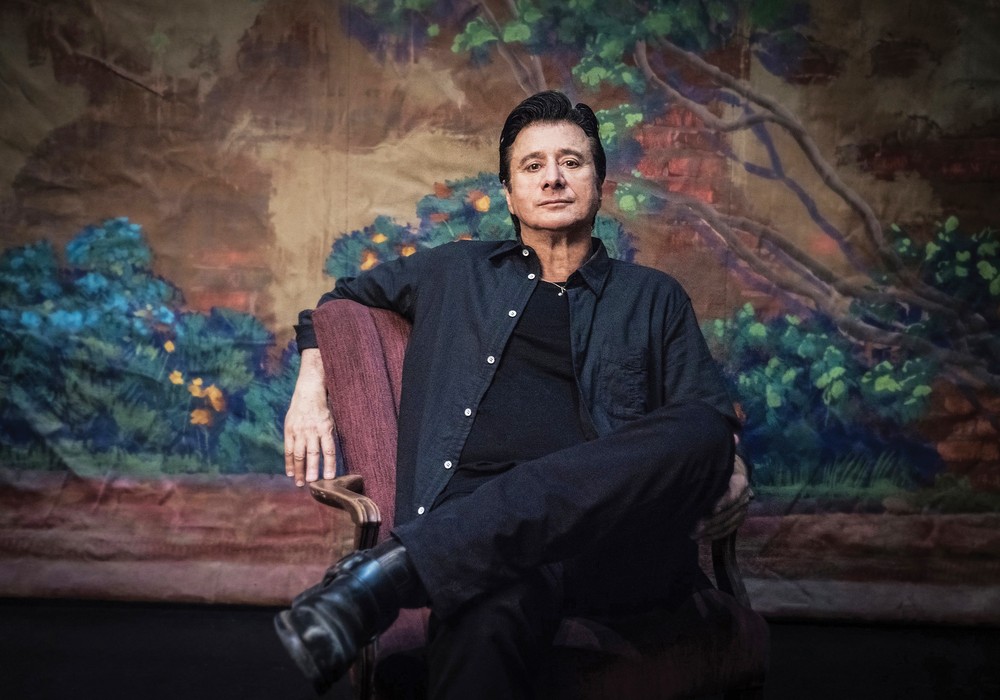 As the former lead singer for Journey, Steve Perry should probably require no introduction, as his vocals have graced some of the biggest FM radio staples of the late '70s and '80s. His solo records (in 1984 and 1994) also did very well. Yet, despite Journey's 1996 "comeback" album, Trial by Fire, it was a 24-year-wait for Steve's next solo album Traces (released in 2018). Last year, Steve released a version of this album, Traces: Alternate Versions & Sketches, with stripped down instrumentation, and a fascinating cover painting depicting a plethora of studio gear. I talked to Steve and engineer/co-producer Thom Flowers about the process of making both of these albums. We also discussed Steve's home studio and uncovered his thoughts on writing and emotional connections.
What is your home studio like? This record sounds excellent, and so did Traces before this.
My home studio is probably one of the most outboard-equipped analog studios I've ever seen. I have everything, from original, old rack-mounted SSL channels to Neve 1073s. I've got a lot of API gear. I've got some 500 series [units]; Sunset Sound has one called the TUTTI [S1P 500]. It's named after [the owner's] dad [and founder, Salvador "Tutti" Camarata]. That thing is sweet. It's everything about analog that you love: punchy, clear, and ear-friendly as opposed to digital by itself. We're working in Pro Tools, but we run a stereo chain out, and we go through an SSL G-Series compressor. On the back end of that we have a Manley Pultec [EQP-1A]. We changed the tubes in it because we found that the old Telefunken tubes sounded amazingly sweeter. It's also got some extras, which I can't talk about. I'll call it "secret sauce," how about that? I also have [Neumann] M 49s, U 87, U 47s, FLEA 47s, and Coles mics. The typical mics, [Shure SM]57s and 58s, are still sometimes the go-to. My monitor system is ATC SCM150s.
I've got the smaller SCM25As. I love those.
Yeah. I also have a subwoofer that they recommended, because my control room is a little bit tight, so I don't have the size to generate a low frequency accurately. Just a tweak of the sub, so that I don't miss some of the ugly things I hear these days on Sirius. If you've ever turned on SiriusXM and listened to the soul channel, or any channel that's playing old music, you'll hear the pops, the Ps, and the bumps.
Rumbling.
Right! They couldn't hear that those were there back in the days. Now that they've been remastered 20 times and they're coming from a satellite, you can hear them. I want to make sure that's not there.
Is the studio space at your home?
Yes. It's in my house, in the San Diego area. It's in a basement area; kind of a bunker. I have a drum room which is almost the same size as Motown's in Detroit; that's the tracking room. That's where we put the drums and any other guitars we're doing for overdubs. The control room is like a shoebox; it's smaller.
What is a favorite "Steve Perry" vocal mic?
I have three old M 49s that I bought from Klaus Heyne [German Masterworks] back in 1984. Klaus, at that time, was the guy to go to who could get you these mics. I believe he used to be from up there.
Yeah, he lives outside of Portland. Great guy.
Yeah. I remember he came down to San Francisco and had a whole bunch of M 49s. We set them up, and I found three of them that had this sheen on the high end that I liked, so I bought all three, along with their power supplies. But the hardest part to talk about mics, is that if you're a singer, you realize that there's a mood that comes along when you have this idea. Sometimes it's a 58 directly into a 1073 with echo, with no compression, in the songwriting moment with somebody. The entire vocal of "We're Still Here" is an SM58 with a 1073. It was the demo writing vocal, which I kept.
There's a lot of emotion in it.
Well, because again, you're dealing with a singer and his first impression of what the song could be. At that moment I'm reaching for, I'm not sure what that is; but I'm going to let the vibe of the echo and the landscape of the echo let me pretend it sounds good and is going somewhere that I want it to reach for. I'm not worried about sonics at that point. When I'm in that mode, good things can happen. An SM58 through a 1073 is good enough.
When you joined Journey and had to go in the studio initially with that band, there must have been a lot of ego and pressure. Were those vocal sessions terrifying for you?
I was young and cocky at the...
The rest of this article is only available with a Basic or Premium subscription, or by purchasing back issue #142. For an upcoming year's free subscription, and our current issue on PDF...