Welcome to issue #134 of Tape Op.
Larry is Tape Op's editor and founder; and his duties also include overseeing all the editorial for this magazine. But although I'm known as the "publisher," we always confer about what interviews we have on hand that will fit together well for upcoming issues. During the production cycle of an issue, both of us will come up with new ideas for photos and sidebars while I'm working on the design and layout. It's a fruitful,long-term collaboration.
During the final week of our production cycle for issue #133, we got word that our friend and Tape Op contributor Neal Casal had passed away from suicide. It was a difficult week to get through, but it instigated discussions between us and led to some of the focus of this issue.
Neal's death came just a few weeks after the death of musician David Berman (the Silver Jews), also by suicide, and the list of musical artists who have taken their own lives – both well-known and not so well-known – is getting too long. Contributor Justin Douglas had already submitted a piece, "Working Happy," and it felt like the right time to run it. It's the first article here, and I believe it's a good place to begin as you take in this issue. As we planned out the rest of the content, we found similar threads in the interviews we were running. Mark Howard discusses how he became physically ill from stress in the studio. Erin Barra notes how she feels happier understanding her role in helping other people with their music as opposed to pursuing a career as an artist. Andrew Sarlo discusses self-doubt, vulnerability, and how making great art can be very difficult. In his End Rant, Larry describes his struggles with feelings of frustration and anxiety when working on unattended mix sessions.
Even Annie Clark (St. Vincent), who most artists and producers would agree has had an enviable level of success, says, "You couldn't possibly judge me harder than I judge myself," at one point in her interview. Her take on life, work, and creativity is a good example of balance. As she points out, "I've learned the benefit – and you can speak to this too – of going, 'I am working these days. This is what I'm doing. Then these couple of days, I am not working.' If I don't specifically say I'm not working, I'll work all the time. Then I don't have things to bring into the work."
So, as you read through this issue, keep in mind that music, art, and your career are important and can be life-affirming, but they're not the most important part. You are the most important thing, so make sure to take care of yourself.
— John Baccigaluppi, publisher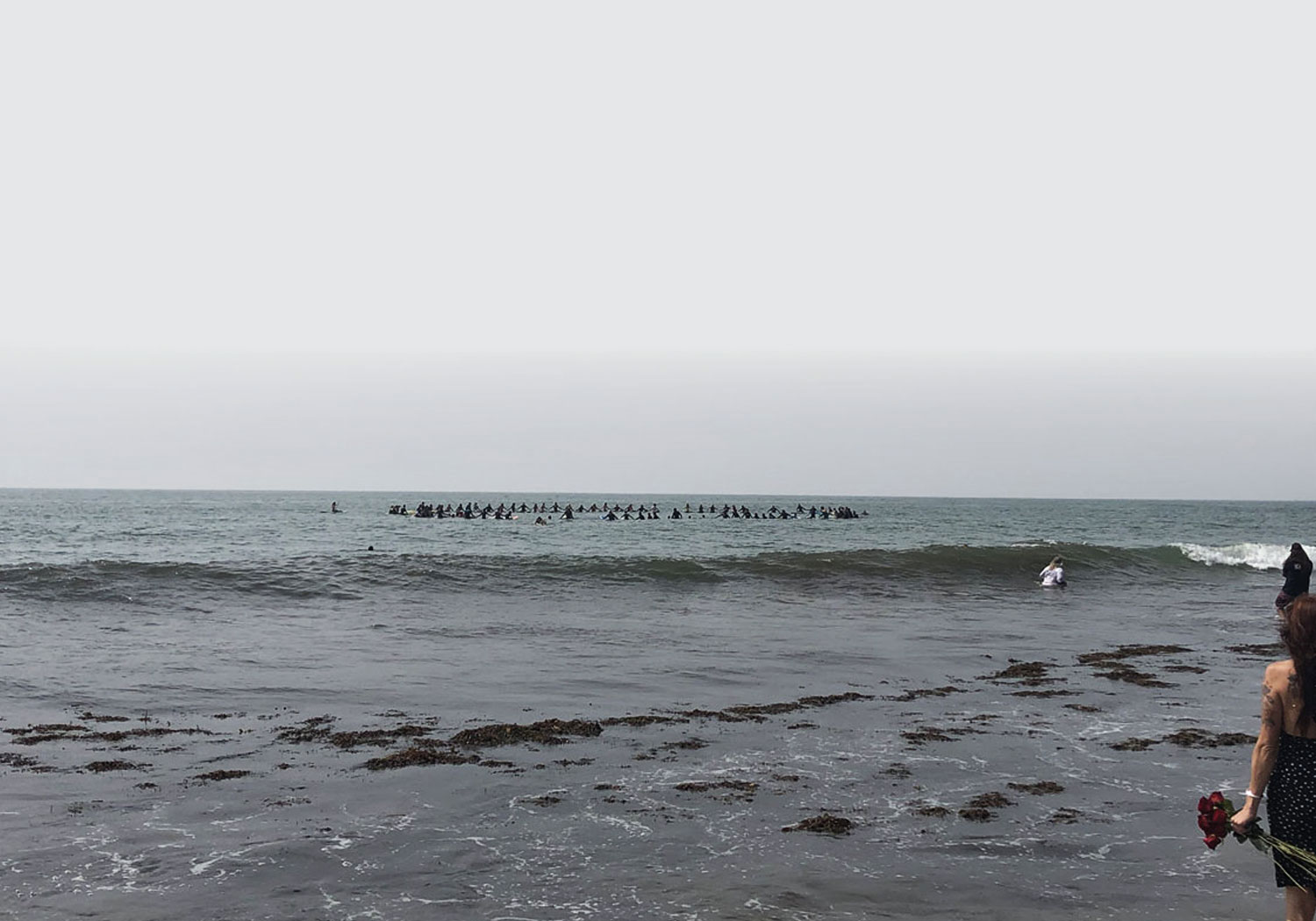 Memorial Paddle Out for Neal Casal in Ventura, California, September 15, 2019. Photo by Thom Monahan
This issue of Tape Op is dedicated to Neal Casal.

Read John's post

here

.