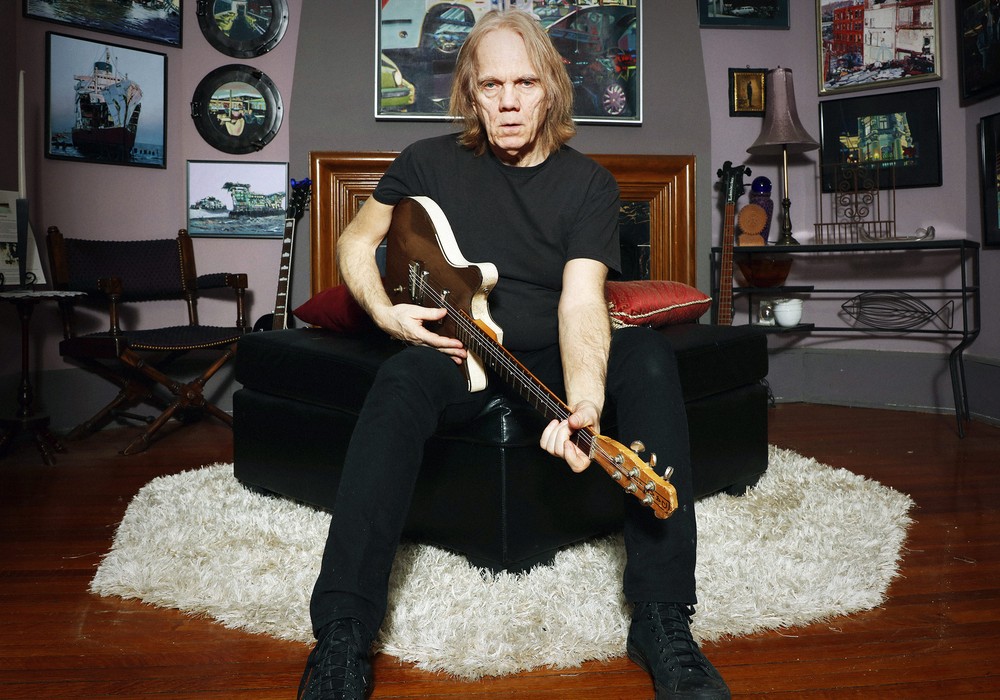 It is remarkable how I discovered Marc Jonson. Quite randomly, on a Sunday afternoon a few years ago, I found a box of CDs on the sidewalk in my Brooklyn, NY, neighborhood. Being a music lover constantly in search of new albums to inspire my life, I noticed one CD in particular when flipping through the contents of that random box: an original 1992 pressing of Marc's self-produced home recording, 12 In A Room. There was a quiet energy about the look and feel of this album – some undefinable aspect that set it apart from the 150 or so other CDs in that box, which compelled me to pop it into my CD player as soon as I got home.
I knew after listening to only five seconds of the opening track that there was something very special about this album, and this particular artist. Before the album finished playing that first time, I had already exhausted my internet research about Marc Jonson, masquerading as MarK JoHnson on the cover of the CD. I knew that I wanted to contact him and learn more about his music and career. What I didn't know was that Marc lived just outside of New York City in suburban New Jersey, and that he would reply to my email that same evening with his cell number for me to contact him directly.
I went to Plainfield, NJ, twice to interview Marc. The first was with photographer Brian T. Silak to do a combination photo shoot and 4-hour interview, which proved to be too full of non-chronological (but amazing) stories to streamline into an article. I returned two months later to Marc's home and studio that he shares with photo-realist painter and girlfriend, Maria Mijares, for another interview – this time structured for editing and publication.
Known for his incredible "overnight success" discovery story, wherein a 19-year old kid from Long Island takes a train into Manhattan, enters a building with a nine-song reel-to-reel home demo, and leaves with a recording contract from Vanguard Records, Marc's journey is even more interesting. What a lot of people don't know is that he was also courted by RCA Records from that same demo just prior to signing with Vanguard, and that RCA wanted to hire Marc as a full-time staff producer. They also wanted him to produce the band Pure Prairie League as his first major label release! Marc turned down this offer in favor of producing himself as a solo artist on Vanguard, releasing his album, Years, in 1972.
Marc went on to self-release several additional albums, and also worked with various other well-known artists over the years. Marc's songs have been recorded and/or performed by Dave Edmunds, Robert Gordon, Paul Butterfield, The Roches, Willie Nile, Richard Barone, Shawn Colvin, Lucy Kaplinsky, Richard Lloyd [Tape Op #56], Steve Forbert, Suzanne Vega, and The Smithereens. Most recently, Marc co-penned and recorded an album with the Spanish rock group Company of Dreams Unlimited.
Marc and I spoke about a career trajectory punctuated by many real beginnings and even more false starts; by many smaller successes and many even larger moments of lasting self-sabotage. Though I had to edit out 2/3 of the second raw interview – much of which was a name-dropper's wet dream, considering all of the famous people Marc has known, – I kept all relevant stories about Marc's career arc and about his personal approach to pop music engineering and production.
You were in a high school band called the Gay Intruders [named after the 1948 comedy film], and that was your first time going into "a real studio" to cut a song.
I was the drummer, and I also sang. We got the band together, and we had a guitar player named Bruce DeSousa. His mother happened to work at United Artists in the city in the accounting department. We would go into Manhattan to see her, grab lunch, and then we were in the building. We couldn't get kicked out, because everyone there knew us. In that building, on the second floor, was a little recording studio called Dick Charles Recording – a demo studio. Later on, I found out that Carole King and all the Brill Building people had used that studio to make their demos. I was a kid listening to the radio, getting turned on to music during the '50s and early '60s.
How old were you, at this point in time?
About 14-years old. That was the heyday of pop music. Rock 'n' roll was fusing with the pop market, combined with a new feeling coming in from R&B, gospel, country – all mingling, all coming together to make rock 'n' roll happen. There I was, in the midst of the New York center of that music! My father and uncle both worked for the phone company. My uncle had a tape recorder that I was fascinated with as a kid, but I didn't get my hands on one myself until I was about 15.
Marc's A-3440
You had your eyes on home recording equipment for eight years before you got to record anything?
That's an important element to my story. I was building up pressure and steam. This desire, this unobtainable wanting to get certain things. Not that my parents were poor, but they were frugal. If I'd asked them for a tape recorder, my father would have said, "You're not getting that. It's too much money!" A tape recorder cost $79, or whatever it was. Then he would say, "And the cost of the tape – and then you need a microphone? Next, you're going to be asking me for a guitar!" It wasn't going to happen, but it all played into creating the drive in me, and the desire.
When you finally got a tape deck, you were exploding with creativity. By the time you had the infamous nine-song demo at age 19, you'd been recording for about four years?
Yeah, combined with 11 or 12 years of learning to play piano, learning to play guitar, and being surrounded by music. I joined the school band in fourth grade. I was a drummer, because drums excited me.
By the time you were ready to start showing people your demo recordings as a songwriter, it was a natural extension of what you were already doing when you were visiting the United Artists Building with your friend.
That's the secret. I tell the story that I walked into the city and, in one day, Merna Greenfield sent me to RCA. It was not one day. It was many, many rehearsals, over several years. That "one day" was the show. The show lasted one hour, and then it was over. An "overnight success" is not an overnight success. In my case, I walked into the city with a tape that I had made on a home tape recorder, a TEAC, with nine songs. I walked into 1650 Broadway, and I went up to the fifth floor. Years earlier, I had read the lobby directory card, and I knew what was in that building. I needed a reason to be in the building that had something to do with me. I'd been in the building before, and people were like, "What are you doing in this building?" I had no answer! With my own nine-song tape, I had an answer. The Dick Cavett Show was in that building. Kama Sutra Records – The Lovin' Spoonful were on that label. There were things going...
The rest of this article is only available with a Basic or Premium subscription, or by purchasing back issue #143. For an upcoming year's free subscription, and our current issue on PDF...