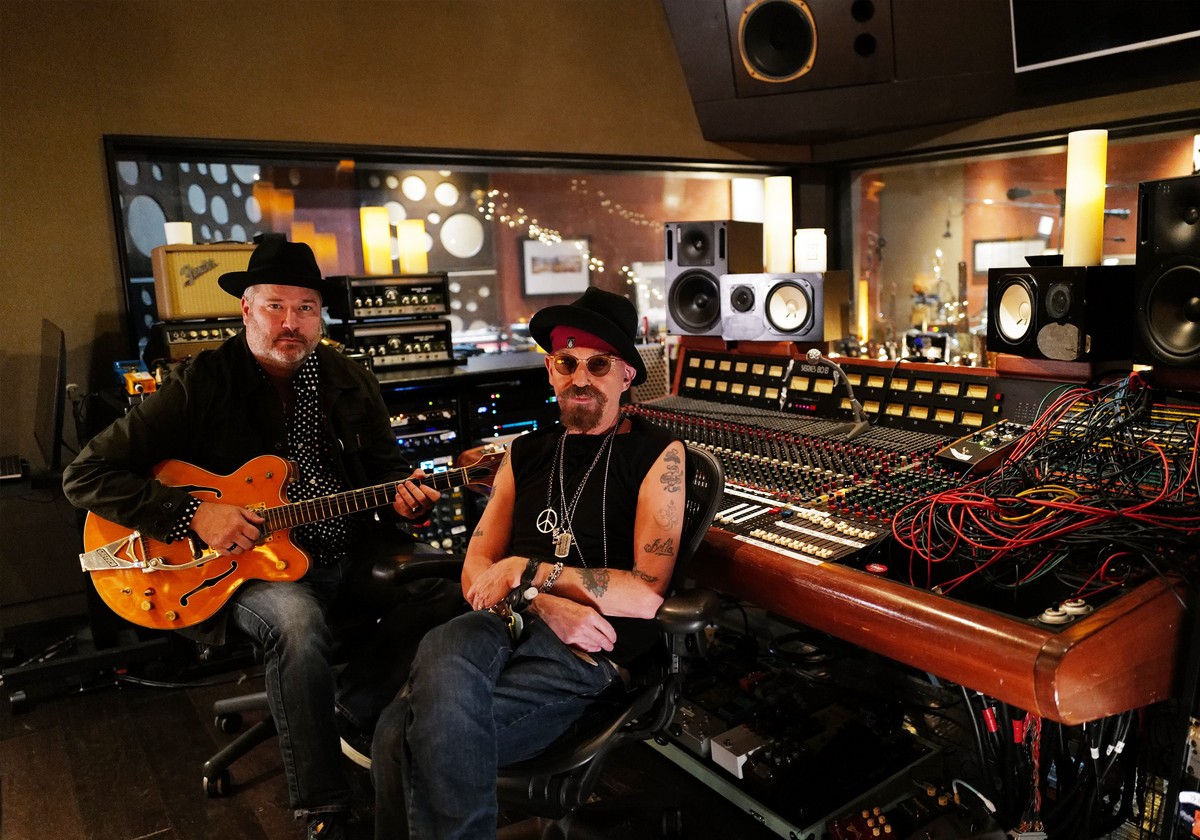 You might be most familiar with him as an actor, but Billy Bob Thornton has been playing drums, singing, and writing songs since he was a teen, long before he stepped in front of a camera. His early bands made a few recordings – see the sidebar – and Billy Bob had four solo albums in the early 2000s. With his trusty guitarist, writing partner, and co-producer/engineer J.D. Andrew, they've been The Boxmasters since 2007. Over the years Billy has been collecting recording gear and instruments. He's also put together some great home recording studios, culminating in his new Peppertree Hill Studio in California. We'd been meaning to chat for years, so recently I checked in with them at their hotel room via Zoom while the band was on tour back East.
You guys are obviously on tour.
Billy Bob Thornton (BBT): Yup; we're in a hotel room in Lowell, Massachusetts, right now.
Aren't you playing Pennsylvania tomorrow?
BBT: Yeah, we're performing in Sellersville, Pennsylvania. It's a place we play every year; one of our normal stops. It's always good to play those places. At least half to three quarters of the audience we've played for every year. It's a friendly town.
I know you both met making one of Billy's solo records [Beautiful Door], right? And J.D., you came in as an engineer. Is that correct?
J.D. Andrew (JD): Yeah.
What started the path to having your own studio space to do the records in?
BBT: Well, originally, before I knew J.D., in late '99 or early 2000 I bought Slash's house. Slash and I made the deal at The Whisky Bar at the Sunset Marquis Hotel, where I used to live in L.A. Slash and I used to hang out in the bar there with Billy Gibbons [ZZ Top] and all these guys. Slash said, "Dude, you've gotta buy this house. I don't want to sell it to some moron who's going to turn it into something else." He had the Snakepit, which is the studio where he did the Slash's Snakepit recordings. He had it before Guns N' Roses had parted ways for a while. They would do a lot of overdubs down in that studio. We called it The Cave, as it was a basement studio, which was pretty rare for California because of earthquakes. It was an amazing studio. It wasn't as big as the one we have now, but it was really good. It came with a Trident 80B board from the '70s that we still use. It had these big Tannoy speakers in the wall that were indestructible. Believe me, because we tried to destroy them. [laughter] It was not possible. My old engineer, before J.D., would mix at 2 or 3 o'clock on the dial, which was about 120 dB. He was used to mixing bands like Cinderella and Ratt.
Just blasting.
BBT: Yeah. At one point, we had some [Yamaha] NS-10s – which we still have. We had a switch to listen up on the big speakers, listen down on the NS-10s, and also some Genelecs. He thought that he had it on the big Tannoys. I watched him turn it on and it literally shot the cone out of an NS-10, and it was sparking. It caught on fire! I've never seen that before. It blew out!
I've got to try that. I hate those monitors.
JD: They're a necessary evil, I believe.
BBT: We had that studio for 13 years, and we made the early Boxmasters records there, once J.D. and I formed the band. Then we didn't have a studio for years, so we would record over at A&M [Henson Recording Studios] in Hollywood, which we loved. I'd been recording there since about '97 or '98. I even did a couple of movie scores there. We did that for a long time and made a lot of records there. Then my wife, Connie [Angland], was like, "I'm going to keep your ass at home!" She and my daughter, Bella, were determined that I was going to have another studio, so we bought a place out in Agoura Hills [California]. That's the studio that J.D. and I have now. It's a 2,200 square foot studio. It's world class. We bought it from Jason Wade from the band Lifehouse.
Oh, sure; yeah.
BBT: Really nice guy. He had a lot of gear in there. He said, "I'll sell some of this." Of course, everything J.D. and I wanted, he goes, "No way." But we had our whole studio from The Cave. When we left there, J.D. took the wiring out of the walls. He took everything.
JD: Yeah. A back doctor bought the house, and he was like, "I don't know what I'm going to use this place for. Maybe I'll put a screening room in, or maybe I'll make it a playroom for my kids." I thought, "Well, that means I'm going to take every single thing out of here." [laughter] It came in handy, because when we were putting the studio together I had all these multipair wires that we could re-use. We sent the console off to The Desk Doctor [Bruce Millett] and got that looked over. We've been up and running since last fall. We finished mixing a [new, upcoming] record two days before we started rehearsals in April. Honestly, [the console] sounds so good. It's like, "Wow, this has a little bit of extra sonic goodness."
How big is the live room?
BBT: It's pretty big.
JD: Yeah, a big chunk of it. It's a good third or half bigger than Studio B at Henson. It's three times bigger than what we had at The Cave. It's a spacious room. Everything is mic'd and ready to go. For us, being able to walk in and be ready is everything that I've ever wanted.
Just walk in and roll if you've got ideas.
BBT: Everything's wired just right, the way we want it. The live room is in an L shape, which is really interesting. It's like a long area, which is the main live room, and then it goes into an L. Over in the L part is where all the keyboards are. My drum kit is set up on a riser at the back of the main part of the live room. We've got this whole long distance there. The drums, if I walk in and play them in there, not recording them, they sound great already.
On your last album, Help…I'm Alive, "Focus on the One" has a great room sound, like John Bonham.
JD: That was over at Henson.
BBT: Yeah, "Focus on the One" was in Studio A, I believe.
JD: We used three different rooms there, whichever one they had available at the time. Help...I'm Alive and a Christmas record [Christmas in California] were the last sessions that we've done at Henson. The next release that we have scheduled for May [2023] is going to be the first one that's proper to the Peppertree Hill Studio.
BBT: Our studio's called Peppertree Hill because the driveway's lined with pepper trees. Also, it can't help to have a [Beatles] Sgt. Pepper's… subliminal message.
Oh, yeah, I didn't think of that!
BBT: The house that we live in is up the hill, so it's two separate buildings. That way when my wife kicks me out, I can go out to the studio and sleep on the couch. [laughs]
It's good if they're on the same property to have it be in a separate building. I'm sure that with The Cave that you'd hear sound upstairs, no matter what.
BBT: Totally, yeah.
JD: You'd hear drums and amps in the living room upstairs. Luckily there was still another floor above where the bedrooms were, so it wasn't quite as bad. Here, you can't even see the house when you're down at the studio. It's really isolated.
You recorded the album Speck with our late friend Geoff Emerick [Tape Op #57]. Was that really the last record he produced?
BBT: Yeah. It was his last fully-realized record.
JD: As far as I know. He was doing some work in Texas, in El Paso, but it was clinics.
Oh, at Sonic Ranch [Tape Op #94]?
JD: Yeah, exactly. Honestly, he was getting his way back into making records again. He said people forgot who he was. He wasn't getting the calls. He was hanging out at Henson one day, and he asked about us. We'd met him over the years. Billy had a call with him, and we were working on a record. Geoff was like, "If you need any help or anything, I can mix a song for you guys." We said, "Well, we're working on a record right now! Would you be interested in helping us out with it?" One night, I was off doing something else, and Billy and Geoff sat and listened to all the songs that we had and got some ideas. After that, we got into the studio and were cutting tracks and changing things.
BBT: We'd known Geoff for a long time. He was always a fan of the band. He used to say, "I'm glad to hear that somebody's still relying on a backbeat," and stuff like that. He really liked it. What was an honor was that he asked us if he could produce a record for us, as opposed to us asking him. We couldn't believe it. We were like, "Wait a minute, we're supposed to be begging you to do this!"
That's quite an honor! What did he bring to the table?
BBT: He was interesting. Geoff was so willing to tell us stories about the day George Harrison did this or that. He would tell us all kinds of Beatles stories, and different records he'd worked on. But when it came to J.D. asking him, "Exactly how did you do this?" he was pretty tight-lipped! He did do a few things with vocals, like the first song on that record ["I Wanna Go Where You Go"] has the thing that he used to do with John Lennon, which is the automatic doubling of the lead vocal. When we heard that first track, it was like, "Wow, that's that John Lennon sound! What did you do?" Geoff said, "I'm not going to tell you that!" [laughter] J.D. absorbed it a little bit to where he's gotten that together now. He had the assistants over at Henson go out to the dumpster one night and get some cardboard boxes of different shapes and sizes, and he had me with a mallet there playing these boxes. I've got a picture of me and Geoff. It's not a very good picture; it's fuzzy, but it's him standing over me like this [with his hands on his hips] listening to me try out cardboard boxes with a mallet. He wanted the song to be very simple, and to have a cardboard box as a kick drum.
Right!
BBT: He put the Coles 4038 [ribbon mic] on the drums for a couple of songs and all that. It was stuff that we had read about our whole lives, and all of a sudden he's doing it. He also told me I was the best tambourine player he ever heard.
Wow! A real compliment.
BBT: He said, "How do you keep time when you do that double-time on the tambourine like that?" He goes, "Ringo [Starr] couldn't do that!" I thought, "Okay!"
Was he doing all the mixes too?
JD: Yes, he mixed the whole record. He did that over at LAFX [Recording] Studio in North Hollywood on an old API console. It was a treat. First off, the first song got that Lennon treatment. Then other songs would have little things that reminded us of The Beatles, America, or Badfinger. If Geoff didn't like something, it was muted. He was not shy. It's like, "We don't need this. That needs to go away." Anything that cluttered the way of the vocal and the song, he got rid of. Rhythm guitars? "We don't need those." Cymbals? Hi-hats? Anything harsh and abrasive-sounding he got rid of. He focused the song at the core. Besides the vocal, what does this song need? He helped us see what the songs were, and it makes sense. We stuck to that, somewhat. We still like to put a lot of tracks on the record.
BBT: Of course, as a lead vocalist, I loved that! "Woohoo, let's put it up!" It's interesting how he did take out parts. On early Beatles records you wouldn't hear a lot of hi-hat and cymbals. In those days, you didn't hear the bass drum. When we first started listening to this record, the cymbals were either very pushed back or nonexistent. You're hearing a kick, a snare, and some toms most of the time. Just enough hi-hat to show I'm keeping time, and that was about it. He dumped a lot of rhythm guitars. Always dumped the organ.
Really?
BBT: He'd go, "It's just a noise in the middle there. We don't need that." If you listen to those Beatles records, once he took over, it's the same thing. If you listen to "Come Together," or any of those songs, you notice that Ringo's drums are mainly just the drums. There's not a heck of a lot of cymbals in those records.
On that album, and your recent record, I hear a lot of compression in that style on the drums.
JD: Yeah. I came up through the studios. I was at the Record Plant for five years. I worked for Ed Cherney for several years, and other mixers like Mike Shipley [Tape Op #118] and Alan Moulder. A lot of the stars of mixing. I learned a lot from them. All of them were hammering their drums with parallel compression. There's a reason they did it; it sounded great! We want all the resonances and everything around the instrument. Real drums; let's make them sound as good as we can. It's always fun to see what we can do. Every record has a little bit different sound. Some of them, we would do drums mono, straight down the middle. Some we'll spread out a bit, and others we'll do wide. It just depends on what the record feels like. We have to ask ourselves, "Do we want it to take up space? Or do we want to make everything be in its little area, and then we spread out from there?"
BBT: Like J.D. said, this record we finished before we went on tour is the first. It's the only record we've done in the new studio at Agoura [so far], and it's the best-sounding record we've ever had.
JD: We had everything set up. It's so much different when we're setting up for four days and recording or mixing. But now, everything's set up. Each day we're tweaking the sound a little bit more. It gets more refined every day. That's the great thing of having your own place; it stays there. It stays the same. It's got the same chain. Once something sounds great, it stays there.
Nobody else is using the studio? Do you let friends in to record?
BBT: Not really. We had our buddy in from Nashville, Mark Collie; he's working on a new record of his. He wanted to come out there and have J.D. engineer. I had written a couple of songs with Mark for his album, and I'd written a song years ago with Donnie Fritts that Mark wanted to cut. He came out and cut a couple of songs there with J.D. and me.
JD: We haven't had the place long enough. Honestly, the mains aren't even tuned yet. We've still got wires to put in. We just keep plowing ahead. We know it sounds great. We bought some more gear on the road. We'll figure out where that's going to go. It's a constant process.
Yeah, look behind me! Billy, you seem to double the vocals a lot, right?
BBT: Yeah, only because we're such a '60s-oriented band. If it's a '60s-style rock 'n' roll song, just make it sound like it did then.
Yeah, definitely. Like The Beatles or The Byrds.
BBT: Yeah, or the Beach Boys a lot of the time.
Have you had to do a lot of practice to get those? They sound tight for doubles.
BBT: I used to double them when we did that. These days we do the automatic doubling usually, just because it's that Beatles sound. Every once in a while, I'll still double one when J.D. says, "I think this one you ought to do."
JD: Yeah, certain songs call for the real double as opposed to the computer-aided one. We keep it pretty simple. We're using mostly vintage amps. Drums are new, but they're old Ludwig models. It's all based on whatever we're going for at that time, but it's all '60s-based rock 'n' roll.
BBT: We've got a room full of amps. But the last couple of records, J.D. has pretty much exclusively played through a Fender Bassman with a Fender Reverb unit that he's got in the control room. We also have a 1965 Vox AC30 which we've used almost exclusively the last few years. This last record, it was one of those two amps on everything. We also have an old early '60s Ampeg B-15 flip top bass amp.
Yeah, I've got one of those.
BBT: That's what he plays all the bass through, with a '56 P-Bass [Fender Precision Bass].
That makes it sound like an old record.
BBT: Exactly.
JD: We always get inspired by whatever new instrument gets brought into the studio that can turn the sound of a record. It's like, "Oh, here's the thing that makes this record different than the last one."
BBT: Every time we see a clip of The Band, and Richard Manuel playing one of the upright pianos, it's like, "We've got to get a real upright in here!" Through a guy who needed to sell stuff quickly, we got a nice upright. We also got a Vox Super Continental [organ], which is going to come in real handy for our kind of music.
JD: It's about finding things that will inspire us. We write a lot of songs, but it's all got to be inspired from something. We're not guys who make appointments. "Oh, we have to write a song today!" We'll write three songs in one day, then none for a month, and then write one every day for three months.
When you're tracking, it's just the two of you? The band you take on the road is mostly just for touring, right?
BBT: Right.
JD: Yeah, we've done the last three or four records with just the two of us. Every once in a while, we'll have somebody come in.
BBT: We had Keith Allison, who was with Paul Revere & the Raiders. Keith was an old friend. He just passed away, unfortunately. About two or three records ago, Keith came in and played one guitar part on one song. We thought it'd be cool to have him on there. We also had [Jeff] "Skunk" Baxter come in on a record of ours called Tea Surfing. Tea Surfing was a very, very '60s record. We thought, "Who can replicate that exact sound?" Skunk came in and did three songs. I mentioned this song to him. I said, "There was this band from England that had a girl drummer," and he goes, "Oh, 'Have I the Right' by The Honeycombs? You want the Burns guitar sound, right?" We go, "Yeah, that's it!" He got it instantly. He's one of those brainiacs who knows exactly how to get all that.
He's studied it.
JD: All he brought in was a [Fender] Squier Jaguar and a Roland box connected to it. He could turn a knob on it, and he's like, "Okay, here's the Burns guitar sound." It was like, "Holy cow, that's it!" It's bizarre. We hate those kinds of gadgets. We're purists about that. He brought in a Fender solid-state amp. For a guitar playing legend like Skunk, to see him walk in with a couple of weird, cheap guitars, a little box, and a weird Fender solid-state amp; we would never have imagined that this guy wouldn't come in with stacks of boutique gear.
Right.
BBT: We said to him, "Do you need us to get the assistants for some help with your stuff?" He goes, "Nah, it's right here in this bowling bag."
JD: We've used Jon Rauhouse, from Phoenix [Arizona]. He plays with Neko Case [Tape Op #127].
Yeah, he's a great pedal steel guitar player.
BBT: He's a wonderful guy. He's played on a few records with us. Especially when we used to do more of that, "If [Frank] Zappa did a hillbilly record, what would it sound like?"
Jon can go out there.
BBT: Oh, yeah. Jon's like a mad scientist. J.D. started out as a rhythm guitar player. He'll be shy about it, but on our last several records all the lead solos are J.D. He learned to become a lead guitar player right before my very eyes. I would always push him. I'd say, "Why don't you play it? You can do it." All of a sudden, he's one of my favorite lead guitar players. We've been together 16 years and he didn't really start playing lead solos until…
JD: A couple of years ago.
BBT: About four or five records ago.
J.D., are you still doing outside engineering work at other studios?
JD: I've got three little boys; 6, 8, and 10. My wife is an assistant principal at a middle school, so when we're not in the studio or on the road it's dad time and taking kids to and from school. I do some foreign language dub mixing work for a company in L.A. that does a lot for Netflix and HBO. That's work that I can do at home.
BBT: We like doing our band very much!
JD: We know what we're doing with our music. I'm not a transparent engineer anymore. I do our thing. We've gotten to that spot where whatever we make has the sound of The Boxmasters. I like doing the film work because it's completely technical. I can save my creative energy for what we record and write. We're recording nuts, so every second we can be in the studio, that's where we are. Honestly, we go on the road to be able to finance being able to stay in the studio all the time! [laughter]
When you're in the studio and building the tracks, you both tend to work economically. It's not going to be flashy and all over the place, because Geoff Emerick's going to mute it, right?
JD: Oh, exactly! We're not messing with, "Oh, we've got another guy in the band, so we have to put his parts on."
BBT: On this last record we ended up dumping a lot of acoustic guitars. Normally we start songs off, and we'll put three or four acoustics on there. But on this new record, J.D. and I both wondered, "Do we need acoustic guitars in there?" Sure enough, we started dropping acoustics. We had one electric rhythm, lead electric, maybe an organ or something, and then drums and vocals.
JD: Pretty much every song that we write starts out with acoustic guitar and vocals. That's how we build the tracks. We do a scratch acoustic and a vocal. Billy will put some drums down. Then I'll put a real acoustic or some real rhythm tracks on, and we'll go from there.
Do you use a click track?
BBT: It took me a while to get used to click tracks. I never used one growing up. The best thing you can do with a click track is forget it's there. When I'm doing drum fills to a click, they become very mechanical. I'll try to ignore it!
And hope you land on the one!
BBT: Exactly! I learned to hear it and not hear it at the same time.

Tape Op is a bi-monthly magazine devoted to the art of record making.