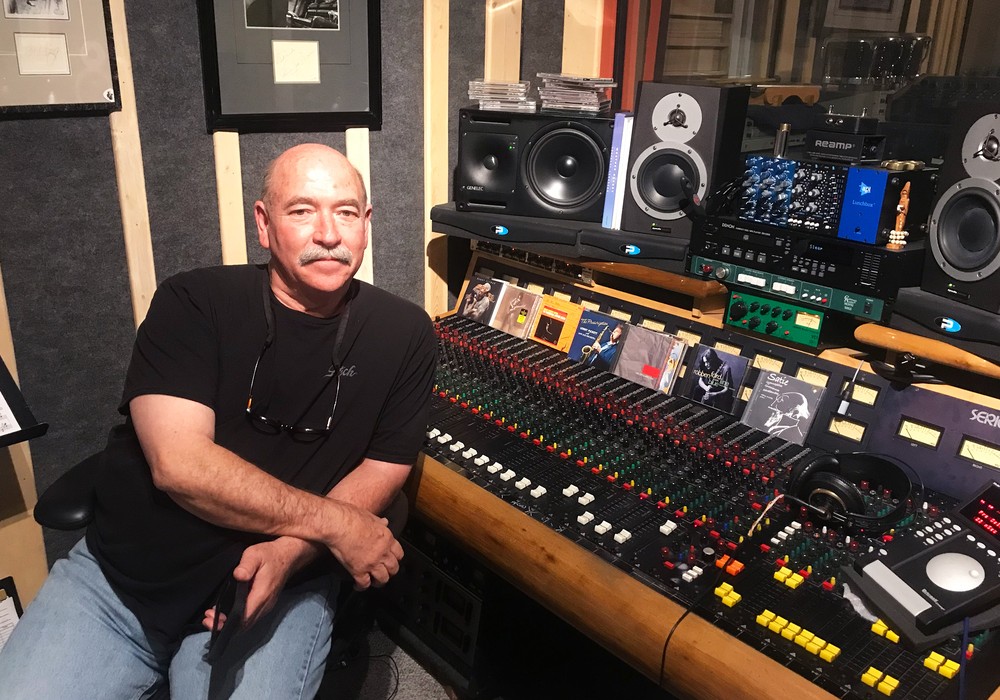 A longtime staple of the Phoenix recording scene, Clarke Rigsby runs Tempest Recording out of a modest-looking but impressively outfitted space behind his home in Tempe, Arizona. He's worked on a wide range of music, from jazz legends like Jimmy Smith, to Frankie Valli, to Paul McCartney. I'd met him through Tommy "Snuff" Garrett [Tape Op #73], and knew he'd worked with the legendary Lee Hazlewood as well, so my interest was piqued. We sat outside Tempest on a warm November afternoon and wandered down 40-plus years of studio life.
You grew up in Southern California?
I did. I grew up in Ontario and Pomona. My dad was a horse trainer. It was pretty rural in those days. There was a racetrack at the Pomona fairgrounds. He came from Oklahoma during the depression. He was a big Bob Wills fan, which was the first music I remember listening to. I listened to a lot of country when I was a kid. In those days, they had music education starting in fourth grade and I was a trumpet player. Thank god, because that's the only reason I can read music.
What other music were you hearing as a kid?
Early rock 'n' roll. KFWB and KRLA were the AM rock stations there. Being a trumpet player, I played classical music and had a love for that. I had a cool band director in junior high, and he's the one who turned me onto jazz. The tune that did it for me was "Maiden Voyage" by Herbie Hancock. That band director was cool. He took us to see Duke Ellington, Count Basie, and big bands from his era. He moved up to the high school, so I was with him for about six years.
Were you studying jazz trumpet?
I was already working. I was into guitar. I loved The Beatles, of course.
That took over everybody's consciousness.
Absolutely. I found a guy up in the desert who could play some country songs. He showed me a couple of songs, and we immediately started going to the beer joint and playing. Then it went off from there. I started playing at bars when I was 13.
Were you playing trumpet?
No, I was on guitar. I ended up working with a bunch of guys who had been big when I was a kid. It was Western swing guys, like Billy Armstrong, Tex Williams, and Smokey Rogers, when I was a teenager. They'd do fairs and such. By then we'd moved up to the high desert, outside of Victorville, [California]. I spent a lot of time in L.A. right around the final years of high school. I graduated in 1970. I knew a lot of guys down there. I ended up doing a session when I was 16 at a studio called Criteria. I found out later from Glen Campbell, Lee Hazlewood, and Snuff that they all did demos in that 4-track studio.
That had nothing to do with Miami's Criteria [Recording Studios]?
No, no. It was my first studio experience. For me, I never liked performing. I didn't like going out and playing.
Were you nervous, or it just wasn't satisfying?
It wasn't about the music; it was just drinking. I was working at rough joints. But I loved playing. I did the session, and a little lightbulb went off in the studio. I'm like, "Oh, this is cool because there are no civilians here. It's just musicians."
The best environment! [laughs]
Working class kid. I'd hooked up with these guys and played Nevada for two and a half years. There are all these casinos. I did some great gigs and met some great people. Eventually, I felt we were doing these gigs and I was repeating myself. I thought, "It's not going anywhere." My folks were back in Oklahoma by then. I'd been on the road for five years. I decided, "I'm going to go back to school because this is going nowhere." I ended up studying music. I went to a year of school in Oklahoma and took the music classes that I wanted. By then, I was a little older and already jaded. "You can't be in the jazz band if you don't play in a marching band." I'm like, "Fuck that." I did that in junior high and high school. I changed my major, and that's when I came out to Arizona to finish grad school. They'd moved up to Prescott, Arizona, and I put a solo show together. I could kick bass pedals and play guitar; I had an electric and an acoustic. I didn't want to mess with anybody else.
A one-man act?
Yeah. I knew all these tunes and I worked six nights a week. But, after about a year and a half of it, I was so sick of listening to me. I started doing some duos, first with a friend of mine, Rick Lamb, who was building a studio. He sang, and played bass, and Rhodes [electric piano], so we could do a lot. We did [covers of] The Everly Brothers, The Beatles, and some more sophisticated music. He built a studio here called Lambchops Studios. That was when I got an understanding of that.
The studio process?
Yeah. I did a lot of records with him. He got into advertising, because that's where the money was. He probably did 65 percent of the voiceovers in this town for quite a few years.
There was a time when jingles and ad work were such a big deal for local studios.
Absolutely. I got all that down by working there. Then I opened my own place. The first studio I had was in '81, one block south of where I am now, at my girlfriend's house. She had a patio and I enclosed it. I had a [TEAC] 3340S [4-track reel-to-reel], and I worked with a bunch of songwriter friends. Then I bought an [TEAC/Tascam] 80-8. You know what? I'm glad that happened. When we do that and have limitations, we figure the shit out, right?
Oh, yeah! If we've got minimal tracks, we've got to be ten steps ahead with arrangement and where we're going with the recording.
Absolutely. Everybody makes fun of [Alesis] ADATs, but I can tell you ADAT changed my life when they came along. All of a sudden, I was working with a lot of people. I couldn't afford some of the studios. I went to work for some friends of mine doing re-records. I did the Four Tops and The Animals. Re-recording their hits, so they could lease them for film and TV.
Oh, with the actual artists?
Yeah. It was all the Four Tops; I spent ten days with those guys. It was all on ADAT. Tower of Power's 30th anniversary record, Soul Vaccination: Tower of Power Live, Tom Flye cut that. He did an incredible job on a 32-track Mitsubishi [deck]. Emilio Castillo [saxophone, producer] wanted me to mix it. I was like, "I've got ADATs. Can you do that?"
Then they dumped it over to ADAT?
Yeah. There were six machines locked up in a Neve room that I worked at a lot. I did the whole record on that. All of a sudden, I had at least 32 tracks. It was incredible. The first digital machine I ever had was a Nakamichi DMP-100 [Digital Mastering Processor]. It's like a [Sony PCM-F1] that stored [2-track] digital code on VHS tape [via a VCR]. I had a [Sony] Betamax hi-fi [VCR], and I was tracking the symphony. I either spaced omni mics, or even two sets of omnis, depending on how much time they had. I'd hang some other mics and put that on the hi-fi portion of the Beta VCR. I had quad in the truck. Nobody's ever going to hear those, but it was cool!
That wasn't a bad audio path, using the Beta hi-fi recorders.
Beta hi-fi sounded great. I would go out and do these classical dates on the F1, and then I had to dump it to my tape deck to edit. That would get crazy.
How many ADAT machines did you end up with at the studio?
I had five. I would have three or four up at a time.
That were actually working?
Exactly. The first thing I found was a guy who could work on them. You've got to have a backup deck. I spent ten days with the Four Tops. All the music was on ADATs; at least 24 tracks. I thought, "I'll sum this music to two tracks and take that back there [for vocal overdubs]." The more I thought about it, the worse of an idea I thought it was. I made copies of it all, and then I had four ADATs. We were supposed to work at a great studio; Aretha [Franklin] wanted to come in, so we got canned at the last minute. We went to the place where Funkadelic recorded at.
In Detroit? United [Sound Systems]?
Yeah! I went in, and there were two Neve [console] rooms. "How hard is it going to be to find four mic preamps and four mics?" Well, the first night I had to send the Tops home, because I couldn't get anything to work. The studio hadn't done any maintenance for years. I finally got it working. They were in their 60s. Levi [Stubbs] was one of the great voices of all time. I went back there with the tracks, and they were pretty impressed. They were looking at each other, and one thing I overheard was, "Man, when's the last time you've heard it sound like that?" Levi, in the first 15 minutes of my time with him in Detroit, he sings a song, and he goes, "Clarkey, how was that?" I said, "It's great. Unfortunately, that's not what you did on the record, and we've got to get it close." He replies, "I've been singing this song for 35 years." I'm like, "Oh, fuck. This is the first 15 minutes and I've got to deal with this shit now." I knew it was coming. I had the lyrics printed out all big. I said, "Levi, what you did 39 years ago was actually this." He says, "That ain't right!" I play him the original, and of course I'm right; I'd just lived with it for six weeks of tracking. He said, "Goddamn, that's news to me!" From then on, he'd come in and go, "Clarkey, what did I do?" It was like that for ten days. We never stopped laughing!
How did these jobs land in your lap?
From working with [guitarist] Al Casey, who'd worked with Lee [Hazlewood] a lot.
The [Wrecking Crew] session guitarist?
Yeah. He played on the Beach Boys and Frank Sinatra records. He was from Arizona. He knew all of these guys who had early rock 'n' roll hits. I also ended up working with Lee too. These guys would come over and do demos. There was this other studio in those days that I worked at called Apache Tracks. They had a 46-channel Neve [console] in there and a 32-track Mitsubishi [digital tape deck]. We'd do these live sessions, including Ed Black, a steel player who'd played with Linda Ronstadt. We'd put these bands together and just do the music. Greg McDonald had been Rick Nelson's manager, and he had recorded Eric Burdon [The Animals' vocalist] and it was all sequenced. It sounded horrible. I couldn't believe that Eric would even do this! Anyway, I replaced all that.
With real musicians?
Yeah, it was great. At the end of [the film] Casino, where they're killing Joe Pesci out in a field, that's our version of "House of the Rising Sun." It was right down my alley to try to make those songs sound right.
You were tracking everything in your studio?
Here. I've been here, from '83 on. The first two years, because I got hung up with the city, it was just two rooms.
A smaller, garage-type space.
I was doing seven-piece funk bands from L.A. I figured out how to do this in these two rooms. You can't have better training than that. That's one of the problems I see today. Now everybody has access to every plug-in and everything in the world. They never really learn one thing. They just keep adding shit to it. That's the thrust of my class at ASU [Arizona State University], which I've taught for 35 years. "You guys are coming in in the middle of this shit. I have a real plate reverb. I want you to see it and I want you to hear it." I had [Digidesign's] Sound Designer for years. That changed my life to be able to edit. It became Pro Tools later. Every time I'd do a Pro Tools session in L.A., shit would crash and I'd be losing tracks. I was like, "Fuck that. I can't lose tracks." I was late to Pro Tools; I was waiting for the bugs to get worked out.
We met through Snuff Garrett years ago, when I interviewed him.
I knew him well. He didn't like to fly, so when we were doing film work, we'd drive to L.A., and then I got to know him way better. He treated me like a son. I'm a music guy, and I learned the business side from him, because he screwed me on several things. [laughter]
That's how you learn!
I'd go, "Okay, now next time, this shit will be different." And there would always be some other way. God damn it! But then, he'd give me some expensive shit or something. He couldn't get out of that Hollywood thing, where he had to screw someone. It was that deal. Later on, we'd be in the middle of something, and I'd play him what I was working on. He'd say, "Could we get the publishing on this?" I'd say, "These are friends of mine. I wouldn't even ask them for that, Snuff." "Goddamn, we've got to have the publishing." We had a meeting of the minds many times. As far as producing goes, when I met him, this was in the early '80s. I was used to George Martin and that ilk. The guys who were involved musically, like Quincy Jones.
Musical producers.
I was asking him, "What mics did you use on the Bobby Vee songs? He's like, "Well, how the fuck would I know that?" None of that mattered.
He's correct, in a way.
Yeah, exactly. He was a song guy. He could hear a song. I heard him say 100 times that he didn't care about music. That's complete bullshit. He cared a lot about it. We'd be doing sessions, and his input would be, "Is that right?" He always had music guys. Leon Russell, Steve Dorff, and myself later.
Somebody who's keeping track of everything.
Well, and really doing the actual work. But he made it possible. You've got to look at the big picture.
I feel music production has changed, in so many ways.
Especially now that you can see it. "Do you hear that?" "No, but I can see it." Use your ears!
When did you first meet Snuff?
Sometime in the mid-'80s. We cut a film soundtrack at Chaton [Studios] in Phoenix, then owned by Ed Ravenscroft. I'd played some sessions there as a guitar player. Once I started to record, they'd call me if something big came up, much to the chagrin of the guys who were on staff. They called me and said, "We've got this guy doing a film." It was the ABC Mystery Movie with Burt Reynolds and Snuff Garrett. I was the only one there who knew who Snuff was. They'd been recording already, but they'd hired eight people. They said, "We want you to come in and take over." I'm like, "I don't want to come in. The staff already doesn't like me." But I went in and Snuff's in the back. He had talked them into doing a film noir thing. They'd been recording strings for a day. When I got there and listened to it, I said, "This is not working, right?" My partner, Kevin Stoller, who I did sessions with, was a great arranger, writer, and keyboard player; he had been hired as the MIDI guy. I worked for a couple of days but hadn't said much to Snuff. He was just sitting in the back letting this happen. There was all this music written, and I'm recording people from The Phoenix Symphony. Finally, I turn around and go, "When is this due?" He replies, "Nine days from now." I say, "You're fucked, my friend!" He started laughing. From then on, we started weeding it out. These guys had to go away. Then my partner stepped up. We stayed up for almost nine days. At the end it was just me, Kevin, and Snuff. Then we brought in John Hobbs, who's a great musician – he ended up being Vince Gill's music director. He could do great parts. We laughed the whole time and got it done. We didn't know what we were doing, but we learned. Then Snuff came back and asked if we wanted to do a partnership for the next year.
For doing scores?
Yeah. We got on so well.
What did you end up working on?
This was the ABC Mystery Movie for Burt. One week would be Kojak. Burt had a show called B. L. Stryker. Then we did a talk show he had called Conversation with... By then we were kind of Burt's guys.
Yeah. That was all through Snuff and his friendship with Burt.
Absolutely.
You've been teaching at ASU for a while?
Yeah. My teaching there is limited. I know everybody who teaches there. There are big halls there, and that's how I learned how to record classical. I teach one class at night in the spring semester. They don't even know what I do. They leave me alone, which is great.
Advanced engineering?
That's what they call it. I call it Recording for Musicians. Especially now that the pandemic happened, everybody got a new respect for recording, because everybody had to do it themselves. We must have done 25 of these online big band sessions with Michael Kocour, who is the [Director of Jazz Studies], as well as a great musician and writer. Everybody had to be able to record themselves.
All the musicians?
Yeah. At first it was painful. Dick Oatts – who's a great sax player in New York ?– or [trombonist] Wycliffe Gordon would put a solo on it. We worked it out. People realized, "I didn't even think about the setup time." All right! Let that be a lesson!
"Next time you're in here getting all antsy..."
Yeah. One thing that came up in the middle of the pandemic, there was a band here I played with quite a bit called The Stakes. A jazz influenced, but really an R&B group with two rappers and a singer. They got some money to do the 50th Anniversary online event for Chicanos Por La Causa. They said, "Do you want to produce this track?" I said, "Yeah. It's a funk thing, so let's get the Tower of Power horns." I call everybody and not one of them could record themselves. They've never had to. Why would they do that? [Stephen] 'Doc' [Kupka]'s in L.A. Emilio's here. Adolfo [Acosta]'s in New Mexico. I had their arranger, Dave Eskridge, in Texas. It took three studios in four states to get it done.
To just get a horn section. Oh, my god.
We did it and it came out great, but they're used to standing next to each other. I noticed, "Oh, the articulations in L.A. are not like the articulations in Arizona." It was fun and ultimately really good. The guys enjoyed it. But now people are coming back, and I enjoy it. I just did a jazz guitar record.
In your courses, what approach do you take?
First of all, there's a big history. We go back to 1865 and we progress through that. Then, how the actual process of recording has affected music. I find out what they do, and we come over to my studio a lot. During the pandemic the whole class was online. I called my friends. I had a couple guys from Tower of Power. Ron Blake, who's the baritone sax player in the Saturday Night Live band. Wayne Bergeron, who's the high note trumpet specialist in the L.A. film world. They gave their stories. These are all good friends of mine, and they felt comfortable telling the stories. I felt bad for those kids, so I went above and beyond.
Do you talk to them about studio etiquette?
Absolutely. To me, this is part of my thing. Music is a certain thing. It's a force of nature. It's important to our lives. I tried to impress that on them. People who are making records are vulnerable. Everybody wants to be a producer now. I'm like, "You have to earn that trust from people. You can't tell them you're going to produce them and that's the end of it." We talk exactly about that and how to do it.
Every single session's different.
You have to see where the power is, and then you have to deal with that without negating someone else's ideas. I can say this about Emilio Castillo, as the leader of Tower of Power. His thing is, "Everybody's going to have an idea. Well, let's hear it." After you find out that it doesn't work, then we're making the call. It might not be that thing, but it leads to the next thing.
There seem to be a lot of musicians that ended up living in Arizona who you work with.
Steve Gadd [drums] lives here. When I first met him, which was years ago when he first got here, he came here and did a jazz record. I said, "Steve, most guys have studios at their houses. Do you want me to hook up a system for you at home?" He said, "No, I don't want that shit at my house! I want to come and hang." Now we'll spend an hour working on the track and two hours bullshitting.
Yeah. It's understandable.
This is a guy who's done everything. He just went out on tour with James Taylor, but before he left, he had three different projects that came in. He tells them to call me, and I set it up. We did kind of pack it in there. One of the guys flew out to do it, and it was a fusion track. I said, "Steve, did you play through this?" "Yeah, I looked at it." He can read anything. I know he looked at it. I'm like, "It's a nine-and-a-half minute fusion track." Not easy. I'm thinking, "Uh, this is going to be interesting!" We're about six minutes into this tune; he's doing it. It's the energy, and he's nailing it. He is killing this. It's not just reading the licks and hearing the parts; it's having the energy in the right place. He went through the whole song, and I'm like, "That's it." The guys have flown out here, he's got the producer, and we had to do another five hours. He said, "I think what Steve Gadd would play…" I took Steve home, "What the fuck?" He goes, "I don't take any of that personally."
When you work with someone like Steve, who's been in a thousand studios, what do you learn?
He wants people to be happy. He did five hours on that tune, even though we'd nailed it. He did it with not a whine. We did another jazz session for a guy from Australia. It was just email. Steve called me the next day. He got worried that maybe the guy didn't dig it. He cares. I've never seen anybody at that level not be like that.
That's been my experience, as well.
Absolutely. Like Jimmy Smith.
I listened to the Jimmy Smith collaboration with [the late] Joey DeFrancesco [Legacy].
These guys are my heroes. I've got to put that aside. I can't be intimidated by it. Joey DeFrancesco and I've done a lot of records. We had a Grammy nomination for the record with Pharoah Sanders [In the Key of the Universe]. I've had this conversation with him many times. He said, "Yeah man, why not go to the source?" We had Pharoah Sanders here, and he loved it. Jimmy Smith loved it. "Go back to the living room." He thought I had a lamp in here just for him. He died, sadly. We were going to do another record. Pharoah wanted to come back. That means everything to me.
Jimmy Smith was a jazz organ legend. Do you get the Hammond organ maintained? Do you make sure there's no hum in the Leslie?
Absolutely. If you commit to this kind of gear, you've got to give it the love it requires. Same thing with the drums and the amps. In this case, Jimmy brought his own organ. Joey had one too. Joey played a Viscount; they have a JdF Signature Edition series. It's not a [Hammond] B3; it's easy to move. When we did the Frankie Valli record [A Touch of Jazz], he played my B3. Crank it up; I love the way it smells! It's all part and parcel of it to me. It's not a burden.
There's an amazing selection of guitar amps and keyboards. I could not believe the drum room here.
Yeah. I'm thinning it out now. That's all about making musicians comfortable, so they don't feel like they have to bring gear. If they want to bring instruments, it's cool.
How did you end up working with Lee Hazlewood?
Well, that came through Al Casey. I produced a record with Al, and we got along great. Lee wanted to do some demos, so we did a few of those kinds of dates. Then Lee started calling me to do more. We did lots of demos. He'd blow up, so then I'd blow up. I didn't take any shit from him. Then he'd be cool. Then the Steve Shelley [Sonic Youth drummer, Smells Like Records head] thing came up. "They're going to release my entire catalog." That's the letter I sent you [see Tape Op #146]. He shows up with cassettes, and I was saying, "Come on, Lee!" We had a big argument about that. Then Lee says, "Okay, we've got to go to New York." "What do you mean, 'we'?" "They know Al Casey and they know me. They don't know you." I go, "They don't give a shit about me! Why am I going?" Anyway, we did. They put us up and paid my way. We went to a great dinner at Keens [Steakhouse] with Sonic Youth. Lee held court in a way that was really embarrassing to me. He became this over-the-top thing. It was weird.
He felt like he had to be on stage or something in this moment?
I guess. I just wanted to eat my food. At one point he goes, "So, Clarke, tell them what it's like to make big-time films with Burt Reynolds." I just said, "Ugh, I've got to go to the bar." Then the next night, Sonic Youth had a show at some club in Hoboken, [New Jersey] that everybody played at. They had a list of people; mainly grunge bands.
Likely Maxwell's. I played there once.
To tell you the truth, I didn't know anything about Sonic Youth. I knew their name, and I checked it out. Musically, it was not connecting for me. I told Lee, "I'm not going. I'm going to go to Village Vanguard." He went crazy. "God damn it! They need you here for the fucking thing." I said, "Lee, they don't give a shit about some fucking recording engineer." So, I took the ferry, went across, went to the club, and said hi to everybody. Then I went right out the back door, got back on the ferry, and went to the Village Vanguard. He was pissed at me for a long time.
For the "new" record that Lee did for Smells Like Records back then, Farmisht, Flatulence, Origami, ARF!!! and Me…, what were those sessions like?
Where he credits me as "my pudgy engineer." I'm like, "Motherfucker!" Doing the sessions was fun. They were all good musicians, and it was really pretty fun. I dug him. He was kind to me, in some ways. My mom was still alive then, and she'd had a birthday. We were working on her birthday, so he sang her "Happy Birthday" in Swedish to make up for it. That was pretty cool.
What was it like working with Paul McCartney on the live video shoot for ["Stranglehold" from Press to Play]?
Sometimes when you go to work for your heroes, there's a certain amount of trepidation involved in that. I went down to Rio Rico, Arizona, near Nogales, Mexico. We were there for a week. I've done a lot of sessions. I know a lot of people. I don't get starstruck or anything. I did a little bit of thinking about this beforehand. I'm a huge Beatles fan. I'm thinking, "What if he's an asshole?" We were in this hotel, and we were rehearsing with the band. My boss was Phil Ramone [Tape Op #50]. What was cool about it was that the band was comprised of great musicians. Jerry Marotta [#33] was there.
Great drummer.
Lenny Pickett [sax] from Tower of Power, and the leader of the Saturday Night Live band. Phil had put the band together because he wanted to produce a record for Paul. He wanted them to jam. Our job was to record these jams. McCartney gets there on the second day. By then, I'm dirty and have dragged shit all over. McCartney gets out of his car, I saw him, and went, "I have to go back in the truck!" I was freaked. I took The Beatles' "butcher baby" [Yesterday And Today] cover, which I have, and I had it sitting in the truck. I knew at some point Paul's going to come in there. There were a bunch of people setting up the film and everything. He comes to the truck, looks at me, and goes, "Oh, that's who you are." He'd seen me. This was after John [Lennon] had died, so there were police. He came in, and it was so cool. He picks up the cover, looks at it, and says, "I don't even have one of these." I said, "Well, I'm sure you could get one if you want. Of course, this one would be cooler if you signed it." He goes, "Oh yeah, yeah man." Then we started talking, and I said, "What's the real story about this? I've heard several." He said, "It was the photographer's idea. We were all just high."
Yeah, totally. I've heard that one too.
Phil Ramone came in later, picked it up, looked at me, and goes, "You know what? This is what it's all about." He was so cool. He wrote a thing to me that I didn't ask him to do. He said, "You're a real pro." I felt, at the time, a little bit weird. I thought. "Was there a question there?" I guess that's the way my mind works!

Tape Op is a bi-monthly magazine devoted to the art of record making.