Somewhere on the thorny road to legend, hotel recording genius (and Eric Clapton victim) Robert Johnson wrote, "This stuff I got'll bust your brains out." While he may have been referring to the poison that took his life, he may as well have been describing the aftermath of a conversation with Jim Dickinson. An instant Memphis luminary, Jim has played with artists such as Sam and Dave, James Carr, The Rolling Stones, The Flamin' Groovies, Sleepy John Estes, Bob Dylan and countless others while simultaneously producing records for The Replacements, Screamin' Jay Hawkins, Green on Red, Calvin Russell, Toots and the Maytals, Ry Cooder and Big Star (to name a few). Some sane men go crazy after long stretches in the hit factory, becoming so firmly entrenched in the hyperbole and dissolute entanglements of the business that they can no longer hear music. Luckily, Jim is fine. One afternoon, we talked about his attempts to control nature, mendacity and Paul Westerberg in a lifelong quest for the "fuzzy little sound" that first inspired him.
Tell us something of the past. Did you always know you wanted to record music?
When I was a little kid my parents took me to Thomas Edison's museum. I didn't understand what part of it fascinated me — I thought I wanted to be an inventor maybe, but then I realized it was the recording equipment I was interested in.
There's a duality involved in making records. How did you decide to be a producer as opposed to an engineer?
I didn't separate the ideas of production and engineering at first, and it is two very different things. A lot of producers were running their own equipment, so I thought I wanted to be an engineer. John Fry told me, "Jim, I don't think you're emotionally suited to be an engineer." And he was entirely right. Engineering was a nightmare to me. It gave me nightmares — the worst dreams of my life. I was actually going to a Freudian analyst at one point because of engineering. As soon as I quit the guy declared me cured. I was going to school at Memphis State. My wife and I were living on campus, in Veterans housing. John Fry had a family home which was just a block and a half away and he had a recording studio behind it where he had made records as a teenager. The original Ardent records — four or five singles that came out when John was a teenager, with Fred Smith as a partner — the guy that is Fed Ex now. John considered himself retired at this time, which was 1965! That recording equipment was just too close — I couldn't resist it. So we did some sessions together, and I brought some people in. Again, I didn't know what production was. Fry had a partner in the radio programming business at the time named John King. King told me about Phil Spector and Motown — identified things, like the music that comes from New Orleans. I knew about the music, but I didn't know it specifically came from New Orleans. Johnny Vincent, Cosmio Matesi. King turned me on to all that.
What was your first job in the business?
My first "job" in the business was working for Chips Moman at the American studio. He had the first pop hit out of Memphis at the beginning of what they call the "Golden Era". "Keep on Dancing" by the Gentrys — a teen-age band from Memphis. Larry Raspberry and Jimmy Hart (now "The Mouth of the South", WWF manager) were in the original band. The kids that played on the record cut this very simple cover of an old R & B tune called "Keep on Dancing" at American Studios, put it out locally, then sold it to MGM and the thing was a hit. These kids were in high school, so half the band had quit with the record number 15 on the charts, and no album in the can, because they wouldn't go on the road. Well, I never have enjoyed playing live — I don't connect to the audience. In the studio I'm utterly aware of the audience, although we're separated by time and space, you know? I feel my audience in the studio — I never have on stage. So, it was known in the Memphis music community that I wouldn't go on the road. I turned down an opportunity to go on the road with the Marquees and a couple of other things. So Raspberry, the leader of the Gentrys, calls me up one night in my little cabin at about ten o'clock at night, my wife and I are sitting there, and he says, "You know, this is my situation: I'm number 15 with a bullet and my band has quit. I need to have a band and I need to have an album. Chips Moman, the producer, won't start to record until I've got a whole band. Will you go on the road with the Gentrys?" I said, "Hell no, Larry." He said, "Well, will you come down here and tell Chips that you will?" I understood what he meant, so I said, "Yeah, sure. I'll do that." My wife and I went down to the studio, and met Chips. He says, "Will you go on the road with the Gentrys?" And I said, "Yeah, sure" and then I started talking with the other musicians, bullshitting around, and before we knew it Chips had locked the doors and wouldn't let anybody out! So we started to record the album. He didn't unlock the doors until noon the next day, by which time we had recorded the entire first album, Gentrytime, and half of the second album. Chips says to me, "You're too good to go on the road with the Gentrys" and I thought, "That's what I think too." So, I got my first job, which was working in the original American rhythm section, which was Tommy Cogbill — the genius bass player, God rest his soul — me, and Clarence Nelson, a black guitar player who had played on some early Stax records, "Big Party" in particular — brilliantly played. He had to sweep up, and I'm not sure they paid Clarence anything. My original pay was $92.50 every other week — maybe. And "maybe" was part of the deal.
So then...
Then I quit Chips to go to work for John Fry, because I wanted to be an engineer, and I didn't think Chips would let me run the board. And the first thing he [Chips] did after I quit was to hire an engineer, so, once again, it tells how wrong I can be. But I went to work for John Fry. We did a couple of records in his house — then his parents sold the house to the University. Then we built what they now refer to as "Old Ardent", which was the first studio outside of John's house where the first two Big Star records were cut, and where I started engineering. The first band that I worked on with John back at the old house was "Lawson and Four More". The keyboard player was Terry Manning, and Manning and I started out as second engineers to John. We did spillover R & B sessions and custom work around town. We had the first 8-track tape recorder that anybody had ever seen. It was the first "modern studio" in the City of Memphis. We ended up doing a lot of overdub work for Chips, Dan Penn, Willie Mitchell and everybody — when they realized that there were four more tracks, they were all there. So I worked for John and I quit in '67. When I next found gainful employment it was back as a session player. I started working with the band that became the Dixie Flyers — Tommy McClure, Charlie Freeman, Sammy Creeson — working for Stan Kessler who was running a studio called South of Memphis. He, and the two men who had been behind Sam the Sham and the Pharaohs — Gene Lucassi and Paul Bomarito who were liquor wholesalers were building a big state-of-the-art studio. But they built this temporary 8-track studio in this tobacco warehouse on Camilla — which is kind of in the medical district in midtown Memphis — and there was no reason why it should have worked. It wasn't even a ceiling, it was just baffles — acoustical pink insulation hanging on pikes and styrofoam crate stuffing on the wall — I mean it was very, very primitive. Misshapen concrete floor with rug scraps thrown around — it sounded great! The best sounding blues room that's ever been in the city of Memphis. And when I went to work with the band, the first thing that we recorded was the Albert Collins' album Trash Talkin'. This was 1968. The band kind of fell together. We did a bunch of work for Leland Rogers, who was Kenny Rogers' older brother. He was the first one who had hired two keyboard players, which kinda became our trademark.
Which did you play?
I was playing piano. Mike Utley became the organ player, although the first organ player we had was James Hooker Brown, who then became the piano player in the Amazing Rhythm Aces, but who is a remarkable organ player — played on some Willie Mitchell stuff — very characteristic strange sound he had. We played in one form or another in '68 and '69 in Memphis and as a result of that I did a little engineering, but I was starting to get some actual success as a player, so that was the road I was going.
I associate the Dixie Flyers with Atlantic...
Muscle Shoals, which was really the hottest place in terms of R & B rhythm section work, that was our real competition. Willie Mitchell was off kinda doing his own thing — he always was. There was the mythology that if you had the Atlantic account in the South, that was all you needed, and that was definitely not true, as we proved. And we got hired — to make a miserable and literally untold story shorter — we got hired by [Jerry] Wexler as a result of that Albert Collins' album (which he heard at the right place at the right time) to move to Miami and work for what he called Atlantic South. He and Tom Dowd had both moved to Miami and were trying to start a production food chain in Miami at Criteria Studios, which was kind of being refurbished. They had a rhythm section in Baton Rouge called Cold Grits who had cut a record called "Rainy Night in Georgia", and apparently they were crazy white boys, just like us, and they got fired. We took their jobs and moved down there — this is me, Freeman, McClure, Creeson and Mike Utley. And we took Albhy Galuten with us, who later produced Saturday Night Fever and became rich and famous. We moved to Miami and worked for Wexler in January of 1970. I stayed six months, went crazy and came home. I had never really tried to play anywhere but Memphis, and it hadn't crossed my mind that there was something geographic about what I was doing. There was something in Memphis that I desperately needed in order to play the way I play. I'm a very limited musician. What I do is kind of specific. In LA, they used to call me a "color player". I don't know what that means but whatever it is I need to do it in Memphis. After six months, I came home, converted my employment agreement to an artist's contract, made Dixie Fried, my so-called artist album on Atlantic, and gradually slipped back into production. I can't really tell you why, but before you know it I was back doing it. I did my first Los Angeles session with Brenda Patterson. I hired [Ry] Cooder for the session and, as a result of the session, he hired me to produce him. I produced his second and third record with Lenny Waronker, and it was Lenny, for me, who made everything make sense. By that time I had tried to produce records and had no idea what production was. In the '60s, at Ardent, when I was producing, not only was I engineering myself, but I did all those things you hear about: I either wrote the song, or re-wrote the song — I played half the instruments — I told everybody what to do — I jumped up and down and screamed and hollered and arranged everything. And, of course, that's not production. Then I would see these other producers, great producers, and I would work with them in whatever capacity, and I'd virtually see them doing nothing — the better the producer, the less they did. I couldn't figure it out. I couldn't figure out the similarity between Jerry Wexler and Sam Phillips and Huey Maux and Johnny Vincent and these other men that I admired — what the similarity was. And I failed to see the genius of a lot of producers, like Quentin Claunch from Goldwax, who not only appeared to be doing nothing, but who appeared to be buffoons!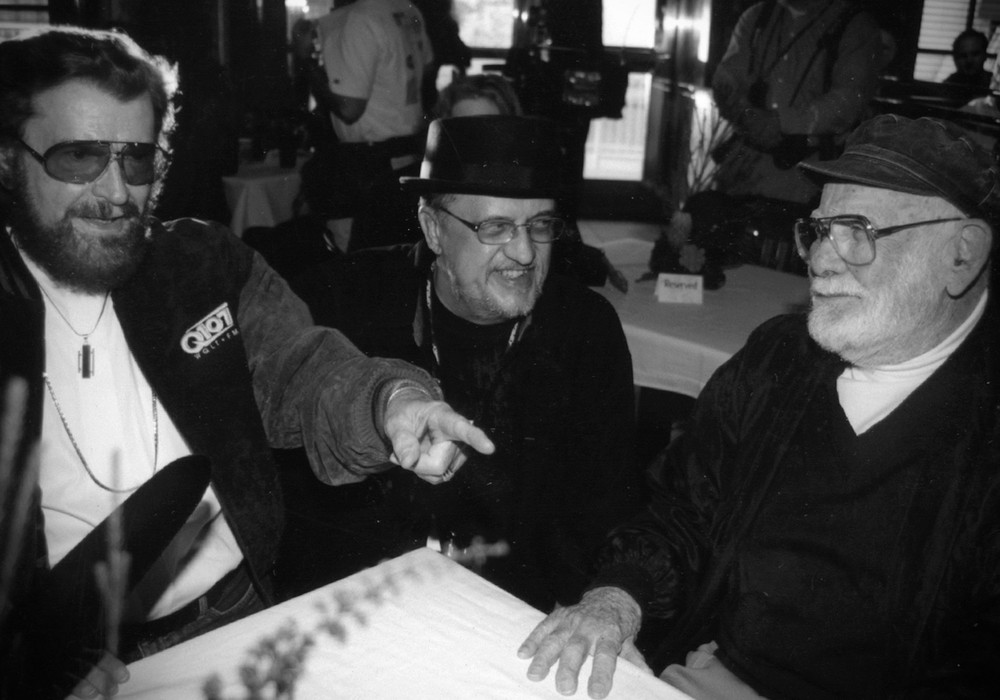 The opposite of a lot of record people who appear to be doing something but actually are buffoons...
I never thought of it that way, but that's really true! Through Lenny Waronker I understood it. He made it all make sense for me. What I think is that production is invisible — you can't see it, you can just hear the result, and you can't always hear that right away. It is a nefarious activity that needs to remain so. I've probably said enough about production already!
That's the problem with a lot of modern records, you can see the production.
Well, that's because it's not production. It's over-arranging. A lot of what passes for production these days is the result of an over-active ego and a terrible personality problem. You've got somebody in there who wants to hear it his way, and I just don't think that's making a record, that's doing something else. Of course they don't even call them records anymore, so what do I know! There's a big difference: an engineer makes a recording, a producer makes a record. The engineer's job is to record every note as well as they can possibly do it. The producer's job is to finish, and basically steal it from the artist, because there's no artist on earth who wants to give it up. Because once they give it up, it's not theirs any more. You can't even blame them. I myself as an artist — I stand at the microphone, and I don't want to give it up. Paul Westerberg looked me in the face and said, "I'm not going to give you 100% because you don't deserve it." So I had to steal everything I got from him. I got that 100%, in his case I got 110% sometimes, but I had to go ahead and steal it, and that's the producer's job. And you can't possibly let them see you doing it, or it won't work. So when Johnny Vincent — God rest his soul, I read in Mojo that he just passed — would turn his chair around backwards and make some inane comment about some basketball game or something, the artist didn't know that he was being produced, but he was. When Sam Philips rants and raves and quotes Bible scripture and bangs his hands on the console and makes you think he is going to completely lose control, he's just producing! It is a nefarious craft and when it's happening to you, you don't know it.
Let's talk about the record you're infamous for: Big Star's Third/Sister Lovers.
Third really isn't a record, more a series of recordings. We never finished it. It's not supposed to be two records and it's obviously too much for one record. Some of it doesn't fit, and I don't see who on earth could possibly be the judge as to what doesn't fit, so that's what prevents it from being an actual record. There are two reasons it endures, I think, and has become as much of a cult object as it has. One is that it's the last set of consistent performances that Alex Chilton ever delivered — there is not a bad performance on the record, not even a questionable performance as far as Alex is concerned — and the other is a testimonial to the genius of John Fry, since it is the last project that John engineered from floor to mix and it broke his heart. He's by far the greatest engineer I ever worked with. I've worked with some of the ones that are supposed to be the big daddies, and they can't carry John Fry's slide rule. He's unquestionably the best. He recorded musical note and sheer noise as if they were aesthetically equal. There weren't even any pan-pots on the console. That's three-track switch-able. There's two echo sources, one external equalizer, two external limiters — to say "primitive" doesn't even begin to cover the way we recorded that record. What he did was microphone placement and knowledge of the room and the sheer volume of the instruments, which, at that point, a lot of people were avoiding. Even the old Ardent studio was designed for loud guitars, and at that point people wouldn't let you bring a [Vox] Super Beatle into the studio. I'll never forget watching Alex run his hands down the Ampeg amplifier and turn every knob all the way wide open, and start to play, and John just walked up and moved the microphone across the room. This was before people used a room mic on guitar amplifiers.
"Production is invisible — you can't see it, you can just hear the result."
How many tracks was that Big Star record done on?
Sixteen.
What always struck me about it was the marriage of Beatles, folk rock, feedback, and orchestral imaging. It's a beautiful puzzle.
What I think I did for Alex was remove the yoke of oppressive production, be it Dan Penn and the Box Tops, where Alex did only what he was told and had no creative input whatsoever. Or the John Fry/Terry Manning Big Star situation wherein Alex contributed certainly, but was told, "No, you can't do that, that's crazy." See, I never told him that. If Alex wanted to do something crazy, I figured out how to do it. And, of course, as he saw me do that, he got crazier. You know, I've been accused of encouraging him, which I guess I did, but a lot of the horror stories you hear about the Third album are just that — they're stories. Some of it got psychodynamically ugly, but I can't think of many records that don't — especially records that go on for that long. Everybody knew Stax was going out of business. We were making this record for Stax [through Ardent Records], and nobody wanted Stax to put it out because their records were getting lost, so we figured if we kept working on the record Stax would go out of business and then we would own it, which is what happened. But then, we owned it and nobody wanted it. We took that record around to New York and Los Angeles and played it for people who would run shrieking from the room. People who now genuflect to it as if it were a religious icon said to me then, "You've ruined Alex Chilton's career." Lenny Waronker said to me, "I don't have to listen to this again, do I?" Jerry Wexler told me, "Baby, this record makes me very uncomfortable." And I thought, "That proves it's successful."
Is this where you got your reputation for someone who works with troubled artists?
I guess that it started there, but I think the place where it at least became popularized was the Replacements. That's where it got me in trouble. After that, I did get a lot of "problem artists". I like problem artists and I like artists who are working in character. I like people who have figured an alternative reality to participate in.
That was the Replacements "high tech" record up to that point, strangely enough for you...
Well, I think that was the last record where some of The Replacements' sound, the idea of their sound is still around without rigid tempo. They had never even had their amplifiers separated before, because of course, they were punks and they wouldn't let anybody help them, and I kinda tried to help them in spite of themselves, and make a record that felt like them but sounded better. We ended up with a hybrid of technology and very primitive recording. Again, it sounds kinda funny now but I think it sounds like them. I had a cartoon concept of the Replacements in my head: I could see them performing as a trio in the middle of the Coliseum with nothing but a spotlight, just kind of falling over, and not finishing songs, and doing what they did. I still think it's better than what they turned into. And of course on my record, I didn't have Bob [Stinson]. I said to their managers, "Bring me Bob, I'm not afraid of him, I want him," and they'd just shake their heads and make the sign of the cross. I wanted to call the record Where's Bob? and nobody thought that was funny, but I thought that was what everybody's gonna want to know.
What about some of the technological aspects of that record?
I used a lot more Fairlight [CMI/early sampler] than anybody would ever believe, but that's because they wouldn't perform consistently. And I was using it as a device to fly vocals and rhythm guitar parts together to keep it from sounding too manufactured. There are some places you can hear it. Westerberg walked in one day, caught me Fairlighting his vocal, and he said, "Is that me in there?", pointing to the machine. I said, "Yeah". He went and sat down on the couch. I took that as his acceptance of the technology. I think he realized it was making his life easier so he just accepted it.
That record was mixed on an SSL [Solid State Logic, automated mixer], and it doesn't sound like shit either.
With SSL, you gotta fight em, but the technology that's under your hands in terms of what it will do is great. You have to fool it from time to time. See, I don't buy this Neve crap. A lot of my friends are Neve fanatics, and yeah, that's okay but they're soft as far as I'm concerned.
Some are very soft. Some are not well maintained.
The center of it is just way too soft. I gotta have a little more stereo center than that. If you want a good sounding console, API's a good sounding console. That sounds good.
It "rocks".
Yeah, other than that, it's all a compromise, so I'd just as soon accept an SSL as a compromise instead of some European-sounding thing. There's a certain combination — and this gets back to the microphones and preamps — there's a certain combination of pre-World War II, and World War II German technology and post World War II British technology, that, if you intermarry it just right, you've got the Beatles. Back when EMI was making in-house consoles, back in the mid to late '60s, a lot of studios were making their own equipment. Now, if you can dig some of that stuff up, there's some damn sound! In the digital realm, if you're willing to digitize — which since you're making a CD, analog is just a process anyway. If you want it, you can get it. If you are going to face the digital reality, you gotta pick up some teeth somewhere. It's not just warmth — people talk about "warmth" — you can get warmth through any kind of tube. Teeth is different. I've got a couple of engineers, Bob Krusen and Kevin Houston, around here now who use some Helios modules, two in particular, out of the console that cut Dark Side of the Moon. It's instantly identifiable, as half of the early guitar that Keith Richards ever played was obviously cut to these things. They build up a harmonic accumulation: it sounds like distortion — it is distortion — but it's something you can accept digitally that's sounds analog. Of course any of the old EMI equipment is like magic. The Helios stuff is like magic. You know, it's pricey but you can find it. And you know it doesn't even have to be this stuff. It's anything that can make the sparks jump. With microphones, it's like they built the best ones first. I work with one engineer who's got some very interesting Soviet microphones — Russian stuff.
Oktava stuff?
Yeah, especially for a room mic, it's really a remarkable sound. If you use all the same mics, guess what? It all sounds the same. Again, one of my all time favorite engineers was Joe Hardy, and if you asked him what kind of mics to put on the drums, he'd say "black mics" and mean it, and of course, black mics do sound good. [laughs] But there has to be a little more to it than that. What I do is record the motion of air in a room, and the instruments are what's creating the motion of air, but they're not what I'm recording. I'm recording the motion of air. So you use microphones to achieve depth, and you know, the more I've done this, the more I've come to lean on ribbon mics, because the recovery [time] is so much quicker. You do have a little fuzzy thing there, and you know condensers have their use, but I find that it's these ribbons that I want to hear. When I was recording purely analog, I was trying to eliminate noise. In the digital domain, you've got to encourage a little noise. As long as the noise is being modulated by the signal, it's not noise anymore. There's your Big Star comparison. We were modulating all that distortion. It wasn't sheer distortion. It was distortion that was moving as music. If you listen to old records in particular, I mean when I listen to records for enjoyment of sound, I listen to jazz records from the late '50s and early '60s, especially stuff that came out of the Columbia Studio in New York.
That's the best sounding stuff there is.
Right. Period! You can listen to classical music from the same studio — I just don't like classical music. The last Glenn Gould sessions where they've got him in the studio were done there. And if you see pictures of the session, there's no microphone closer than eight feet to the piano — I mean these people knew what they were doing. And again they were recording in mono — they were recording in stereo for his safety. When I go for sound, that's the sound I go for. If I want something extreme, if I really want space, it's Sketches of Spain. You see the picture in that, it's like a Daniel Lanois session — he's got the microphones in the center of the room, pointed out. And so the thing sounds huge, even though everybody's sitting in a little room.
There are "closer-in" sounding ones, like Mingus' Ah Um.
Sure, because the mics are straight across. It was years before I saw the pictures, but when I finally saw the pictures of Sketches of Spain session I said, "Oh yeah! Sure!" How else would you record a tuba, in the Miles Davis group?
How about a few specifics, I know you're a fan of the Coles mic.
Oh yeah, the Coles. Going back to The Beatles analogy, if you look at the coffee table book with all the session information [The Beatle's Recording Sessions by Mark Lewisohn], there's only one picture in that book where you can see the drum mics, because they're so high up, they're out of the picture. There's one shot from across the room where you see this little hockey-puck thing hanging down, and that's what it is, made for the BBC, Coles ribbon mic. They've been remanufactured [by STC, available through AEA/Wes Dooley] and the new ones sound a little different but they don't sound any worse.
Right, the Coles 4038.
I use RCAs on the room a lot.
77s?
Yeah, because that's what I've got. Of course, I'm too dyslexic to remember numbers, but there's a real interesting kind of square looking Beyer ribbon mic at Ardent that supposedly is for boxing matches, like over the ring? It distorts like crazy on loud stuff but for something like a vibraphone, it's a fabulous sound. More recently, I've gotten into ribbon mics. I used to be into old German power mics...
Nazi mics...
Nazi mics, there's definitely a place for those. But for vocals, I've had the problem of working on my own so-called project. I decided that, after 30 years I might as well make another record. I found this, I can't call the numbers, but I can describe it to you. It's EV, not the top of the line — it's like the top of the line, but with no heater or cooler or whatever that is. It's like a copy of the Sony that's got the things sticking on the side of it. Whatever the model is down from that — sounds great on my voice and my voice is not an easy thing to get a sound on. But by experimenting around for this record of mine, with that and a Joe Meek mono limiter, I've got a pretty interesting kind of period vocal sound down there.
You like the Joe Meek stuff?
I like some of it. They're almost toys. They're not serious gear so you can use it in a kind of less reverential way.
They do that pointy optical thing.
And it's very interesting on the bass and voices as well. I like the limiter a lot. I don't have a Meekqualizer. I want one though.
"There has to be a reason why we record, and I think it's fear of death. I think it;s literally a search for immortality."
What about mic pres?
Well, the ones that are my own are all APIs. I use these two engineers with the Helios, and a Neve or two here or there because it does do a glassy kind of thing. [Telefunken] V72s are good as well. Early on, I used to use some Massenburgs [GML] and I got away from doing it. I don't really know why.
That seems funny for you — they're not fuzzy.
No they're not, but I had a situation where I had one real strong singer and one real weak singer doing a duet, and I used the Massenburgs to pull up the weak singer, and it was a very successful. I've done that with guitar players where there's two situations, and one is something that sounds a little "better", a little more expensive. The Massenburg sounds real expensive — it is very expensive.
I've always thought of you in relation to an idea of England vs. America. People now are really into what they perceive to be a "British" sound, but that sound is not as simple as using a Neve. It's not just using that EQ point. English pop music doesn't come up from blues and country the same way American pop music does. It contains other elements as well, like dance hall music. You can certainly hear that in the Beatles.
Yeah, I think it's changed over the years. There's two very different English sounds. One is the old "lab coat" sound, you know, the technical guys who record everything the same whether it's a rock and roll band or a string quartet. And then there's the young upstart, Glyn Johns type of sound, and the tradition of that, which is basically "Fuck it and do whatever you want to — use the equipment however you want to use it — push the buttons until something sounds right," and that's closer to America. So I don't know. And now America has been so affected by the old lab coat sound, it really is interdependent. The first four Beatles albums that we heard in America had been re-mastered in America. Unless you have a European record and basically European gear, you're not hearing what was being put on the record. It all comes down to what you're hearing in your head, which is partially cultural, no matter where you are. You know the expectations of the sound are created culturally.
Are you hearing any new stuff you like?
I hear stuff that I like. The most recent stuff that I like is Johnny Dowd. I like his first record better than his second record because it's less produced.
What about producers? Are there sounds you're hearing that are influencing you?
Every once in a while I hear something where I wonder, "How do they do that?" more so mixers than producers. I ain't saying they're not out there, I just haven't seen 'em. I haven't seen a lot of young producers who work the floor in a traditional way. There's so much ego manipulation involved now.
Do you want to talk about your analog tape-digital transfer?
Well, it's an ongoing experiment, and I do it different on every project. It depends on the budget.
Explain first, why you do it.
It dawned on me one day that the mixes I was making were deteriorating. The further that I got into measuring this deterioration, the more I realized that it wasn't in my mind, and that this explained a lot of things. Like direct-to-disk, and why the rough mix sounds better than the final mix when the final mix is done two months later, why you get your old tape out of the box and it doesn't sound the way you remember it. You assume the difference is in your head — but in reality, it doesn't sound the way you remember it. Because, if you talk to any tape manufacturer, they will admit that analog tape was never designed to be a permanent storage medium. In a digital reality, which is what we're in because we're manufacturing CDs, the analog stage becomes only a process anyway, so what I think now is that it's never too late to analog. If you record digitally, you can go through any number of analoging processes, either multi-track or to mix, but the crucial stage — if what you want is "fresh" analog, then you've got to preserve that digitally right away, because it's going to go away and the part that goes away is the little magic fuzzy stuff at the top and the big round-bottom end — the very reason everyone who uses analog uses analog. That's what goes away first and it's absolutely provable and measurable. I've made utter analog fanatics accept it because you can hear it, there's no question about it. I myself go in three hour increments, I know people who measure it in 20 minute increments once they figured out it was happening, looking for the hot spot. What happens is, if you over-modulate the tape, the bias is set to where the molecules are going to find each other, and seek each other and find each other in a certain way. If you over-modulate the tape, this can't happen. Of course, I'm explaining this like a caveman because that's the way I think, but this is basically what's happening. Those little molecules are unstable because they haven't found the right place to go because they've got too much information. As time goes by, they stabilize. They find where they're supposed to go. As that happens, of course, the sound changes. So if you're making a mix straight to an analog two-track and you want the sound that you've put on that tape, then you have to digitize it right away. The way that I discovered this in the first place was that most people who make an analog master and a DAT master do it simultaneously. Well, I noticed that there was a difference between the simultaneous DAT and the first analog playback, and the first analog playback was by far superior. So I started taking my DAT safety from my first analog playback and giving that DAT to whomever the mastering engineer was going to be, 'cause of course the mastering engineers all want to work from the analog tape. But if I have a DAT of the fresh analog tape, then they have to at least recreate — if they're not advanced enough to use my DAT — they have to recreate the frequencies on that DAT with the EQ from the deteriorating analog master. Thereby, you end up listening to more EQ and less signal, which, to me, is not a good situation. This is not like I'm doing something that other people aren't doing. A lot of other people are doing the same thing, and calling it something else.
Now, I know here, you're accepting the inherent problems with the 44.1 digital media.
Oh yeah, certainly.
What about 44.1 and what it does to ambiance anyway?
Well, you have to accept it because it's going to happen. I mean, what was his name, Neil Young's engineer?
David Briggs.
David Briggs monitored his multi-track through a 1630, the Sony thing — which sounds like shit, right? And he's an analog fanatic.
They had the idea that they didn't want to hear the music in a way no one else did.
Exactly, you've got a downstream effect no matter how purely you're recording.
But does it make you mix different because you know, for instance, that 44 is going to kill your echo?
Sure, I've been doing this 40 years. When I was engineering, I knew that when I played back my mix — my 2-track mix, or my 4-track or 8-track — I was going to hear less effects than I did when I mixed it. And when it was mastered from that to a vinyl disk I was going to hear yet again, maybe 30% less of the effects, echo, slapback, whatever, so I always mixed with too much.
Right, and now in the digital world...
You have to go even further, but I think it's why natural ambiance has become so popular as opposed to digital because, in the digital domain, right away -BANG- you can hear digital echo, everybody's aware of it. Room sound and natural chambers, you don't know quite what you're hearing — there's a mystery to it, there's something that's not familiar — and digital echo is instantly familiar cause you hear it all day every day.
Is stereo a concession?
Oh yes, certainly! Somewhere in the '70s, everybody, and I was one of them, got sold the idea that everything should be stereo. I remember talking to Tom Dowd about how to make a guitar amp stereo, and watching him draw the little pyramid on the floor — and that is more valid than, say, stereo piano or stereo acoustic guitar. The way everyone mics a piano? Wrong! Two mics inside a piano, left hand, right hand, pan it out — it's stupid. It's like listening with your head inside the piano — nobody listens there. The mouth of the grand piano opens so it can project the sound about eight feet, ten feet away — that's where the sound is.
This probably explains why grand pianos sound so fucking awful on rock records most of the time.
That's because the strings are too long. When you go back to real rock records, they were made on upright. Jerry Lee Lewis played a fucking spinet in the Sun Studio! Ike Turner was playing one too. It's the sound of rock and roll.
They record better in a band...
Sure, I learned this working with Ry Cooder. The grand piano, the overtone series is so strong, and it destroys all the overtones on the acoustic guitar. Cooder was the artist, he was the star, guess what? He gets the overtones. So, I found this old upright piano that had been painted white with house paint, and had no overtones at all, and then put a blanket over it — and that's what I recorded most of my Ry Cooder on.
You once said that the way you mix is to turn up the good parts.
Yeah, that's the job of the producer, not the engineer, but the producer in charge of the engineer — turn up the good parts, turn down the bad parts. It's not always the case. Tom Dowd says if you got a mistake, turn it up real loud. Sometimes that works.
Is that true of a singer who sings off-key too?
Well, now God has provided a wonderful tuning box, which I wholeheartedly endorse, and will buy none of the detractors. [laughs]
That statement right there is going to ruin your reputation.
Uh-huh! If I'd had that box in the '70s you'd been talking to a rich man. There's certain people — and I'm not going to name names — who are now walking wreckage, who would have had successful careers with that box. Now, why should those people be less important than Shania Twain? Why should Courtney Love have an advantage those people didn't have? It's unfair! There was nothing wrong with 99% of punk rock that couldn't be cured technically, without violating anybody's, you know, attitude.
And people lie about doing it. In fact, people lie about all sorts of things they do in the studio. I've heard people say triggered drums were "just room mics."
You gotta lie yeah, that's all production is. "It's okay, baby. Don't worry."
Have you got anything else you want to say?
The reason we record, philosophically speaking, 'cause you know as you record — for me more so as a musician than as a producer — your mind wanders because you can't think and play at the same time, and you have to keep yourself distracted. So, you think about strange things, and I've thought about recording way too much. There has to be a reason why we record, and I think it's fear of death. I think it's literally a search for immortality, even if it's momentary, and I think it springs from the oldest desire of mankind which is to preserve the moment somehow, and, if possible, play it back.
Like procreation.
Oh yeah, it's definitely that — it's continuity, you know, a search for ongoing continuity. It's like the handprint on the back of the cave wall, because that's as far back as we can go as people. It's there. That's the first document, right? Also the first record. You hear the story, the trite story, about the native in the jungle who won't let you take his picture because you're capturing his soul. Well, you see, I think that's exactly what you're doing in the recording studio. And I think people understand it intuitively. That's what Edison was about, it's what Sam Phillips was about. It's what it's all about.
Tape Op is a bi-monthly magazine devoted to the art of record making.