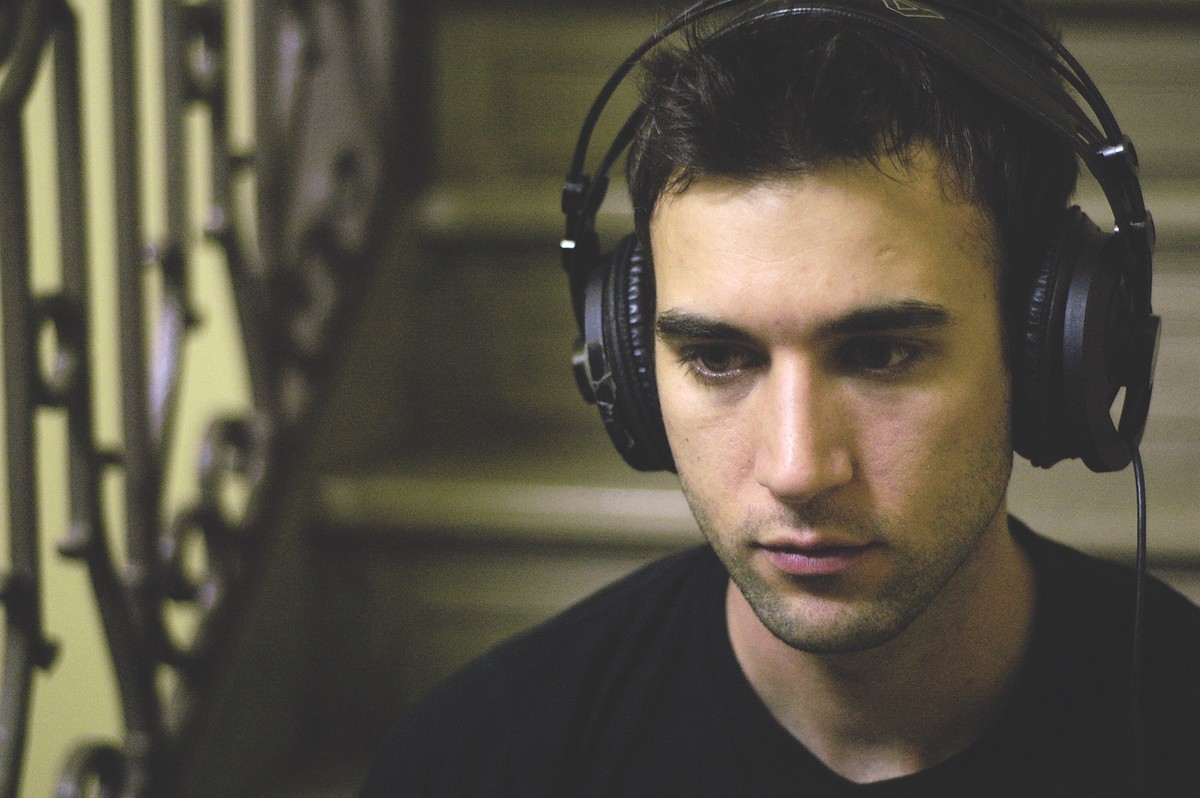 Sufjan Stevens is awesome and punk.
You might not know it by listening to his albums — they're feats of orchestration, arrangement and craft that have the power to sweep you right the eff up in a majestic way, but he's a total recording rebel, Tape Op style. Both of his "Fifty States Project" albums, Michigan and Illinois, sound incredible — and both were made using ghetto-style techniques that most (if not all) recordists would be crippled by, — doing all your mixing on headphones, tracking an entire record with Shure SM57s and an AKG C 1000, recording your album at 32 kHz, tracking on a cheap digital 8-track and dumping it into Pro Tools two tracks at a time thru the 1/8" jack and lining them up by sight. Yow! Talking with Sufjan about his recording process really reinforced a few key things in my head — the core reasons why I believe in Tape Op magazine and what it stands for (to me, at least) — that there is no right way to record, that the most important thing are the ideas and songs and performances, that you can work with whatever you have and make something incredible, that gear is truly secondary, maybe tertiary. Is it raw material/technique/ equipment, in that order? So yeah, Sufjan's records sound so good to my ears — and he was mic'ing the kick with a freakin' C 1000 and recording it at 32 kHz. WTF?
So was the recorder was your first instrument?
Yeah, the recorder. I played it at Waldorf School. I still have the recorder. I've used it on almost every record.
Do you have a bunch of recorders now?
Yeah. I have a tenor, alto and soprano — a little tiny one. From recorder you are usually able to transfer to flute or oboe. I think my affinity for woodwinds started when I started playing the oboe. That was my first real band instrument.
Where did you go from the oboe?
Piano. The piano was kind of an accident because my parents bought an upright piano so that my older sister could take lessons. She was taking lessons and then she would come home and practice and I would sit in the kitchen listening to her kind of clumsily struggling through these simplified versions of Bach minuets. When she left I would go to the piano and I would try to play what she had played, just from listening.
Did you learn how to identify chord voicings by ear?
I didn't know theory. I learned visually on the piano. With the piano you see everything laid out, so I was learning through the visuals. But I didn't know or understand what I was doing. I would just go by how it sounded. After a year I was pretty comfortable on the piano.
So you've got the recorder, the oboe and the piano...
How did I get to the guitar? Because songwriting started when I started playing the guitar. Before that if I was writing songs on the piano, they were very ambiguous. They weren't clear, conservative pop songs. There wasn't singing. There were all these flourishes. It was kind of pseudo-classical...but there were pop elements. I was just sort of making stuff up. It wasn't until I learned the guitar that I actually started writing songs. I was writing songs on the piano but never for me. I would write stuff and then a friend who was a singer (it was always a girl) would say, "Oh, that's really pretty. Maybe I could sing over it?" So I was always pairing up with different up-and- coming divas.
Ha! One of which, people should know, was Missy Elliott.
Missy Elliott — she played the viola, too.
At what point did recording come into your life?
It was the exact time that I was learning guitar, the summer before my second year in college. I was nineteen or twenty. My friend was going down to Florida to stay with his mom for the summer, and he couldn't fit everything in his car. So he left one of those Ovation nylon string guitars with the plastic in the back. That same week I went out and bought a Tascam Portastudio [cassette] 4-track. I wanted to write songs and sing. I had been in this college band that I had started with some friends. I was playing the recorder!
Was it the Marzuki band?
Yeah. Shannon [Stephens] was singing and writing the songs. She was playing guitar and we had a cellist. I was playing the recorder because it was all I could do. It was really bad ethnic folk-pop music. I had long hair, wore Birkenstocks and I owned a Hacky Sack — that's where I was coming from. I wanted to learn to play guitar because it seemed like if I was going to get anywhere in this band, I had to play guitar. It was 95 degrees all summer and I would come home after work, sit in my room for five hours, sweat and strum the guitar — strum E major over and over.
And then the first Sufjan record that you made was A Sun Came?
That was mostly done with the 4-track. My last year in college I took a Pro Tools class. So what I was able to do with the 4-track was I would dump into Pro Tools and edit it in Pro Tools. That was my first experience.
That has been a lasting method that is still with you.
I guess I haven't really changed...
The rest of this article is only available with a Basic or Premium subscription, or by purchasing back issue #70. For an upcoming year's free subscription, and our current issue on PDF...