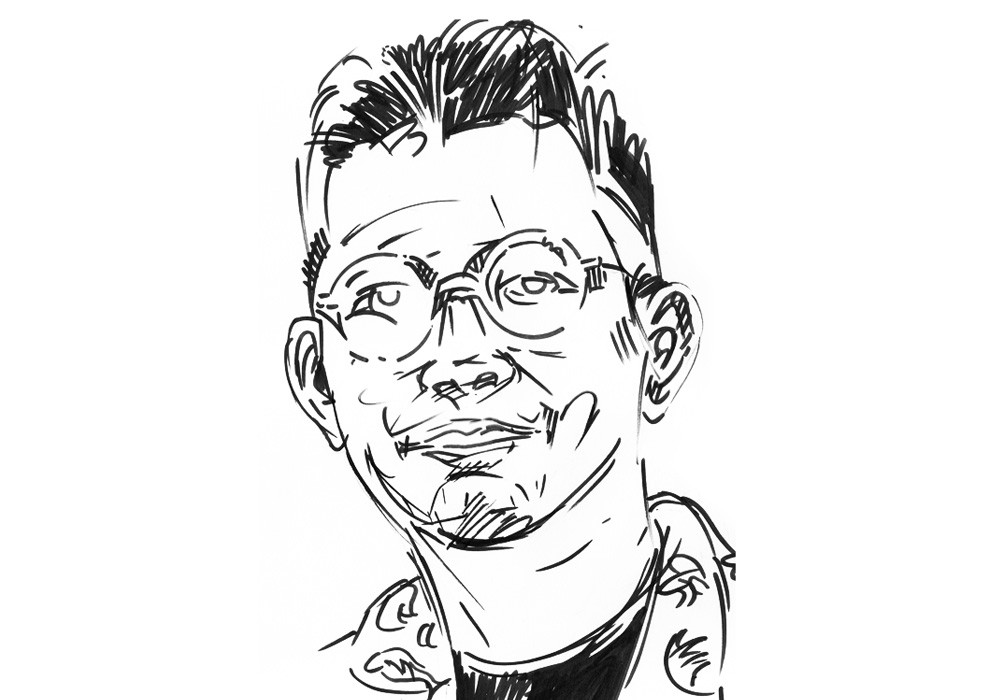 He's just a really great engineer.
Illustration by Miles Hermann
In issue #10 of Tape Op we ran an interview with Steve Albini by my pal John Chandler. Being that the piece was actually done for some oddly named company called Amazon that was branching into music sales, I spent the next 13 years telling Steve that someday he and I would sit down to do a "real" Tape Op interview — or at least one he knew was actually going to run in this magazine. Steve Albini surfaced on the music scene in the '80s with his excellently abrasive combo Big Black, and later in bands such as Rapeman and Shellac. But along the line more and more of his time was spent in the studio and eventually he built Electrical Audio, one of the finest studios in Chicago. Among the records he's had a hand in are classics by Nirvana, the Pixies, The Stooges, PJ Harvey, Slint, The Breeders and The Jesus Lizard. Many people deem Albini "controversial" and want to pick away at the "outspoken character" they imagine him to be. I've called bullshit on that for years.
How long has Electrical Audio been open?
The studio's been open for 14 years. We bought the place in '95. So we've had the building for about 16 years.
Before that, you were working out of your house?
Yeah, I had a house about a mile from here.
I assume the impetus to do something like this was because the space became available?
Well, the main thing was that Heather [Whinna, Steve's wife] couldn't take it anymore. [laughter] I don't know if you're familiar with Chicago bungalows, but basically they'll have a front room with a swinging door that goes between the bathroom and kitchen. There will be a bedroom off the kitchen and two bedrooms off from there. That whole house had been taken over by the studio. The basement was the playing area, the attic was the control room, the front bedroom was the business office and the back bedroom was the repair shop and tape storage. So, in terms of privacy, we had the bedroom that we slept in. That was it. There were people there every day. There was literally no privacy. She said she couldn't take it anymore. It was either buy a big studio or have trouble with Heather. I don't know if you've ever had trouble with Heather, but you don't want to have trouble with Heather. [laughter] I got a total steal on the building and I borrowed money to do construction. Then I borrowed a bunch more money to finish construction; at which point I sold my house. The deepest hole was very close to a million dollars. It sounds insane, but when you think about it people were spending that kind of money just on a house. Here, I've got this massive building with two studios and a bunch of employees.
You can earn money here.
Exactly.
So, let's go back. The first time I interviewed you was in '86. I saw you out in San Francisco playing with Jane's Addiction.
That was a pretty funny show. That was one of the weirdest backstage experiences ever. It was the Big Black farewell tour and we were supposed to be headlining all these places. And then, out of nowhere, I realized that our backstage had been taken over by Jello Biafra and Lydia Lunch. I actually had to leave. I couldn't bear the swirl of nattering conversation. I got hit with a little bit of Jane's Addiction, but I managed to maintain my head.
No one even knew who they were.
No one did. They didn't have any records out. I got cornered by one of them backstage and he wanted to know if I'd seen the show. I said, "Not much." And he still asked me what I thought. That should've been enough of a clue. [laughter] I came up with what I thought was probably the best answer. I don't know if it was Perry [Farrell] or someone else. I said, "I've never heard Rush, but that's exactly what I'd imagine Rush to sound like." [laughter]
That probably confused the hell out of him.
I don't think he was offended, so mission accomplished. It seemed like most of the music I liked was coming from San Francisco. I don't remember one fucking thing coming out of L.A. that I cared about. And skateboarding. What did that have to do with punk music? What's next, yo-yo tricks?
Lawn darts!
Yeah. Slinkys.
It's another version of the hacky sack at Grateful Dead shows.
Yeah. None of that shit meant anything to me.
I know your first Big Black EP was done on a 4-track cassette.
It wasn't a cassette. It was a reel-to-reel 4-track. I borrowed a [TEAC] A-3340S from a guy named Sam Fishkin, who's still an engineer and makes records in town here. I borrowed a 4-track from him and did the bulk of recording on that.
How did you first lean towards recording yourself?
If you don't have a band, but you have time on your hands, you can putter around and do stuff on your own. I'd been in a band that had recorded a 4-track demo and they'd entrusted me with the recording of it...
The rest of this article is only available with a Basic or Premium subscription, or by purchasing back issue #87. For an upcoming year's free subscription, and our current issue on PDF...