As I sat and listened to Jack Douglas and Jay Messina in Jay's living room, one of the first things I noticed was their friendship. I felt like I was sitting with two brothers — the respect and admiration between these guys was clear. But then I started to see something else. I started to see how they strengthen each other, working side-by-side towards a common goal. These two seamlessly complement one another, encouraging and promoting each other's ideas and creative output. If you weren't paying close attention, I doubt you'd notice any of it taking place — it all happens without pause or fanfare. Obviously, part of it comes from their shared love and passion for their job; thirty-some-odd years of working together doesn't hurt either. But I think the powerful part comes from the trust that exists between them. And, honestly, with such an influential body of work — Aerosmith, John Lennon, Lou Reed, Supertramp, Cheap Trick, Patti Smith Group, and the New York Dolls — you can't really argue with their dynamic. True to their philosophy of keeping their sessions fun, both of these guys are enjoyable to be around — easy going and quick with a laugh.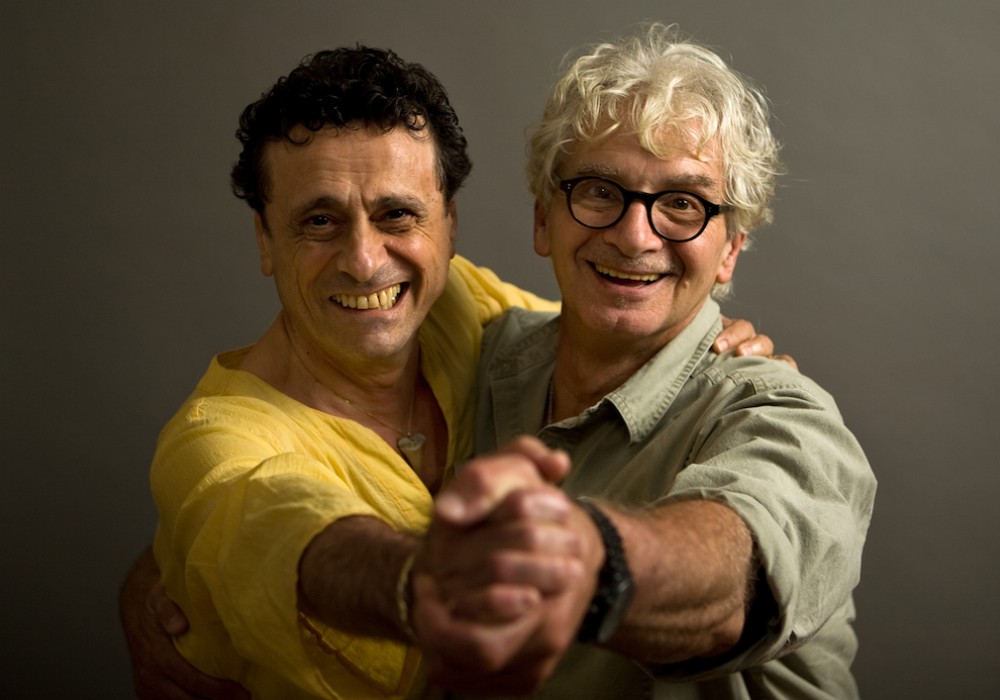 Was music a part of your lives growing up?
Jack Douglas: Oh, yeah. We're both musicians.
Jay Messina: My father was an upright bass player. He had a trio of vibes, bass and guitar. When I was eight he bought me a little set of orchestra bells. All through high school and for a while after I played in
a band, until I got big into the studio.
Was your thought that you always wanted to be in the music industry?
JM: I knew, mostly from my father. He said, "Get into electronics and keep the music on the side." What I wound up with instead was a perfect marriage of both. I've been really fortunate — I've been playing with music my whole life.
JD: My father worked in a freight yard in the Bronx. Things would always "fall off" the freight trains. My part of the Bronx was really terrible — a lot of gangs, a lot of violence. I liked it; I thought it was okay. So off of a train "fell" a tape recorder and a guitar, and he gave them to me. He knew I liked my grandmother's piano. He thought, "We can't afford a piano, so here's a recorder." I played in bands when
I was very young. I absolutely thought it was where I was going. My parents always instilled in me that you could do whatever you wanted to do. Both my parents gave me a ton of confidence and love.
JM: I've always gone after what I like to do. When people ask me, "What should I do?" I always tell them to pick whatever they like to do the best, what's the most fun, and go after it. I've been listening to, and playing with, music my whole life. I have a friend who asked, "When are you going to retire?" I said, "Why would I do that? This is what I like to do. It's what I would do in my free time."
You two met at Record Plant in NYC?
JD: Jay was the jazz and jingle king over at Record Plant, and I was his assistant engineer. He used to do his dates either early in the morning or all night long. The jingle dates were all really early in the morning. I would write out 40 pieces, set up, and within three hours we'd do a whole airline commercial with a full orchestra, background singers, a lead singer and an announcer. They'd leave with 28 and 58 second commercials.
JM: We'd have about five minutes to get the sound.
So they'd walk in and everything was ready to go?
JD: The chairs and mics were my job.
Jack, were you working there before Jay?
JD: Yeah. I was already at Record Plant. Jay came over from A&R [Recording].
So how long did you assist Jay?
JD: Well, when I was assisting for Jay I was on the cusp of becoming a staff engineer. I had been assisting for most of the engineers there — Roy Cicala, Shelly Yakus (Tape Op #31), Jack Adams — and I was just at that point where I was doing 4-track demos with people. From Jay I really learned how to get it done, make a decision and dedicate the sound to tape. But there was one thing I could never do: when he did an edit, he never marked the tape. He would just grab it at the capstan and lay it on the edit block, because it was the same distance from the playback head to the capstan.
JM: Once you know the distance, then you find the spot on the editing block, so you know to put your thumb there and then just cut. You could do it a lot faster that way.
And you always nailed it?
JD: Always. I was too chicken to do that. Do you ever want to splice a little sliver of tape back into to a tape? No! [laughs] So yeah, we had so much fun. Jay, you had done some rock over at A&R, like Ten Wheel Drive...
JM: The first J. Geils Band...
Jay, where did you get your start?
JM: I started at a place called Don Elliott's. He had Les Paul's 8-track machine. That was my first gig, on a 1- inch, 8-track machine in the mid-'60s. There were only five 8-track machines in the world then. It was a great luxury for my first studio gig. I was at Don's for about a year and a half; then I went to A&R for about four years, where I learned to cut vinyl. I got my chops together by going in on the weekends with my friends, who were Steve Gadd, the Brecker Brothers and Mike Mainieri. Mike was getting his arranging chops together, so I'd say, "Bring the band in and you can leave with a tape copy." So it worked out for both of us.
With all these heavy hitters? Not too bad.
JD: There was a group called White Elephant. It was all the best players in New York. I used to assist Jay from midnight 'til 6 in the morning.
JM: If you want a good drum sound, you start with a good drummer, you get a good set of drums, and you work your way up from there.
JD: Jay skips over the fact that he was a mastering engineer at A&R. Apparently he was quite a good mastering engineer, because he trained Bob Ludwig. Many years later Jay and I went up to Maine to Bob's [Gateway Mastering] to master a Supertramp album [Some Things Never Change] we had done together. As Jay walked in the room, Bob [mimes Bob bowing to Jay]; which is kind of cool, considering who Bob Ludwig is.
Do you still master?
JM: Once in a while. Mostly we go to Sterling Sound and work with either George Marino [RIP] or Greg Calbi [Tape Op #86].
JD: Those guys are both Record Plant alumni. We worked with them for a million years. George Marino had The Cutting Room, which was the mastering room for Record Plant. Greg Calbi was our assistant, who we talked into becoming a mastering engineer. When George went to Sterling we had the facility, but we had no one to cut masters. So we kind of said, "Greg, you're the guy." I think at first, Greg resisted. They taught him how to do it, between Roy, Shelly and Jay, and now he owns Sterling. [laughs]
Was the debut Aerosmith record [self- titled] the first time you worked together, with Jay engineering and you producing?
JM: I think so.
JD: The first album I produced was for Crowbar, a Canadian
band. After that I produced Alice Cooper [Muscle of Love]. I was producing and engineering, so it was a little different. Bob Ezrin [Tape Op #31], who talked me into producing, wanted me to do that out of town. So for the Crowbar album we cut the basics and then I went to Canada so I could fuck it up and no one would know. It was a training ground. He had already said he was giving me Alice Cooper, and he wanted to see if I could handle this. And then Aerosmith came along, due to the New York Dolls connection.
Why do you think Bob Ezrin thought you'd be a good producer?
JD: I know exactly why. When I was engineering the New York Dolls album — the first [self-titled] album — Todd Rundgren [the producer] wasn't coming to the sessions, so I had to do everything. Todd didn't really show up until the mixes. He got in over his head with those guys; they were pretty hardcore. You know the famous story: Todd loved harmony on everything, and David Johansen was doing just a live vocal to drive the band. Todd said to Johansen, when he came into the room, "That's going to sound great when we put lots of harmonies on it." And David said to him [in his best roughed up David Johansen voice], "Harmony!? Are you accusing me of having melody?" [laughs] And he was taking a piss really, because that was David. But Todd was really affected. He felt threatened. So he didn't show up very often, but we managed to get the record done. Two things came out of that; one was that Bob said, "You know you're the producer." And two, Leber-Krebs, who managed the Dolls, thought it was a miracle the record even got done — everyone was so strung out. So my reward for recording New York Dolls was their baby band, which was Aerosmith, who they also managed.
I think sometimes the most important quality for a producer to possess is being able to handle personalities.
JD: I have to agree with you. I think the reason why we've had so many returns over the years is because the act and the art of making the record is always a positive one. It's always, "Let's talk about how we can move this record forward. Let's see how we can expand our artistic horizons. Let's talk about what this record is about. Let's rehearse so we're in the ballpark when we go into the studio, but let's leave enough room for improvisation." All of those things are very important, and it also makes the artist feel like he or she has a collaborator. If you need me to write with you, I'll write with you. If you don't, that's fine. Let me see what your lyrics are like; maybe I can make a suggestion. You don't need that? That's fine too. Let's see what the meaning of this is. Maybe the album should have a darker feel overall, or perhaps it should be brighter. Maybe we should do some songs in between keys.
With some artists you can quickly feel them pushing back.
JD: As soon as you feel that, you see where else you can go. I've done some records where all I've done is facilitate making the record, and I've done other records where I'm like the fifth Beatle — you're right in there and you're in the middle of it.
I know Aerosmith have said that about you.
JD: Yeah, totally collaborative, all the time.
JM: It's almost always fun, and that makes for great communication between the band and Jack. Jack is really good at creating that vibe. There's a certain sense of humor you have to have about it; a lightness that is an essential part of the whole creative process.
JD: It's not brain surgery. We don't have anyone's lives in our hands.
Though some artists would probably disagree!
JD: I usually tell them, "Look, it's gonna come out great if we have fun doing it." Maybe you can't tell that to Lou Reed. [laughs] I wouldn't attempt to.
You guys did a Lou Reed record.
JD: Berlin. The darkest album I've made. [laughter] Was it a fun process?
JD: Of course. We had fun. I know Ezrin did. Lou was doing his thing.
All three of you did it [Jay, Jack and Bob Ezrin]?
JD: We all worked on it.
JM: At different times.
Jay, you engineered the whole record? JM: No, just parts of it.
JD: I engineered parts of it. It was a lot of, "Lou? Are you
there? Lou? He's gone." [laughter] But it's a brilliant album. That's a lot of Ezrin. Bob has really taught me a lot about the psychology [of] dealing with artists.
Jay, I saw a quote where you were talking about the moment when everything just seems to come together — the song, the vocal, the lyric, and the musicianship — when all the stars are aligned.
JM: I've felt those moments a lot of times. I used to do a lot of records — early on, especially — where the band and the vocals went down at the same time, and you feel the magic instantly. Of course you need a good song for it to happen. Some of the live records I've done with strings, horns, the rhythm section and the singers going down at once. It's magical. And then they want to go in and fix one vocal line. I won't touch anything. They'll go in and sing one line come in and say, "What'd you do? I sound different." And the truth is I didn't do anything different. There's a certain magic. I notice it with singers the most. When they're singing live and getting caught up in the magic, it really comes across.
JD: I look forward to that feeling every time I walk into a studio. When you hear it and it comes together, it's the biggest rush. That's what I live for. I totally love it.
I feel the other "mysterious" part of being a producer is creating the vibe that can set the stage for those moments to happen.
JM: And you have to be secure enough to know when not to say anything, which is the best you can offer sometimes. JD: Going into the studio with John [Lennon] to record Double Fantasy was a classic example of somebody who'd totally psyched himself out. He was so insecure. You're talking about a guy who already hated his voice to begin with. He sent me demos and he'd intro the song with, "This is another shitty song. I'm gonna give this one to Ringo." The whole thing was narrated with negative feelings and insecurities. Then, on top of all that, having to do rehearsal and everything else so the band didn't even know whom the artist was. I was singing — they didn't know whose record it was. The studio didn't know who was coming in. No one knew anything.
Rolling Stone voted him the fifth best singer of all time.
JD: That was the issue we had with making this record. I wanted to show people that he was definitely one of the greatest rock 'n' roll singers of all time.
How'd you arrive at the decision to mix him so much drier on Double Fantasy Stripped Down [2010] versus the original, as well as deciding to push his vocals way up front?
JD: I dealt with it on a number of levels. I thought back to the Plastic Ono Band [record] he and Yoko [Ono] did after they had gone through that [primal therapy]. It proved to me that, at one point in his career, he wasn't afraid to show his range. His vocals weren't double- tracked; he just laid it out there. I felt, during the process of making Double Fantasy, [that] we progressed from his being totally insecure and everything based in fear to him accepting that his vocals were good, the songs were good, and the promise of the record was kept. When we were mixing there was still enough insecurity, so we had to double- track. We had to put the effects on and everything else. But after the record was finished and he listened to it he said, "This is really good. I think I'm cool. I'm back. Next record is going to be very different." My feeling was that if he heard what we were doing, he would be down with us. I think if it was two years after Double Fantasy was done and I'd said, "John, let's go back now and mix it with your vocals up front and really dry," that he'd be okay with it. Let's say I was producing his next record. I would've said, "You sound really great. You don't need to double." I think he would have been all right with it.
There's just so much emotion in his voice. It's great hearing it out in the open.
JD: The concept of the record was that it was going to be a dialogue between a man and his wife — I think they even called it a play. The listener was the viewer of the play. It was heavily criticized because it was too middle of the road and not rock 'n' roll enough. But the record itself was exactly what he wanted it to be. He always wrote songs about where he was, and that's where he was. This was about his adventures of a guy turning 40, and the record was supposed to be for people who were turning 40. It was all about making bread, being a house-husband, taking your kid for swimming lessons; doing all this [family] stuff. So it was a dialogue between him and his wife. When it came time to do this record [...Stripped Down], I had just done two tracks for Yoko. I got a call in July [2009], "Would you work with Yoko?" I said, "Absolutely." I cut two songs for her, and the relationship was back. It was never mentioned, but I think she was testing the ground to see if I'd be interested in doing the remaster. I called up Jay and said, "I have this opportunity to do this record. I don't really know."
Jay, you had worked with John and Yoko before?
JM: I had worked on one of Yoko's records [Fly], with John producing. There was also a TV show I did with him and her with Elephant's Memory.
JD: I thought, "What do I do with this? Do I strip it?" No, because it's not really an acoustic record. I can't put acoustics on it. I had no idea what I was going to do with this record. So we went and did the transfers. Have you heard about this?
I haven't.
JD: The transfers were done at Sony's Battery Studios, because they had the best A to D converters. Sony had moved all their mastering, archival work and transferring into one facility, and I had no idea where it was. Well, they moved it to where the old Record Plant had been. The transfer room was the same room where I'd worked with John on the last night of his life. So I had to start this project in the exact same place I left it.
Did you feel like he was there with you?
JD: Yes, John was there. John was a ghost in this project, until he became a participant. And he became a participant on the record when he started giving us little gems, saying [in a very hushed voice], "Look over here. You'll find something really cool you'll want to put on the record." The we'd be, "Oh look, a little piece of dialogue. Oh look, no sax solo, he's humming the solo. Look what's on an outtake."
Really making him a part of the process.
JD: He became part of it. His ghost disappeared, and he was there.
Was Yoko there for all of this?
JD: Yoko would come in about every four or five days. She wouldn't want to listen to just one song, but maybe four at a time. She'd give us notes.
She didn't want to get into micro- managing?
JD: No, not at all.
JM: She was great.
JD: So after we did the transfers we brought it back here
[to Jay's studio, West End Sound, in Manhattan], and we started listening to what we had. My ideas started to change. I realized it was all there. It was all the stuff we didn't need, really. All these overdubs. If you broke it down to the basic track and his single vocal, you had magic. It started to become very intimate. It became obvious to me that the record was going to become, for both John and Yoko, the exact same record, in a way. But no longer would the audience be looking at a play on the stage, the audience would now be in the play. The dialogue between the husband and the wife was right here. John was right here in front, and you could hear all of the emotion in those tracks. It suddenly became fun. The first time she [Yoko] came down to listen to it, I think she almost fell out of her chair. She didn't really know what to expect.
You hadn't mentioned to her where you were going with it?
JD: No. She came in after we had three or four songs. She listened and it brought tears to her eyes. Her husband was in the room with her.
JM: And she loved it.
JD: She absolutely loved it. When she got over the shock
of it, she started giving us notes and not one of them was crazy. I mean, she speaks a different language. She doesn't speak the language we speak, but I've
done a lot of records with her so I understand. She comes from a different place. But every single one of her suggestions was right on the money and made it a better record. Absolutely.
Were you both mixing?
JD: This is the way it's always worked between Jay and I: I stay out of his way for a few hours then, somewhere near the end of the mix when it's in the ballpark, I ask for a couple of tracks that I can sit and do something with. After approximately 30 years of working together, we pretty much understand what's going on.
JM: Yeah, we don't have any ego issues. Whatever's going to make it better.
JD: If we do all this work and [then] I suggest something to Jay that's gonna take a few more hours, he's like, "Okay, let's see where we can go with this." Sometimes he'll say, "You don't really need that. You should listen once more. Clear your head." We don't have the problem of investing too much and something becomes so precious [that] you don't want to give it up.
Do you feel like you rarely knock heads on things?
JD: I don't think we ever do, really.
JM: No. That's why we hooked up in the first place.
Even when he was assisting for me, we bonded right away and became good friends. We've been good friends all through this time; which makes for a good combination.
JD: We always have a great time. We love doing this stuff. Anyway, once Yoko got into the swing with us and we had the philosophy of the record, we had this feel where everything was going to be close and real. Then we just moved right through it.
You had her blessing.
JD: Yeah.
Was that important to you?
JD: Absolutely. It was important. She could have said "Stop" at any moment.
John's vocals sound beautiful. It sounds like you didn't put much reverb on him.
JM: No; very little.
JD: Just enough so it feels like it's in a room.
Is it multiple effects or just a single reverb?
JM: It's a plate with a little pre-delay. [They mixed at Avatar Studios' Studio G, on an SSL 4000G+ Special Edition, 56- input console, which, according to Jack, "... is very nice." Avatar also has eight EMT 140ST plates.]
So here's an Aerosmith question: was "Walk This Way" really inspired by Marty Feldman's character in the film Young Frankenstein?
JD: Absolutely.
You guys went and saw Young Frankenstein?
JD: We frequently went for walks around Times Square to get dialogue from pimps, drug dealers, and hookers. We'd hear all kinds of things. That was a Sunday afternoon and there was nothing going on in the neighborhood. Everybody was on the walk.
The whole band went to the movie?
JD: Yeah! That was the last song. We could not come up with anything for it. We had the whole track done, but no vocals whatsoever. So we went down to 42nd Street and in one of those old second run movie theaters was Young Frankenstein. I said, "Let's take a break. Let's go see the movie." The whole band piled into the theater. That was the biggest crackup line for us [doing his best Marty Feldman], "Walk this way." He kept moving the hump. [laughter] We got back to the studio, I put the track up, and I started walking around like the hunchback in the control room saying, "Walk this way." Steven [Tyler] said, "That's it." He went and sat in the stairwell — he used to sit in the stairwell and write lyrics.
That's a great story. Jay, do you have a favorite record you've worked on?
JM: I don't have one. I couldn't say I have one favorite, just because of the diversity. I've done lots of different kinds of music.
JD: I have a favorite of his. My favorite Jay Messina recording of all time is a song called "The Promise Suite" [from The Soulful Crooner] by Nick Holmes [who was part of White Elephant]. One song. For me, it says everything about what Jay Messina can do with the orchestration and the sounds.
JM: That's something Mike Mainieri produced.
JD: Which one is my favorite? The first Cheap Trick album [their self-titled debut] was great. Certainly Double Fantasy is way up there. Patti Smith [Group's Radio Ethiopia]. But my favorite album is Aerosmith's Rocks. We recorded at the warehouse where I rehearsed them. Every day, at rehearsal in this warehouse, I would do something to this room to make it more bearable. I would hang a big rug off of a ladder in a corner to take that corner out, and pretty soon the room started to sound good. I said to Jay, "Let's just record it up here [in Boston]." Because of the preproduction done in the room — the attitude, the sound, the lyrics — the whole culture of the album became dependent on the sound of the room we rehearsed in. It's hard to describe.
Jay, were you there for preproduction?
JM: No.
JD: The [mobile] truck and Jay came in to record it, and Jay captured the sound we had
in the room. That album became the total package. Every lyric was attached to every guitar chord that rang in the room. It was recorded with a particularly darker sound. The whole album — from note one, to the last note of the last song — makes perfect sense in its totality. It's the ultimate album for me. I'm not saying it's the greatest album but, for me, it's the one that says everything.
There's a truth about it; an honesty.
JD: Yeah. It just says it, in the most precise, perfect way. I don't mean it's a masterpiece. But it's the one album where I can say, "That's the way." If I could make albums like that all the time, I'd be amazed. Joe Perry and I were at a Columbia Records convention, and we were getting gold or platinum records for Rocks out in Los Angeles at the Century Plaza Hotel. Aside from George Martin — who I got to work with and is my ultimate idol as a producer [on "Come Together" (from Sgt. Pepper's Lonely Hearts Club Band: The Original Soundtrack)] - my producer idol was Richard Perry. I always loved the sound, the attitude and everything about his records. So Richard Perry came up to me and said, "Jack Douglas? How did you ever get that sound? I wouldn't have an idea of even where to begin with how Rocks affects me from start to finish. Everything about it." I said, "Wow. I think you get it." It made me so happy.
Tape Op is a bi-monthly magazine devoted to the art of record making.