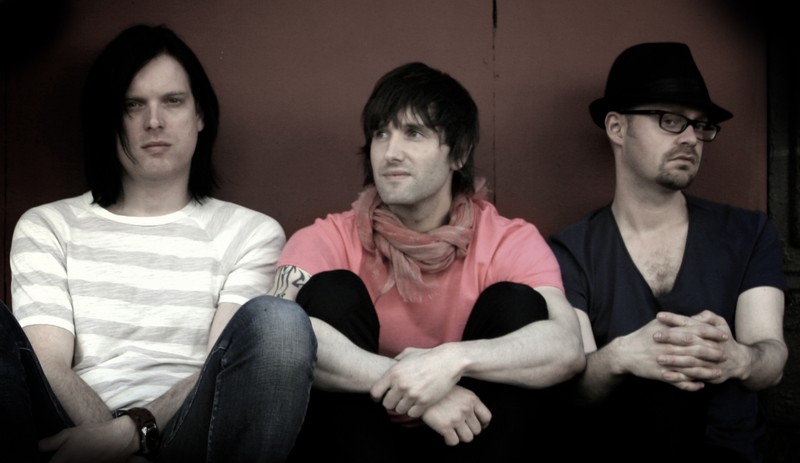 The group Ash started in Tim Wheeler's parents' garage, in Northern Ireland's Downpatrick in 1992. The scratchy 4-track recordings made by three 15-year-olds were sketching out a future that has since seen them release six studio albums, top the UK charts, win an Ivor Novello Award for the song "Shining Light," play parties by invitation at George Lucas' Skywalker Ranch and headline festivals from Reading to Tokyo. In 1997 they also brought two opposing political leaders together onstage at a special concert to promote the historic Good Friday Agreement, which ended 30 years of "The Troubles" in Ireland's fiercest province. Perhaps the most astounding fact is that Tim has now taken flight within a dedicated recording studio that the band (also featuring Mark Hamilton on bass and Rick McMurray on drums) have developed in the middle of Manhattan's bustling Flatiron District. It's a set up that's a long distance from and a far cry from the 4-track recorder and car-filled control room of Ash's primitive years.
Tim, I want to take it all the way back to the start. When you were 18, all of a sudden you were in a recording studio — Rockfield Studios in Wales — with Owen Morris, making your album, 77. What was the impact of that on you?
That was an intense experience. Owen introduced us to all sorts of things, ranging from the good to the bad! It was the biggest learning experience of my whole life. I remember hearing the first rough mix of "Goldfinger" and complaining that it didn't sound like us. Now it's one of my favourite sounds we've ever got on record — it's so moody. I learned pretty quickly that you have to be very flexible in your ideas when you're recording, as that is when the spontaneous, great stuff happens. It was ridiculous fun doing the whole residential recording experience — everything was looked after. We ended up being more and more nocturnal as it went on. I was writing the album as we were recording, so the pressure was intense. Everyone else partied really hard while I would be holed up in my room working on lyrics for two days. But it sure beat doing homework!
How was the process of that recording?
We couldn't get the time off school to record a full album in 1995, so during that year we put out three singles, which were hits in the UK ("Kung Fu," "Girl From Mars" and "Angel Interceptor"). So when it came to doing the album, we already had three great tracks done. I wrote "Goldfinger" on our first world tour and then came up with a few more at home in Northern Ireland. That meant I still had to write a few songs in the studio. I wrote "Lost in You" on the last day of recording. We spent six weeks at Rockfield and did another week of tracking at Maison Rouge [Studios] in London before mixing it in a couple of weeks at Orinoco Studios. Doing the string session for "Oh Yeah" and "Gone The Dream" blew my mind.
Did you feel confident of your abilities and views up against such a well-known producer?
I had a lot of confidence, and Owen helped with that. He was always giving me praise and encouragement for my songwriting at the same time as tearing us apart as people.
How did you convince him that five minutes of your friend forcing himself to vomit beside a no doubt expensive microphone was the best way to end the album?
He is a complete maniac, so of course it was his idea to set up a really expensive Neumann to record us puking. We used to do dumb shit like dancing on the desk. I'm sure the very idea of doing that will upset many readers. He once shot holes in one of my guitars (a 1961 Les Paul SG) with a pellet gun. He encouraged us to perform in drag, shaved off our guitarist Charlotte's eyebrows, and we once had a proper physical fight. He's a passionate, loud, obnoxious fiend and taught me most of what I know about songwriting and making records. It took me a while to discover that not all producers are like that.
I heard a story recently which came from staff at Rockfield — something about Owen having The Shining blasting on repeat the entire way through your recording sessions.
Well, that's almost true. It was actually at RAK in London when we were recording our third album, Free All Angels. There were a few nights when all the lights would be out in the studio and The Shining soundtrack was cranked full on the big monitors. It was pretty sinister at that volume, but there are indeed a lot more horrific stories than that from our sessions with Owen. I heard a good one about him recently that's pretty funny. He was working on The View's last album and went out to the pub for his usual afternoon refreshments. He met a guy there who had a hot-air balloon. A few hours later he arrived back at the session in the balloon. Knowing him, it's very likely that the story is true.
Owen's involvement on your next two albums obviously shows a good working relationship. You've also got to work with a host of other incredible people along the way — Chris Kimsey, Dave Eringa, Mark Trombino [issue #36], Phil Thornalley, Arthur Baker, Butch Vig and Alan Moulder all have credits on your Intergalactic Sonic 7"s compilation album.
It's impressive to think we worked with all those greats. They were all really cool, but I've got to say recording with Nick Raskulinecz [issue #50] was one of the most important sessions we did.
You recorded your Meltdown album in L.A. with Nick.
Yeah. He's great friends with Dave Grohl, so Dave was calling into the session quite a lot. He's one of my biggest heroes — since I saw Nirvana play when I was 15. But apart from that, it was around that time that I was starting to get really inquisitive about engineering. Nick really gave me an education about gear and how to use it. I must have driven him nuts with my questions about gear — we really nerded-out hardcore.
You recorded Twilight of the Innocents after building a studio in New York. Can you talk a bit about the reasons behind the adventure, the process of finding this space and give a little bit of history on the studio?
). On * average, the noscript tag is called from less than 1% of internet * users. */-->
Advertisement
It all started in 2003. We spent most of the year in a van going 'round the States doing support tours for Coldplay, Moby, David Bowie, Dashboard Confessional and Saves The Day. I'd just got a [Digidesign] Mbox and passed the long drives figuring out Pro Tools LE. Then we did Meltdown with Nick and I started collecting recording gear on eBay while we out there in L.A. I really wanted to try to find a space in London to setup a studio, but it seemed really difficult to find anywhere there. Then on our US tour for Meltdown in 2005, Mark and I got the buzz and decided to move to New York — it seemed like a really good time to change, as we'd been based in London for nine years at that point. A few months after settling in, I was having a drink with a friend and telling him how I was trying to find a studio space. We were walking to another bar when we ran into a friend of his, and it turned out this guy had a studio and was about to move out of it. It was exactly what I'd been looking for, and I couldn't believe I could find a space like that in Manhattan! It was a hip-hop studio called Firehouse for about seven years, and it's where the Wu-Tang Clan made their first album. It was brilliant to finally have somewhere to unleash all of the gear I'd been collecting. We shipped it all over from London. I wanted to try producing myself, and it was great that Warners were happy to let me go for it. I had beginner's nerves and was a bit paranoid to start with, worrying that we might not have the right gear, and whether it was going to sound good enough at our own place. But we worked with brilliant engineers Claudius Mittendorfer and James Brown, who we'd worked with before so we were in safe hands. Michael Brauer [issue #37] mixed it at Quad [Recording Studios] up on Times Square. Towards the end of the mix I was dropping the vocal files off at Quad at dawn for the last few tracks. I hate being so last minute, but it was cool seeing Times Square all empty and desolate at that time of morning. I discovered new writing processes during the album, which resulted in the title track. Whereas before I mostly wrote songs on acoustic guitar, I started experimenting with loops and created the song entirely in Pro Tools. Paul Buckmaster then wrote an incredible string arrangement, which helped give it an organic feel. We recorded the strings at Capitol Studios in L.A. The reverb chambers there sounded so good. That song made me think I had passed the test and gave me the confidence to continue self-producing and trying new writing techniques going forward.
You've certainly created a cosy, comfortable and inspirational factory to explore your ideas and creativity here. After 14 years making records, how important is that to what you do as musician?
It's like a playground to me. I've got all my toys there and can completely focus on music. The only danger is that it's so easy to lose track of time there, which can be pretty bad for my social life, though when I feel like too much of studio hermit, I can just walk outside and I'm right in the middle of one of the world's great metropolises. Even if it's 4 a.m., it's still vibrant. I'd been dreaming about having a place like that since I was 16. It's our HQ, our rehearsal room, our storage space and our studio all in one place. The fact that it's in the center of Manhattan blows my mind.
How important has it been finding your full-time engineer, Claudius Mittendorfer?
He's incredible — such a mellow can-do personality. Any wacky idea and he'll figure out how to make it sound good. He's very meticulous getting sounds, but is still fast and always calm. He's doing all the mixing and he's great at that too. We met him when he was assisting Rich Costey [who mixed Meltdown], so he's really learned from the best. When we were looking for someone to record our last album, we heard that he'd just moved back to NYC too, so we tried him out and it worked so well. He's done great work on recent albums by Muse, Franz Ferdinand, Interpol and Brand New, so we're lucky he dedicated a lot of time to us over the last couple of years. We've done a lot of mix recalls, and he's got a great, fast system for that. It's good 'cause we're real last-minute tweakers.
He brings projects into our studio too, and is building up a cool client list for us. In the last year we've had The Academy is..., Amazing Baby, HEARTSREVOLUTION, Chapel Club and Interpol [issue #43].
"We're doing a subscription service, which was something I really wanted to try. It's $20 for all 26 songs and we've been throwing in bonus tracks and podcasts as well."
You announced you're never recording another album, but instead will record and release a series of 26 singles in one year. You like pressure, right?
Yeah, so long as it's a healthy pressure! One of the big impulses to take on such a project was that it would be a major challenge for my songwriting. The idea of doing another album was not inspiring me at all. Ever since I'd realised how easy it is to distribute music online, I've been thinking people have only just started to scratch the surface of this new medium. There were a few reasons I got down on doing another album. I always found it frustrating that two years of work would come out in one blast, and those 12 songs would end up being your only output for potentially three years, depending on how much touring you'd do. It's an entirely inflexible product, and if it doesn't connect with people then you've got a long time to wait until you can try another approach. When I'd finish an album, my creativity would normally be in full swing and I'd be raring to get back in the studio, but would know it would be a long time until I could record again. When the album would get released and feedback from fans would start coming in, I'd always feel inspired and would want to get straight back to recording too. We've recorded the majority of the new singles up front so we don't fall on our faces, and we're just about to do another session to get the final songs. It's been liberating to not worry about all the songs fitting together like an album — in fact we think that the more varied the songs are and the more surprises they contain, then it's going to be more interesting for our fans. We've had some amazing feedback from our fans — they're loving the fact that they're getting a song from us every two weeks for a year. We're doing a subscription service, which was something I really wanted to try. It's $20 for all 26 songs and we've been throwing in bonus tracks and podcasts as well. It's a scary time with our industry being so down already and a recession on top of that, but it's also an exciting time for trying new ideas!
It seems like you've re-invented your sound, now awash with multi-layer vocals, electronic elements, blistering synthesizers and occasionally no distorted guitars!
A big part of it was the freedom of not working towards an album. It was inspiring. We've developed a sense of fearlessness and will try anything out. We did one song on 4-track cassette and it sounds brilliant. I would have been way too uptight to have done that a few years ago. Another factor was having our own studio and the time to try all these ideas out. We've been around for a long time now, so we figured we've got to surprise people. People tend to put you in a stylistic box and take you for granted when you've had long career. It's fun to confound people's expectations. We have a positive attitude, a lot of experience and are in a new situation where we don't have a label trying to tell us what to do — we are the record label. We finished our deal with Warners after our last album, and in the face of diminishing record sales are trying to figure out a way to survive and stay inspired and keep doing the thing we love most in the world, which is making music.
Tape Op is a bi-monthly magazine devoted to the art of record making.