Steve and I interviewed Mike McCarthy in 2009. Somehow four years went by before our Austin issue came together. So here's our chat from 2009, and realize that Mike has gone on to do even more records. -LC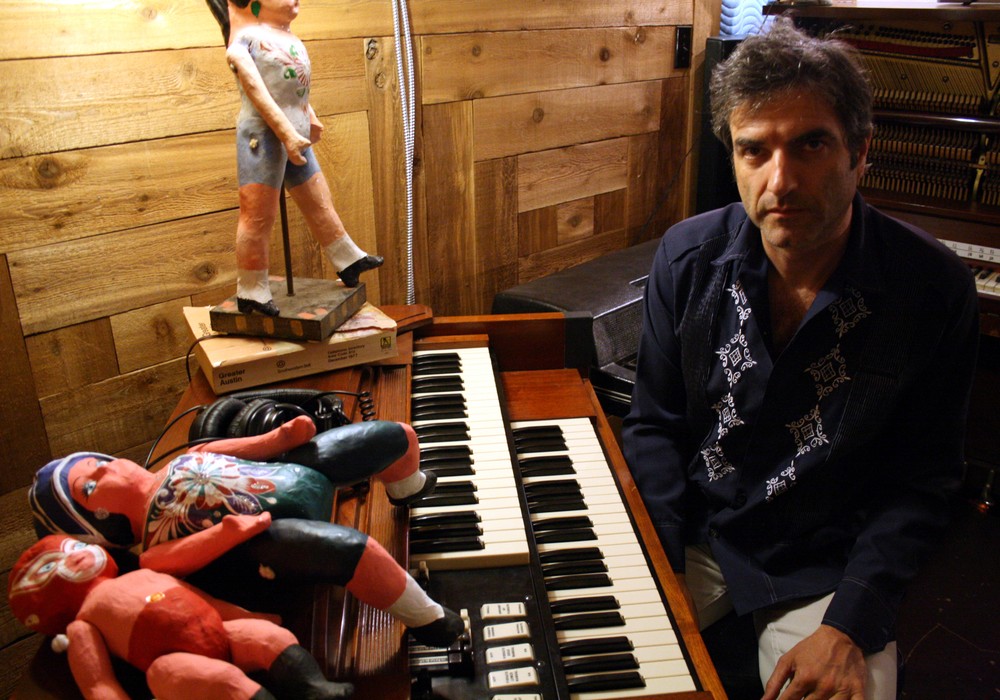 Mike McCarthy first came to my attention when he started working with the band Spoon [Tape Op #27], for whom he has produced four albums. Mike's produced five albums with ...And You Will Know Us by the Trail of Dead, plus albums with artists such as Patty Griffin, Heartless Bastards, Dead Confederate, Wild Sweet Orange, Alberta Cross, The Sun, White Rabbits, Crooked Bangs, Girl in a Coma, and AM Taxi. His career began many years ago, as we shall see below, and it might not be a very typical path that led him to Austin, Texas...
What were the Patty Griffin sessions like [for Children Running Through]?
All in all I accomplished what I'd set out to accomplish with her. I would have loved to see it go further, but I think Patty was into where it went. I feel like I did accomplish the main goals I set out to do, which was to really capture her and not make it sound like she's a little piece in the puzzle. I think the record makes her come out as the outstanding singer and serious songwriter that she is.
She's strong, more intense and more the center of a good live show. Some previous records just seemed too straightforward to me.
She had written those songs on her own and worked really hard on them. I didn't really suggest to her how to sing or what the lyrics should be. It was more like trying to capture her "old school" — like it was an Aretha Franklin album. To try to get the musicians to work around her so they're not getting in her way, to do something cool and supportive, be there when they need to be and not when they don't. I had to work backward a lot, have her go out there with her guitar or a piano and sing, get her take and then have everybody play to her afterward.
Do you think you'd work with her on another record?
It's gonna be up to her. The thing I presented to her was, "Wouldn't it be cool if we did an old school record like a Frank Sinatra recording, and really worked these songs out with you and I and an arranger?" Just cut it live with rhythm section, strings, horns and piano — just top notch players and have her out front — at a killer studio.
How did you end up with your studio space? This is an old '70s studio.
It was originally built as a sound-for-film studio here in Austin. I have been told that The Texas Chainsaw Massacre was done here. I wound up back here after the short time I was in Nashville again working on records and collecting equipment. I would be flying or driving [to Austin] to work with Spoon or ...Trail of Dead and going to New York or L.A. I came back here to do a record with Fastball. I started talking to ...Trail of Dead and I was like, "We should just find a space and make the record in Austin." We did pre-production and put the studio together simultaneously. We produced their whole album, Worlds Apart, in here, with the exception of a few overdubs at [Jack Rock's Treefort Studio] and mixing at [Brooklyn Recording]. I knew there was no way we could go into a studio, as Conrad [Keely] had completely changed his writing style for the band. There were few 4/4 songs. They were all odd time signatures, and he orchestrated all this shit. They couldn't play it as a live unit like the previous record. I wound up bringing a second drummer in to play on the album. His name is Doni Schroader. He played on the Heartless Bastards album I produced here as well. We were having to create all this stuff and I thought, "There's no way we can go into a $1000- or $1500-a-day studio and work this shit out." Sometimes we would spend an entire day just making the elaborate tempo map and click track for a song. I did [Spoon's] Gimme Fiction after that, mostly at Jim's studio [Public Hi-Fi], but I took lots of my gear there. I went and made a couple of other records while ...Trail of Dead used this as their rehearsal space, plus my storage space and sometimes studio. We made their So Divided album in here. Then I took my stuff and moved it to a house to do Patty Griffin's record, and then moved it back here again. Patty and I then went to Nashville's Ocean Way Studios and did strings, horns and mixing. I like going there — not for the vibe or anything, but for that Neve console and the control room they have. I feel like when I push up the faders it's like, "Yup. That's what I wanted." I mixed Spoon's Ga Ga Ga Ga Ga there as well. But then I was like, "I want to come back to Austin and make this place my full-time studio." ...Trail of Dead moved their stuff out, and they didn't want to be paying rent because I was using it all the time. I fixed it up, painted it, tried to make it a little bit cooler for people coming in to record. I've been working in here nonstop for the last three years. I haven't really worked anywhere else since.
Has this place been good for you as far as having a pretty low overhead and equipment that's paid for?
Yeah, still I would like to have my own place where I actually live or [was] real close by. Paying for a place to live and a place to record separately — I don't know. The expense is adding up. I would like to consolidate the situation.
You mentioned earlier doing projects in New York and L.A. What kinds of projects have you done in those spaces and how did those come about?
The same bands we've been talking about. I did a few projects in New York with Billy White, whom I had play bass on the Heartless Bastards album. The New York studios I was working at were Magic Shop [Tape Op #66] and RPM. Do you know Andy Taub? I've mixed five records at his studio, Brooklyn Recording. I haven't been there lately, but would like to.
Tape Op is a bi-monthly magazine devoted to the art of record making.