Steve and I interviewed Mike McCarthy in 2009. Somehow four years went by before our Austin issue came together. So here's our chat from 2009, and realize that Mike has gone on to do even more records. -LC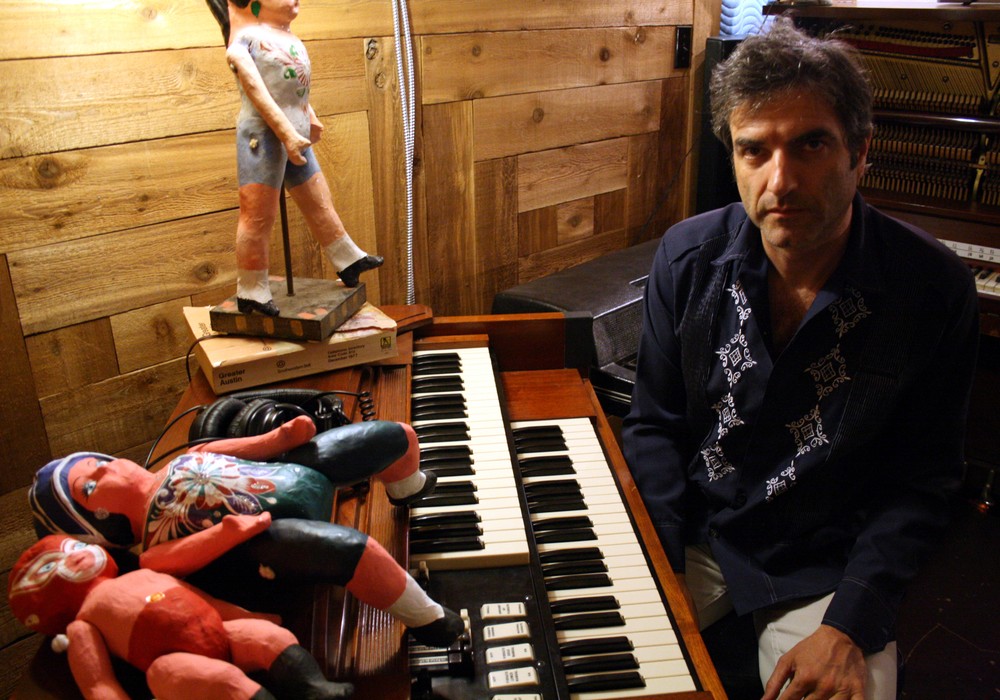 Mike McCarthy first came to my attention when he started working with the band Spoon [Tape Op #27], for whom he has produced four albums. Mike's produced five albums with ...And You Will Know Us by the Trail of Dead, plus albums with artists such as Patty Griffin, Heartless Bastards, Dead Confederate, Wild Sweet Orange, Alberta Cross, The Sun, White Rabbits, Crooked Bangs, Girl in a Coma, and AM Taxi. His career began many years ago, as we shall see below, and it might not be a very typical path that led him to Austin, Texas...
Mike, where in the hell did you come from?
I grew up in Cincinnati, Ohio. I always wanted to be involved in the making of rock records. I was a huge Beatles fan — a fan of rock records in general. I had some friends that were moving to Nashville. I didn't really think about it being the country music capitol at all. I was ignorant. I was like, "I can go to school, try to get some kind of normal degree and be in music." But I really had no intention of going to school, ultimately. That would have been my parent's wish. They were not necessarily thrilled with the idea of a career in music for me. I went to Belmont [University, in Nashville] for one year. A lot of the people that are executives at Nashville record labels and publishing companies went there. Famous country singers went there. All of these born again Christians that were in the dorm where I stayed were convinced I was the devil and that I had a poltergeist in my room. I was in a metal phase at the time. Iron Maiden was my favorite band.
Nashville is its own world.
It was so weird for me. The South was major culture shock to begin with, along with the Belmont weirdoes. I got lucky and was hired by an upstart [publishing] company as an in-house engineer and tape copy person. They also decided that they were going to have a record label. They had a simple 8-track studio with a Soundcraft board and a Tascam tape machine. They had a couple of groups they had signed to the label as "college rock bands," and Vanderbilt had a killer radio station there, so I started to learn about R.E.M., The Replacements, Jesus and Mary Chain, Kate Bush, Sonic Youth, Jesus Lizard and all the 4AD groups, etc. This situation was attributable to my long-term connection to what many now call indie rock. I had bands come in and do country demos during the day, and at night I would record friends of mine. I got hired there when I was 19, and it was over when I was 23. They then sold the company to BMG and let everyone go. I think I pretty much stayed there from 9 a.m. to 1 a.m. every day. This was 25 years ago.
You learned a lot though, right?
Yeah. I thought, "This chance is never going to happen again. I have to take full advantage of it." They wanted me to make demos. I was being paid a salary to learn all this. I'd be hiring who I thought were the cool players, who are now the top session guys in Nashville. I had an 8-track and had to get it all submixed on the fly — you'd have to record five songs in three hours. I didn't know how to record drums or anything. I just learned all this stuff on the job. That's when I first got into compressing the overheads on drums and really compressing vocals. These were things that I came upon by experimenting and liking the result. I had to have the drum mix set on the fly. So if you wanted reverb or gates — and that shit was big in the '80s — you had to do it while the performance went down — no going back and adding it. I learned how to program drums (on the LinnDrum) and record live bands. We eventually got a 16-track, and were allowed to hire Fairlight operators for sequencing. After that gig was over, I became independent and worked on any session I could do there.
Some people might not know that session lengths are dictated by the unions in Nashville.
I had to deal with union cards, which you don't have to deal with too much now. I had probably two union sessions last year. Big string sessions in Nashville were weird too. They're always taking breaks. So much setup and so much tear down — so expensive, and they're there for very short periods. I got to see all this stuff that was pretty beneficial for me....
The rest of this article is only available with an archive subscription or by purchasing back issue #94. For an upcoming year's free subscription, and our current issue on PDF...