Rock is dead. At least the big business of rock 'n' roll, that is. But big budgets, unlimited studio time and total indulgence still exist in the hip-hop and pop worlds. And where there's money, talent is sure to follow.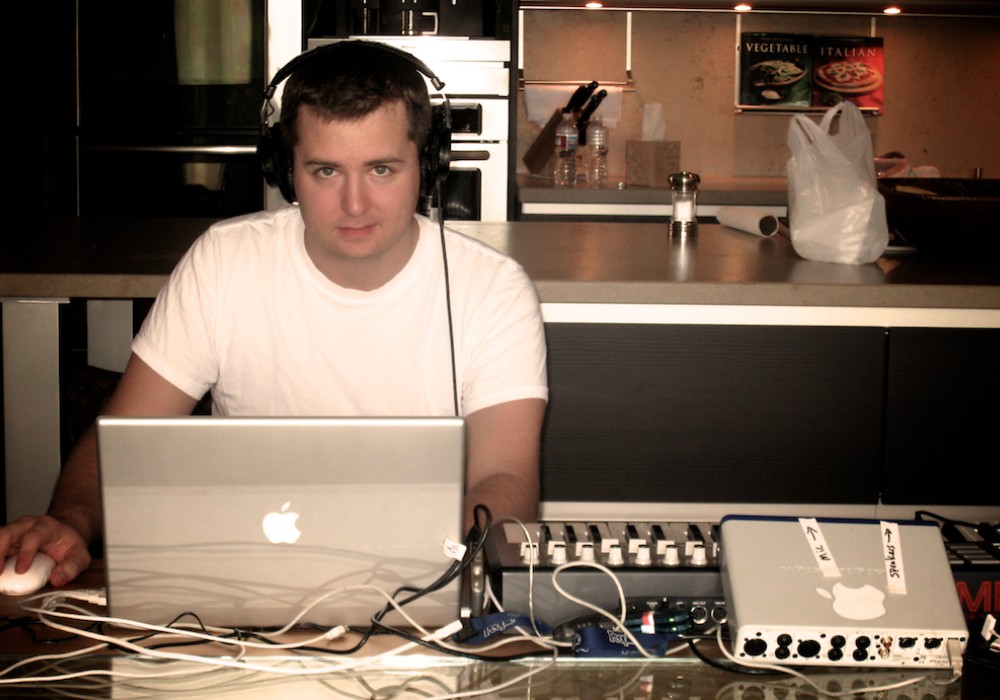 Andrew Dawson, the 29-year-old producer/engineer/mixer, has made quite a name for himself in the past few years. With Grammy Awards and nominations, and credits on hit albums by Kanye West, John Legend, Ne-Yo, Beyoncé, Common, Lil Wayne, Jay-Z, T.I., Michelle Branch, P.O.S., Fun, POP ETC, and the Pet Shop Boys' new album Elysium already under his belt, Dawson is now making the leap to full-time producer in perhaps the last area of the music industry where there's still big money to be made doing that work. But Dawson deserves it, too.
So you're in Los Angeles?
I live in Los Angeles, and my studio [SoundEQ] is in Hollywood. I moved out here about four years ago. I feel I was at the lead end of the exodus of everyone in the studio business who left New York City. I know Tony Maserati and a few others have made the transition in the last year or two. It's necessitated by expenses and overhead. New York is crazy. There is still the work to be had, but New York can't support the lower budgets.
Tell me a little about how you got into engineering.
Well, I had a mom who diligently took me to piano lessons from when I was five years old. I did the whole classical music piano thing, proper training; and I went pretty much 'til I was done with high school doing the music thing. I really got into recording when I got an Apple II and started messing with Cakewalk and Digital Performer — super early versions! I remember getting a 4-track cassette recorder, which blew my mind. It had like three bands of EQ! My high school set up a program for me when I was young, like 16 or 17, where I got an internship to work at a studio in Minneapolis. I was coffee boy, errand runner, bathroom cleaner, and toilet scrubber. The cool thing was on downtime, like over the holidays, they gave me the run of the facility and I recorded projects. I also had a gig doing live sound for the City of Minneapolis, doing all their live outdoor concerts.
And what kind of music were you working on?
Doing the live sound I had everything from Tabernacle quartets to full symphony orchestras to scream bands. It wasn't like I only grew up listening to just hip-hop or only rock. I listened to jazz, hip-hop, rock, metal, alternative, and classical. It doesn't really matter what kind of genre to me, as long as it's good.
What was the next step?
I went to college at Berklee College of Music, and while I was there I continued doing the live sound thing to pay my tuition and rent. Through one of my live sound gigs I met a guy who worked for Lexicon. I got a job working for them as a tester, and then moved on to the marketing department working on their 960L. I had a musical background, but that really honed my technical chops. There are certain protocols and procedures that need to be followed; test every single patch, preset, and knob. While I was working for them, I got an interview with Zoe Thrall, when she was managing Hit Factory in New York City. A week after I had an interview with Tony Drootin, who managed Sony Music Studios. I had a decent job at Lexicon, and I was like "No, I'm not going to move down to New York City to be a runner." Maybe it was arrogant of me, but I went into the interview and made it known in both places that I'm really motivated, I'll work really hard and learn, but I'm really not interested in sitting and getting coffee for another year or two years. Tony said, "I can't guarantee you will be assistant right away, but I'll put you on a fast track if you can learn the rooms and learn the facility." Sony in New York City had to have been the most complex facility I've ever seen in my entire life. I moved to New York a week or two later — after September 11th — and it took me about two months from that point to where they put me in assisting. Clients and engineers started asking for me. I started being asked to engineer, or take over, sessions. After two or three years it became apparent that I was engineering all the time. I quickly realized that the next step was to go freelance. It became a very easy, obvious decision, because I hadn't worked for them directly for about six months, even though I was on the roster as being an employee there.
And what kind of sessions were you doing?
That's the cool thing. I was working with everybody from Harry Connick, Jr. to Our Lady of Peace to DMX to Aerosmith all the way to Outkast. There were so many rooms in that facility that I got to learn from so many different people.
You really hit the tail end of that world.
I'm lucky I hit it when I did, because I hit at the tail end of analog and I caught the beginning of digital. The budgets were still there. I don't feel a lot of that happening these days.
It sounds like you started developing relationships.
I think that's the way it's been my whole career. Developing a relationship with people doing live sound in small clubs in Boston, turning that into a job at Lexicon, and then turning that into interviews with Sony and the Hit Factory. Then I turned that into relationships with artists. Doing a good job at each and getting noticed lead to me being asked to do more.
So what was the key once you went freelance?
Being able to follow through with good mixes and good engineering. A lot of the artists that I work with want somebody who's talented at what they do, who's on point, who shows up to work on time, takes care of business for them, and does a good job. It's like any other job. I try to learn what each artist. producer or client likes, and be aware of it and try to cater to each client. You can't be flagrantly, "This is the way I like to do it." I probably wouldn't be nearly as successful today if I did it that way.
What was the first record you worked on that you felt had your mark artistically?
I would say the first album that I really got to dig my hands into as an engineer/mixer was Common's Be. I love that album. That was a really fun album to do. Kanye [West] did a lot of that album as a producer.
What pieces of gear came into play?
I got to go try five different [Neumann] U 67s and all these different mics to find the one I thought really worked for Common's voice. There were one or two particular pieces of gear that I got from rental companies that worked really well, and I would mark the serial numbers and be sure to have those every time. There was this one [Universal Audio] LA-2A from Dreamhire that I offered an absurd amount of money for, way more than they would get on eBay. They wouldn't sell it to me because they knew I was hooked.
Were you working in big budget studios?
I've always been a big budget/big spaces guy. I had a home facility when I lived in New York, but it was mainly for editing and a little bit of production work; like some rough mixes before I got started in a larger facility to get everything in order.
More for housekeeping?
Yeah, exactly. Not your everyday tracking session.
So from this you developed a relationship with Kanye.
Absolutely, yeah. I think it was Common's session when we first started working together. But I think it was also when Kanye started working on The College Dropout at the time, his first album. We started working together and we got along right away. We would be there 12 to 14 hours. We would be done, but I would still stay and do rough mixes, even though no one would ask. I would press on and make sure they sounded great for the next day. That's a continuation of what a good assistant engineer would do. It's like figuring out what people want to do the next day, and where they are going to go next. He really liked the way the rough mixes were sounding. We work well together; we got a lot done. We worked on a lot of great albums together. Since then I think Kanye has been like, "Okay, I'm ready to go work on another album. Let's see what Andrew's up to."
Are there pieces of gear that helped you achieve the vision you had for a project?
I feel like over the last five or six years it's changed so much, gear-wise. But I got really hooked on the TUBE-TECH gear early on. I had a lot of luck with the MP 1A preamp. I put it in the vocal booth with the microphone, because I bounce from facility to facility and I don't know whether they have a 30- or 300-foot cable run. Since there's so much headroom in the MP 1A, I usually put it up one or two clicks on a [Neumann] U 67 or a [Telefunken] ELA M 251 and set it and forget it. Occasionally the mics are quiet and I step it up another notch or two. For compressors, I've had a lot of luck with [TUBE-TECH] CL 1Bs. I love LA-2As; I got hooked on them. But the problem I've found from working facility to facility is that one sounds off and the other is distorted junk. The CL 1B gives me the same LA-2A vibe on super slow releases. It's not old technology. A lot, for me, is consistency; that I know what I'm going to get. I'll change stuff up here and there, but there's always my go-to thing that has always worked really well for me and that I always use. I love the Manley Massive Passive EQ and GML 8200 EQs are awesome, too. They're also ridiculously expensive — it's really hard for me to buy a rack of those.
There's often an orchestral sense to your backing tracks and some very old school panning and such.
The interesting thing is that when I go to mix I've always loved that super-aggressive, mid-range mixes that the Lord-Alge brothers and Andy Wallace have. But that being said, that's not how my ear goes. My ear goes for that extended top and bottom. I like it separated. I love the super clear, upper mid-range, lower high-frequency range, especially with vocals and instruments. I love to have that definition in the 3 to 8 kHz range, and I like to have that super crisp pop on 2 kHz without overdoing it. I like to hear everything. I like something to poke out. When I mix, I feel it's either going to be in there or it's going to be completely out. Instead of having a lot of instruments that have a low end, I'll have one instrument that has a lot of low end and it sounds extra special. Kicks may not have a lot of bottom, especially in a Kanye production. The kicks have tons of mid-range in them, but there's not a lot of extended bottom at all — you've gotta get that bottom somewhere else. Maybe it's a bass. I think one of the mixes you mentioned was "Hey, Momma", and I remember when we talked about mixing it, he wanted to get most of the bottom off a simple 909 kick drum in the song, and I was like, "Hell no." There's a LinnDrum patch he's playing, and I was like, "That's where we get the bottom, that's the driving kick." The other one is the background, where it's a a high-hat pencil holder thing where it's got the midrange knock. So, rather than trying to get bottom out of that, I was like, "Okay, our only thing that's going to have the big bottom is going to be this LinnDrum, and that's going to be the feature." And mixing-wise, to me, it's more impactful to pick each instrument or each thing that's going to have that feature in that area, in that frequency range, whether it's in your face or maybe it's super reverbed out... one unique aspect thing.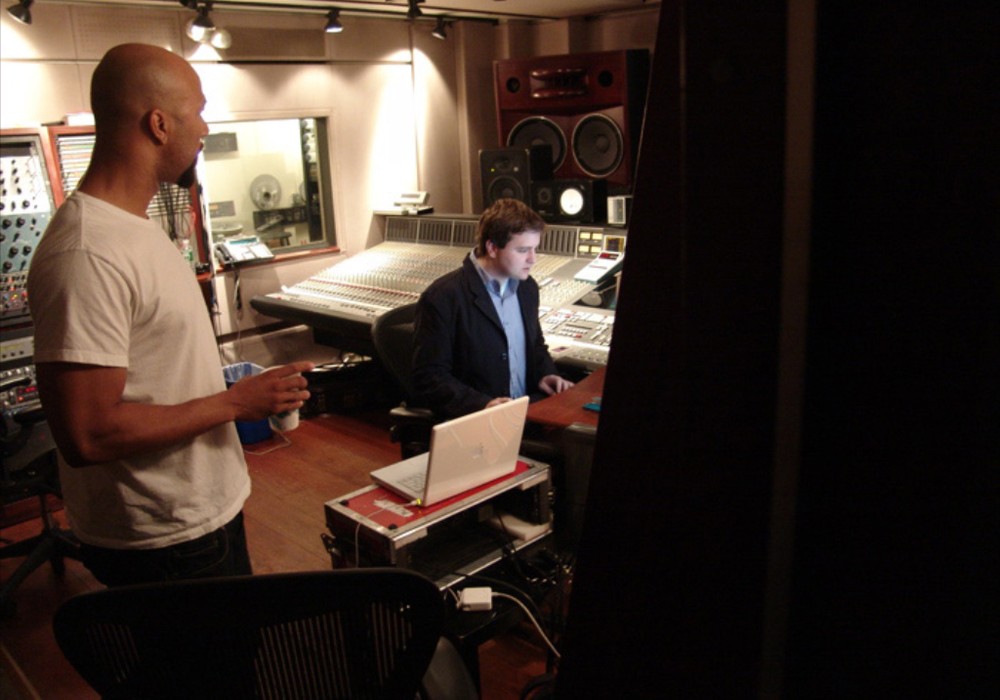 That's a continuation of what a good assistant engineer would do. It's like figuring out what people want to do the next day, and where they are going to go next.
Where do you take it from here?
I mean, My Beautiful Dark Twisted Fantasy is an awesome album. I spent the better part of six or seven months working on the album, every day.
And, did you work on that at home? In your own space?
We were at a studio in Honolulu, Hawaii, and I did some of the mixing at Platinum Sound in New York City.
What are the studios like in Hawaii?
Avex Honolulu Studios [now Island Sound Studios] is the largest studio I've ever used. They have a 112 input SSL 9000. The studio manager there is awesome; this guy named Gaylord Holomalia. He is amazing, totally caters to clients, and he gets it. He can run a studio like Troy Germano ran the Hit Factory. It's great working there on a big album like Kanye's. People like Kanye and the other big guys want to come out there and camp out for a little while.
Sure.
It's a beautiful facility. They have a lot of great mics and gear. Studio Bau:ton did the build out. It's in a private marina right off of Honolulu. You can't beat it for working on an album. That being said, I didn't get to chill that much on Hawaii. I was pretty much working the whole time. So that was a huge album. The bar has been set. I've been working a lot this year — I've been swamped with production offers. It's been a little different than your typical pop/hip-hop sort of thing, where I was actually approached to produce entire albums. That is strange for a modern rock or pop or hip-hop sort of thing. Usually you have a different producer on each track. You have Dr. Luke doing three tracks, Rodney "Darkchild" Jerkins doing one, and someone else doing another. But it's a cool thing to be, the overseer of a project.
Is there anything in that that you can talk about?
There are a few projects that I can't talk about that are in the pipeline that I can't mention until the T's get crossed and the I's get dotted.
Are you staying more in the hip-hop genre?
I really love mixing, so I'm going to continue doing that. A few of my regular clients that I work for; I'm not going to name names, but I'll be mixing albums more for a few of my regular clients that I've mixed for before. The interesting thing is they're cool with me doing it and I don't happen to know many other mixers who do this, but I'm a little more involved as a mixer then most. I'll do a little light production. I'll change kick drums. I might change arrangement patterns. Maybe I'm not feeling a certain live drum pattern and I'll change it. Say I really don't like a vocal part, I'll take it out and let it rock right here so the backgrounds can come in. The artists are open to my input, but if they say, "No, I don't really like it" I'm more than happy to leave it the way they had it. I definitely want to keep doing more of that.
When you mix, where do you prefer to do that?
It partially depends on the track. That being said, I really like — and I'm not selling my facility because it's not available to the public anyway — but I really enjoy listening and mixing at my studio in Los Angeles. I lucked out. When I came into the room it was a brand new build-out, and they needed someone to move in and put in their own gear. It worked out beautifully for me. I was able to walk in and the room translates beautifully. I'm at the point where I'm confident in sending out mixes without checking them in my car or checking them at home. I'm confident enough in the room and in my speakers and everything. I've had great results in my mixing facility.
Can you track there as well or is it just a mixing facility?
No, I have a lot of room. It's around 1,100 square feet. Not gargantuan, but it's certainly big enough to do groups or bands and drums and such. But I mainly mix. I mean, that being said, I like mixing on a SSL or Neve 88VR in a few rooms around L.A. and New York. I like working at those facilities as well if the budget allows. In my facility I'll use summing mixers or in-the-box and/or outboard gear; a hybrid system. I do not have a board in my studio. It's all racks of outboard gear. I thought about getting a board; I'd love a neat sidecar. I treat it like stereo stems and run it through a Manley compressor. I like those NTI EQs with the AIR BAND at 40 kHz and the sub-band at 10 hertz. I use a lot of Waves plug-ins. I love their Platinum Bundle. I love the Sound Toys plug-ins — I use their stuff like crazy. I probably don't use them the way they was intended to be used, but I'm sure they love that. I'll put their EchoBoy across all my background vocals, I'll set the delay to zero, 100% wet, just run it through. I won't use it as a delay, I'll use it as a filter. On the right side of the EchoBoy you'll see all the presets. You can run it through telephone or FM Radio or something, and it may have the FM Radio pre-set sounds, like the same as if you ran it through the Dolby SR hardware unit that would give a cool, weird flanged sound. I use a lot of guitar plug-ins. Like if I want that line to sound bigger, I'll add an octave up or an octave down.
Did you mix Kanye's record at your place or did you do that in a big studio?
I did that at Platinum Sound. I mixed three on this new one. You know, the mixing process on this album was very much a team effort, which is very different from the way a lot of people work with engineers. Myself, Mike Dean and, to an extent, Anthony Kilhoffer, we were working the project like a team on that end. I would come in and mix the vocals, and Mike would come in and tweak the bass. I believe in the credits it's interesting seeing two people credited on a mix on an album. That was cool because we thought to add ideas. Mike would be, "No, too much bass," and I would say "but what if we try this?"
Tape Op is a bi-monthly magazine devoted to the art of record making.