In 1910, at 38 Köethner Straße, the Builder's Association of Berlin [Baugeschäfte] began construction on what would eventually become an architectural neoclassical masterpiece. Completed three years later, it housed many offices — including their own — and even the influential, and controversial, Malik-Verlag publishing company and bookstore. But at the heart of the building was the exquisite Der Meistersaal, or "Master's Hall." Concerts and readings were regularly performed in what became an important hub of the Berlin arts scene. During the Second World War, the Nazi's Reichsmusikkammer used The Hall for propaganda concerts until 1943 when the rear wing of the building, along with the rest of the neighborhood, was destroyed by a bomb. Thankfully the Meistersaal was spared. It remained empty until a post-war attempt to revitalize the space started, and then halted, when Köethner Straße, once located in the center of a thriving, artistic city, found itself on the front line of the Cold War in 1961. Just 150 meters from the front door was the border of East Germany, and eventually Die Mauer — the Berlin Wall. The street, and the once glorious building, sat in disrepair overlooking the grim No Man's Land that was the gateway to East Germany. It occurred to the label Ariola Records that such a hall, which had unintentionally found itself in a rather quiet neighborhood owing to it's now undesirable location, would be the perfect place to record their growing roster of artists. "The Great Hall By The Wall" began it's new life as a factory for German pop music in 1964. It would eventually change ownership over to the music publishing power family, the Meisels, who would locate their now famous Hansa Tonstudio in the building.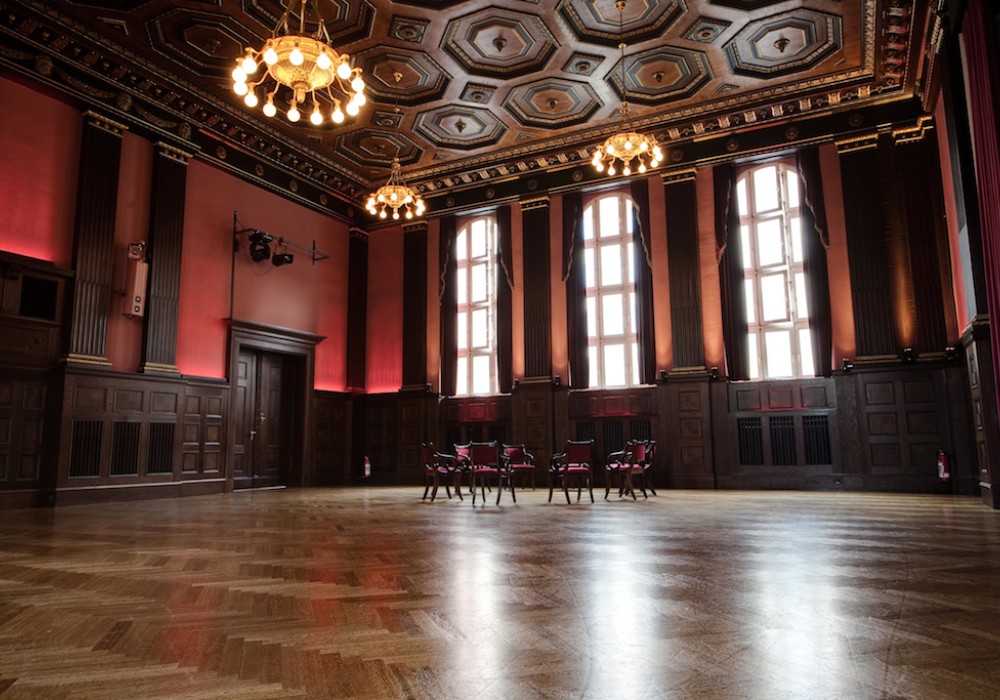 There's probably not enough room in this magazine to list the seminal releases that have been made in the legendary space, but U2's Achtung Baby, Iggy Pop's The Idiot and Lust For Life, REM's swansong Collapse Into Now, David Bowie's "Heroes," and other parts of his "Berlin Trilogy," are only a few. (The cover of David Bowie's recent record, The Next Day, is a Dadaist take on the album art of "Heroes," and its single "Where Are We Now?" is a love letter to the city where he did some of his best work.) Nina Simone, Depeche Mode, Nick Cave, Supergrass, The Pixies, Tangerine Dream, Killing Joke, Nina Hagen, Marillion, Siouxsie and the Banshees, David Byrne, opera superstar Luciano Pavarotti, Herbert Grönemeyer, and even the much maligned Milli Vanilli, also worked at Hansa over the years. The studio is known for being an experimenter's paradise, but it's also a private space where artists can work in peace, which is why I felt honored to be invited into the studio by engineer/producer/studio director Alex Wende to learn more about its history and what makes it so special.
How did Hansa Tonstudio get started?
The two Meisel brothers [Peter and Thomas] started Hansa Musik Produktion company in [1962]. They wanted to record German artists. Before Hansa was in this building, the big hall downstairs was the old Ariola-Eurodisc Studio — since the late '50s or so. They did a lot of classical recording. The Meisels would ask to rent space here when they worked on their own productions. First it was two or three artists, then five, then ten. It became more difficult to book space, so they said, "Okay, we're successful and we have the money; let's just build our own studio." That was Hansa Studio One, near the Victory Column [in Tiergarten, Berlin], which was at that location for about nine years. Around 1974 they asked if they could buy this building. Ariola said, "Fine, buy it and take over the studio." They had another place, in Munich I think, so there were no problems between Ariola and the Meisel family — it was all very friendly. So they bought it in '75 and started working in the old Ariola studio, which they then called Hansa Studio Two because Studio One was still operating [across town]. The building was still damaged from The War; the only working part was the former Ariola studio downstairs. David Bowie and Iggy Pop came to Berlin in the '70s, and made a few records at Hansa. They later closed the studio at the other location and literally moved it here, piece by piece. They took all of the wood, the acoustic absorbers and diffusers, from the old Studio One, and then put them in here. They didn't finish that until '79; they opened it in 1980. Same acoustics, the same architecture — it looked like the [old] room but with different gear, and a different desk. It was a very good time for the studio, because a lot of people around the world heard these productions and thought they should use Hansa too. That led to [booking] problems, because they only had two studios and a mixing room. They couldn't meet demand! So Studio Three was added around '82. It was on the ground floor and was very nice-looking, but... difficult with the sounds sometimes.
What made it difficult?
Depending on the amplifier or guitar, you had to [constantly move] to avoid a terrible hum. The next time, same position, there would be a hum, but none where you had been before. We thought it was something in the ground or in the ceiling; maybe an old cable from who knows when. We never figured it out.
You never fixed it?
Nope, and it was difficult to record guitars downstairs because of it. In 1993 Thomas Meisel decided to close Studio Three, leaving the other two.
What were the other recording options in Berlin when the Meisel brothers started the studio?
I think a few of the bigger record companies had studios in Germany. Ariola [part of BMG today], of course. Teldec [a Telefunken and Decca collaboration] had a big studio that is still around, but it's called Teldex now. In the '70s there was Audio Studio, but there weren't many.
Were people going abroad to record?
Not really, because for Germany that was the beginning of the modern recording era. It was rare for a German band or a young artist to make a record. It was mostly classical music up until then.
So Hansa filled a new need?
Yes, I think so. Things were changing, and [the Meisels] needed much more time than the studio here could offer when it was running under Ariola-Eurodisc. Once they owned the building they expanded; they even added a training studio. When they got the bigger, better desks — like the old Neve and, later, the SSLs — they had a practice studio in this building with the exact same desks so all of the engineers and assistants could have a chance to learn before working on real projects. It was a luxury.
You don't see that anymore!
Right! Today the [former] training studio is rented out to [German producers] Jack White and Peter Wagner. They do very successful productions with German Schlager. [Note: Schlager is a form of sentimental pop, rooted in German traditional music, which is extremely successful in Northern Europe. Millions of records have been sold annually since the '50s.]
Is Schlager still alive?
Yeah, and it's what made Hansa rich in the old days. The Meisels started with Schlager; now they're up to the third generation — the son of Thomas Meisel, Sven, is the boss today. They found all of the famous German Schlager stars and everyone made millions. Monday recording, Tuesday mixing, and by Wednesday on the charts, you know?
It's something most Americans are completely unaware of. I saw a documentary about how Kosmische Musik ["Krautrock"] was a reaction to Schlager, and quickly learned how huge it was.
Absolutely! The roots of Schlager are quite old. Thomas' grandfather started the distribution and publishing company [Edition Meisel & Co. GmbH]. It's still the biggest independent publishing company in Germany. It was founded about 85 years ago. He published all of the music from the old German movies from the '20s, '30s, and I think during The War, too. You know, songs about how "everything is fine, let's be happy, the flowers are yellow and things are super." That's how it started. They added drums to it later. Around '63 the professional, bigger music production style came along.
That's when it actually became "Schlager," as we know it?
Yeah, and it just got bigger. A guy who worked here back then said it was crazy. You would do a record, and a week later it would be in all of the [jukeboxes] around the country — including every dance hall and restaurant. That meant at least 50,000 copies of your record in those places alone; not to mention they were also the top-selling releases in record stores.
After mastering, they would be able to get 50,000 copies pressed and distributed that fast?
Sure. It was a huge business, so they had it figured out. A guy who is working in [what used to be] the old training studio today wrote songs for Shirley Bassey and Frank Sinatra. He's been involved in the sale of over 160 million records. It was totally normal to have at least one million copies [certified platinum] of a Schlager single in the '60s or '70s. They made so much money it was unbelievable. A former manager told [me] about the time they went to Great Britain to buy two big SSL desks, but the Hansa guys didn't like the color of them so they had three made in a special blue color. Two of them are still in the building — one of them was sold later. Later SSL offered "Hansa Blue" in their catalog but I don't think anyone bought one. I think this one [points to 64-channel desk] was 1,400,000 Deutsche Marks in the old times. That's about 600,000 Euros [$800,000 USD]. I often talk with the old guys about the gear that they had back then. The microphone collection was much, much bigger. We had six of the Fairchild 660s [limiters] and at least three or four of the 670s. If you want to buy an old 670 today you have to spend $40,000 each. There's still so much great gear in here though. Most of it is from the late '70s and early '80s, and we spend a lot of money keeping it in good shape.
Who made the equipment purchasing decisions when they were originally building the studio?
Eduard ["Edu"] Meyer, who was both an engineer and musician. A few other house engineers also decided what gear to buy. I think they went to London to have a look around Abbey Road, for example, to see what they used and what we needed for Hansa.
What was the gear availability and distribution network like back then?
Even now the studio situation isn't like London. If I need a bigger Neve rack, with ten preamps, I can't just make a call and say, "Send it over." We could call Michael [Ilbert], who has a studio in this building, ask four or five times and he might eventually say, "Yes." [laughs] If you rent a studio here you're renting everything in the space and in storage. That's all part of the deal. That's the difference compared to studios in Great Britain or even in the US, I think, where you might rent a room and a desk but everything else is negotiable. Five years ago I worked at Abbey Road for the Philharmonic Orchestra, and as I asked for a few things on top — some API EQs to put between the microphones, the drums, and the Pro Tools system. Someone was next to me writing down everything I needed and working out the cost. It's not like that here. We have a 48-track in/out Pro Tools setup, the desk, all the gear you can see, plus all the gear we have upstairs. We also have two EMT [plate reverbs] connected to the studio — one is a very famous gold- foil EMT plate. We have Clavinet and Rhodes [keyboards]. If you rent the studio, you can use all of it. I think that's why we decided to [amass] so much equipment. If nobody else in town had it available for rent, it needed to be onsite.
Once this became one giant facility, what were some of the first big projects to come out of it?
At first, they were all German projects. Peter Maffay, a German artist who has sold so many records [He holds the German record for most million selling albums, with a current total of 14. -ed.] was on of the first. He's also known for his very successful children's records, about a green dragon called Tabaluga. He's recorded and produced all of his projects here. Herbert Grönemeyer, who is probably the most famous artist in German history, still works in this building. Of course, the first big international project was David Bowie, definitely.
How did David Bowie hear about Hansa, and what made him decide to record here?
I'm not quite sure, but I think first he just came to Berlin to check it out, have a good time, and to see how it was possible to live in this city during The Cold War. Berlin had an incredible nightlife. Everywhere else in Germany had a "sperrstunde," — the 10 p.m. closing time leftover from the post-war years when the British and US Army was everywhere. They stopped serving alcohol, and you were expected to go home or you'd get in trouble. I don't know why, but that rule didn't exist in West Berlin, so things were happening 24-hours a day. I think that was why Bowie came to live here. New experiences.
West Berlin was an island.
Yes, you could look over the wall to the East Berlin, which was just... grey. Even the cars were grey. In the middle of this grey country of East Germany was West Berlin: colorful, with nightlife. Whatever you needed you could get there, any time of day. I'm sure all of that was attractive for a guy like David Bowie. Then he decided to come to the studio to make some music. I think he was genuinely in love with the city, and even its problems, because later, after he made the famous records, he got involved with a movie called Christiane F. — Wir Kinder vom Bahnhof Zoo. Jebensstraße, behind the Zoologischer Garten [U- bahn] station, was infamous for the young teens who worked as prostitutes so they could buy drugs. It was just a very dark and dirty area. A movie was made, and he used music he recorded here for it.
You attribute the international interest in the studio to Bowie having worked here?
Yeah, the "Bowie spirit" was the main thing, but there was also The Berlin Wall. It seemed so unbelievable to people. There was a Communist East part, a free West part, and a wall right down the middle. How is that possible? In the '70s and '80s they talked about it all over the world and people wanted to see it up close. For modern-thinking musicians it was exotic to come to a split city like Berlin to make music.
I can imagine it was unique and inspirational.
It's hard to explain. When I first came to Berlin I knew the studio was somewhere in this neighborhood. There was nothing down here but us, a very old building where they tested the Magnetbahn [the magnetic train that connected Gleisdreieck and Potsdamer Platz after the city was split], and The Wall, which was 150 meters away. The great thing was you could do whatever you wanted. Nobody to disturb and no noise complaints! All of the studios [in this building] were wired together. You could run signals from downstairs to upstairs and here to there. One day Depeche Mode sent mixes from the fourth floor down to this huge, 6000 watt per side PA they had set up below in Studio Two; they [cranked it up] so they could get a real "live" reverb. They mic'd that and sent it back up to the mixing room. It was so loud; the whole building was shaking for two weeks! It was a big problem for the staff and other clients. They were like, "Shit, we spent a lot of money to come here! What can we do now?" It was so loud nobody else could work. It was enormous fun, though. There's no way you could do that here today, with the neighbors. Not a chance! It used to be easier to use the staircases, The Hall, and the cellar for echo chambers and reverbs, like Bill Putnam used to do. We did that a lot around here.
When did you first start to allow outside engineers to work at Hansa? Was it all in-house for a while?
In the really old times it was typical to have just house engineers. We've always had guys who know every cable inside and out. If you need them, they are here, but you can always bring whomever you want. Iggy Pop brought its own people — such as Tony Visconti [Tape Op #29]. Later, Depeche Mode brought Gareth Jones. Flood came with U2. They always had an assistant engineer from the Hansa crew as a contact man — someone who knew the studio. There have been some really funny situations in here that couldn't have happened in any other studio. In the '80s when Einstürzende Neubauten was working here, the facility manager who lived upstairs was awakened at three o'clock in the morning because the whole building was completely shaking. He took his gun, went down to investigate. As he walked down each floor the shaking became more intense. He went into Studio Two, and there were the Neubauten guys with one of those huge, heavy machines that levels the bricks when a sidewalk is being built. It was just jumping around on this beautiful, expensive parquet floor while one guy with a mic was sampling the sound of the machine destroying it.
Do you send the band a bill for things like that?
Well, everyone had money then, so it was not a big thing for a huge label to say, "Oh, what? They destroyed something? $20,000? No problem..." That's impossible today. One band was shooting a gun to record the sound of a bullet going through a door. With a real gun, through the door, and then they sampled the sound and used it for a snare drum. These days we're in a thriving neighborhood, but before there were any other buildings here it was quiet enough that we even tracked vocals outside on the roof. When Depeche Mode was here doing Some Great Reward, Martin Gore recorded a song in The Hall, which was just piano and vocals. They hung microphones out of all the windows to get the sound of the city at the exact same time they were recording the song, which was a super idea. So it's a one-take song blended with voices, a few birds, some wind noise, and a few passing cars. Incidentally, he was nude while he tracked that one. It was easy to feel alone in Studio Two because the control room was 25 meters away from the tracking space, connected to The Hall by video camera.
On the subject of experimentation, a lot of electronic acts started to consider this place an electronic music Mecca.
I would say so. Tangerine Dream worked here, but then it became more than German bands. Depeche Mode came, and brought big sampling systems with green screen monitors that nobody had seen before, and they did things that you never thought possible. And, of course, Bowie, Flood...
Who recommended you for the job here?
Lutz Fahrenkrog-Petersen — the brother of Uwe Fahrenkrog-Petersen who co-wrote "99 Luftballoons" for Nena. He worked at Hansa as a freelance producer. That was around '91, and I immediately started arranging songs for people working here. I'd write a string piece for a song or play the piano. I was no longer just a session musician — I was the guy who could do everything. I didn't start like everyone else, as a studio assistant making coffee and cleaning the wiring or whatever. While I was playing I saw how these guys ran the tapes. One guy I worked with was the first Hansa engineer ever, so he knew everything. I watched him operate the desk and often asked him what he was doing. Those were my first recording experiences.
Was the training studio still there?
No, but I had access to the main studio from the beginning. I started on an ADT MT5 desk and a lot of 24-track tapes.
Who were your earliest sessions with here?
I played Hammond organ for a few guys from Nazareth, and soon I was doing arrangements. I became the "house everything" since I eventually knew all about the building, the studios, the huge publishing company, and how we produced our own artists. It's not a typical arrangement; it's part of a much bigger company. The Meisels have at least 20 publishing companies, as well as four or five record labels, and they are all well run. I write, arrange, and produce projects for them, and we come here to the studio and record them.
And it's all in the Meisel family?
Yes, they still own everything, and are still in charge.
Do you have personal projects?
I've done Lesiëm since 1998. It's a combination of pop music and a church choir. I've just started working on a fourth record. The first three were released in 114 countries. I enjoy it, and I still make money from all of the releases, so that's nice. For the last record I worked with Maggie Reilly, who is best known for her work with Mike Oldfield. She sang three or four songs, but for the main part I used the German opera's choir, which is one of the most famous in the world. It was a big project, and it took a lot of time to realize, but I love how it turned out.
When did Hansa acquire a DAW?
Sometime around 1990 we got an Atari computer, which used a special box that translated SMPTE codes into MIDI. Not really a DAW, but it was computer-based. Not much later we got a Macintosh IIci, which gave us a small amount of hard disk recording options. Then Pro Tools came out with their 888 interfaces; but the first thing for me was the Atari.
How often do you work with tape these days?
Not as often as we did in the early '90s, of course, but people who know about the natural de-essing function of tape want to record vocals to it. It sounds great, but it's hard today because not as many young engineers know about handling tape — which one is best for recording drums and so on. I still think it's the best you can do for drums, vocals, and guitar, if you have the time and knowledge. About one-third of the projects done here use tape in some way, I think. We have the luxury situation with our machines, including two Studer A800 MKIIIs that we can sync for 48- channels. There are less problems than with Pro Tools. You don't need to reboot a tape machine.
Eventually Studio Two closed?
Yes, it was a financial decision. That happened in '93, not long after we closed Studio Three. In the early '90s, computer workstations became available and affordable. People could do music at home with that, as well as an EMU Emulator III. Nobody was interested in a big, live room, which cost a lot of money, and it certainly cost us a lot in upkeep. Hansa almost closed entirely in the mid-'90s. When the Meisel brothers started, they were not interested in renting out the studio as a service. They wanted to work with, and produce, their own artists, and be successful with that, which they were. So once again [Hansa] started looking for bands, singers and interesting acts to develop. We settled on a combination of renting out the studio, as well as having production rooms so someone like me can work on projects. If I need a full studio, it's right in the building, of course. The old Studio Two hall is now rented to a company who spent a lot of money bringing it back to its original mint condition. They uncovered the windows, took down the treatments, and returned it to how it was in 1913 — basically a hall for chamber music based on the old Berlin Philharmonic, which was around the corner from here, but totally destroyed during the Second World War. That's why the acoustics are so fantastic in there.
I bet it was hard to clean all of the rock- and-roll out of it to make it into a banquet hall! It's full of some pretty amazing ghosts.
Exactly. It is my first wish to make it back into a studio. Every time I go downstairs and open the door to The Hall I'm reminded that it could still be one of the best studios. If only I could re-open it... We still have tie lines that go straight down into the stage area of The Hall, so it's still possible to record downstairs. I've done a lot of recordings there. So if a band needs a nice sounding space for three days...
...they just rent the banquet hall?
The Meisels still own the building so we can rent it for little money. If we say, "Oh, I need The Hall for two days next month," we can have it, and they don't book anything else in there.
So in a way, Studio Two is still alive.
Kind of, though it's not a treated space like it was. The people who now run Meistersaal have to make money, so it can be tricky for them when I come down and say, "Hey, I need it for two days. Is it a problem?" But we still do it. R.E.M. took four or five days down there when they made Collapse Into Now. I think they made a few videos downstairs too. A popular Swedish band called Kent did a whole record [Röd] downstairs over [the span of] two weeks.
What's so special about Hansa's sound that keeps bringing people here?
I don't know if normal people can hear it or feel it, but this studio has a unique sound. Especially The Hall downstairs. When Bowie did his acoustic versions of Bertolt Brecht's Baal with a little chamber orchestra, he sang in The Hall with nothing else [but room mics]. You can really hear the acoustics on that recording, and what makes that room so special. One of my favorite songs in the world is U2's "One." That's the trademark Hansa sound, I'd say. A little bit dirty, not too clean, and spacey. That's the big one for me, personally and emotionally, because it belongs to the time when The Wall came down, and Germany became one country again. We had them [U2] here two years ago to do it again. They brought in all of the same instruments, put them in the original positions they were in 25 years ago when they recorded the song here, and the whole band played for some fans. Marshall had an incredibly loud event down there recently to unveil a new amp. They wanted to involve Hansa, because they love its history, but also because they needed room for 400 people! So we did it downstairs in the old hall. The Eagles of Death Metal played.
They're not known for being quiet.
It was a super event, and [even at concert volume] it sounded wonderful in there. It's great any time we have music downstairs. Mark Knopfler [Dire Straits] recorded for TV in there. They moved the cameras over the heads of the audience — really well done. I'd never seen The Hall look so beautiful. I thought, "Shit, they're doing Live from Abbey Road with so many artists now. Why can't we do that here?" I'd like to find a partner for that.
While we're talking about the sound of the studio, Iggy Pop's "Lust For Life" has one of the most recognized drums sounds.
That was done in Studio Three [see sidebar on Edu Meyer], but we had many options for recording drums in The Hall. You could set up right in The Hall in the booth, but with the doors open with additional mics in The Hall to take advantage of all of the reflections and reverb out there. Or, up on the stage, you could play with the space by opening various doors and windows, close mic the drums for a tight sound, but also use mics at various distances out in The Hall for natural ambience. I did a few experiments with stereo pairs in the main room when I recorded drums in the booth. The first pair was two meters away from the drums, the next one four, then six, and then eight meters away. Afterwards I experimented by "playing" with reverb time and the reflections; it was very interesting. You can do a lot in that big room.
There's the famous story about how Tony Visconti did the vocals for Bowie's "Heroes" with progressive, gated microphones set up in The Hall. Did you do anything like that or just mix them to taste?
No, everything was open. You bring up what you need, and you turn down what you don't. Every combination sounds fantastic, so it's a matter of taste. Studio One has a great drum room that's completely different. It has a lot of marble; it's small and very reflective. I love how Michael Ilbert recorded drums for The Hives in there, which sound enormous. I brought a well-known British producer into that room and he said, "The famous drum break from [Phil Collins'] 'In the Air Tonight,' was done in a room like this." I said, "Oh, I'm sure that was gated reverb or whatever." And he said, "No, I'm positive because I did it." [Hugh Padgham, Tape Op #55]. There's no other room like it in Europe. The rest of Studio One was done by a British studio designer who loved the style of West Coast American studios — nice woods and carpet; a bit like a living room.
Are there any big projects that were done here that people don't associate with Hansa?
Marillion's Misplaced Childhood. "Kayleigh" was a huge hit. I really like Snow Patrol's wonderful A Hundred Million Suns, which was done here. There's also the Australian band, Real Life, who had a huge hit with "Send Me An Angel." I have a funny story about that song, actually. There was a talent search being held in The Hall once. There were at least 100 people lined up outside of Studio Two to perform for a panel of judges. The singer of Real Life [David Sterry] was a bit bored, so he went down to be "judged." When it was his turn, the jury said, "Sing a song. Let's listen to your voice. Do you have any experience?" He said, "Yeah, a bit," and then he sang the song that he had just recorded, "Send Me An Angel." The jury said, "Um, we don't think you're going to make it as an artist. You shouldn't do anything with music." All of this, and meanwhile that mega hit was being recorded upstairs! Thomas Müller was the studio manager during the really successful times, in the '80s. He was a very good engineer too. He worked on all the fun stuff in the '80s; he made the first Nina Hagen records when she came to West Berlin. He left Hansa in the late '80s and opened a mastering studio. I think he's in his late 70s now, and retired. The guy who was the manager before me was Matthias Härtl. In the '80s and '90s he did music that mixed German progressive lyrics, drums and guitars with cheap-sounding synths. Neue Deutsche Welle [German New Wave] was revolutionary here and successful in America. Nena was part of that movement.
I've had a hard time putting together a discography of the records that were made here. There doesn't seem to be a complete one.
It is more than difficult. I have tried for four or five years now to find actual dates — when they bought the building, when Studio One opened — as well as a whole reference list with all the clients who have ever been here. It's a very, very long list. All of the dates on Wikipedia are wrong. I'm trying to compile everything.
Tape Op is a bi-monthly magazine devoted to the art of record making.