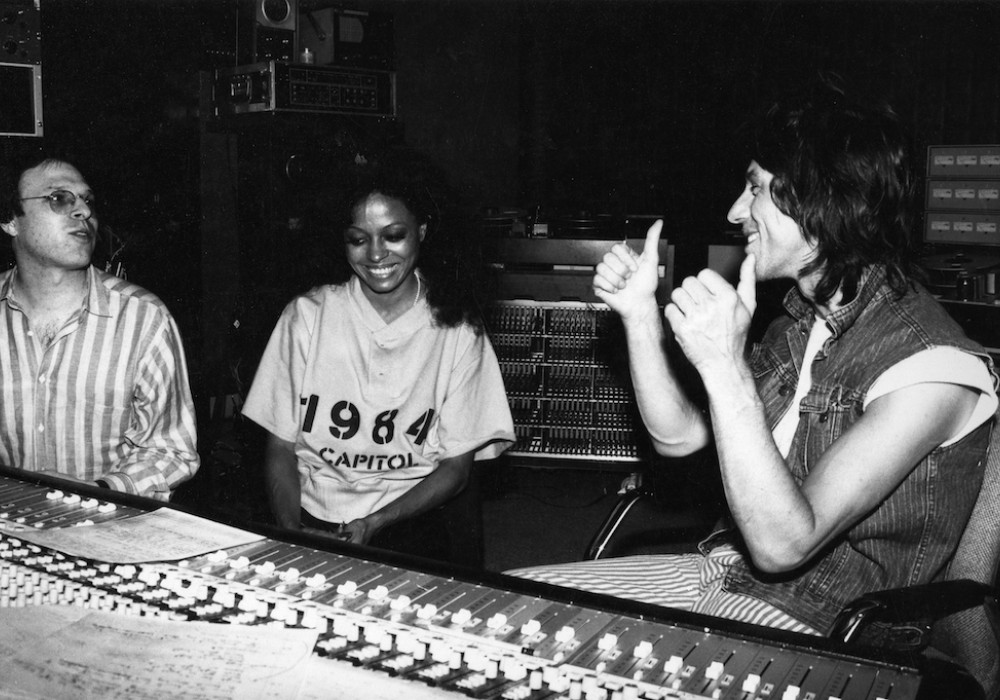 Name an engineer/producer that has Diana Ross, Sisters of Mercy, Devo, Bruce Springsteen, Janis Ian, David Bowie, Bon Jovi, and Steely Dan in their credits. Chances are you didn't think of Larry Alexander. A veteran of The Power Station studio's glory years in the '80s, Larry has seen it all when it comes to making records. Having met through our mutual friend, Steve Masucci, it was only after looking at Larry's credits online that I realized the extent of his studio work, so I had to sit down with him in NYC and learn more about his amazing career.
You've worked a lot with Diana Ross.
Yes. I did five albums with her. Diana Ross was one of those sessions I got from working at The Power Station. She had a two-album deal with Nile [Rodgers] and Bernard [Edwards]. They did one album and had some hits. Afterwards she said, "Let's start the next album." They said, "We're a little busy right now." And she said, "I'm not waiting." So she booked studio time to start the album. She said, "I want that same engineer, Bill Scheniman." The studio said, "Well, Bill's busy. He's working with Nile and Bernard. We've got Larry." That's how I was assigned Diana Ross. We went into the studio and had so much fun. She had the best band and the best arrangers.
Was there a producer involved who was picking the members of the band?
She was the producer, but she did hire a musician contractor. Diana said, "Get me the best band in New York!" She had people picking songs for her. She had people doing arrangements. She assembled a really great crew, which is what producers do. We get along really well. I love Diana. She's very creative, has a lot of ideas, and she doesn't like to be told no. For one of the albums we were working on, she hired a producer who came in the first day, and she said, "I have an idea I wanna try." And the producer said, "Nah. That's not gonna work." Well, day two, he wasn't on the project anymore. She's the boss and it's her money. She wants to try her ideas. If they don't work, she's the first one to say so.
"No" is a dangerous, loaded word in the studio.
Yeah. People like to be in their comfort zone. If you put somebody out of their comfort zone, they're gonna say, "No. It's impossible." I worked on that first album. We had a great time. We pretty much produced it together. The band knew what to do, and I knew what to do. As far as recording vocals: we really get along well. As a matter of fact, she likes me to record her vocals whenever possible.
You come in just for her vocal tracking?
Yes. It might have been '08 when she was doing an album, and she had a couple of producers with her. When it came time for vocals she said, "Call Larry. Larry's gotta record my vocals."
What kind of process does that involve? Are you comping....?
Well, we go in and record a bunch of takes. She's a great singer, but she doesn't like to spend a lot of time in the studio doing vocals. She'll record four to six takes, and then she's like, "Love ya, see ya. Bye! Put it together!" So then I have to comp together the vocals.
How many years have you worked with her?
I think the first album [Why Do Fools Fall in Love] was '81? There have been years when we didn't see each other, but we like working together. Also, when she was living in Greenwich, she loved working at Carriage House Studios.
How long did you work with producer Jim Steinman?
Oh, a number of years. He's such a character. He would only work in the middle of the night. He would book a session starting at 8 p.m. He wouldn't show up until like 11 p.m., and then we'd work 'til 9 or 10 in the morning. We would just keep working until the next session. The Power Station was going 24-hours a day. The next session would be ready to start and they'd be pounding on the door. Jim would be like, "Lock the door!"
At the time you were a staff engineer, but it was often requested that you work with Jim?
Yeah. I can't exactly remember how I got started with Jim, but for a couple of years I was working all night and sleeping all day!
What does that do for one's health and social life?
Well, there's no social life. The studio was the social life. After a while your body gets used to it. I was living in...
The rest of this article is only available with a Basic or Premium subscription, or by purchasing back issue #95. For an upcoming year's free subscription, and our current issue on PDF...