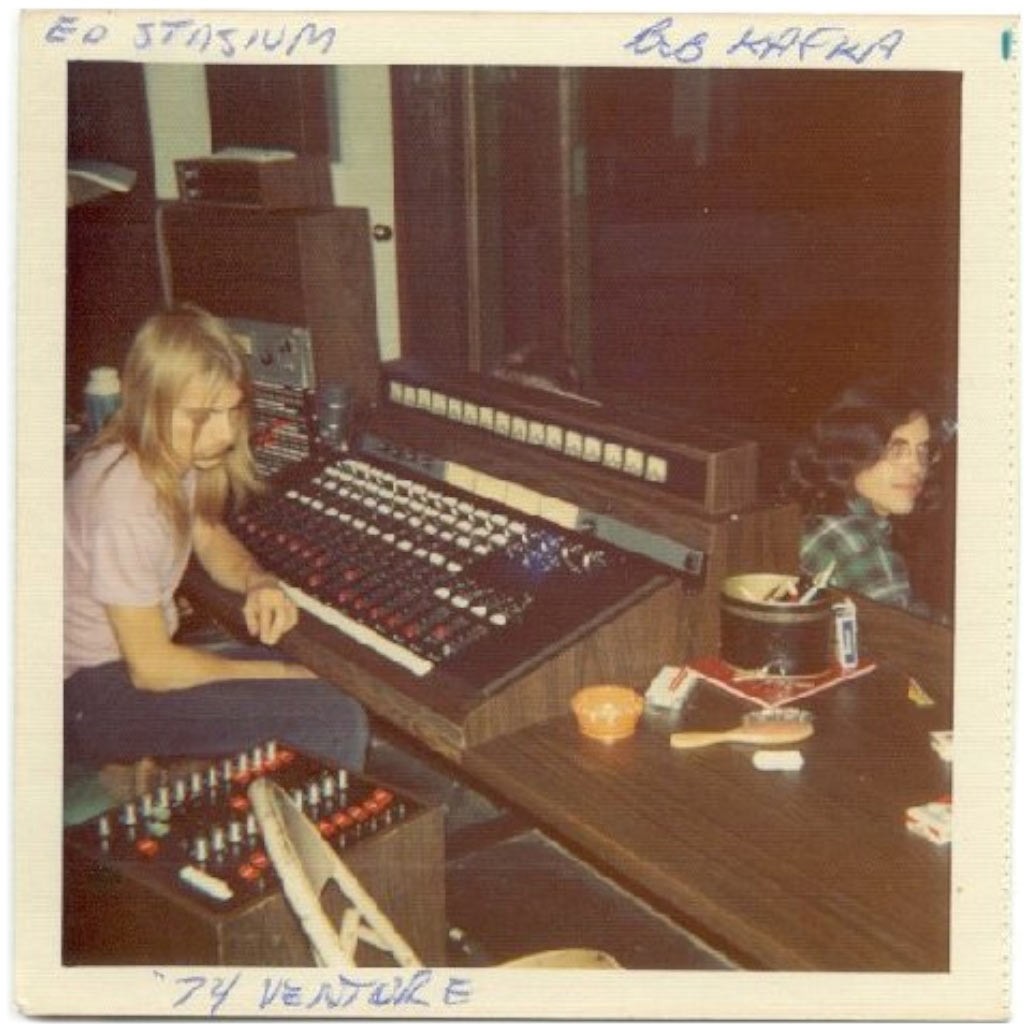 I'd seen Ed Stasium's name on records for years; The Ramones, Talking Heads, Mick Jagger, Peter Wolf, Living Colour, Soul Asylum, and The Smithereens to name a few. But little did I know that Ed's engineering chops stretched back to songs like "Midnight Train to Georgia" and groups like Kool and the Gang and The Chambers Brothers. Even though Ed's currently residing in the beautiful mountains outside of Durango, Colorado, he still keeps busy working on records at his home studio, sometimes traveling for sessions, and recently producing records by The Misfits and Joey Ramone.
You were in bands like The Psychotics, Men Working, and then Brandywine.
We were high school kids — all my friends. I have an early recording of one of those bands, Kenny and the Komotions, doing Jessie Hill's "Ooh Poo Pah Doo."
You were playing guitar?
Yeah. This was probably around '65 or something.
Where was this recording done?
In my parent's basement with one mic. Mono. I had a tape recorder. My parents got me one for Christmas. I took piano when I was a kid; but then a friend of a friend brought over a Gretsch Country Gentleman back in '62 or so. That's when I got interested in the guitar. My dad worked in the shipping department at Western Electric, the manufacturing arm of Bell Telephone, for 30 years. My mom worked on the assembly line for Johnson & Johnson. They always saved up a little bit of money and got me a really great Christmas present every year. In 1959 or 1960 I went to a New Year's Eve party with co-workers of my dad. I had never seen a tape recorder before — one of the guys was playing back music on it. He said, "Watch this." He rewound the tape, put on a blank tape, recorded my voice, and played it back for me. I was fascinated with tape recorders. I'd look them up in the encyclopedia, and I asked my parents for a tape recorder for the following Christmas. They got me a little Japanese 3-inch reel, battery-powered recorder. I got interested in guitars, and it went hand-in-hand. I had a guitar and a tape recorder, so I could record all of my bands. I hated school; I loved music. I was the guy who would figure out all of the songs, tell everybody else what to play, and write down the lyrics.
Were you recording to listen back and see how everything was coming together?
Just for fun. There was a thriving garage band community in Plainfield, New Jersey. I went to Essex County College for a minute, and then I worked at Union Carbide with chemical fumes and no masks. In the summer of '67 I went down to the Jersey shore and lived in the Seaside Heights area with a bunch of guys. I worked on the boardwalk at one of those game stands, where you try to throw the ball in or knock things over. Often when you won a prize it would be a record. Right down the street from where we rented our house was the guy who distributed those. I started driving around distributing the records for him, and as payment I would get albums. I was still in bands. Mike Bonagura has a lot to do with my story. When I was 15, he was ten. We'd practice at each other's houses. I met these people from South Plainfield through Mike, and I got into this band called The London Fog. Mike was in the band, and my good friend, Chip Miles, was the drummer. That lasted through the summer of '68.
Was the band gigging a lot?
We were always gigging. We did a lot of high school gigs. I remember getting my ABC [Alcoholic Beverage Commission] card so that I could play in nightclubs because I was under 21. There was a fellow named Barry Landers who managed The London Fog, as well as another band called The Cartoon. Some of the members mish-moshed; we got together and started being The Cartoon. There was some other band on Swan Song [Records] that Jimmy Page produced called The Cartoon, so we couldn't use the name. We somehow came up with the name Men Working. We actually had a session in November of 1970 with Men Working at MediaSound in New York City when it first opened. We got a demo deal with these original songs and signed to Richie Haven's label, Stormy Forest. Bob Margouleff was the engineer — he and Malcolm Cecil were staff engineers. They had the TONTO synthesizer in the room. There was a Scully 12-track at those Media sessions.
That's a format few people remember.
The 12-track? I think there are some pictures of that on my Facebook page. I think they had a Spectrasonics console at Media. We were there for three days or so with Bob Margouleff. Ted Baron was the producer, but Bob Margouleff took over. Bob was like, "Let's make this happen!" I have a few pictures of that session from MediaSound.
And you'd set up a home studio too?
That's when I built a little recording studio at Barry Lander's home. We used a rehearsal room and an extra bedroom downstairs. I had a mono Lafayette tape recorder, and later a Sony TC-630. It had sound-on- sound, and echo! I loved the echo. I would track us and then we would overdub on it. It was pretty simple. We would track everything live. We'd do the four-piece — keyboard, guitar, bass, and drums live. Then we'd overdub vocals, and maybe put some percussion on it.
Did you have a mixer?
I had a little Altec mixer. Everything would be in mono. We started writing original songs at that point; but the songs weren't very good, and finally it fell apart. We actually got a record deal with Brandywine in the summer of '71 through Barry Landers, our manager. Barry was working for WMCA radio and also the New York Yankees. He knew all the celebrities and all the people who had box seats. Nat Tarnopol was the heir to the Brunswick Record label — his father had started the company. One day Barry said, "Hey, I'm managing a band." And Nat said, "Oh, have them make a record at my recording studio in Chicago." That's how the Brandywine record deal was struck — no paperwork! We drove out and Bruce Swedien [Tape Op #91] was the engineer. The music sounds terrible, but the recording is really good.
What studio was that?
Brunswick Recording Studios. It was a recording studio that Bruce had built. Bruce had a custom-made console — he had his own patchbay with his own logo; it was a Norwegian thing with a little ship. His tape deck was a 16-track [Ampex] MM 1000. The producer was Willie Henderson. It was a great experience. We had been in the Dick Charles studio in New York where we did a couple of demos, the MediaSound sessions, and some other 8-track studio. Besides recording with Bob Margouleff, this was the first time that had I really observed someone like Bruce who really knew what he was doing. He was a great guy to work with. We did the record in three days, and I played bass on it as well. We tracked with the guitar, and then I overdubbed the bass.
What a great experience as a musician, working with someone of that caliber!
He was great. Willie Henderson was going to sit there and smoke cigarettes, but Bruce had a great expression, "Hey, come on. Get out of the pool!" It's one I still use to this day. Or, "All you kids, back in the pool now." I still use that expression. I was able to watch him mic us up. I didn't know anything about recording studios. He was working for Brunswick Records, and it was in their building. I have rough mixes of that somewhere.
So that record, Aged, came out on Brunswick?
Yeah, I have a couple of copies. It came out, and it sold five copies. Chip's girlfriend came up with the name Brandywine. We drove out with all our gear, in a 1965 Plymouth that was overheating. In Chicago we stayed at a Holiday Inn, all of us in the same bed. On the way back, we drove straight non-stop to Jersey. I never saw a contract. When I first started, I didn't know anything about anything, let alone contracts and publishing. I was having fun recording, and I was having fun playing. I'm still not good at numbers! I'm lucky that I started out in my mom's basement and ended up in my own basement here, some 40 years later. After that record came out, my son Jason was born and I had to go back to work. That was when I started working for Ampeg and Altec. Altec was also University Sound, and Ampeg had the same distributer. EveAnna Manley's dad was Ampeg's big guy. He was the president for a while.
I've got one of those Ampeg B-15 bass amps from back then.
I love those. Jess Oliver [former Ampeg Vice President] was the one who came up with the design for that. He left Ampeg and started Oliver Amps. The band broke up. I was living in a small apartment and I couldn't afford it anymore, so I ended up living in my mom's basement.
You, your wife, and child were living in your mom's basement?
Yeah. We had a bedroom, but we all shared one bathroom. I got fired because I was always late for my job at Ampeg, so I was collecting unemployment and living in my parents' basement. I took the $120 that I had left in the bank, and I bought bicycles for my wife and myself. I don't know why. My dad was like, "You bum!" So we're riding bicycles, and we bump into Mike Bonagura. He says, "Eddie, my dad has a friend in Hillsborough, New Jersey named Tony Camillo. He's building a recording studio. They have an engineer and his name's Tony Bongiovi." He said we could come over there and make a record; Tony would do the engineering, and they would get us a record deal. I remember it took weeks. Mike kept calling Tony Camillo. This was in the summer of '72. Finally, Mike calls me up and says, "Hey, Tony's going to be there. We can check out the studio." We get there, and it's nothing. There's a Langevin console on the floor, dust all over everything, no window between the control room and the studio, and an empty room.
Was it a new structure or a house?
It was a new structure attached to Camillo's house. Actually, Bongiovi and Tony Camillo previously had a 4-track studio in Bound Brook, New Jersey; it was called Venture Sound. They kept the name. They got all the equipment from some studio that went bankrupt in Philadelphia. I saw Ampex written on the MM 1000 deck, and I knew what that was because I'd worked with Bruce. There were cardboard boxes full of [Neumann U] 67s, 87s and [RCA] 44s. There was a mono [Ampex] 440 deck and a stereo 440 deck, but nothing was wired up. I volunteered to help finish the place. The first task, under the guidance of Tony Bongiovi, was to work on a little echo chamber. It was pretty much the size of a closet. I remember Tony Bongiovi coming down and saying to Mike and I, "We have to coat this with this special epoxy." It was like a fiberglass epoxy resin.
That stuff stinks.
I can still smell it, I swear. We were dizzy; it was one of those 95-degree New Jersey summers with 100% humidity, and the air conditioning wasn't working. That chamber was all that we used for reverb on those early Gladys Knight sessions, like "Midnight Train to Georgia" off the Imagination record. Tony Camillo got a plate [reverb] out of Holland-Dozier- Holland's studio later on. I started building baffles, and I helped wire some of the patchbay. I made a bank of VU meters and hooked them up to the outputs. I learned under Tony Bongiovi's guidance. He'd always be like, "Do this, and I'll be back," and then he never came back. Tony Bongiovi was some kind of "enfant terrible." He wrote a letter to the engineers at Motown Records, "I know how you're getting your sound with the Pultecs." He was like 16 or 17 — way before I met him. They flew him in to Motown and had him start working. Then he said, "I have this friend, Tony Camillo, who does arrangements." Tony Camillo went to Juilliard and has perfect pitch. You can give him a chart, or hum a melody, and he'll write it out. He still has a studio there. So I started wiring, getting together a headphone system, building a drum booth — you had to have a drum booth in 1972.
A dead drum booth.
Yeah, right. Everything was very dead. I put in the parquet floor and, eventually, the studio came together. Tony Bongiovi taught me how to align the machine with the test tapes, and do biasing and all that. He said, "Here's one channel. Watch me, and you do the rest."
Because he didn't want to do it! We all pass that on, as soon as we can.
Right. I was hanging out there every day, seven days a week, ten hours a day, collecting unemployment. About a month into the experience, Tony Bongiovi — who was working at MediaSound in New York as a staff engineer — calls and says, "Eddie, I've got a couple sessions today. Why don't you come in and I'll show you how this works." We took the bus into New York. At this time, you'd have morning sessions, afternoon sessions, and night sessions. Everything was three-hour blocks. This particular afternoon was Kool & the Gang on Delight Records. I was helping Tony set up the microphones for tracking, and I was watching him set up the patchbay. Tony tracks the song and they start doing vocals. Tony says, "Eddie, do the vocal. I've got to go out and get a sandwich. Do you want a sandwich?" The band were all really cool guys, and we were having fun. He had set everything up for me with the microphones. I did the vocals and punched it in. At the time you had to run over to the machine, go to input, and flip it in or else, when you went to record, there'd be an audible delay. I did that, and the singer says, "Okay, that was great. Let's do another track." So I thought, "I'll figure this out." And then I said, "Let's do percussion. Let's do a guitar overdub. I want to do some horns now!" I had to figure out all the headphones, patchbay, and such. Tony let me sink or swim.
Was he testing you?
Yeah, apparently he did the same thing to Bob Clearmountain and Ron Saint Germain when they were assistants. "Do this, and I'll be back." Everything was great and it was all working. The guys were happy with it. The punching-in was easy for me. I'm a musician and I feel the beat. I was always great at punching in, right off the bat. Tony was gone for quite a while, over two hours. We were finishing up, and they're like, "Let's make a rough mix." I thought, "How do I do that?" All of a sudden Bob Walters comes in. He was the manager of MediaSound, but I didn't know it at the time.
Oh no.
He walks into the studio acting really cordial with everybody, saying, "Hey, how are you doing?" He knew everybody's name. He looked at me and said, "Who are you? Where's Tony?" I swear to god, as if on cue, Tony opens the door and comes in with my sandwich. "Here's your sandwich, Eddie." Bob is like, "Who's Eddie?" Tony said, "He's a great engineer. I had him sit in for a little while when I went out and got a sandwich." That was my sink-or-swim moment. I knew that was what I wanted to do. I didn't want to be a musician anymore. I wanted to make records. It was a lot of fun, and I still enjoy doing it. Meanwhile, back at Venture Sound, Tony Bongiovi disappeared. I don't know what happened between Tony Camillo and Tony Bongiovi, but there was a falling out. Two months after I started there I'm the engineer at the studio. I negotiated my first week's pay. It was pretty much hands-on learning there, working with my friends before sessions started coming in. Mike Bonagura and I used to have drummer friends come down; we would bring in other pals and record ourselves.
Were you trying to put another band together?
Once I got into the studio, I never did. I used to record my friends, and I was writing some songs at the time, though I never really pursued that. Around the winter of '72 or '73 these three guys from Detroit came in: Bob Babbitt (one of the great Motown bassists), drummer Andrew Smith, and a singer-songwriter named Perry Boyd. Tony Camillo convinced them that they were going to be session players in New Jersey — that was an unheard of thing. Motown had moved to Los Angeles. They moved out to New Jersey without their families at first, and they had a bunch of songs. We'd do the tracks and start with a loop. That's what they did in Motown — make a hi-hat loop on a mono tape machine and play along to it. It'd be Andrew and Babbitt, or just drums. We did about eight or nine songs. This was all on the Langevin console. Tony Bongiovi had made a custom monitor section, a little thing that rolled around, and we used the Langevin for recording. I didn't have a lot of outboard gear, just a [Teletronix] LA-2A and a Pultec — the same models that I use today. Tony Camillo was great about bringing people in. When the sessions started coming in, we'd be using Babbitt and Andrew — and all the players from New York, like Allan Schwartzberg [drums], Steve Gadd [drums], Bob Mann [guitar], Jerry Friedman [guitar], Pat Rebillot [keyboards], Kenny Edwards [guitar] and the Brecker Brothers [saxophone, flute, trumpet, flugelhorn]. We did entire records in two or three days. Camillo would make these great Italian dinners for everybody.
What kind of sessions were you doing?
One of the first ones was Gladys Knight. We did the tracking, and we had our studio players. I remember we tried "Midnight Train to Georgia" a couple of times with Allan Schwartzberg on drums, Bob Babbitt playing bass and the NYC crew. We did backing tracks, but Gladys didn't like the first two versions. So Tony talked to Gladys and then told us, "We've got to do a track she likes. Sort of an Al Green vibe." It was Babbitt, Andrew, Jeff Mirinoff [guitar], and Tony on the track; four guys on a Sunday night. They cut it, and Camillo did a few piano overdubs. Neil Bogart was running Buddah Records; he loved Tony, so he gave him a couple of other projects. One project was The Cecil Holmes Soulful Sounds and [their album] The Black Motion Picture Experience. I mixed it in quad at one point at A&R studios. A friend of mine found a quad 1/4" cartridge copy for me. Cecil Holmes was an A&R guy.
Oh, so it's all cover songs [from Shaft, Trouble Man, etc.].
Yup. We did another one called Music For Soulful Lovers. Then we did a record with Ben Vereen, and we did one with Micki Grant, who had a Broadway musical hit.
Tony was doing the hustling, as well as getting the gigs lined up.
I went with Tony a couple of times to people's offices. He did a couple of films for Brut — the Fabergé perfume company — when they branched out into film and music. We also did a couple of awful movies. One was called Welcome to Arrow Beach, which was Laurence Harvey's last film. That was the first time I got to go to California, because I went with Tony to watch the mixing to picture. We stayed at the Beverly Hills Hotel and flew back in a private jet. I got so involved with recording that I was working seven days a week, 15 hours a day, and I loved it. I was finally able to move out of my parents' house. I was living closer to the studio. Then we did a Chambers Brothers record [Unbonded]. I was really nervous about it because it was a name producer, Jimmy Ienner. He had done the early Raspberries records and worked with Three Dog Night. The usual gang played and did all the tracking, and then we did all of the overdubs and mixes. I remember my hands were sweating the first day, dripping all over the console, because this guy had made some records that I really liked. He worked at Record Plant. I'm like, "Oh my god, he's coming here, to New Jersey?" Record Plant was up there on my list, along with Trident Studios.
You find out through the grapevine, and see on records, that those are the places.
I had been looking at record covers a lot, and getting a sense for who people were and what they were doing. We were in the mixing stage with Jimmy Ienner. Dave Domanich was an assistant. We were doing a tambourine overdub on one of the songs. Jimmy's playing, and he says, "I need some mood lighting." We dimmed the lights down and turned on these little colored lights. And then he goes, "No, shut them all down." We hear the tambourine fall, and he's like, "Stop, stop! I dropped the tambourine. Put on the lights." We turn the lights on and there's Jimmy bent over with his ass [showing], mooning us in the control room — this big, old, fat, Italian ass. It was one of the funniest moments.
So you broke the ice a little bit.
Yeah, he was a really nice guy. We did have another hit with "Dynomite" by Bazuka, the house band. That was Steve Gadd, Al Schwartzberg, Babbitt, Neil Jason, and all of the NYC players.
When did you leave Venture Sound?
It just became so much of the same with Tony Camillo — you could predict what was going to happen. Every session was the same. I wasn't getting discouraged, but I needed to branch out. I went to an AES convention and picked up a couple of audio magazines. I found an ad for an "Engineer Wanted" in the back of dB Magazine from Le Studio in Morin- Heights, Quebec. I knew there was a Trident console up there, so I called and Yaël Brandeis picked up. Her life and business partner is the great André Perry, who recorded John Lennon's "Give Peace a Chance." I gave a little bit of my background and they said, "Sure, come on up." I gathered a bunch of albums in a bag, and I went up there. I met with André. Le Studio was incredible. The setting was on a lake; there's a glass wall on one side, a huge Yamaha grand piano, and a drum booth. You could change the acoustics in the room and make it live or deaden it up. They had a Trident console — the first A-Range in North America — and a Studer tape machine, as well as lots of outboard gear I'd never even seen, like an [Eventide] Omnipressor. It was incredibly beautiful. André Perry had a great studio in Montreal; then he bought all this property and built Le Studio. He interviewed me and they made a beautiful lunch — Yaël's a great cook. They hired me on the spot. I had to get working papers. I moved up to Canada in November of '75.
What projects did you do up there?
I actually produced a band called Lougarou, which turned into Garolou. They were a big French-Canadian band, and they sold a lot of records. Besides "Midnight Train to Georgia," it was the first gold record that I actually worked on. I did five records with those guys over the years. I worked with a lot of French-Canadian artists. Robert Charlebois was a big French-Canadian guy who I did a record with. Of course, we never hear about these people down here. Quebec is its own entity.
Even in Canada.
Yeah, even in Canada it is; you're right! It snows a lot more than it does here. At that time, they had one little ski hill. But when I went back in 1990 to do Jeff Healey it was a big resort, like Telluride. It'd grown that much in the 15 years since I was there. Nick Blagona was the staff engineer, and I was the second staff engineer. I learned a lot from Nick. Roy Thomas Baker came up there to do a band called Pilot. They had worked with Alan Parsons [Tape Op #42] on the first record with that big hit, "Magic." Roy Thomas Baker was getting hot at this time, and it was awesome. It was right when [Queen's] A Night at the Opera with "Bohemian Rhapsody" had come out. He puts it on the tape machine and goes, "I want to hear what the monitors sound like." I was like, "Wow, what is this?" It sounded like nothing I'd ever heard before in my entire life. Roy Thomas Baker was a huge inspiration to me.
This was for Pilot's Morin Heights album?
Yeah, I actually shot the cover photography. They took my pictures and gave me credit. Nick and I were co- engineers — we would split shifts on the Pilot record. I set up the drum booth before Roy got there. Roy gets there and he says, "What are these drums doing in there? Put them out in the room!" It was something I had never done before. So we did that, and then he said, "Where are the room mics? Get some of that lovely room ambience, and let's mix it in with the overheads." He came from an engineering background, and this was a revelation to me. When I recorded a guitar at Venture Sound I'd put a microphone right on it and then cover it with a moving blanket. The drums would be in the booth. Now here's Roy going, "Let's use the room sound." We did the same thing for all of the guitars. He would mic the back of a cabinet from 20-feet away. To this day, ambience is a big thing for me. It was really a great lesson to work with Roy and Nick Blagona. I was always boosting EQ, and here Nick is cutting frequencies! I'd never cut frequencies. Nick's Canadian, but he learned in England too. Working with Roy was great, and he was always funny. He'd get fire extinguishers and say, "Let's see what this sounds like on the microphone."
Tell me about working with the Bee Gees.
They came up there to work on Children of the World with Albhy Galuten and Karl Richardson. "Jive Talkin'" had already been a hit right before this. They recorded that at Criteria Recording Studios in Miami. There was a home a couple of miles away that the bands would stay in, and they had people cooking for them there. André Perry knew how to run a class operation. Karl Richardson was actually the official engineer, but Nick and I were there during the project. I basically hung out with Barry Gibb, rolled joints, and read paranormal books. That was a fun time. I wasn't up there very long.
What caused you to leave Le Studio?
I was down in New York one day, and who do I run into but Tony Bongiovi! He says, "Me and Bob Walters are leaving MediaSound and we're going to build a new studio. Want to come and be chief engineer?" I thought about it for a minute and said, "Sure, I'll come back." I was busy producing. So in September of '76, I left the studio at Morin-Heights. There was a little tension with André, because I had done a television show in Ottawa with him. He was also an audio consultant and he brought me along, but they didn't want to use André — they wanted to use me. I took the gig; André wasn't happy about that, because he didn't get a piece of the action. They paid me very, very well. It was fun with the TV show, with all of the guests. The Bay City Rollers were on.
Nice.
I was still on staff at Le Studio, but then Tony Bongiovi said, "Hey, we'll pay for your moving expenses." Tony was always working, so it was Bob Walters and I looking around for a building. He was still manager at MediaSound, and Tony was still on staff at Media; Ed Evans was still at MediaSound as a tech. I think he probably told Bob Clearmountain [Tape Op #84] that he was going to be chief engineer as well — he told both of us the same thing. The woman I was living with and I had a daughter who was born in 1976, in September, right when the move was happening, so that was hectic. I moved back to New Jersey and we were looking for buildings. Tony was a producer. He says, "Eddie, come on and be a producer with me." The first thing that I came back to was The Ramones' Leave Home. When I got the record back it said "Engineer," and they spelled my name wrong! Tony's connection with The Ramones was Tommy Erdelyi [Ramone] [Tape Op #46]. Tommy had been engineering at Record Plant, and he was an assistant when Tony was there. When the Ramones didn't want to work with Craig Leon on the second record, the only other producer Tommy knew of who he thought would do a good job was Tony Bongiovi. We did that at Sundragon, a tiny little studio with a completely dead room. It wasn't until we'd started doing Rocket to Russia at Media Sound that I was able to use the influence of Roy Thomas Baker and bring in the room mics. I did Talking Heads: 77 and a couple of other things in Sundragon. We finally found the building on West 53rd Street, where Power Station was. It was an old TV studio. Tony did all the acoustic design for the rooms, but I must say that was my concept. He wanted to build one studio here and then another studio on top with 12-foot ceilings, and I came up with the idea for it to be a pyramid. Then Ed Evans, Bob Clearmountain, Tony and myself worked on the concept [together]. Tony came up with the actual acoustical studio design for the dome room in Studio A. Somewhere around the house I actually have the blueprints, and it says, "Recording Studio on 53rd Street" at that address. That became Power Station.
The timing was great.
In the beginning at Power Station, we worked around the construction. The first project at Power Station was The Ramones' Rocket to Russia. We'd recorded the tracks at MediaSound. At that time I believe they had a Neve 8068 there. I was able to use my room mics! You can hear it on the Talking Heads mixes. We did the recording at Sundragon, in a small room. But during the mixing at MediaSound I put speakers out in the big room (Studio A) for the snare drum, and on a couple of Talking Heads songs you can really hear that.
To open it up a little bit more?
Yeah. It was Chris Frantz's idea. To keep the noise level down, I actually put gates on the microphones, so it did its thing. Don't blame me for the gated reverb of the '80s. That's not me. But I did do it in 1977! It worked really well! But the first project that we did at Power Station was vocals, a couple of guitar overdubs, and the mixing for Rocket to Russia. The only reverb we had was the staircase on the east side. We put a couple of JBL 4310s in there, as well as Neumann U-87s at different levels. There was no outboard gear.
I assume Power Station accumulated some gear pretty quickly.
Yeah. Soon we had an [Eventide] H910 harmonizer, some Neve compressors, and some Kepex noise gates. They were doing a lot of jingles there, as well as the Meco "Star Wars Theme/Cantina Band" disco single — I didn't like that.
It was pretty weird.
Tony was like, "I love this!" Tony's a wheeler and dealer. Ned Lieben and Mike Ewing owned Sundragon, and Ned got a band together called Riff Raff. They got a deal with Island Records, and guess who's the producer? Bob Margouleff, who engineered our demos back in the day. Bob was the producer, and Ned Lieben wanted me to be the engineer. I was working on staff at Power Station. It was a big rock band; they were playing gigs in town and doing really well. Bob Margouleff wanted to lock out the studio at Power Station. Bob Margouleff was A-list at this time. Those Stevie Wonder records that he did were amazing. I still put on Innervisions to test out speakers. I approached Bob Walters, but he wouldn't lock out the place. He said, "Nope, no lockouts; only three hour sessions." He wouldn't even lock it out for Bruce Springsteen when they went in there to do The River. So, in lieu of Bob Walters not wanting to lock out, and me really wanting to get into the rock 'n' roll thing and to work with Bob Margouleff and Riff Raff, I said, "I'm going to have to break away." That's when I actually went independent during the winter of '77 and '78.
That's pretty soon after starting there.
It started up in September of '76. We'd just started building the place, and it still wasn't really done when I left and went independent. In '78 I recorded the Ramones' Road to Ruin. Tommy and I produced Road to Ruin at MediaSound. I wasn't ever on staff at Media, but I became like a family member because I did so much work there as an independent.
Did work start coming to you because you were doing these newer records?
No, it was difficult. I can't sell myself — I don't do that. I've tried managers over the years, but it never really worked for me, especially in those earlier days. After Road to Ruin, I was getting work. I did a bunch of records in Canada with a producer named Don Oriolo. We worked with a band called Cano and on a couple of David Bradstreet records. But I wasn't really out there pursuing. I did a lot of the Ramones work after Road to Ruin, including It's Alive. I wasn't as involved with the second Talking Heads record [More Songs About Buildings and Food], but I did remix one song ["Found a Job"]. Brian Eno [Tape Op #85] produced that record. Brian didn't like the way that the ending was, so he took the original mix and tagged it on. The body of the mix for the first two and a half minutes is mine, and then the end of it is from the original mix. I worked with Brian Eno on several things of his own, including his ambient Music for Airports and Music for Films sessions. It was only on-and- off for a month. I used to pick him up in the car when he was living on 8th Street, and we'd go to MediaSound. I believe the reason he went up to Canada was because it was too expensive to work at Media. That's when he found Daniel Lanois' [Tape Op #37] studio and started working with him up there.
Was Media farming work to you as well?
Yeah, they did. I did some Fatback Band records and a Genya Ravan LP. Susan Planer [Phillips] was great woman who managed MediaSound after Bob Walters left. She was very good to me. Felix Pappalardi was a music director for a children's show called Hot Hero Sandwich and I worked on that. I guess your name gets out there somehow. I did a lot of work for Sire. I did a band called Alda Reserve. Then I did the Phil Spector record in '78 — the Ramones' End of the Century.
Obviously those were strange sessions.
They were wacky.
What was it like working with Larry Levine [Tape Op #45]?
Working with Larry was great. His methods were old school and it was great to watch him. Phil always picked on poor Larry. He would abuse him and yell at him all the time. I don't think he really knew what to think of the Ramones, but he had been working with Phil all those years. Larry was very cordial and friendly with me. I was the musical director, and Johnny [Ramone] wouldn't go if I wasn't there.
Was that a safeguard for Johnny?
Yeah, it was, because I had worked on the previous three records. That was a stipulation that the Ramones had. I didn't touch the console. It's a little blurry; but it was a good, interesting time.
That was all down in L.A.?
All at Gold Star Studios. Unfortunately, the eccentricities of Mr. Spector stick out more than anything, and they're the stories we've all heard a million times. It was a pleasure to work with him, even though it was a crazy time. I was so excited about it, and I was the liaison between the band and Phil — Johnny was going to quit. I prevented that from happening by putting a meeting together at the Tropicana Hotel. It worked out; Johnny came back, and the record was done.
I always gathered that Johnny didn't really want to suffer through any bullshit.
No! He wanted to get it done! I understand that. There's always that famous story about the first chord of "Rock 'n' Roll High School," and playing it over and over again. Johnny always said it was eight to ten hours of playing the opening chord, but it wasn't. It was maybe an hour and a half or two hours. But still, what was Phil doing in the control room? I played a lot of guitar on that — everybody knows that — so I was in the room with the guys. We're out there, and we played the first chord and got some feedback. I was playing through a Mike Matthews Freedom amp. There were only a couple baffles and everything was bleeding into everything else. Phil was in the control room stomping his feet, yelling at Larry, and trying to make something happen. Because I was to do some guitar overdubs, I did get a hold of the master tapes. On "Rock 'n' Roll High School" there's this track of guitar feedback and it was phased, like through an [Eventide] Instant Flanger or something. We'd never heard anything different while he played it back for us. I guess that's what he was trying to work on for the two and a half hours, but I needed a track so I erased it! Phil was hearing something in his mind that couldn't really happen.
Oh, my god. That's funny.
I really enjoyed staying in Los Angeles. I made a lot of friends at that time, and during the making of the film Rock 'n' Roll High School, we tracked two songs for the movie at Cherokee Studios. I became enamored with Los Angeles. In the summer of 1980 I went to Europe for a year. I went to England and did the second Searchers record [The Searchers] for Sire. I co-produced with Pat Moran, a great friend of mine who unfortunately passed away. What a great guy — funny and charming as well as a great engineer and producer. I did this band called The Spyderz [Lines of Lust] — a really good record. I did it on a Helios console out on a farm in Holland. On returning to New Jersey, I decided that I wanted to go off on my own again and live in L.A. I picked up one suitcase, and went out to make it in L.A. I moved there in March of '81.
Did work start picking up there?
I don't think I did anything! But my best friends out there were Dave Jerden [Tape Op #86] and Gary Gunton. Gary owned Eldorado Recording Studios, which was still across the street from Capitol Records at that time. I did The Dickies [Stukas Over Disneyland] and a band called Color Me Gone — Marti Jones was the singer in that band. I also did a lot of demos for people and really struggled. I was living in Laurel Canyon, pretty broke, bouncing checks and all. I worked for Giorgio Moroder recording a soundtrack for the German silent film Metropolis. I did a demo for that Irene Cara song in Flashdance, "What a Feeling," with Giorgio singing. He had a beautiful house with a studio in it that had a Harrison console. I got hooked up with him through Greg Penny, who produced k.d. lang's Absolute Torch and Twang. His father was Hank Penny, the famous country and western star. I got a call from Dave Jerden. MTV had come out, and The J. Geils Band had their huge hits with "Freeze Frame" and "Centerfold." A while later, vocalist Peter Wolf and Seth [Justman, keyboards/vocals] got into it, and they broke up the band. Peter signed a deal with EMI to make a solo record [Lights Out]. He called up Dave Jerden and said, "Dave, I want you to engineer my record." Dave told Peter, "I can't do it, but I have a good friend who can." Peter called me up and said, "Hey, come fly out. I want to meet with you." He flew me in overnight, and I went to Boston for a day to meet with him. We went to dinner, and he hired me on the spot to do his record.
Nice!
I was living in Laurel Canyon in a nice guesthouse. I'm like, "I've got to do this." He sends me the airline tickets, and I fly to Boston. He's producing it with Michael Jonzun of the Jonzun Crew, which is like this early hip-hop/R&B act. Michael and Peter co-wrote. I started working with him at Synchro Sound [The Cars' studio] and I stayed at the Lenox Hotel. I got there in November and we were there four months! Peter was great. He's so nice, and we became very good friends. A lot of great people came in: Adrian Belew played guitar and Yogi Horton played drums — it was all originally done with a DMX drum machine. Carly Simon was hanging out, and the guys from Aerosmith and The Cars would come in. Peter took me to dinner and said, "I want so and so to mix the record, but what do you think about you mixing the record?" I'm sitting there going, "Hey, I can mix the record!" I'd never worked on an SSL console before. He said, "Okay, you're on." We moved into New York, and I did research into studios. At this time, Right Track Studios had moved to 48th Street. I had worked at an early version of Right Track with a band called Shrapnel, which Daniel Rey was in when he was a kid. The late Mark Harvey — another great person in my life — was managing Right Track at the time. He also managed A&M studios in the '90s, when I did a lot of my work there. I got Mark on the phone because I knew Right Track had an SSL and two rooms. We went down and took over the B room. Peter was into putting up walls of Polaroid pictures, pictures of blues and R&B greats, and we'd jam. We had a drum set and a PA up at Synchro and also at Right Track. Mick Jagger and Bob Dylan would come in, so I got to meet these people, hang out, and have dinner with them. Peter knew everybody. I mixed the record and learned from Billy Miranda how to use the SSL, because I didn't know. I'd dropped in at Power Station a couple of times. I'd seen Bob [Clearmountain] working on an SSL. I remember a Lene Lovich session he was doing that I came in to hang out on for a little while, but I had never worked on it! I was scared to death. But I got through it. It came out pretty good, I guess.
I remember that record sounding way different than The J. Geils Band.
It had drum machines! I started working in New York again after working with Peter. I was still living in L.A.! I made a phone call and said, "Sell the car out there and help me pack up, because I'm coming back to New York." I moved to an apartment on West 78th Street in March of '84. I started working at Right Track.
Full circle. Did meeting Mick Jagger on Peter's record lead to working on Mick's Primitive Cool?
Yes, but again, Dave Jerden comes into the picture. I met Mick during the sessions, and we got on okay. [Steve] Lillywhite [Tape Op #93] was doing the Rolling Stones' Dirty Work at Right Track, and Dave Jerden was the engineer. I was there too, because I was always at Right Track doing sessions. They were there for a couple months. I bumped into the boys and met the rest of them, hanging out. Later I got a call from Gary Gunton, who was managing Dave Jerden. He says, "Mick Jagger called up Dave and wants him to go down to Barbados to do vocals and overdubs. Dave can't do it. Can you go?" I've always loved the Stones. He said, "I'll have Mick call you." An hour later Mick calls me from Barbados and says, "Hey, can you come on down? Jeff Beck, Simon Phillips, and Doug Wimbish are coming down to do overdubs." I went down to Barbados, and it turned out that he wanted to replace the drums. I forgot who the drummer was, but he no longer liked it. The tapes were all over the place. There was no producer. Keith Diamond and Dave Stewart had produced some of it — it was a myriad of confusion. There were no slave reels. Simon was the first to overdub. I literally had to make slaves of everything. I didn't make slaves at first, because Mick said, "Bounce all of the drums down to one track and Simon will play along with it." So I took all of the drums that were there, bounced them down to one track, and then Simon overdubbed to it, without a click track or anything. It was amazing. What was supposed to be two weeks turned into like two months, because Jerry Hall got popped for pot. She got arrested and went to trial while I was there. We ended up staying down there and working a few hours a day. Mick was doing vocals, and Jeff Beck was doing guitars. I love Jeff Beck. I always have.
He's such a good player.
And he's a great guy. We played Trivial Pursuit at night — I won! It was a lot of fun. We went to the beach, and at night we'd all go out into the clubs. Then we came back to New York, and we brought it to Right Track. Mick was used to the place. I guess I convinced Mick that I could mix it, because he wanted somebody else to mix it, asked me, and then it happened that we stayed at Right Track for another two months in Studio A. Keith Diamond came in and cut some more tracks, and we rehearsed for a show. I have some great recorded jams with Jeff Beck, G.E. Smith, Simon Phillips, and Doug Wimbish. I have one recording of [Jeff Beck's] "Freeway Jam" that was spontaneous. It's great.
That's crazy.
They were hanging out, and it was good times. Vernon Reid had come in and I had heard of Living Colour. Vernon played on one song on the Jagger record. I don't know how I got to produce that record [Vivid], because Ron St. Germain brought in demos of Living Colour to Jagger. They went down to CBGB and saw them, and Ron recorded two songs with them. We were mixing Mick's album in Studio A. Ron did "Which Way To America?" and "Glamour Boys" with Mick in Studio B — Ron as engineer and Mick as producer. Those demos are what got them signed. Ron and I talked about that, and it wasn't my choice. Things happen. It used to be music row there on 48th Street, where they had a Sam Ash store and Manny's Music. You'd see musicians there all the time. One day I was walking out of Right Track, and Vernon was walking out of Manny's, and he said, "We got a record deal, and your name has kept flying around as a producer." I asked Vernon to come by my place and I cooked up a tasty meal. That same day I was walking home to my apartment on 78th Street, and there's this guy sitting on 73rd and Amsterdam with all of his stuff. He's got a bunch of records with him. This is in the afternoon, and I'm going to have dinner with Vernon that night. Whenever I see records, I always stop. I pick up this record, and it's called The Skull Snaps. This record was pretty much the first thing I ever tracked. Back in the early days, between Babbitt and Gladys Knight, there was this guy named Lloyd Price. He had a record label, GSF, and he signed this band from Newark called The Skull Snaps. It's a record that I never even got a copy of. I had recorded and mixed it in 1974 at Venture Sound. This is now 1987 and this guy has it in his record collection and he's selling it. I asked him, "How much do you want for this?" He says, "A dollar." I gave him $20, because I was so stoked. Vernon comes over for dinner and afterwards we get into talking about music and the philosophy of recording. I tell him this story, and he says, "The Skull Snaps? I learned how to play the guitar by listening to that record." That's some wacky synchronicity. I think that clinched the deal between Vernon and I. My career really peaked for a little while there.
You were the producer on Vivid?
Yeah. It was produced by Ed Stasium and Mick Jagger, because he did produce those two songs on there. Then we went and did the second record [Time's Up]. I got to do The Smithereens and Jeff Healey during that time. At one point there were like three records on the charts. It was crazy. That'll never happen again, but it all worked out and I wouldn't do anything differently.
How long would you say there was a big peak like that?
Ten years. Even before Living Colour it was busy — from Peter Wolf on, like from '84 to '96.
I remember seeing your name a lot then — on the Ramones records for sure.
Yeah, I did plenty of the Ramones, even in the '90s with Mondo Bizarro and up to the recent Joey Ramone record [Ya Know?], so that continues.
What made you choose the mountains outside of Durango ten years ago?
We didn't know where we were going to go. I'm a train fan, and there's a steam train here, the Durango & Silverton. So my wife Amy [Hartman] did a search for a steam train and a mountain town. We were coming home to L.A. from New York once, and we flew over the area and saw all of the ski slopes. The area looked really nice. Everything was changing in the music business. You know what really got me? I had one particular manager at the time. There was a band at CBS; I talked to the A&R guy and my manager and they said, "Come down to the Roxy tonight at 11 o'clock. They're playing at 11:30." I go down there and my name's not on the list. I say, "Okay, I'll buy a ticket," and they're sold out. It became old. Things were changing, and the music was changing. I don't have a lot of respect for the pop music today, honestly.
Yeah, it's weird out there.
I came out here and didn't really do anything for a year — just hung out. I changed my method of doing things. I started getting some gear, but I didn't want to build a "studio." I wanted to have something in the house that was cozy, where I could work. Now it's pretty much having the band in the room when you're recording. And then they leave when you're mixing. They don't care if what they're listening to is an MP3, they'll listen to it and comment. I would say that half of my work is unattended mixing.
Have you had bands come out and track in the room you've got here?
Yeah, I have had bands come and track loud guitars in the room. A few.
Were the Misfits one of those?
We tracked the drums for the Misfits at Eagle Sound in Durango. I did all of the overdubs and mixing here at my home studio. Jerry [Only] doing his vocal warm-ups outside was really funny. He was singing these scales at the top of his lungs. My neighbor's going, "What's that?" I don't work past 6 p.m., so it's not really a problem doing loud guitars. It works.
Has anyone said they've heard anything outside?
I'll be walking the dog and somebody across the lake will say, "Hey, I heard some drums the other day." It's actually quite soundproof. I don't open up the windows, so it's pretty confined.
It would echo across the lake if you opened the windows.
I did that at the studio in Morin-Heights, actually. You get a little echo here, but Le Studio at Morin-Heights had a definite echo, so there was a part of a song where we put a Marshall cabinet outside and got a great echo.
This is a cool place you have.
Believe it or not, with those doors closed, we have really good separation. I didn't do anything to the room. There's a subfloor, so it's flexible, and drums sound really good in here.
You wouldn't have done this in 1978.
No, I never even thought of having a studio! I always used facilities. I utilized pretty much the best studios that were around. I was never a gearhead. I didn't buy gear. I acquired all the things I have now only over the last 10 or 12 years. I started building up the gear, and people still call.
Do you still go out for some jobs and go to other places?
Well, for Joey Ramone's record, we tracked the drums at Stratosphere Sound [Tape Op #37] in New York and recorded all the guest artists. We were in Hoboken at Water Music doing the Suzanne Real Band. Sid Griffin from The Long Ryders brought his group, The Coal Porters, out here a couple years ago. They called the record Durango. We set them up and took everything out of the room. We put stereo mics up, cut everything live, and overdubbed the vocals. That was fun.
That's a great way to go.
I don't work crazy hours. In the beginning, I used to work seven days a week, 15 hours a day, and I didn't care because I loved it. With Zachary Hunter, who I'm working with right now, I only work from 11 to 6, if that. There are some great Nashville players on it: Brent Mason, Paul Franklin, Stuart Duncan, Wanda Vick, and Pat Buchanan. My old friend Mike Bonagura hooked me up with all of them, after living in Nashville all these years. [Kenny] Aronoff's on drums and Bob Babbitt's on bass — before he passed away.
Having good players makes everything easy.
Yeah, they knock it out. It's amazing! Working with Zach is great. He comes in at 11, we do an hour, hour and a half of vocals, I'll comp it and finish by four. I take Ms. Wiggles out for a walk and make dinner. It's a great quality of life. I do miss the camaraderie of having your pals next door. At Right Track there were two rooms, and at MediaSound there were four rooms. At A&M in the '90s, everybody was always hanging out. You'd see all your friends.
It's different.
I certainly enjoy working this way. It didn't take any getting used to at all, really. I had to figure it out myself. I didn't have anybody teaching me Pro Tools, but I did wire upstairs. I have six inputs.
I figured the piano upstairs had to be available.
It's available. If I wanted to, I could do drums up here; but I don't want to. It sounds fine downstairs.
It's a question of how much does a home studio invade the home.
Yeah. I wouldn't want gear all over my house. The idea has been discussed that we'll move somewhere and actually have a separate building. Maybe with some nice bedrooms to put people up in. As you well know, you don't retire from music.
Nobody retires.
No, I like doing it! I seriously enjoy doing what I'm doing now as much as I did when I was recording in my mom's basement.
Tape Op is a bi-monthly magazine devoted to the art of record making.