As the driving force of the group Distortion Felix, Manny Nieto got bit by the recording bug after working with recordist Steve Albini [Tape Op #10/87] on their I'm An Athlete album in 1999. Manny quickly built a studio in East Los Angeles, Manny's Estudio International, and soon bands like Chokebore, The Breeders, Vaz, Health, Trash Talk, and even Los Lobos, were tracking records there. But a decade on, something snapped in the head of Manny Nieto, and soon he was off on a recording odyssey that took him to China and Southeast Asia, including the cities of Singapore, Beijing, Hong Kong, Macau, Chengdu — even venturing into New Zealand for sessions. Along the way he recorded some of the best acts that you may have never heard, like Pairs, Poubelle International, Reign Lee, UNiXX, Boys Climbing Ropes, Snapline, Forget the G, Proximity Butterfly, Hedgehog, Chui Wan, Cheating Sons, In Each hand a Cutlass, and Obedient Wives Club.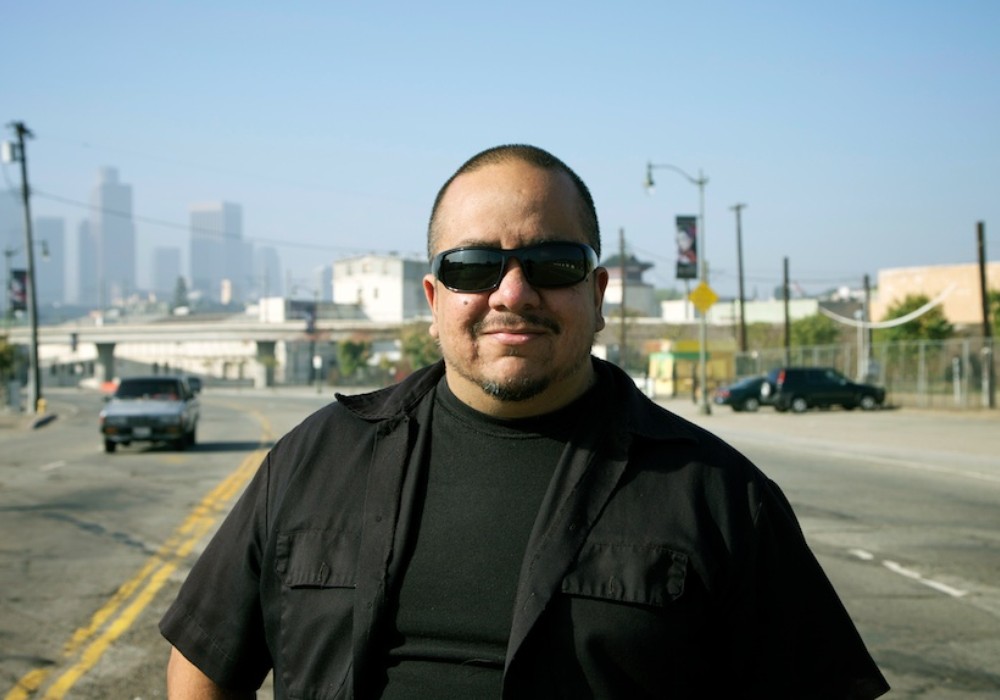 I first found out about Manny's journey directly from the explorer himself, receiving an interesting email not long before the quest began. These emails continued unabated as his trip was extended and more records were made, and the excerpts below make for fascinating reading. In between trips to Asia, Manny dropped by my studio post-session one night, and after some delicious burritos we popped some beers.
Check out the extensive candid gallery of Manny's travels and recording sessions below, and read the full interview that follows.
[ gallery ]
What led a man in his forties to fill several bags full of equipment and hit the road? Especially given that you have a son, own a studio and were enjoying a busy stateside recording career!
Part of it is Los Angeles. After working there for 13 years, I found myself recording bands that were selling out local venues — the darlings of the city. Not that I questioned the art that they made, but after the fact I questioned what they were really making music for. I saw a lot of bands making music for a scene, or a style. There's a certain time period where you start to burn out in this business. These people are in China, and they can't leave the country. Who are you making music for? It's got to be for yourself.
How did China become a focus for you?
I had gone to Steve Albini's wedding in Honolulu, and I found out that there was a hardcore punk scene in Honolulu's Chinatown. Once you're stuck on an island, it's kind of the same thinking. They only made music for one block in Hawaii, on Hotel Street. All these punk and weird bands made music there. I started to record them. One of the band guys told me that he'd gone to China and had seen these crazy bands. I went on the Internet, about seven months before I actually went to China, and I started becoming almost obsessed with finding these bands. Eventually I found a blogger and a booker. As I found a few bands that were worth thinking about recording, I thought more about the logistics of going there. It didn't make any sense. I don't make enough money to disband my own studio. We had this prototype microphone made by sE Electronics, and I knew it was made in China. sE turned out to be this modern company, with Rupert Neve [Tape Op #26/79] even designing microphones for them. I sent them an email and said, "My name's Manny. I wanna go to China. Can you help me out?" The next day, the owner, James Ishmaev-Young, called me from Europe and said, "Hey, if you can land in Shanghai, that's where our factory is. We'll hook you up with microphones if you want to record Chinese artists."
That's pretty sweet.
So right then, before I even got one band to agree, I literally had a choice of two of the best mics, the Voodoo VR2s and the T2 [titanium multi-pattern large diaphragm condensers]. The T2 are like bulletproof [AKG] 414s. That was the point where I went down and got my visa. "I'm going to China!" I had one band in Hong Kong lined up. What I didn't know is that China's pretty big. Hong Kong isn't even technically considered China. When I looked at a map, I was like, "Oh, look! That's close by!" Taipei is technically part of China in some ways, but it's not. I had no idea. I found some more bands, and I found a group in Shanghai to record. I landed in Taipei because I thought there were some sick bands there, but they were all on tour. In the process of leaving Taipei to go into China I lost about a thousand dollars in gear because they wouldn't let me take that gear into China. I'm thinking, "This is going to suck." I didn't speak any Chinese, and I couldn't understand anything. That was my first moment of, "What the hell am I doing?" I realized that it was the discipline. It was like telling myself, "Okay, you're going to eat it. You're going to work a lot of hours. You're going to haul your own gear, and you have no one else to help you put up your mics." I felt like I needed to learn, once again, how to make records and how to enjoy them.
What was the impetus for the bands to work with you?
Out of all the bands I contacted, none had the money to record in a studio. There wasn't one studio I found that was very affordable. It was about $700 to $1,000...
The rest of this article is only available with a Basic or Premium subscription, or by purchasing back issue #98. For an upcoming year's free subscription, and our current issue on PDF...