Let's get one thing out of the way first: I love old technology. If I had the space, I'd have a workshop full of old radios, open reel tape and wire recorders, valve amps, old keyboards and vintage guitars. (Thinking about it, there are those who would say my house is getting that way already). I also dig obsolete and forgotten recording formats — the more obscure the better — send 'em my way (say, has anyone else come across those weird 8-inch magnetic disc recording machines from the pre-tape 1940s?). I've always loved this kind of stuff. When I was small, in the mid-1960s, I can remember my dad reading the radio hobbyist magazines and building radios and tape recorders with great-sounding names... Leak, Quad, Truvox and Ferrograph... those names alone conjure up a bygone era and a pioneering, experimental spirit. To paraphrase Phil Spector, back to mono, kids! The digital domain just doesn't do it for me in the same way.
Up until just a few years ago, vintage musical equipment was fairly easy to find here in London. Nobody seemed to want the old stuff, and music shops couldn't give it away! Things are changing now though. Vintage instruments and recording gear are becoming scarce and sought- after, so when these items come onto the market, they are often snapped up straight away. Folks seem to be re-evaluating gear previously thought to be obsolete or mundane ... it's as if they're discovering a forgotten world: "Hey, maybe there is something worth using here!" Well this newly acquired "retro-vision" is no news to me, and it won't come as any surprise to the folks at Toe Rag, either, because they've been there all along.
Toe Rag is an East London recording studio operating very much in the classic style. Here's an antidote to the sometimes-too-sterile world of modern digital recording: an entirely analogue studio, fitted out with an impressive collection of vintage recording equipment and instruments, salvaged over the years from auctions and studio graveyards, and carefully restored by the studio's resident engineer and manager, Liam Watson. Liam has run Toe Rag since 1992 and has just relocated the studio to a specially designed new space, so I was delighted to visit and check it out.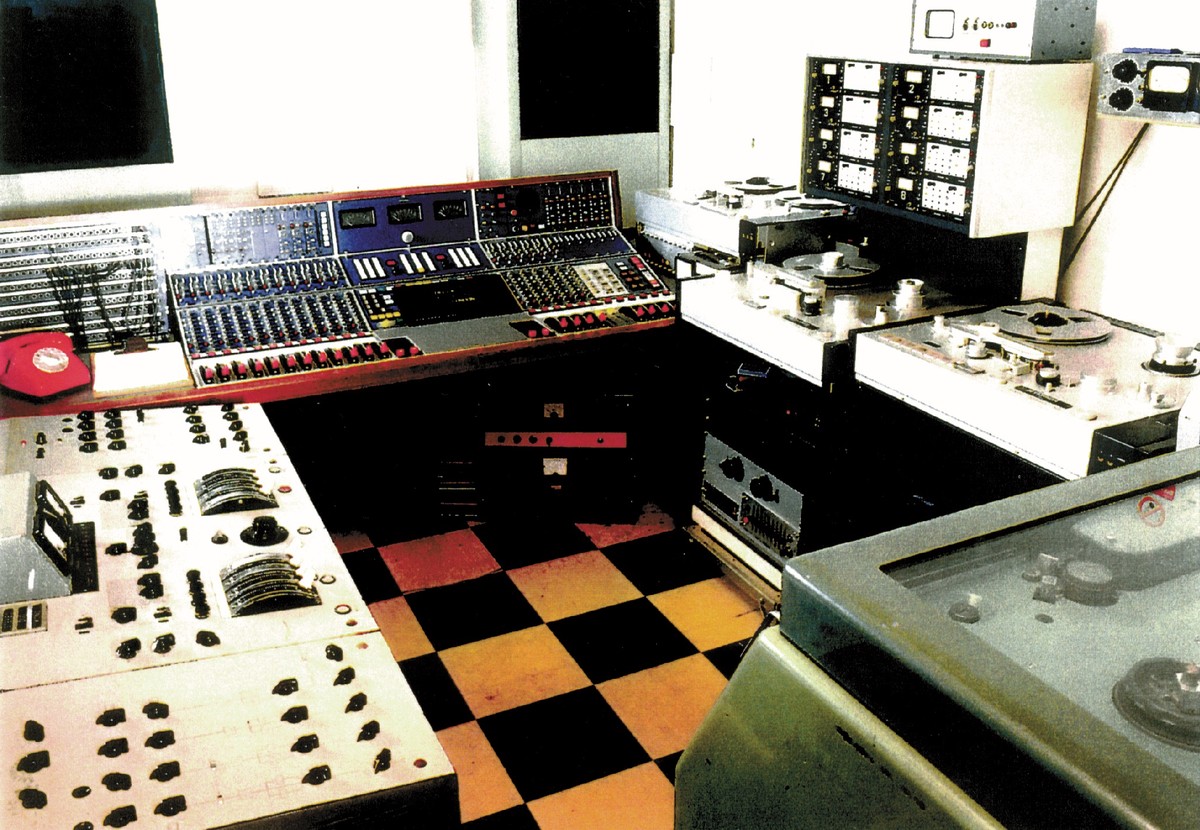 The studio room (see picture) is 17ft by 14ft with an 11ft high ceiling and nifty retro-style black-and-white-squared lino floor. Straight away I was reminded me of how I imagine an EMI studio might have felt in the mid-1960s. I was half-expecting to hear one of those stereotypical white-coated studio boffin on the talkback any second: "That's a take, boys!". That feel is captured so well that two film crews have recently been in to shoot sequences amongst the authentic period studio fittings. A large retro "Recording" light above the window into the control room is a nice touch and a collection of vintage condenser mics is arranged along one wall. Outside in the hallway there is a wonderful selection of valve guitar amps, an old tone wheel Hammond L102 and a Vox Continental organ, the latter as used by legendary garagepunkers, ? & The Mysterians on their recent London visits.
The control room (see second picture) is 14ft by 9ft and is dominated by four huge tape recorders including a striking BTR (British Tape Recorder) Model 2 one-track 1/4-inch mono deck from the mid-1950s which, true to form, is painted battleship green. Liam is still restoring this machine and hopes to have it working soon. In the meantime all recording takes place on either of two Studer multitracks: a 1-inch A80 8-track and a 1/2-inch J37 4-track. This latter machine previously belonged to Fab 208 Radio Luxembourg, and was apparently used for a lot of their radio sessions. Mixdown is to a third Studer A80 1/4-inch machine. Mixing desks are a Calrec M Series dating from the
1970s, bought from the BBC, and an EMI Redd 17 desk from 1956 which previously belonged to Abbey Road until EMI had their famous equipment auction in the early 1980s.
Outboard effects include some classic names with compressors from Cinema, Altec, Pye and Gates and an AKG reverb chamber. Most striking of all, in the corridor between the studio and the control room there is a large rectangular wooden box stacked up along one wall, measuring at least six feet long. Liam explains that this is an original EMT 140 reverb plate, and gleefully demonstrates the single large dial looking rather like a water stopcock on the top of the case. The EMT is of course a complete classic, and didn't Abbey Road at one time have a roomful of these monster machines? It's great to see one still in captivity.