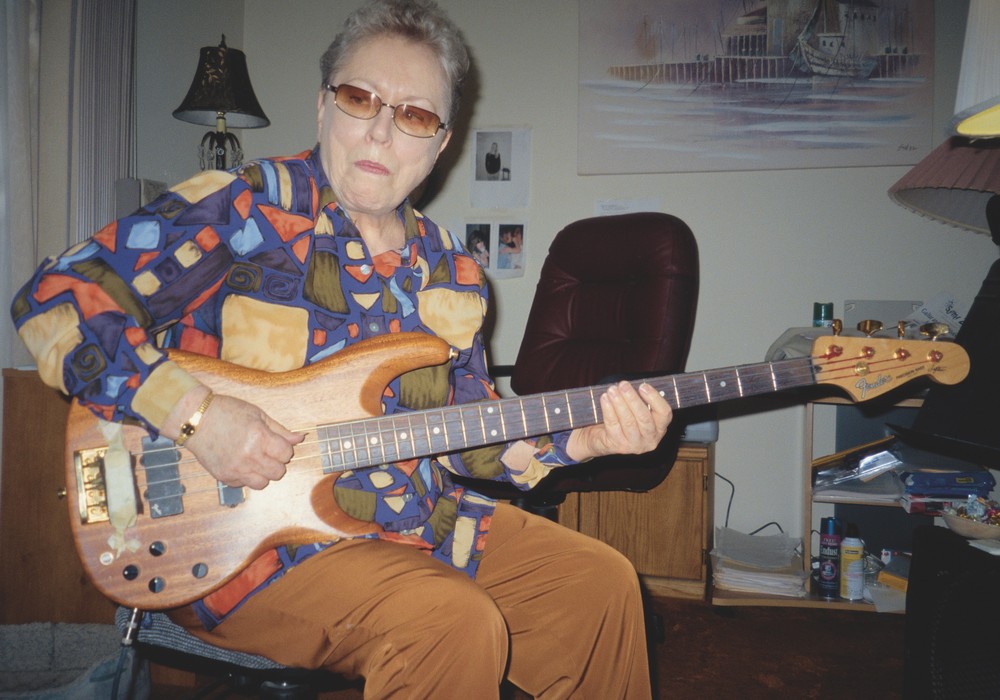 Carol Kaye is one of the most recorded bass players of all time, with 10,000 sessions and 40,000 songs under her belt, including a staggering list of hits for Ray Charles, The Righteous Brothers, Johnny Mathis, Nancy Sinatra, Sam Cooke, Glen Campbell, Lou Rawls, Jan & Dean, Henry Mancini, The Lettermen, Paul Revere and the Raiders, The Monkees, The Buckinghams, Sonny & Cher, Andy Williams, Quincy Jones, Joe Cocker, Ike and Tina Turner, Mel Torme, Bobby Darin, Frank Zappa, Wayne Newton, Herb Alpert and even some Motown tracks cut in L.A. Carol is also the bass force behind the Beach Boys' Pet Sounds and Smile records, plus much work with Phil Spector and his "wall of sound". Her list of accomplishments is as endless as it is impressive.
How many sessions a day did you used to work?
Two, three, four a day. That's three-hour dates, and a lot of times you'd go over a half hour, too. But we were pretty organized — we just got used to working hard and go to the next date. It's the first time in history, I think, where musicians in the studio could make a lot of money. We just stayed in the background, which was just fine with us. You had guys in there with butch haircuts that were not hip, like hippie fashion of the '60s. They were older guys and they were wonderful guys. They were top of the line, as far as playing their music and being in the studio working. They were either from the jazz world, or they were from the big band world. There were a lot of experienced guys in there, and if it was rumored that you used drugs or you used booze, then you simply weren't hired. You never saw drugs or booze in the studios in the '60s. Just a little bit in the '70s, but never in the film world at all.
How did you get into studio work?
I accidentally got into studio work close to Christmas time, 1957. Bumps Blackwell came in a jazz club that we were playing with Teddy Evers, Billy Higgins on drums and Curtis Counce on bass. At that time, I was playing a lot of jazz gigs. Bumps comes in and asks, "Do you want to do a record?" I didn't know him, but the rest of the band did, so I thought, "Okay, I'll take a chance." I really didn't want to go into studio work. I was about 22. So, Bumps asks me to do a record and he says it's for Sam Cooke. The date went really well, and the players were really nice. It paid real well. I thought, "Okay, maybe I should do this." And Bumps had some more work for me — I played on the Ritchie Valens stuff and then the Phil Spector stuff. Anne Margaret and Pat Boone. Five years into the studio work I wasn't that hot on guitar but I could play all the utility rock and roll kinda stuff. As soon as the bass player didn't show up at Capitol Records one time [1963], they put the Fender bass in my lap because I had been playing the Dano bass guitar, which is similar to it but it's not a real bass. I had fun at it, and I could feel how much more fun it was to play bass than it was to play guitar. If I play bass I only have to carry in one instrument. The guitarist, with the 12-string, 6-string, Dano, ukelele and banjo and all that stuff that you had to carry in. I always played with a hard pick, got a good sound, good feel and everything. I was fortunate to get a lot of work. I saw the creativeness that could be done on bass. Nobody up to that time was playing what I was hearing on the bass, like little Latin type of rock and roll figures. They used me a lot, especially that pick sound. They wanted a real clicky sound at first, but I said, "No, no, it's got to have a real bass sound." But some people still wanted that treble sound, so on certain dates, like with the Beach Boys, I got a lot more high end, because that's what Brian Wilson wanted. With Mission Impossible, I had the low end and the high end, and I really punched it hard. But there were other dates, like Andy Williams or The Lettermen — I kept the low end in. Most of my dates were just one bass, but there were sometimes, like on Pet Sounds, when they used the string bass along with me.
That brings up something that's very interesting to a lot of people, which is your pick style and your muting style.
The sound of the bass comes from the pickup, the strings, the rosewood neck, a little bit from the nut and from the...
The rest of this article is only available with a Basic or Premium subscription, or by purchasing back issue #45. For an upcoming year's free subscription, and our current issue on PDF...