A former co-worker of mine liked to use the phrase "It's a product of excellent quality." If I raved about a new album, a new pair of shoes, or just about anything, he'd say, "Oh, so it's a product of excellent quality, then." Here are some recent self-released albums that are products of excellent quality.
1. Au Revoir Borealis — tienken (CD-R) — "I could lose myself in this." So say Au Revoir Borealis in the opening track, "Heaven's Downward," here on their debut. Au Revoir have created a lush, expansive EP filled with dreamy textures, courtesy of synths and swelling guitars. The band started out as an instrumental 3-piece before adding Stephanie Halpert, who, with her vocals, adds another dimension to the band's luxuriant backdrops. tienken was recorded intermittently between July 1999 and May 2000 at Hyperion Studios in Auburn Hills, MI, and at the band's headquarters. tienken is available for $8 from Steve Swartz, 13647 Gander, Warren, MI 48093, info@aurb.org, www.aurb.org
2. Travis Ward -Ghetto County (CD-R) — This is one of those records I find very hard to describe. If every song were like the opening "Mountain Mama" I'd call it country-rock, reminiscent of Uncle Tupelo. But on the next song it gets more folky. Then there's a trumpet-based instrumental. Then something that sounds like Tom Waits. Then a song that could have come out of late-'60s San Francisco. But y'know, somehow it all sounds like it comes out of the same guy, which of course, it does. Ward wrote and recorded this at home and played most of the instruments, but brought guests in to add accordion, pedal steel, trumpet, kazoo, and love. Travis Ward, 1609 N. 12th Street, Boise, ID 83702
3. Junkbunny — Bump (CD-R & Cassette) — Junkbunny is a collaboration between lo-fi popsters Michael J. Bowman (drums, vocals, guitars, Casio, computer), Joel Bachrach (vocals, keyboards, guitars), and Alec Cumming (vocals, bass, guitar, Casio). As with Bowman's previous recording projects MJB and Cloud, Bump is loaded with clever pop songs, as well as a few explorations into other styles. There's no angst here — just three guys getting together and having fun. It shows. Bump is available via trade or for $5.00 (well-concealed cash, please) from MJB, 11 Orchard Street, Cold Spring, NY 10516, www.semperlofi.com
4. Rob Foundation — Heavy Thing (CD-R) — Rob Foundation is led by Stevan Robinson and is described as "Soulcore." I hear melodic hard rock, in the best sense, that is powerful and confident in the manner of Living Colour. Distorted guitars, loud drums, and authoritative vocals run through the entire album. Recording was done at Rocket Slide Studios, and while there's no mention of equipment or procedures used, there is what looks like a 1/4" 4-track on the back cover. Dreadrock Booking & Talent, Des Moines, IA 50311. www.geocities.com/robfoundation
5. Today — Today (CD-R) — Today is a new band from New York, and this 4-song EP marks their recorded debut. Today's music is jangly, clean, and pleasant indie-rock, with darker touches here and there. The band members work well together to bring out the best in the songs. This is especially noticeable in the drumming and guitar work. Rather than provide simple, standard backing, the players have worked out inventive parts to serve the songs, sung by vocalist Millie Benson. Today was recorded by Joel Hamilton at Studio G in Brooklyn. Abstract Hits, 97 Allen St. #5, New York, NY 10002, dsmcc@worldnet.att.net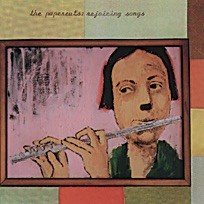 6. The Papercuts — Rejoicing Songs (CD-R) — This is lo-fi majesty. The Papercuts are Jason Quever and an assortment of guests, performing the kind of Bacharach-inspired ear-candy pop in which Papas Fritas and East River Pipe excel. As the press release says, "Jason has a keen ear for the perfectly placed sounds and thick reverb of '60s R&B, soul, and pop records. Clever arrangements of guitar, drum kit, cello, Hammond organ, electric/acoustic piano, xylophone, turntable, and Casio are backdrops to stories of innocence, alienation, and faith." I couldn't put it any better myself. Rejoicing Songs was recorded by Quever at home on 8- track, except for...
The rest of this article is only available with a Basic or Premium subscription, or by purchasing back issue #22. For an upcoming year's free subscription, and our current issue on PDF...