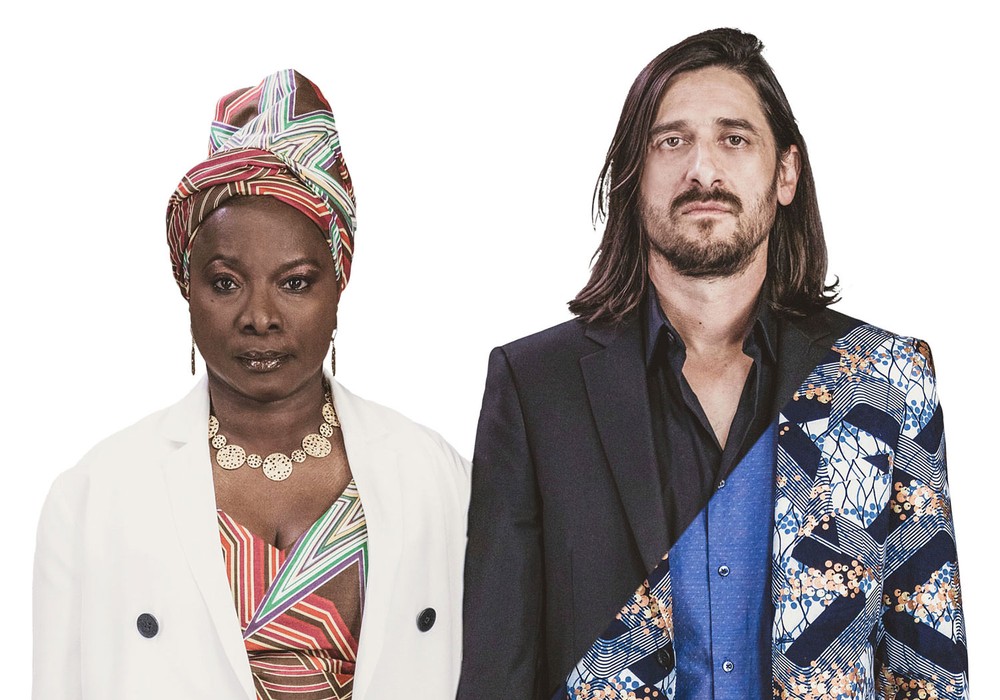 As the music director for Bruno Mars, Kanye West, and Lady Gaga, Jeff Bhasker eventually parlayed a keen musical sense into a successful production career, with credits on iconic records by Kanye, Jay-Z, Alicia Keys, fun., and Mark Ronson [Tape Op #105]. In 2018 he produced Angelique Kidjo's cover album of Talking Heads' Remain in Light, a wonderful exploration of the original release.
How did Angelique's record come around?
I met Angelique during a charity event that I was a music director for, and she was the honored guest. We hit it off; it was speaking to my past career resume as a music director for Kanye West and Lady Gaga. Also, I come from a jazz background and so does she. We hit it off and stayed in touch. She said she wanted to do something together, and I suggested that we do something in English, because she'd never done an album in English. I think she kicked it around in her head, and she's said in other interviews that she remembered the impression that The Talking Heads' Remain in Light album had made on her when she moved to France from Benin, Africa. She started making these demos, adapting that music in her style, and then she brought them to me. I intended to only do one or two tracks, but I thought it was such a special project that I told her I wanted to do the whole album. I actually brought it out on my record label [Kravenworks]. I went from hedging a little bit on the responsibility I wanted to have for this project, to really buying into all of the themes and content. It was such an awesome opportunity to combine the storytelling of these topics – colonialism, racism, and heavy, political messages – and also collaborate with some legendary people, like Tony Allen [drums], Pino Palladino [bass], Alicia Keys, and Ezra Koenig from Vampire Weekend. People who all have these connections to African music, and to Angelique. That's the trajectory the whole project took. It was a real labor of love, and a special project in my career. Not to mention Angelique being such a powerhouse, and such an incredible person. After the first day I spent with her in the studio, I was like "Wow, that's the most fun I've had in a studio in a long time." She has that effect on people. She's also one of the most dynamic, powerful, and pure performers. That was one of the first things I noticed at the soundcheck of the event; she puts the pedal to the metal. She gives it everything she's got in every single performance. When you watch her perform, it's obvious. It was a real thrill to work with an artist like that, who gives everything to what she's doing.
You said she demoed some of the songs. Did she already have a vocal direction in how she wanted to present them?
It was really interesting approaching such an iconic recording. I hold Brian Eno [the original album's producer, Tape Op #85] in such high esteem. He's an innovative producer in the field of recorded music. David Byrne [#79] also. They're second-to-none when it comes to really unleashing creativity on the recording process. Yeah, she had all these demos. Her husband [Jean Hebrail] is also a musician, producer, and used to play bass in her band. He's also familiar with Pro Tools and whatnot, so he mocked up various basic tracks for her to sing over, and she also recorded all these African chants that go along with every song. It's like a dual song in every song. They also had all these recordings, like field recordings of Beninese musicians that they had compiled. He filled in the blanks with tracks from those sessions. Most of the vocals were already recorded really well. We only re-recorded a few parts. In learning about the process of making Talking Heads' Remain in Light, it was interesting to find out that a lot of times musicians were recording very out of context, and even made to think that the "one" was in a different place. It wasn't very straightforward! I reduced everything to its essence. In a more songwriter aspect, or pop aesthetic, you want the song to be able to live on just piano, or guitar and vocal. There shouldn't be too much razzle-dazzle on the production side to make the song live. Trying to reinvent that, I broke everything down to djembe and her voice – took it all the way...
The rest of this article is only available with a Basic or Premium subscription, or by purchasing back issue #130. For an upcoming year's free subscription, and our current issue on PDF...