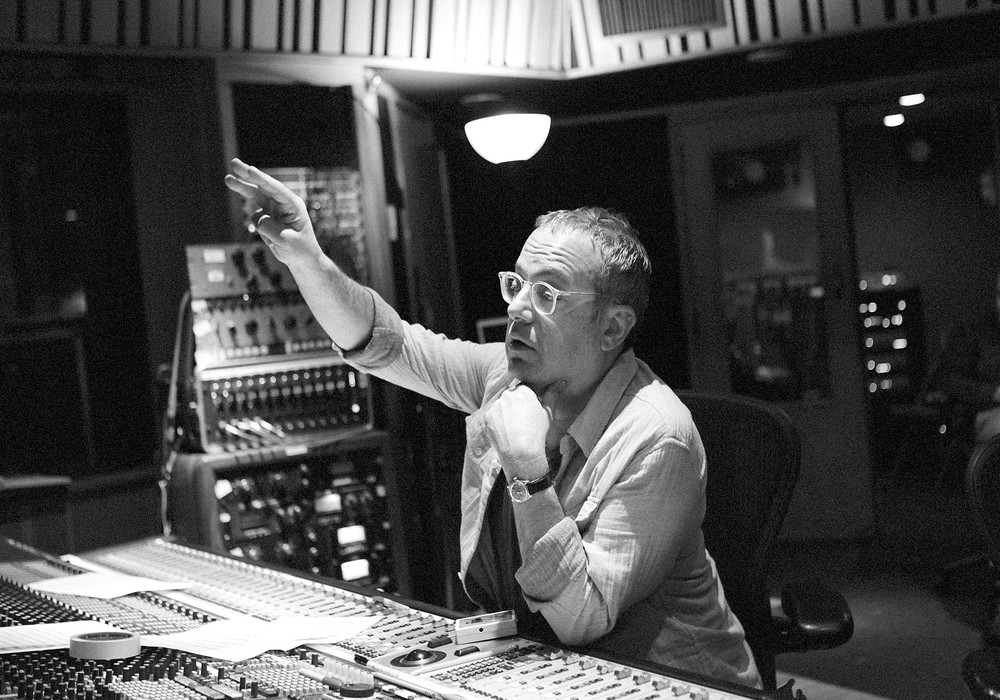 Larry Klein began playing bass at a young age, touring with famed jazz musician Freddie Hubbard, and has since gone on to produce records for Joni Mitchell, Herbie Hancock, Tracy Chapman, Shawn Colvin, Melody Gardot, Thomas Dybdahl, and Madeleine Peyroux. I crossed paths with Larry over a vintage Neumann U 67 he was selling, and being a very open, easy-to-talk-to guy, I asked him if he'd be up to speak with me for Tape Op. Larry is not only personable and fun to chat with, he's also passionate and enthusiastic about music after decades of making records. Perfect qualities for a producer, right?
You originally started as a session bass player, right? How did you make that transition from being the bass player to the guy running the sessions and producing records?
I actually started with the intent of being the world's greatest jazz bass player, with the goal of playing with all my jazz heroes. I started playing bass when I was about twelve. Somewhat quickly, I discovered the genre that would give me more room to develop as a musician on bass was jazz. I started out listening to The Beatles and playing all of the pop music on electric bass that was afoot during the early '60s. Then I started studying with a couple of different teachers, discovered jazz, and became completely obsessed. I started playing upright bass and playing in community orchestras, as well as playing with jazz bands, and learning. I started the process of learning to play jazz, while also pursuing a formal classical education. By the time I was in college, at a certain point I finished all of my music requirements, and I started getting offers to go on the road with people that I had listened to in my bedroom and worshipped. I decided, "I don't really want to be a teacher in a university, so I'm going to go do this now." I started going on the road with Freddie Hubbard, Carmen McRae, Joe Henderson, and Willie Bobo – my first road gig. My path since then has been one of exploring and enjoying one facet, while also discovering that I needed to go elsewhere, or further, in a different direction. At a certain point I'd been on the road for nine or ten months of the year, for four or five years, and I started feeling like there was a narrowness in the jazz world that I wasn't crazy about. Also, I didn't like being on the road nine months a year, so I decided to stay in town and try to do studio work and learn about the studio. I wanted to really learn to use the studio as an instrument, and use it to get at what I was hearing musically. I stopped touring and started doing record dates. I had a whole set of studio heroes, too. Guys like Joe Osborne and Lee Sklar; the premier studio players at that time. I began to do more studio work. I did that for a few years, and then, at a certain point, I butted up against the limitations of that. When you're a studio player, you get called for a record and you go play on it, whether it's something you love, or some music that you're not crazy about. That's how you make a living. I also became frustrated with playing on records and then hearing the final product and thinking, "What happened?" Everything magical got buried. "It sounded great when we tracked, but there's nothing left!" That's when I really thought, "How am I going to be able to use everything that I know how to do and still learn something every day?" I decided that producing records was the way to unite all those interests, and do so in a way where I could really continue to develop in every area. Every project would be an expansion and a learning process for me. I started doing it for free, initially; for friends who were doing a few songs in the studio. I'd say, "Hey, I'll produce it. You don't have to pay me." Gradually, work opened up in that area. I met Joni [Mitchell] on a date that I got called for. I ended up working on that record of hers, Wild Things Run Fast, for about a year, on and off. During that year, I was doing other projects and continuing this path towards production work. Eventually, we started working together and producing her records.
Do you think starting off as a bass player, which is a more supportive role than playing guitar or being the lead vocalist, helped you become more aware of how a song works or doesn't work?
Yes; and I never knew this until I started...
The rest of this article is only available with a Basic or Premium subscription, or by purchasing back issue #137. For an upcoming year's free subscription, and our current issue on PDF...