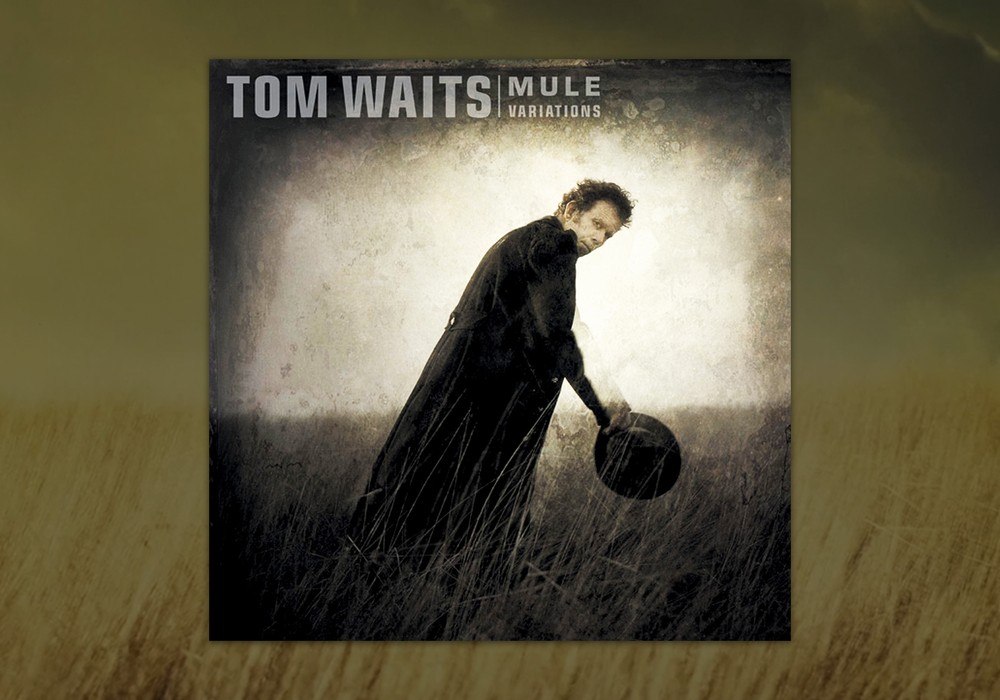 Tom Waits released his legendary 13th studio album, Mule Variations in 1999. This was the same year that gave birth to Napster and saw Ricky Martin releasing his monster hit, "Livin' La Vida Loca," the first number-one single to be recorded and mixed entirely in Pro Tools. That year, Waits would return to Cotati, California, and Prairie Sun Studios (where he had previously recorded his album Bone Machine) to begin Mule Variations. Though the album was "recorded, mixed, and mastered in analog," according to the liner notes, Waits would integrate several digital elements into the recording process. Mule Variations would go on to become a critical and commercial success. As the album garnered Grammy Awards and further critical praise, Tom embarked on an extensive world tour. Not bad for the then 50-year-old Waits; it's no easy feat for a living artist of the classic rock era to be taken seriously by modern day hipsters and tastemakers. Tom Waits, however, stands with the likes of Leonard Cohen and Nick Cave as an artist that has remained both commercially viable and creatively fertile well into the later years of his career. In the spring of 2020, Mule Variations' engineers Jacquire King [Tape Op #140, #88, #45] and Oz Fritz [#75], along with Prairie Sun Studios owner Mark "Mooka" Rennick, discussed how the juxtaposition and discomfort of Prairie Sun inspired Waits' landmark album.
What was your first impression of Prairie Sun Studios?
Jacquire King: That's where I met Tom and Kathleen [Brennan, Tom's wife and co-producer]. He had phoned me, we set up the interview, and I went up there. I was aware of Prairie Sun before that but I don't think I'd been there. I loved it. I prefer recording in non-traditional spaces anyway. There are certain things that I require to make a great recording, but it doesn't necessarily mean I need to be in a fully-modern studio facility. I love the environment [of Prairie Sun]. I grew up in a rural environment; I worked on farms. It felt very natural. I knew that it appealed to Tom. He had made Black Rider and Bone Machine there. I'd listened to Bone Machine a bunch of times. I knew that there was a cool vibe there, so I was totally on board with it. One of the discussions I had with Tom, when I met him the first time for the interview, he was wondering how I felt about recording outside. He said something like, "Jacquire, if I wanted to record in a dumpster... would you do it?" I was like, "Yeah, man. Whatever you want to do." I think he wanted to see what my aesthetic was, and if I was really tied to having to record in a proper studio. He didn't know me or how adventurous I was. I told him I was a huge fan of Alan Lomax and he lit up, then he pulled this microcassette out of his jacket pocket. He played me a couple things; he had stopped at a train crossing and recorded a train going by, as well as the whistle. He likes found sounds and the sound of an environment. That was one of the aspects that appealed to him about Oz.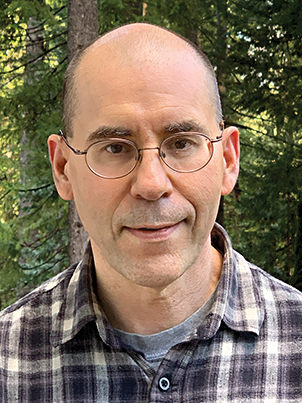 Oz Fritz: I went and interviewed with Tom to do the record and then Tom kept delaying the start time. I had a bunch of dates already booked with Bill Laswell [Tape Op #93] to do live sound in the summer, which I wasn't going to give up because he's a long term client and friend of mine. I told Tom, when they finally got the start date, "There're going to be some days I'm not gonna be here because I've got to go overseas." Tom said, "Well, I don't want to keep switching engineers. I love your vibe. We'll probably do something in the future, but I want to have one engineer for the whole thing." So, cool; whatever. He went looking for another engineer and he'd heard about Jacquire King. They brought him up to Prairie Sun for the interview. Tom's interview consists of a session. He doesn't tell you when you're going for the interview. When you get there he says, "Okay, let's do some recording." They did that for Jacquire and I got a call the next week from Tom, asking if I would be willing to be the chief recording engineer. [I'd] set the parameters, meet with Jacquire, and show him how I do analog recording. The thing Tom liked about Jacquire was he was a Pro Tools engineer. So Jacquire became more than a substitute for me. He brought out Pro Tools and they used it on "Filipino Box Spring Hog." "Lowside of the Road" might have been mixed [on Pro Tools] too.
What was it about Prairie Sun that drew Tom Waits to it?
Mark "Mooka" Rennick: I'd like to say that he went out of his way to find this bucolic environment, but he actually moved to Sonoma County. I don't want to take any credit. Prairie Sun is not a pretentious situation. It's very raw, and it's very basic. It was a perfect storm of a very avant-garde artist and studio. He started a film score [for Jim Jarmusch's film] Night on Earth in '89 and that was in Studio B. Then we did Bone Machine, Black Rider, and then Mule Variations. Jim Jarmusch also directed the videos for Bone Machine and did [the film scene with Tom and Iggy Pop for] Coffee and Cigarettes here. At the end of the scene, Tom goes, "Well, I think I gotta get going..." Iggy's playing this guy like, "Oh, yeah! Yeah, Tom. I get it..." Iggy gets up and he walks over to the sliding glass door in the live chamber, next to the control room. You hear the doors open, and Iggy goes, "Well, I'll see ya later Tom!" What you hear is Iggy in the live chamber saying goodbye. You hear our echo chamber!
Tom came to you in '89 and said, "Hey, I'm local and I need to record somewhere"?
MR: Well, Tom initially came to us because of a guy named Bob Forrest in a band called Thelonious Monster. He was a good friend of Tom's from Los Angeles. He wanted Tom to do overdubs on his album. He came up from L.A.; it was 6 o'clock in the evening, and Tom came into Studio A [to] record some vocals on [Forrest's] album. Then, Tom had a live gig down in San Francisco at Bill Graham's Civic Auditorium, and he needed a rehearsal place. So, he went down to Studio C and he auditioned all these different players from the Bay Area. They came down to Studio C and then he heard the acoustics of the room, especially what would become "The Waits Room." He got the vibe, and, after doing the live gigs, he came in and booked Night on Earth with the engineer Biff Dawes. [Dawes] was the main guy for Bone Machine until Tom's schedule stopped and Biff had to take another gig that he'd already booked. Then Tom came in with Tchad Blake [Tape Op #16, #133] to finish Bone Machine at Prairie Sun.
'The Waits Room' @ Praire Sun
Oz Fritz: The first record that Tom did at Prairie Sun was Bone Machine. At that point, there was no "Waits Room," there was nothing done in those lower rooms. There was only the tracking room – Studio B – and then there was the mixing room – Studio A. Studio B, the live room, sounded good, but it was very generic sounding. They started [Bone Machine] and they had him all set up. After one playback, Tom hated it. He hated the sound. It lacked character, for him. He wasn't going to do the record there. He then had the idea to do it at his house. He rented a whole bunch of mics and [mic preamps], took it to his house with engineers, but apparently it also didn't work there. He came back to Prairie Sun, and they were walking down the driveway. Tom was trying to think of what to do, and he looked over and saw that building that has the Waits Room in it. He went in. It was a storage room, and he said, "Well, what would this room be like if we took all the junk out of it?" So they did, and it sounded amazing. So the Waits Room was actually born during the making of Bone Machine.
Were you brought on as "the digital guy"?
JK: Well, that's a little bit of a misconception. Yes, I was brought on because of my knowledge of Pro Tools. Absolutely. I owned a couple of Pro Tools rigs, and I was able to bring that expertise and facilitate that curiosity that Tom had. But all my training, and many of the studios I worked in, were all analog. At that point I had been making records for nearly ten years. I had come up in analog recording studios before there was serious multitrack digital recording. There was some tape-based digital, but there were no DAWs yet. That's why I got the call. I had the traditional, analog background, plus I was an early expert in Pro Tools. My role was there to help facilitate some of that, and then also to be a partner with Oz.
Dipping your toes into the digital realm...
JK: Totally. Tom had heard a lot from friends and others [of] the power of [digital recording] as a creative tool. Tom is a collector of sounds; a lot of found sounds. So he wanted to explore the opportunity to take some of those and incorporate them into a production. He understood that Pro Tools was the means to that end. He could have me take some of his recordings and make them into loops and samples and so forth. A perfect example is "Big in Japan," the boom-boom pow-pow! boom-boom that starts it, that's a recording Tom did of himself on cassette. He's in a parking garage; there was a metal dresser, and he was playing it as a percussion instrument and vocalizing with it. I found a little snippet of it that I felt looped up well, and I made a loop. That's what we recorded Primus – with Tom – playing over.
'The Waits Room' @ Praire Sun
MR: "Big in Japan," I would say, is my favorite. It was actually mixed in Studio A by Oz Fritz. It had a different sound. The vocal's all distorted; he did the distortion with a megaphone. Tom was famous for his megaphone type of distortion. By that period in time, he had already worked with Tchad Blake. Bone Machine had broken a lot of ground, using a [Tech 21]SansAmp, broken compressors [Shure Level-Loc], and strange PA systems from India.
OF: Tom wanted to record "Chocolate Jesus" outside. He set everyone up in front of those white doors that are in front of the Waits Room, and Jacquire mic'd everything up. When Tom heard it, he thought it sounded too high fidelity. So Jacquire went back. He took down all his close mics, put up a pair of shotgun mics, and recorded the whole ensemble with these shotgun mics. I technically mixed that song, but there wasn't much to do because there were only two channels.
JK: Oz and I did record ["Chocolate Jesus"] together. The kick drum sound is actually an old, rusty gas tank from a truck. I remember Oz put an [AKG] D112 microphone on the opening to it, where the gas would be pumped into it. I think we did some drums and percussion outside, but "Buzz Fledderjohn" and "Chocolate Jesus" were the only ones that were [completely] recorded outside.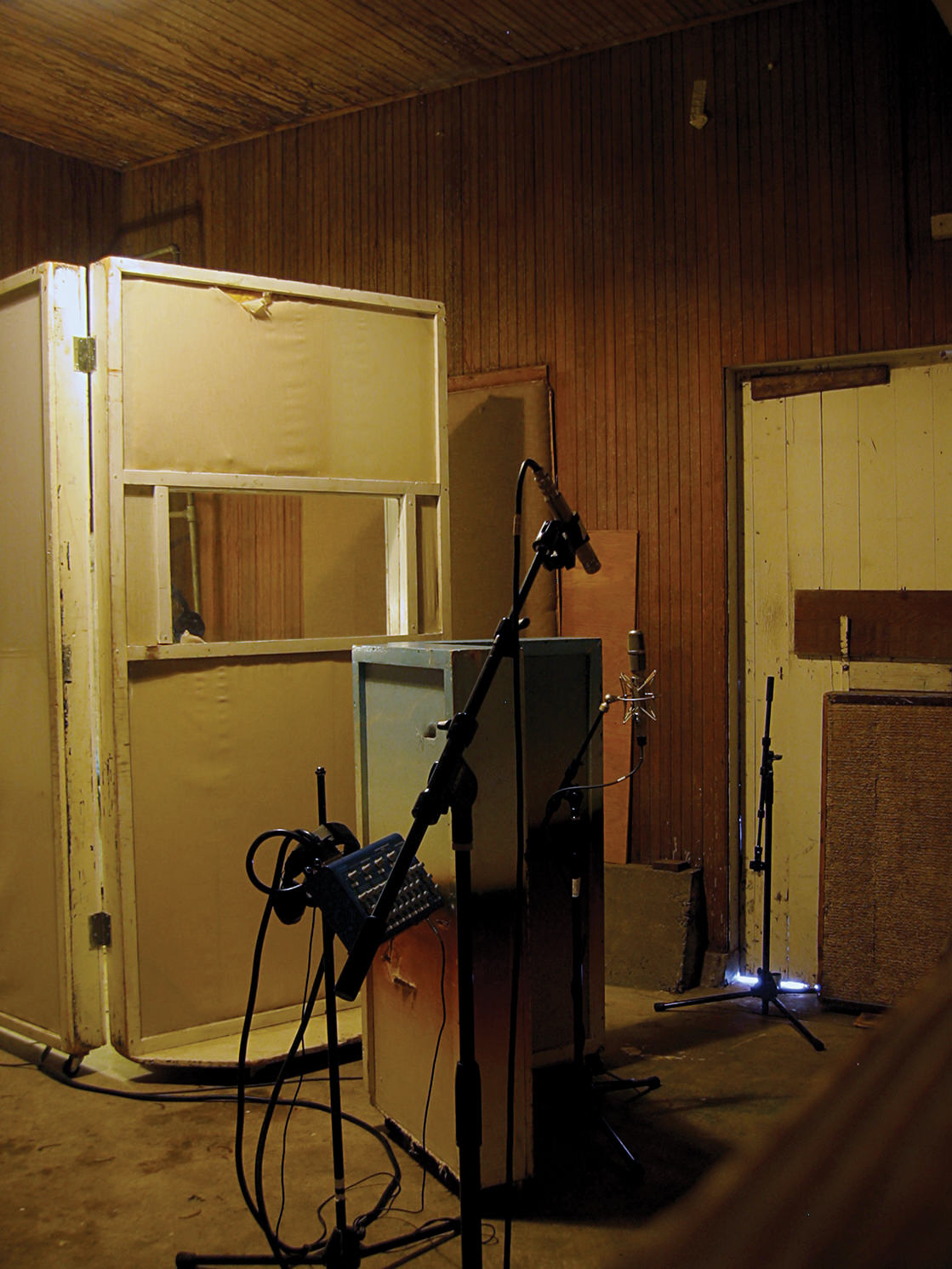 'The Waits Room' @ Praire Sun
MR: A great story is while Tom was doing ["Chocolate Jesus"], none of us knew he had been planning that. I drove up, and there he is, recording. I said, "He's recording outside, and we're driving right by his session!" We didn't even know this was happening. I talked to him later, and he famously said, "I love the car. I love the distortion on the tape. I want it to be real." I said, "Well, we can stop people from coming in." He said, "No, no, man. Let it flow, Mooka. Just let it go. Let it go."
JK: In the Waits Room, those doors open to the driveway. We kicked those doors open and dragged the mics out into the driveway. They changed instruments. Tom plays a 3/4-scale upright bass on "Buzz Fledderjohn" and sings. Larry [LaLonde]'s playing the acoustic guitar. I abandoned a couple of the mics I'd been using. I had these old shotgun mics from the '40s that I hadn't been able to use inside; you need to get it away from the source a little bit. Most of the sound of the recording is that one shotgun mic, pulled back about 15 feet from them out in the driveway, under the tree in front of the Waits Room. That was what he was feeling. I embraced the opportunity to make the sound and to capture it so stylized. If you listen carefully to "Buzz Fledderjohn," you can hear the leaves of the trees rustling and you can hear an airplane that flies over at the end. Jeff [Sloan], who was the assistant, was the one making some of the animal sounds. The dog barking is definitely Jeff. He did that on "Chocolate Jesus" too. Jeff was also one of the percussionists. He and Kathleen are on "What's He Building?" as well. They're making some of the soundscape. [It was] a wildly inspired and free recording environment.
OF: "What's He Building?" was a pretty unique recording. He did three or four takes of that song, but there were no overdubs added afterwards. Everything was completely live. It's that big room, The Corn Room, at Prairie Sun. Any musical instrument that he had at his house, Tom brought to Prairie Sun. That whole floor was full of tons of instruments. He had all this homemade percussion; the kind that Harry Partch would make. There were all kinds of instruments like that in The Corn Room, and he started doing the vocal – the spoken word – on a handheld mic. A [Shure] SM7, or something like that. Then Kathleen and Jeff Sloan made the background sounds, hitting stuff randomly while Tom's doing the spoken word. Some of the sounds are from the harp of a piano being hit. That was all done live, but he edited some of it out. There were a lot more verses.
Really? More?
OF: Oh, yeah. The guy was definitely building something in there.
JK: [That song's] about Jeffrey Dahmer. You know that, don't you?
No.
JK: It's macabre, but that's what it's inspired by. The formaldehyde and the hook light under the stairs. It's about him cutting up bodies. Not literally, but that's what inspired it. It's not purely about that, but that's what Tom shared with me.
Did you ask Tom, "Hey, what this guy building?"
JK: I did. I did because I was so curious about it. He was a big fan of The Twilight Zone and Rod Serling, so he delivered it in that tone of The Twilight Zone.
What sets Mule Variations apart from its peers?
OF: The short answer to that question is that Tom Waits sets it apart. He knows what he wants. He doesn't always know how to get there; but when he hears it, he knows what he wants. When we were doing Mule Variations, I wasn't that familiar with his music. He's got two different categories of his albums. He's got albums that he considers his main albums, like Rain Dogs, Swordfishtrombones, or Mule Variations. There was this thing about Mule Variations, where he hadn't done [a record] for six years, since The Black Rider. I observed a lot of pressure that he was putting on himself. Then I realized, "This guy's trying to out-do himself from the past. He's trying to do another Rain Dogs." We did enough songs to do a double record, and a lot of those ended up on Orphans: [Brawlers, Bawlers & Bastards].
JK: Tom always wanted sweet and sour, dark and light, or high fidelity and low fidelity. It was always about a juxtaposition of perception, as well as sound and quality; in the same way that Tom has his many sides. He's got those aggressive, howling tunes, but then he's got ballads that will absolutely crush you. Something has the ability to look more beautiful and more ugly if you put it against its opposite. It gives each other power. Tom was always trying to find those combinations of texture and mood. Tom Waits is a very common thread in my career. I grew up as a fan of his, but when I made a record with him – and from then on – you can also hear the impact in my life. In my studio on the first floor, where something would have visibility, I only have one record up. It's a gold record of Mule Variations, because it's a standard for me and for a lot of people that come here. It's like, "This is what we're aspiring to. We're trying to make art on a really high level." I also feel it's the strongest representation of my career that everybody can agree on, musically. It's an amazing effort.

Tape Op is a bi-monthly magazine devoted to the art of record making.