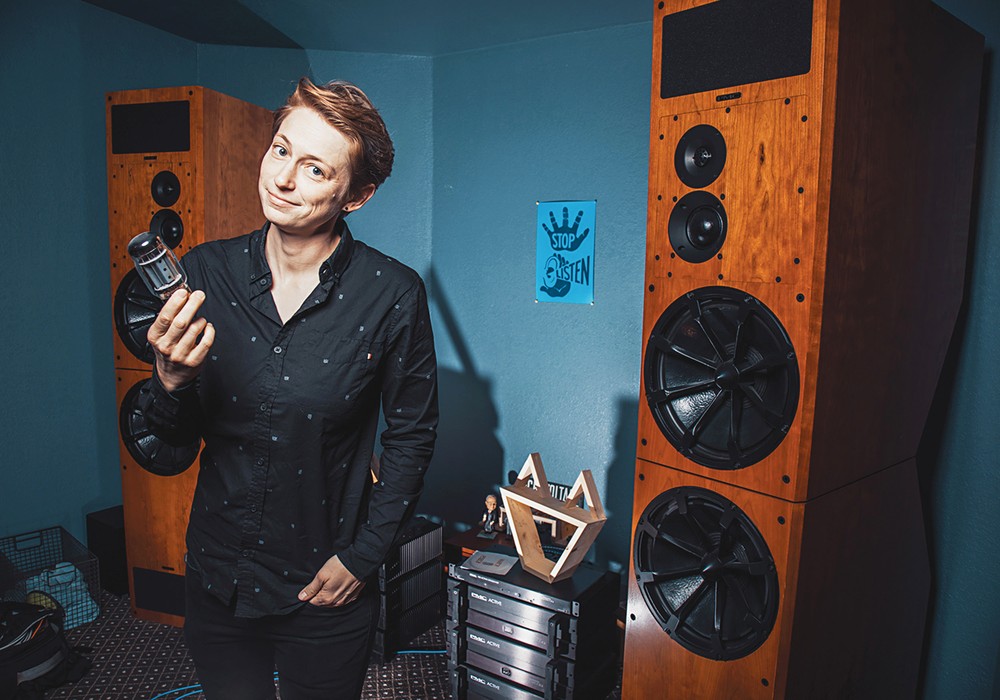 A drummer turned mastering engineer, Piper Payne is a Bay Area audio professional who I've long admired. She has worked with the likes of The Go-Go's, Shannon & the Clams, Third Eye Blind, and LeAnn Rimes. She has advocated tirelessly for greater inclusion in the industry via The Recording Academy, Women's Audio Mission (WAM), and by serving on the board of SoundGirls.org. Her forthrightness and positivity in conversation helps shine a light on how much progress still needs to be made regarding achieving greater equality, and how vital it is for us all to actively fight to maintain what progress has been made.
What brought on your move to Nashville from the Bay Area?
I work with Infrasonic Mastering now. [Owner and principal mastering engineer] Pete Lyman asked me to join the family. He invited me to move down to L.A. a few times, and I wasn't ready to leave the Bay Area. But then he called and said that things in Nashville were going really well. Nashville is a great community, and is a bigger market. I fought leaving the Bay Area for so long, but all the signs seemed to point that now was the time. It was like a red carpet welcome mat had been laid out. Not being able to buy a house and have more in my account than one month's rent, when I was already charging as much as was possible in the market and working 12-hour days, I either had to make my Oakland business even bigger and hire more staff, or join a larger company where I would have more support. Infrasonic is such a great home and company, and Pete is one of my best friends. We have five engineers, and two are women; so we are doing pretty well in that regard. Mastering is my day job and first love.
Do you think that things in the industry are becoming more democratic? My experience back in the 1980s was that engineers were usually condescending to just about everybody, and even worse if you weren't a straight, white male.
I am so happy that we are having this conversation. It is very timely. Just like the loudness wars are sort of over, the days of the "asshole producers" are mostly over now, too. It just won't fly anymore. Even the assholes have to tone it down a bit. Producers and engineers that make it all about them and not the record, they might get hired once but not a second time. If you want to get hired again, you have to be nice. It's not cool to be an asshole in the studio anymore, in the same way that people are not doing blow on the console any longer. There are rules and regulations about discrimination. Everybody's money is green. Whether you are a woman or come from a different background, and no matter what your level of experience.
Do you feel that the industry is becoming more professional and adopting more of the workplace norms that exist outside of the entertainment world bubble?
Much more professional. I was lucky to never really have to deal with too much discrimination, though I've run into my share of jackasses. For the most part, I was very fortunate. I have heard stories, and realized a few years ago how bad it often was. Leslie Ann Jones [Tape Op #74], Mandy Parnell, Leanne Ungar [Berklee College of Music (#30)], Sylvia Massy [#63], Janet Furman [Furman Sound], EveAnna Manley [#101], Darcy Proper, Leslie Gaston-Bird, Emily Lazar, Lenise Bent, Maureen Droney [The Recording Academy], and Susan Rogers [#117] – all of the wonderful women that went before me did hard time. Those people are my heroes. They went through the shit – things like engineering an entire album and maybe only to be given an assistant credit, or even no credit, by a male engineer. That said, we have a long way to go; from men making decisions about women's bodies, charging more for women's insurance, or it remaining difficult for a woman to open a business. It is hard for anybody to make a living in music. It might be harder for women. But this is not "woe is me," and women that indulge in that are hurting other people that are working very hard and not asking for pity, but rather for equality. But bad stuff still goes on.
What are some examples of that?
There are still a lot of stories of sexual harassment. Or showing-up and being asked to make the coffee. Or working twice as hard, but making half as much. When I was teaching audio engineering in college [Los Medanos], there were usually only one or two women in every class of twenty-some people. I once even got...
The rest of this article is only available with a Basic or Premium subscription, or by purchasing back issue #141. For an upcoming year's free subscription, and our current issue on PDF...