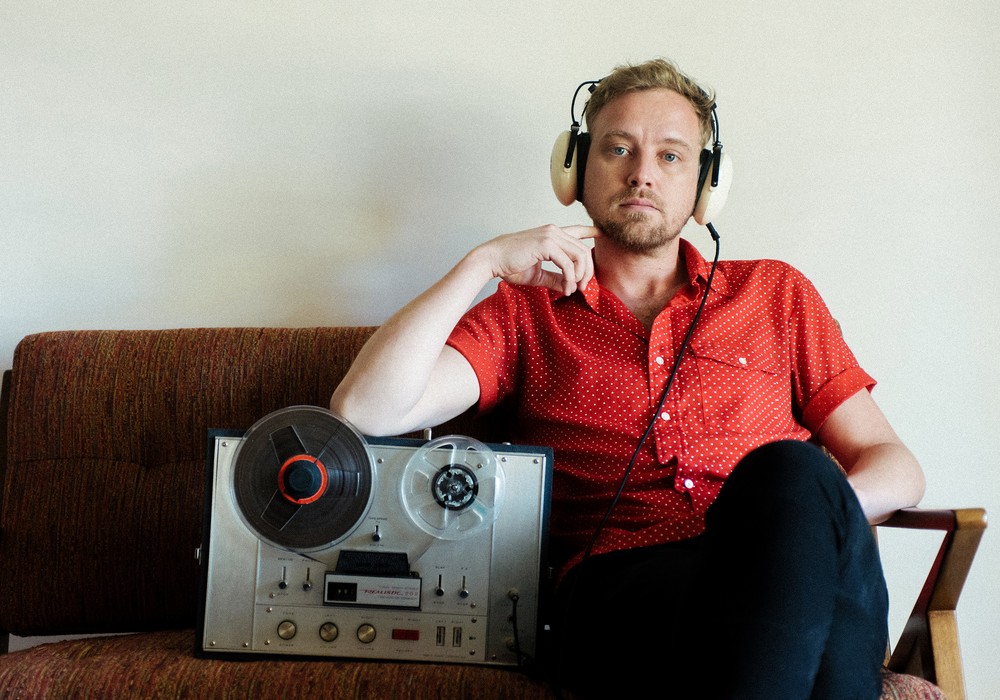 For over 15 years, drummer/producer/engineer Danny Reisch's analog-centric studio Good Danny's has been a hub of Austin, Texas' thriving music scene. Danny cut his teeth making records with bands such as White Denim, Other Lives, Heartless Bastards, Pure X, The Octopus Project, David Ramirez, and The Bright Light Social Hour. Additionally, from 2011 to 2016 he also engineered and mixed more than 300 unusually crisp and vibrant live sessions for the pioneering music blog Daytrotter, recording everyone from Lizzo to HAIM to Jimmy Cliff. In recent years, he's expanded his studio and branched out into mixing film scores in surround – including projects for A24, Disney, and Apple – but he's also still recording and mixing bands, as well as playing drums for Other Lives. Meanwhile, he continues to find creative ways to use tape machines in a digital world. Full disclosure: Danny produced and engineered three albums for my band, Shearwater, but this isn't just logrolling. He's a joy to work with; I've always admired his meticulous, energetic approach, his dedication, and his sense of adventure.
Are those really your handclaps on the OutKast's "Hey Ya!"?
I can't say for sure that those are the handclaps I made and sent to André 3000, but it's entirely possible. I hope they are. When you're a sound designer, you just make the sounds.
How'd you get that gig?
I was the head sound designer at Syntaur Productions, which was my first real paid recording job, after I'd been an intern for a few years. Syntaur is based in New Braunfels, Texas, which is 20 minutes south of where I went to music school, in San Marcos. They were making aftermarket sample libraries for samplers like the Akai MPC and the Ensoniq ASR/EPS. It intrigued me that there was a company in this little Texas town making cool sounds for these cutting-edge samplers and producers; there weren't a lot of people doing that at the time. I applied and got the job while I was still in school. It didn't pay a lot, but I was thrilled to be able to go to work every day and learn more about MIDI, sampling, and sequencing. It was pretty mind-expanding for a kid who grew up playing in punk bands.
Forgive the question, but what's an MPC?
Akai MPCs are like an all-in-one production center: a sequencer, sampler, and drum machine with lots of bells and whistles. They were especially popular in the hip-hop world then, right around the year 2000. There were people out there, like J Dilla, who were using them in absolutely brilliant, creative, and incredible ways. My job was to invent and create sample libraries those artists might want to use, one of which was an all-clap library. Most sampled handclap sounds at the time were cheesy – always the same bad, bright [Roland TR-]808 thing. I thought, "The claps I like are on old soul records, the ones that sound huge and dark, like bear paws." I made a set of big, fat claps that have that huge, round sound. That ended up being one of the libraries André 3000 bought from us, along with another one I made of orchestral percussion.
Can you name any other songs where your samples found a home?
Oh man, those got used by everybody. It's been about 20 years now. I don't know if I could pick one out any more, but I remember hearing songs at the time and going, "Hey, I think that's me!" Those libraries were used by everyone from Jay-Z to U2 to the Spice Girls. It was funny to me that a 20-year-old kid in a podunk town was making samples that big shot producers were using all over the world.
Fast-forward 15 years, to when you and I were working on Shearwater's Jet Plane and Oxbow. We spent a few days in L.A. working with Brian Reitzell [Tape Op #107], who mostly does film and television work now. What did you learn from working with him?
He was who I wanted to be! The records he made with Air [Tape Op #39] are still huge for me. He's on a different level from me, but we're both drummer/producer/ engineer/mixer/synth nerds with one foot in indie rock and another in film music. Brian has this curious, tinkering joy about him that invites everyone around him to bring that same energy. That was inspiring. I remember one afternoon; we'd had lunch, and Brian started bowing a chopstick he was holding against the top of a snare drum, going, "Listen! Listen to this amazing sound!" It was squealing like the most beautiful, insane guitar feedback. That curiosity and openness is important, and it's why I have all the instruments up and running all the time in my studio. All my synths are plugged in and ready. There's always a drum kit mic'd up, a mic on the vibraphone, and a line run to the Leslie. "You got an idea for something? Let's try it now." The problem with working that way, of course, is that you get some pure gold. However, you also end up with a lot of abandoned ideas that aren't quite right, but they might be right for something...
The rest of this article is only available with a Basic or Premium subscription, or by purchasing back issue #146. For an upcoming year's free subscription, and our current issue on PDF...