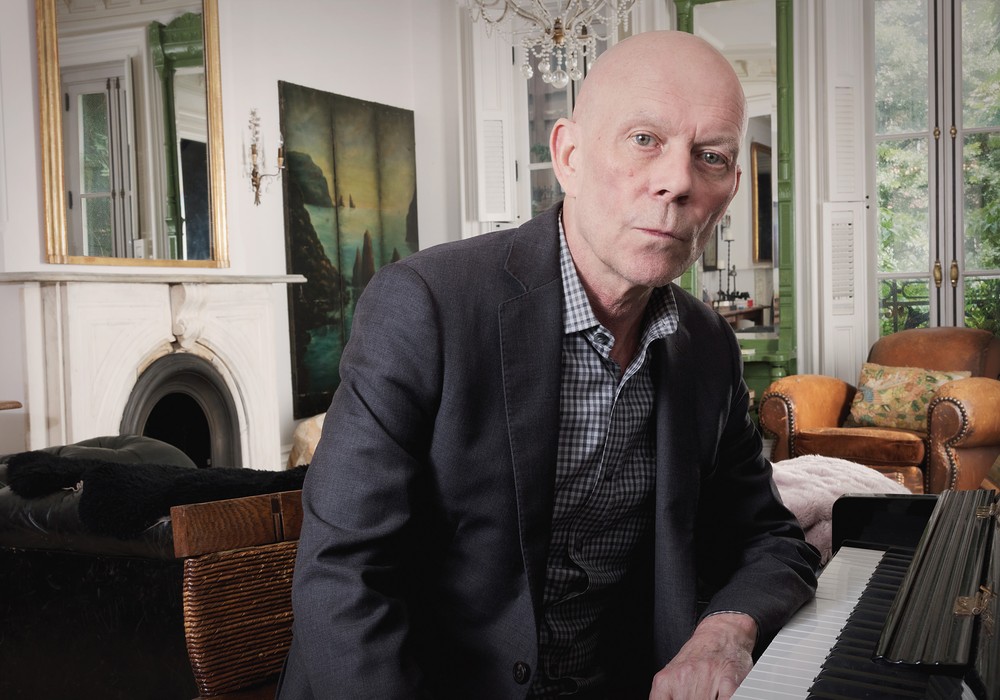 Since 1985 Vince Clarke and vocalist Andy Bell have helmed the group Erasure. Vince also was an original member of Depeche Mode, the music behind the duo Yazoo (or Yaz in the U.S.), remixed many songs for others, plus carried on many collaborations. Photographer Brian T. Silak and I had the distinct honor of meeting with Vince at his Brooklyn, NY, home in 2021 for an interview and photo shoot. Soft spoken, with a razor sharp wit and typical British sense of humor so dry that we almost missed it at turns, Vince gave generously of his time as Brian and I visited his fascinating home recording space. As Brian set up his lighting equipment, Vince played tour guide at The Cabin Studio, and then discussed his career as a founding luminary of synth pop music.
I've heard your favorite artist of all time is Paul Simon, yet your music is in a completely different direction. What have you learned from his work?
The reason that I liked Paul Simon, especially in the beginning when I was in my teens, was that I could relate to the songs inasmuch as I could play them on guitar. They weren't technically difficult. I'm not a very good guitarist. What attracted me to those songs was the simplicity of the arrangements. I think I carried that through with Erasure. We just happen to use more complicated equipment. It's basically choruses, bridges, and verses.
Thequietus.com published your list of favorite albums. Among your selection were The Human League and Orchestral Manoeuvres in the Dark. How were you influenced by the production styles of these early synth bands?
Orchestral Manoeuvres in the Dark is interesting, because the first [self-titled] was a very simple album. It's very simply produced, and I liked that. The Human League I loved because it's all about synths and science fiction. I'm not sure what else was on the list. Pink Floyd, probably…
…The Dark Side of the Moon. You had Kraftwerk's Computer World; David Bowie's Heroes; Philip Glass' Glassworks.
Most of the music that I like is song-based. Philip Glass isn't one of those.
What drew you to his compositions, or to that particular collection of his work?
I think a friend recommended it to me. I started experimenting with doing very repetitive sequences in that style, for B-sides mostly, but using synthesizers instead.
You also mentioned Genesis' A Trick of the Tail.
I think Pink Floyd's [The Dark Side Of The Moon] is my favorite album of all time. It still sounds amazing. A Trick of the Tail was the first album that I ever bought. I managed to get enough money to buy a hi-fi stereo system, and I'd never heard stereo before. When I was growing up, radio was mono. This stereo system had two white speakers, and I bought A Trick of the Tail and could not believe the sound of it. I stuck my head between those two speakers – like wearing headphones ??– and listened to it over and over again.
The first single that you bought as a kid was "This Town Ain't Big Enough for Both of Us" by Sparks.
Sparks was when I first took an interest in music – not as a musician, but as a music fan. I was playing music, certainly, but I had no intention to become a musician. When Sparks released that single it was on Top of the Pops. It was a big thing in the UK. My mum had bought a radiogram [radio/phonograph player], and I played the record so much that the grooves disappeared.
What made you shift from being a music fan to thinking, "I'd like to make music"?
My moment was when I saw The Graduate. I heard the soundtrack, and I couldn't believe it. I went out and bought the songbook straightaway and learned all of the songs. They were songs that I could play. Up to that point, I'd watched Top of the Pops and bands like Slade or whoever. The production was so complicated – not something that one thinks they could ever do. I had no idea how they did it. But when I heard these songs from that movie, I bought the songbook. I didn't sound anything like it – [but] I was close! I thought, "This is what I could do. I could maybe become a musician." It wasn't anything mysterious or expensive. I imagined that people would go into these magic studios and come out with these amazing records. Those things were inaccessible to me – but not with Paul Simon.
You came full-circle with Sparks in 1994 when you remixed their song, "When Do I Get to Sing 'My Way.'" In addition, you've worked with Martyn Ware of The Human League and Heaven 17. What has it been like to turn heroes into collaborators?
Well, it doesn't happen very often, but it's happened to me a few times. It's pretty amazing. I remember meeting Sparks, because we...
The rest of this article is only available with a Basic or Premium subscription, or by purchasing back issue #150. For an upcoming year's free subscription, and our current issue on PDF...