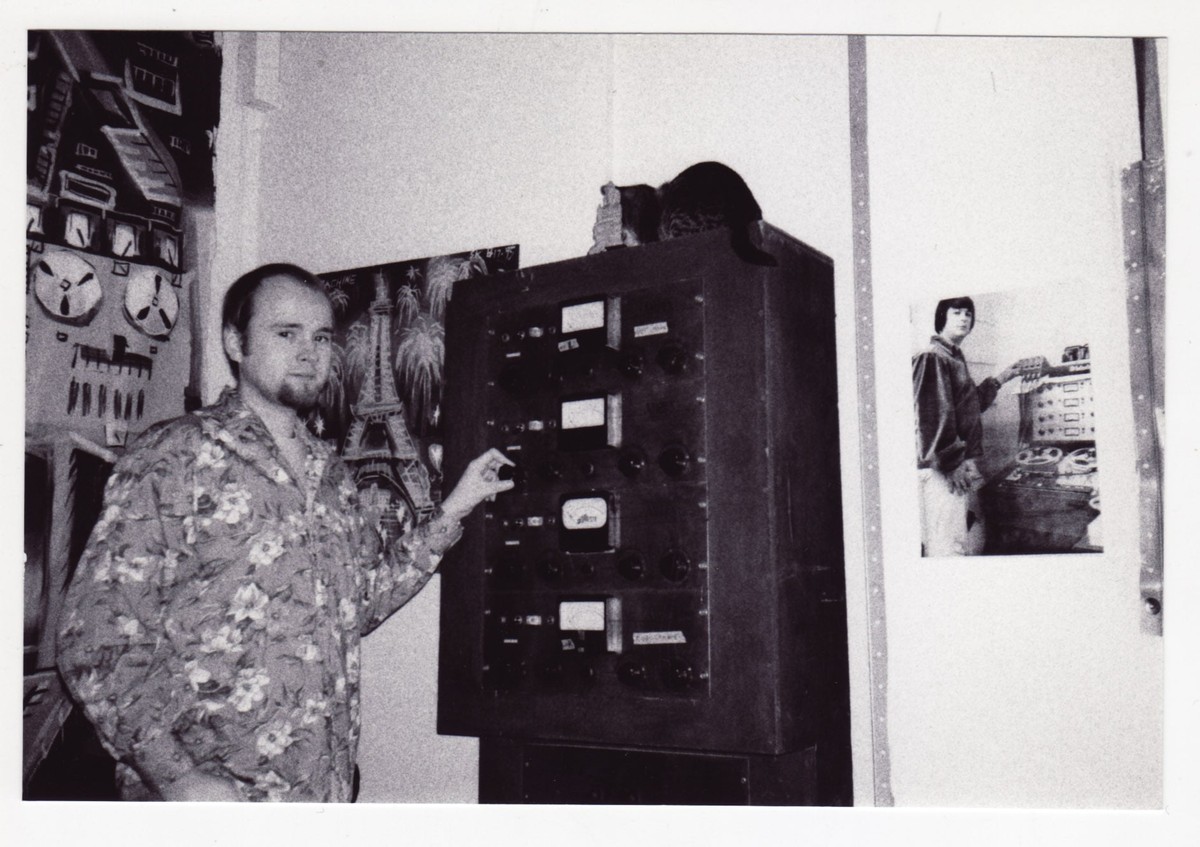 On April 14, 2018, at Jackpot! Recording Studio, I interviewed Robert Schneider in front of a live audience. Afterwards, he did a short solo set, and then The Minders played – a band both of us had recorded albums for and are friends with. Robert and I first met in 1996, when I interviewed him and The Apples In Stereo for Tape Op #2. Alongside some classic Apples and The Minders albums and other projects he's in, he recorded and produced records for Neutral Milk Hotel [#11] and The Olivia Tremor Control [#17] and co-founded The Elephant 6 Recording Co. (See the wonderful The Elephant 6 Recording Co. documentary that we are both in). Now, with his recently attained Doctorate in mathematics, we sat down in front of a live audience to chat again! Check out the podcast of this conversation as well!
There was a band called the Thinking Fellers Union Local 282 in the Bay Area.
God, they're so good.
I interviewed Hugh Swarts from the Thinking Fellers for issue one of Tape Op. I asked, "Anything cool you've heard lately?" He said Fun Trick Noisemaker by The Apples In Stereo.
Oh my god. You don't understand. We worshiped Thinking Fellers. That's awesome that he said that. They're one of the best bands ever.
Oh yeah. When I was in Vomit Launch, we used to play lots of shows together and sleep on each other's floors and drink too much beer. They were great.
Their music was so intricate. It's really catchy. It's amazing.
So, I went and listened to your album. You were coming through town. The Apples In Stereo came and played at Mt. Tabor Theater, which is now known as QuarterWorld.
Is it a video arcade?
It's a really fun video arcade.
It wasn't a video arcade when I played there! That is the true tragedy of the situation.
We sat outside and did an interview at a picnic table.
Yeah, that's right.
We were sitting out there, and we did an interview late at night on Hawthorne, just a few blocks away.
We should all go down there and do this interview!
Bring your quarters. The interview was in 1996. It came out in the second issue of Tape Op. Xeroxed.
Tape Op, for one thing, was a zine at the time. It was a home recording zine, and it was by far like the hippest recording magazine and zine of all time. I was really proud you included us in it. Thank you.
That was part of the journey of doing Tape Op, if I can turn this all about myself for a moment, was meeting so many cool people doing things in different parts of the country as well. Talking to you, turned me on to The Minders. When they moved out here, it was like, welcome The Minders. They're friends with Robert and everybody. It definitely builds a community too, the like-mindedness of everything.
Yeah, totally agreed. Being in music is great that way. Music is like this thing that humans do that brings us together. We use it when we're together too. It's really cool.
I remember you telling me about laying on your bed playing guitar solos really, really stoned.
I'm neither going to avow or disavow the statement.
Now that you have a Ph.D.
I'm just being clever. Yeah. Yes, yes. I'll fess up to many uh metaphysical guitar playing experiences in my life.
On another plane. I'm going to skip back in history a little bit, way back. What was the origin of your 4-tracking and 8-tracking and stuff? Was it just necessity? Recording your music and your friend's music?
Okay, I can easily answer the necessity thing, and then I'll go into the other thing. For necessity no. it was the fact that we hated the sound of stuff that came out of commercial studios. Like the idea of going into a place and having them make you sound different from the way you felt you sounded, which felt like it was the case at the time.
Like '80s music and stuff?
Yeah, '80s music. This was the '80s. Number one, that didn't appeal to The Apples or my friends in the Elephant 6 Collective. We wanted to make our own sounds. If you're an artist, you don't go somewhere else and you're like, "Eh, I'd like to paint a face there. Can you paint a face for me?" They're like, "Eh, is this like it?" You're like, "Nope! It's photorealistic. I was thinking more primitive." That's what going to a studio felt like.
"Watercolors, please."
Yeah, exactly. So, I think it wasn't out of necessity. It was aesthetic choice plus necessity, because we were all so broke. But that didn't matter. I started recording when I was probably in 6th grade. I figured out what many people of our age figured out. You used to...
The rest of this article is only available with a Basic or Premium subscription, or by purchasing back issue #155. For an upcoming year's free subscription, and our current issue on PDF...