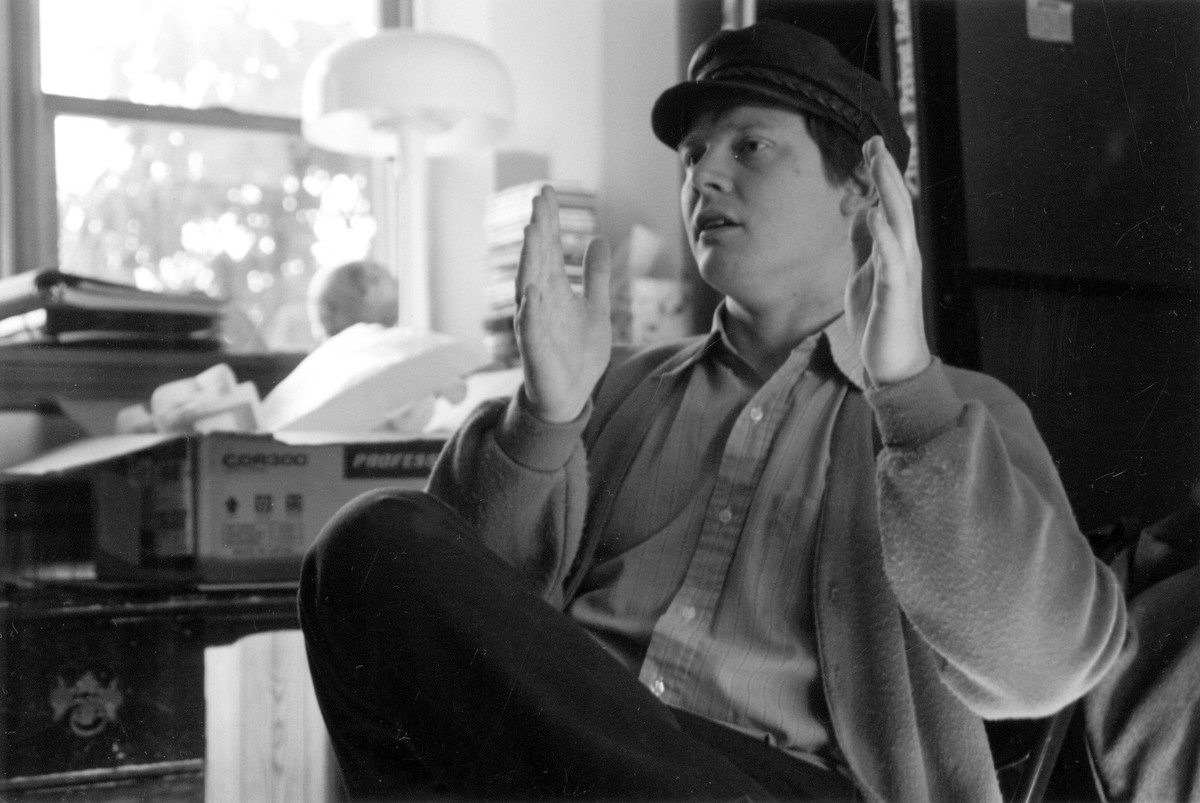 The Danielson Famile and its visionary leader, Daniel Smith, have been creating some of the most unique music to come out of New Jersey in the past ten years. Their songs are a veritable melting pot of the finest 20th century pop music writers — Frankie Valli, Bob Dylan and the Violent Femmes put in an oven with the heat on high. Daniel's unflagging energy level often borders on the violent but it's always joyful, sincere and purposeful. They are lauded all over the world, from Rolling Stone Magazine to Simpsons creator Matt Groening and National Public Radio's All Things Considered. The attention is well deserved. The Famile is made up of sisters Megan and Rachel, brothers David and Andrew, Daniel's wife Elin and the only non-blood relations of the family, Chris and Melissa Palladino. We sat down with head honcho Daniel at their newly refurbished home studio in New Jersey. He revealed details about everything from working with legends like Kramer and Steve Albini [Tape Op #87], to the logistical nightmares of bringing the entire family entourage to All Tomorrow's Parties in the UK.
We're here in the new studio [N.J. Rec. Rm.] so maybe you want to tell us about that first. What inspired you to build your own studio?
Well, this is actually the same room where we did A Prayer for Every Hour in '94 on just a 4-track. It's the same room we've always practiced and prepared in and actually done some other tracking for some other albums. Back then it was a matter of moving boxes out of the way and cleaning the room before we would set up for a practice. And then ask my mom to not sew upstairs while we were trying to do some quiet vocals. There was just junk everywhere. I'd been doing recording on that [Tascam] 388 over the past couple of years. You have to try and get everybody to be quiet and then when I got a little bit nicer microphones you could still hear the cars driving by and all that stuff.
What did you record on the 388?
A third of each Tri-Danielson!!! record, the one that was entitled Bro. Danielson, so the kind of more down home sound was done on the 388.
Did you mix it with the built-in mixer?
Yeah. [laughing] Just straight to DAT. I've been wanting to get a more controlled environment and was looking around at places in the area. We all grew up in this house, all the kids are moved out now and so my parents gave me this side of the house. We ripped the ceilings out and put in all new ductwork and put two layers of 5/8'' sheet rock in the ceiling so my mom can actually sew upstairs and we can record down here. There's a faint vibration of the sewing machine but it's okay. I love it because it's the same place where we've written everything and, like I said, recorded some stuff. So now I'm writing and getting ready to do two new Danielson full lengths and an EP. And we have our own record label [Sounds Familyre] so we're doing all kinds of other projects as well.
Do you think maybe in twenty years you'll still be in this room?
I actually hope to build a building in the side yard over here. I already have it planned out. We're going to dig down and have these underground bunkers two stories down so that from the outside it looks like a humble little one floor but it will go down a couple of floors unless we hit water. [laughing]
You said you're a carpenter. Did you build this studio on your own?
Pretty much. My dad and my brother Dave helped a lot putting up the ceiling.
Did you have any models in mind or acoustic treatments?
No, we just tried to keep from hearing the sewing machine upstairs, that was the first step. This floor was really poorly built. It was really squeaky. That's another reason why I ripped the ceiling out. I glued every single rafter and then screwed the floor down upstairs and I insulated it like mad.
But it still has a nice live sound?
Yeah, it sounds so much better than it did before. The biggest thing was taking all the metal ductwork out of the ceiling. I replaced it with this sort of insulated ductwork, the coil stuff. There's a lot of light, a good view. It's half underground so it's pretty soundproof from outside, except for the windows, which I found out how to build boxes for. It's quiet here, there's hardly any traffic. Birds are the biggest problem and they're not such a problem, anyway. There's birds on all sorts of Danielson recordings. Actually this was another room, the control room, and we took out this portion and put in a wall here and put in a door and a window.
Did you choose analog because of preference or because of price? Are you planning on putting any computers in your setup at all?
I have a computer in there. I have the 16-track 1", the [Tascam] MS-16 and I have the Pro Tools...
The rest of this article is only available with a Basic or Premium subscription, or by purchasing back issue #42. For an upcoming year's free subscription, and our current issue on PDF...