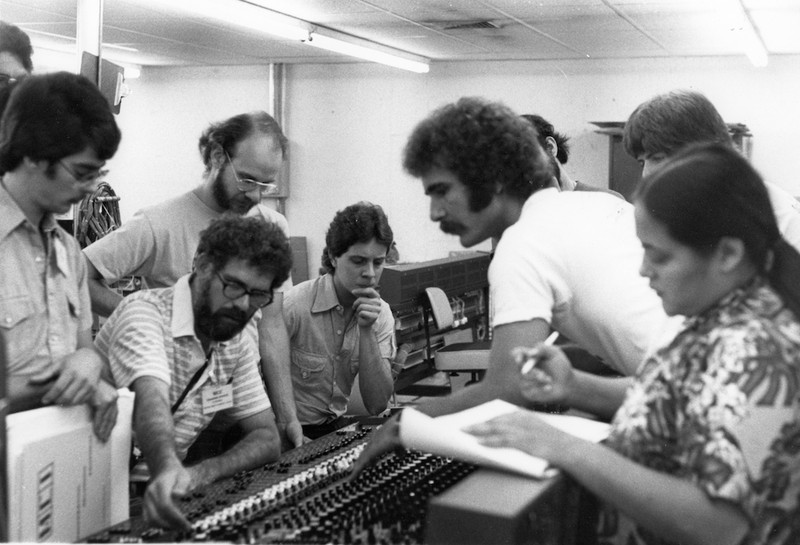 I became acquainted with Glenn Coleman when we shared a week together at the Audio Engineering Society Convention (AES) in New York. Glenn's early employer, MCI, was a leading manufacturer of pro audio recording equipment from the '50s to the early '80s. Later he found work at Atlantic Studios and Martin Audio as well as founding his own Coleman Audio where he designs and manufactures top quality DAW monitor controllers, alternate speaker switchers, VU metering systems, surround level controls and surround switching modules. Coleman Audio gear is used by The Rolling Stones, Stevie Wonder, The Dave Matthews Band, Atlantic Recording Studios, Sony Music Studios, Bose Corporation, Microsoft, NBC, CBS, ESPN, Warner Bros and many other facilities, large and small.
How did you come to study electronics?
I saw the Rolling Stones in 1969 on November 24th in Detroit and that's when I knew I wanted to work in the music business. I had taken guitar lessons and I realized I wasn't a musician, but I really wanted to get into the recording or music business. I grew up in Canton, Ohio, and went to college for a year at Urbana University to try and stay out of the draft. After the first two quarters I was going to flunk out. I begged them to keep me in one more quarter and then I flunked out again. Too much partying; not enough studying. I was then almost drafted. This was 1969 -1970. Not knowing if I was going to get drafted or not, I hitchhiked to San Francisco. I was living in the Tenderloin district between Turk and Eddie Streets. Coming home from the grocery store one day, I noticed this one building. It was the only building that looked decent in the whole neighborhood. I knocked on the door to find out what was in there. It was Wally Heider Studios. said, "Give me a job." They said, "You either have to know somebody, or you have to know electronics." I went back to Ohio, and my mother paid for me to go to United Electronics Institute — a two-year technical school that turned out TV technicians. I graduated in January of '72; from there I moved to Florida, where I had friends.
How did you end up working on recording gear for MCI [Music Center Incorporated]?
Around 1973 I got a job at Motorola, in Fort Lauderdale, where they were building pagers at the time. I worked there about a year, but still wanted to get into recording somehow. A friend of mine, Steve Beverly, was working there as well. We found out that there was a recording class at Criteria Studios in Miami given by Karl Richardson, who was a big time guy. He'd later record Saturday Night Fever by the Bee Gees, Average White Band, Lynyrd Skynyrd, Eric Clapton... and the list goes on. So we went and the first thing out of Karl's mouth was, "We have all MCI equipment here, because they build it in Ft. Lauderdale." Steve and I look at each other like, "They build all that, and we're working at Motorola?" The receptionist took my job application, once a week, for eight months, before MCI hired me. I think she was throwing my
applications away.
You were working on consoles at MCI?
After working there for about a year, MCI brought out a new model, the JH 528, a larger console than the previous JH 428. It really had everything: more EQ, more sends and 32-track assignments. MCI started selling a lot of the larger consoles. I had been relegated to checking out the smaller 428s; they had brought in another guy in to do the 528s. But Wally [Watkivs] told me that if I didn't have anything to do, I could check out the 528s too. Eventually I only worked on 528s. The first three prototypes went to Criteria (serial #1) and Atlantic Studios (serial #2 and #3) with the promise of an automation package and light meters to be added as they were designed. They had started selling a great many of them and the engineering staff had been going out to install them. They didn't want to do that anymore, so they decided to see if I was up to to doing the installations. I went to Nashville on my first service call, with a design engineer named Larry Lamoray. After that trip Larry didn't go on the road anymore, I did.
Why did you move from MCI to Atlantic Studios?
I continued travelling to studios around the world for MCI. Then, in the early '80s, Sony bought MCI. Within a month or so I could see that I didn't like what was happening. During my many trips to Atlantic I had made friends with Sami Uckan who was the chief engineer at Atlantic Studios. Sami had told me, "Anytime you want to get a job up...
The rest of this article is only available with a Basic or Premium subscription, or by purchasing back issue #88. For an upcoming year's free subscription, and our current issue on PDF...