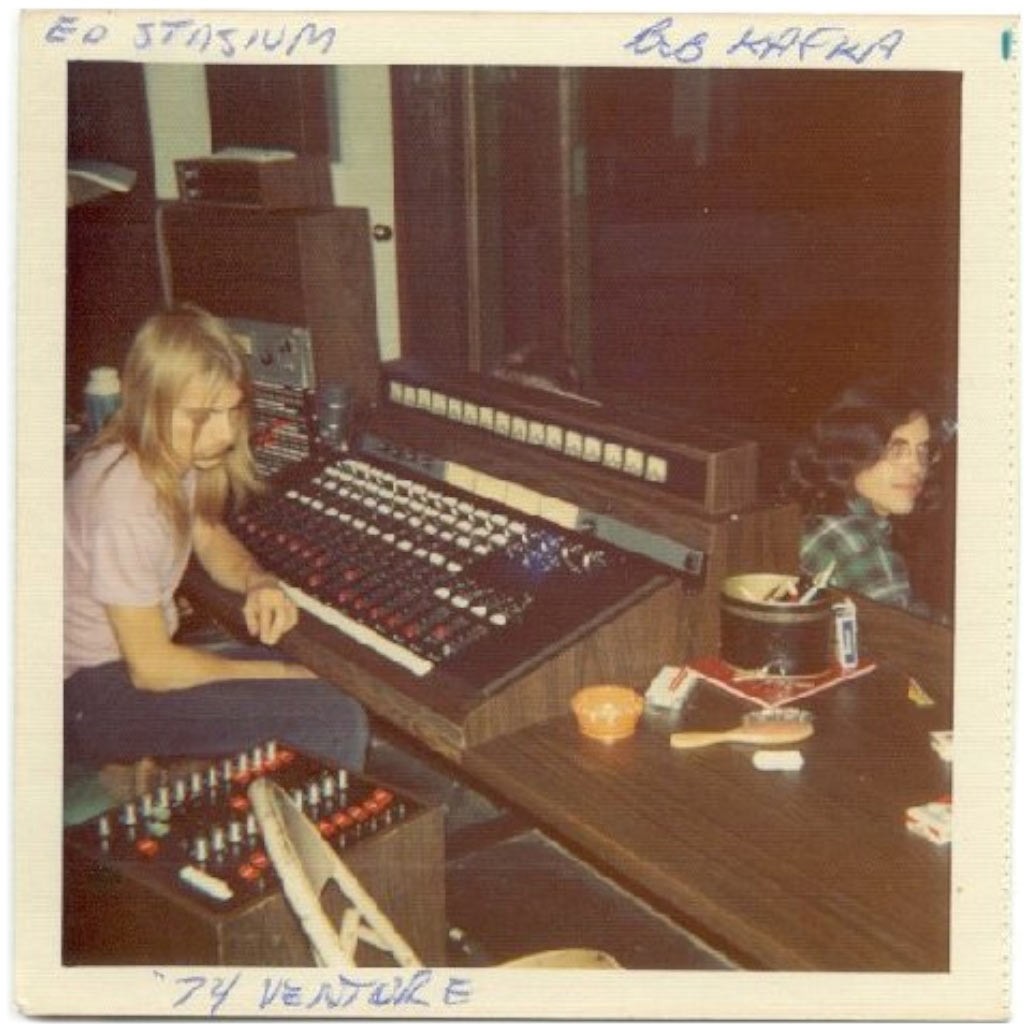 I'd seen Ed Stasium's name on records for years; The Ramones, Talking Heads, Mick Jagger, Peter Wolf, Living Colour, Soul Asylum, and The Smithereens to name a few. But little did I know that Ed's engineering chops stretched back to songs like "Midnight Train to Georgia" and groups like Kool and the Gang and The Chambers Brothers. Even though Ed's currently residing in the beautiful mountains outside of Durango, Colorado, he still keeps busy working on records at his home studio, sometimes traveling for sessions, and recently producing records by The Misfits and Joey Ramone.
The Rolling Stones
I began working at Ampeg, in October of '71. I started on the assembly line. I was making printed circuits. Then I worked in the shipping department, stamping them out, getting the amps, and putting them on the trucks. The big day was when the Stones' equipment came in. It was like, "Oh my god, the Rolling Stones' equipment is here! That's awesome!"
John Lennon
Our band's manager, Barry Landers, was at WMCA radio in New York. When my son was born, John Lennon and Yoko were slated to be at WMCA. So I'm dressed in my best velvet pants, and I'm all ready to go out, because I've told everybody, "On October 4th I'm going to meet John Lennon." Our keyboard player Albert Miller, and Chip Miles, the drummer, were going to go as well. My wife at the time was pregnant, and I got a call from her friend at 10:00 saying, "Debbie's in labor, and she's going to the hospital." What? I'm meeting John Lennon today! So I did the good boy thing: I went to the hospital. The lads met John, chatted with him, and had lunch. They filled him in and said, "Ed was going to be here, but he couldn't make it because his wife gave birth." I think I called them at the station and talked to them. We knew it was going to be a boy, and his name was Jason, so the guys told John, and he wrote out a hand-written letter to him, saying "Happy Birthday, Jason," and he drew a little picture of him and Yoko. They took some photos too, so I had it mounted with a picture of John on the telephone in the control room of the studio, and now my son has that. So I missed meeting John, but my son has a nice autograph, personally signed to him on the day he was born!
Holland-Dozier-Holland
We were doing backing vocals for somebody, maybe a Dionne Warwick record, and Holland, Dozier, and Holland were coming in — It must have been in '74. They were staying at a really upscale hotel on Central Park South. I mean, this is Holland-Dozier-Holland. These guys have written great songs. They have all their publishing — they're gazillionaires. Tony told them, "I'll have a car pick you up." But it was me, in my father's 1967 Ford Galaxy, without air conditioning in the summertime. Here's Holland-Dozier-Holland and this one other fellow, who's just a huge dude, and I go in to pick them up. I'm sure they're expecting a limo or something. I could tell by their faces, they were like, "What?" It was an hour from New York City to Tony Camillo's place, and they're all crowded in the car. There's four of those guys, three guys in the back and one guy in the front.
Dionne Warwick
Dionne Warwick was one of the few people who could do a vocal in one take who I've ever worked with. Mick Jagger's good at one-take vocals. Boom!
Metallica
I've had my three-month records, but I haven't had my two-year records. When I was living in Los Angeles I used to do all my mixing at a place called One on One where Richard Landis, the producer, had an SSL. This was when Bob Rock was working with Metallica, and they were in the big room. I did three records: Junkyard, Marshall Crenshaw, and The Pursuit of Happiness. I mixed all those records in the mix room at One on One. The Metallica guys were there — I'd known Bob Rock for a while. I'd met Lars [Ulrich] and Kirk [Hammett] in the past somewhere. I finished those three records. I recorded, did preproduction, and mixed them in the time that they were still doing drums. It's just hard to fathom. They spent a while on it, and it paid off. But I've never had that much time to work on a record.
The Cars
For Rick [Ocasek] and the guys, Synchro Sound was their clubhouse. Everybody would come down for a little toke or something and just to hang out a little bit. The Cars were doing Heartbeat City with Mutt [Lange]. One day Rick drops in and was very excited that they were going over to England to finally mix the LP. So a couple of weeks later Rick pops in and I ask him, " Hey, how did the mixing go?" Rick replied, "I don't know, Mutt was working on the kick drum sound for two weeks so I left!" While I was working on Pete's record at Syncro, we went to New Year's Eve at Rick's house and thanksgiving at Peter Wolf's house and it was a fun time. Camaraderie — that's what I miss now. I do miss being able to go into the next room to see your friends, ask them what they're working on, and see what's happening with them.
Tape Op is a bi-monthly magazine devoted to the art of record making.